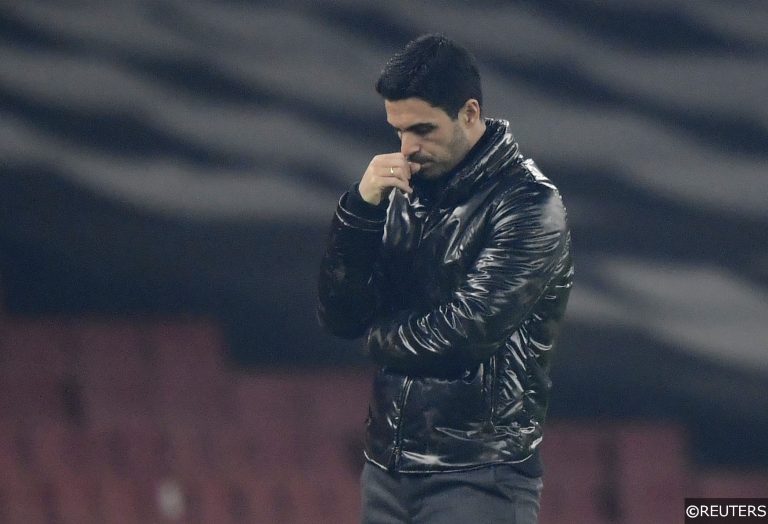 Before becoming a Sports Journalist for Free Super Tips, Aaron spent three years studying Sports Journalism at the University of Sunderland while taking in the Black Cats' 'glory years' under Martin O'Neill. Now back in Northern Ireland he turns niche stats into predictions for FST, while he's one of the few people on this island who is equally comfortable at Windsor Park and the Aviva.
With the dust settling after the January transfer window focus turns to how the Premier League run-in will pan out. We chatted with Mark Lawrenson this week about Liverpool's new man Luis Diaz, their future post-Klopp and the fight for the final Champions League spot.
---
What have you made of the Luis Diaz signing? Where do you see Diaz fitting in and do you think Firmino or Mane should be worried about a starting spot?
I think they'll all be worried because he's a proper player.
I've seen him play twice against Liverpool in the Champions League, especially the game at Anfield where he was a real handful.
Porto were really unlucky not to score in the first 30 minutes and he was prevalent in all the moves that they had.
I think he can play across the three forward positions which is a bonus, but the thing now is there's competitions for places.
We've seen how well Jota has done; he was a signing out of the blue in many ways because it wasn't flagged up by anybody.
Next thing you know, he's signed for Liverpool, and he's been brilliant.
It gives them five or six options if you include Origi in there for players who can play in the front three, so it's all good for Liverpool.
Diaz is someone who's quick, tricky, a goal scorer and he'll be helped to settle in with Jota who can obviously speak Portuguese.
I think it's a really good signing for Liverpool.
What do you make of Joe Gomez's situation? He's 24 now, should he be playing regular football at this stage? Would you understand if he pushed to leave for Aston Villa?
He's on a long-term contract, so the club can say he's going nowhere.
He just needs to play, and the problem is, when you think about it, 18 months – two years ago, the centre backs were Gomez and Van Dijk.
Because of those injuries, he's gone down to fourth choice centre back.
They weren't going to let him go on loan because you remember last season, they had all sorts of problems with all the centre backs being injured.
The problem will be that these lads don't play any football outside of the first team.
They might play what they call 'bounce' games and I know they have them against Preston occasionally.
They'll play three 30-minute games, but there's no tackling or competitive edge, it's nothing like a matchday and no pressure, so all they do is keep fit.
It's a difficult one for him, he's probably been knocking on the managers door, and he may or may not get his chance, but that's what it's like at a top club.
He's still a proper player and for the life of me, I don't think they would let him go in the summer.
Rene Meulensteen has spoken of LFC needing to put a succession plan in place for Klopp or risk going the same way as Man Utd. Do you agree? What would such a succession plan involve?
There's one thing about the football club now and it's extremely well run.
The owners have made very few mistakes, obviously the furlough thing was a bit of a disaster for them, but they quickly rectified that.
They'll be planning that's for sure, but I'm not sure how you are going to replace him.
I don't think there's anybody quite like Jurgen Klopp, he's completely different.
I go to Melwood quite a lot, so I get the opportunity to speak to him and there's this aura about him and he understood Liverpool straight away.
The reasons he signed is because he got the Bill Shankly thing, it's always present and he's taken to that culture from the off.
It's a difficult one and I don't necessarily think he will see his contract out.
I just think he'll wake up one day and think it's time for me to go.
People say he's going to move on and manage Germany, but he doesn't want that, he loves the day-to-day contact with players.
It's a difficult one, but who knows what will happen after him.
If he does step away, he'll give the club enough notice because the club have been fantastic with him and he's been fantastic with them.
Which team do you feel is in the best position to finish in the top 4 following the January transfer window?
It hurts me to say it but Man United.
We know they're not playing well, but they've got so many match winners and they'll only start to get fitter and better under Rangnick.
They're not playing particularly well, but they're up there already.
I don't see West Ham getting it, David Moyes is a good friend, but he's struggling in terms of players, and you take into consideration the Europa League.
I don't see anybody else pushing Man United other than maybe Tottenham.
I don't know too much on the players that they've brought in, but even so they are heavily over reliant on Son and Kane.
Have Arsenal ruined their chances of securing top four after this January window?
There was an opportunity there for Arsenal, but even without the January transfer window you look at Arsenal and after a while you go same old Arsenal.
They'll win a few games, go unbeaten for seven or eight games and then go get turned over by somebody.
I just don't think there's great mental strength in that team and I think in there lies the problem.
There's a lot of ability, but they keep having a hiccup and if you want to finish fourth in this league, then you can't afford to do that.
What did you make of the Aubameyang situation?
Occasionally you get a rotten egg such is life, and you only need one in a dressing room.
It's like Groundhog Day for Arsenal, look at Mesut Ozil, virtually exactly the same situation.
They handed him an unbelievable contract in terms of salary and length of contract and it's as if he down tooled and I feel the same way about Aubameyang.
I think Arsenal have done well on getting him out of the building because Arteta can now just concentrate on the players he's got to work with.
What have you made of Leicester City's season? Why hasn't it gone right for Brendon Rodgers' team this campaign?
It's just come down to injuries and to key players as well.
You can get away with one or two key players missing sometimes, but they've had the majority missing and for a long time.
Defensively they've looked open and there's nothing worse when you've got people who can score goals but can't keep them out.
I don't think as good as a manager you are; you can only work with the players you've got.
Go back to Liverpool last season with all their injuries, you're not the same team and at that level, the 15%-20% missing makes a difference.
That's all it is, the manager hasn't lost it, they've got some outstanding players, young players coming through, so they'll come back.
If they finish around 10th in the league, then that would be considered acceptable with the injuries that they've had.
Do you think Frank Lampard was the right appointment for Everton – vice versa were Everton the right choice for him with the discontent around the club at the minute?
I think it's a good appointment, I think supporters have a big say on who they want nowadays, and Everton fans weren't particularly happy when Rafa Benetiz came in as we know.
With Lampard we know his time at Derby and his time at Chelsea, he'll know the mistakes he's made, and he'll want to rectify them.
I think the signing of Van de Beek and Dele Alli are really good when you chuck in Richarlison, Calvert-Lewin and Allan, you've suddenly got a team that should be in the top ten.
I think he'll get the results and I think the owner has been unbelievable with the amount of money he's already spent, so he'll be backed and already has been.
I think it's a good fit, he's a young manager with different ideas, so it's a good appointment for Everton.
Can you see Newcastle developing in the same vein as Manchester City in the years to come following the takeover? How vital is it that they survive this season?
I think it's going to be quite a while before Newcastle reach those levels.
When City were taken over, they had better players than what Newcastle have now, and it took them long enough to be where they are now.
I think you're talking five plus years at least and that's if they can get the players in they want.
It's alright having that money, but if you're a top player, do you want to go to Newcastle or do you want to go to City, Liverpool or Chelsea?
When City started, it was only Chelsea who had the same amount of money to compete, and it wasn't as difficult.
The thing for Newcastle is to obviously stay up this season and I think with the signings they've made; they might just do it.
It's the start of a long road.
It wouldn't be the end of the world if they did go down because it would just delay plans for another year.
You then find out about the characters of the players in the Championship, in a league they should walk if they get relegated.
I just have the feeling that they'll be ok, it's a mad scramble down there, but they've started to improve, signed some new players, so I think they'll escape.
Speaking of relegation, several teams have made changes at their clubs, is it impossible to call who goes down?
I think Norwich will go down because I don't think they have enough to stay up.
Also, part of their planning is relegation and promotion because they're small club who can't pay these fees other clubs can.
They can live with that, the fans accept it, so I think they'll go.
I look at Watford and I think about Roy Hodgson because one thing players will tell you about when working with Roy is his coaching is all about closing down the space for the opposition.
If they start to do that and make it more difficult, then they may get better results, but I don't think they'll do it.
Burnley do worry me, they never have in the past, but they worry me this time around.
The finance with this American company that's bought them looks a bit flimsy, I'm told if they get relegated, they owe £60 million and I'm not sure where you're going to find that from.
They've drawn a lot of games, they have an outstanding manager, but the problem is they keep drawing and they can't seem to win.
I think this might be the year that Burnley go down.
But the last time Burnley got relegated from the Premier League, they went into the Championship and spent more money than they did in the Premier League the previous season.
They did all their training ground up and came back strong, but there's something about that club at the moment that doesn't seem right.
It's not the manager because he's done an outstanding job, but they do worry me because I think they'll go through the trap door this time.
Is Graham Potter a manager capable of leading a Champions League club? Will it be difficult for Brighton to keep hold of him if that situation arises?
I think seven out of the first eight in the Premier League are foreign managers, so that's a problem straight away for Graham Potter.
Every year he's been at Brighton he's done well and improved the side, but where would he go.
I know his name was thrown in the hat with Manchester United, but that was never going to be the case.
To get a team in the Champions League, you need to have been at a team with Champions League in the past, but how does he do that.
They've been fantastic this season Brighton, if they finished in the top 10 it would be an outstanding achievement, but where does he go.
Unless Brendon Rodgers left Leicester City, then you could see Graham Potter being a good fit, but apart from that I don't really see where he's going to go.
The other thing is that he's been very fortunate with the owner Tony Bloom and the backing he's given him has been brilliant.
I remember playing when his grandad was vice chairman, but it's a brilliantly run club.
They sell a player every year, but they bring in young players to improve them which they've been doing.
They've improved this year, the football is good to watch, it's a great stadium, great facilities, and training ground.
But it's difficult to see where Graham Potter would go, when he went to Brighton, no one was sure about him, but he's done an excellent.
In terms of Champions League clubs, it's just difficult to see where he would take over.
If you were in charge of England, would you select Harry Maguire on current form ahead of Adam Webster and Lewis Dunk?
Yes and no, the problem is that there won't be many games before the World Cup aside from a few friendlies.
I don't really see it happening, Dunk has been brilliant for Brighton for years and Webster was brought in from Bristol City and he's seriously improved.
I think they'll get a mention, but I don't see it happening.
Generally, what happens with England squads is that you end up arguing over two or three people who should be in the World Cup squad.
Alexander-Arnold might not even make it, so that's the standard they've got in the squad.
Both lads have done great, I just don't think they have enough time to break in for this World Cup if I'm honest.
What have you made of the growing South American influence at Brighton?
It's a good thing for Brighton because they're good players and the Premier League is a worldwide league.
I remember at Brighton we had two Peruvian lads, who didn't last very long if I'm being honest.
They came in the winter which wasn't a good time for them to come because there was snow on the ground.
I remember the first day's training and seeing the both of them thinking 'what is this?'.
But the games changed, and it's changed for the better.
The thing is with Argentinians is that they're all good footballers and they're all tough.
If you watch the league they play in at home, they kick seven bells out of each other and Aguero is a prime example.
When he came there were questions whether he'd be strong enough, but they're all strong already mixed in with massive ability.
It's great for Brighton because they're looking at, maybe not the top Argentinian players, but the layer below.
Alexis Mac Allister has come in and people are now starting to take notice of him and think he could go on.
This is the market they've found themselves in and why not if it works for them.
Looking ahead to the Champions League, we had an all-English final last season, could we see the same again in 2022? (Depending on the draws)
I don't see why not, obviously you've got Bayern Munich in there and PSG, but I think all the four English teams, including Manchester United, I don't think anyone else wants to play them.
I know the draw is a big aspect and it depends on who you get going forward, but I expect the Champions League final to be between two English teams.
I think at the moment, apart from Bayern Munich and PSG, they are way ahead of everybody, certainly the Real Madrid, Barcelona's and those teams.
It is about time City won it and I thought they might do it a couple of years ago, but they came up against Lyon and the manager made a strange decision on the night.
They played a way they never had before which was odd and they went out.
City want to win it, but I think sometimes at this level you accept any trophy you can get.
I wouldn't want to play Liverpool because the front three can take anyone apart on any given day and have done.
But I would say City are the favourites and there's something slightly different about them, so they'd be my bet this year.
When you signed for Liverpool you were a club record transfer fee at the time, could you see football going the way it has done in terms of the money involved in the game today?
It's amazing how much money has been put into the game, but great and good luck to everyone involved.
I left for £900,000 plus VAT which was 12%, so officially I was the third million-pound player after Steve Daley and Trevor Francis.
Even then I thought it was bonkers and when I signed for Liverpool there were a lot of people saying, 'Who's he?'
It was difficult at first, but I soon got over it.
I go into the dry cleaners and there's someone who's a similar age to me in there and he said imagine how much you and Hansen would be worth now.
You don't really think about it, but when you do it makes you think.
If I had one wish in my life, it would have been to be born 30 years later because I'd be a multi-millionaire!
The problem is with all the money it's brought in players feigning injury and rolling around which we have to take forward with us.
I think it's great because when you go to a Premier League game now, the way it's showcased and the facilities available.
Everything about it is just brilliant.
You were part of a dominant Liverpool side in your time, would you fancy your chances up against Jurgen Klopp's current team?
We're all in our 60s so we might struggle now!
It's nothing that you could ever prove, but we'd give them a game, I think.
Souness would basically chop everyone down in midfield, Kenny (Dalglish) and Rushy (Ian Rush) would sort it out up front, then me and (Alan) Hansen would be solid at the back with nobody hopefully going past us.
The quality of the side now though is great and looking at football it's completely different.
When we played in the 80s, even at Liverpool, you didn't really understand how you were playing which sounds ridiculous.
Nowadays, every time these lads play, they have half an hour or so with coaches or the analyst and they have access to all this footage.
When we played, we just played and if we were good then we were good.
Fortunately, we were and you didn't give too much thought to it, but nowadays everybody knows everything.
Even supporters, you see people go on TV and talk about a low block like they've swallowed a coaching book and you're thinking what was all that about.
But it's improved the game and its improved people's knowledge of the game, but most importantly it's improved players performances.
We never had that, if we lost, we got a bollocking and if we won we were on the beer and that was the end of it.
Looking ahead to the FA Cup and the non league teams involved, could we see any shocks?
I don't see any shocks with the non-league sides, but you might get a Championship or League One team winning.
Kidderminster have West Ham and with David Moyes he would have watched them about 15 times already ahead of it because that's the way he is.
I don't really see it because there is such a massive gap.
But in the last rounds for me brought a bit of magic back into the FA Cup because I think we've lost it a little bit.
I just think those results were brilliant for the lower league teams winning.
Cardiff obviously beat Preston in the last round and I'm thinking I could have gone to Preston versus Liverpool which couldn't get any better.
---

Build better bets with our free betting tips, predictions and accumulators, every day.
More betting news:
February sporting highlights with 39/1 accumulator
Winners & Losers from the January transfer window
Best bet to finish bottom of the Premier League
Be sure to check out our Free Bets page to get the best value possible from our Football Predictions for today as well as Tomorrow's Football Predictions.