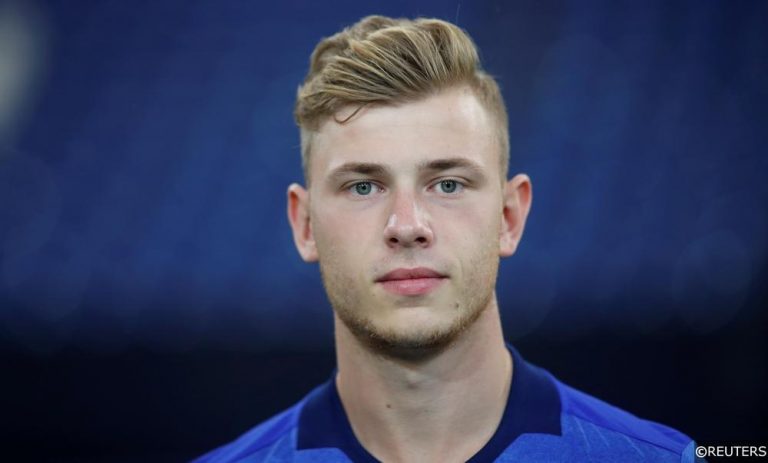 Simon Winter
@simonjwinter
Born in the south east of Ireland, Simon put his life-long love of football to good use when he started a successful independent blog in 2010. That opened up an alternative route to a career in journalism, and having had work published across a number of sites and publications, Simon joined the staff at Spotlight Sports Group in 2018.
When German midfielder Max Meyer chose to sign for Crystal Palace this summer, it raised more than a few eyebrows. Meyer was one of the Bundesliga's most highly-regarded young talents when he burst onto the scene as a teenager, though the schemer's fledgling career has been equal parts controversial and capricious since.
To get a more detailed insight into the type of player and character Max Meyer is and what he is likely to bring to the Premier League, we talked to Schalke 04 supporter Ethan LeBlanc.
Read More: Premier League 2018/19 Outright Betting Tips and Predictions – Winner and Top 4
Given his reputation, how big a coup is Max Meyer's signing for Crystal Palace?
Meyer is a good singing for Crystal Palace, in all honesty. He brings some Champions League and Europa League experience to Selhurst Park. He's got a big reputation in English media as he's been linked to the Premier League for years now, so I'm sure Palace fans were keen to see him be confirmed.
Crystal Palace are reportedly paying Meyer in the region of £170,000 per week. Is he worth that kind of money?
I read that he was making £170,000 a week and it shocked me since he was only offered a salary of €5.5m (~£94,000/wk) at Schalke. After a bit of research, it appears he's earning his signing bonus over time. It could end up being a great signing for Crystal Palace if they can get him to fit their system.
Still, it's a lot to be paying for a player who is coming off two of the most contrasting 4-month periods I've ever seen.
What are Max Meyer's strength? What is he good at?
Meyer has a keen oversight; in Tedesco's 3-1-4-2 system, he was always the player sitting deepest in the midfield and shifting the focus of attack from a deep position.
Conversely, does he have any major weaknesses?
His positioning in the midfield is something to be wary of. When he first transitioned into this deeper role, he struggled to understand when to step up and make a challenge and when to fall back with the defensive line.
Knowing Crystal Palace will likely play with a 4-4-2 for this upcoming season, it'll be tricky to strike the right balance with his partner in the pivot.
If you were to compare him to someone in the Premier League in terms of playing style, who would it be?
To me, Meyer resembles someone like Jack Wilshere. He's not commanding with his physicality, but on his day, he can be the crucial link for the midfield. He won't be the player looking for the final pass, but he can play the ball that shifts the defence out of their structure.
Read More: Premier League Team Focus: Can Roy Hodgson Provide a Rare Season of Comfort to Crystal Palace?
Meyer's relationship with Schalke seemed to deteriorate quite badly towards the end. Can you give us some insight into why or how that happened?
Essentially, what I would say happened is that Meyer gave himself too much credit. After barely getting a look in during the 16-17 season, Meyer was given a fresh start by new manager Domenico Tedesco. Tedesco helped transition Meyer into a completely different role, giving him a new lease on life.
Of course, Meyer repaid this trust by saying Schalke were ungrateful to him and the atmosphere wasn't right for him. You can defend Meyer here all you want, but watching videos like these, you can hardly believe him.
After a fan critisiced @fdisanto9 in training today, this is how the #s04 squad reacted 👏👇 #s04 🔵⚪ pic.twitter.com/OxIfrV3zwP

— FC Schalke 04 (@s04_en) August 4, 2018
Do you think Meyer's attitude can sometimes let him down?
If you want to look only on the pitch, Meyer was very lacklustre for large periods before August 2017. It gave the impression that whatever issues he was dealing with regarding the manager or staff really affected him on the pitch.
When he's focused, he'll give you the right amount of determination. Off the pitch, you probably won't see Meyer (a self-proclaimed loner) out at the clubs after a match in some scandalous drama.
However, Meyer's ego could get the best of him if he thinks Crystal Palace is merely a stepping stone for him.
How was his departure greeted among Schalke supporters?
Meyer leaving Schalke was the best outcome for both parties. After it was revealed his agent didn't want to discuss terms until it was agreed that Meyer was a "world class player who would be key for any top European club", it was obvious that the two sides were far apart.
I certainly feel like we're a better club without him; he simply didn't fit at Schalke.
Given his diminutive stature, how do you think Meyer will cope with the physicality of the Premier League?
I'm not sure many Crystal Palace fans will have watched too much of Schalke last season, but the Bundesliga can be just as physically demanding as the Premier League is. Teams love to press the opposition and Meyer tended to find himself at the center of the press.
The way Tedesco developed Meyer's game at the #6 role was to avoid being pushed off the ball; one or two touches and the ball is gone.
Of course, after Meyer transitioned into a deeper role, it was obvious that he began to gain some muscles. He wasn't the scrawny #10 he was coming out of the youth academy anymore.
Read More: Premier League Team Focus: Liverpool expected to challenge for the title
How does Meyer usually perform in pressure situations? Does he excel or wilt under the pressure of playing in big games?
In the big matches from last season, I wouldn't say Meyer went missing, but was rather outshone. Where he played last season, you'll be disappointed if you're expecting him to give a standout performance; it's best to only ask for him to focus on doing his job.
In those big matches he would deliver some solid 7/10 performances, but he was never one to take your breath away aside from a handful of decisive passes.
In terms of his potential, how high do you think Meyer's ceiling is? What level could he eventually reach?
Meyer has the potential to be a key player for Crystal Palace. If he focuses on himself and not the money, he can reach some decent heights, but I don't think he's bound for the Barcelonas or Real Madrids like he thought he was.
He's still only 22 right now, so Crystal Palace fans will be hoping this isn't all he's got to give.
Finally, do you think Meyer will ultimately be a success in the Premier League?
It really depends how Roy Hodgson – or any manager – utilizes Meyer's abilities. At the end of the season, Meyer's transfer could be viewed as the bargain of the season, the biggest flop in the league, or anywhere in between.
He's got the tools to be a reliable player for Crystal Palace, but he just has to focus on playing his game and not let the money distract him.
You can follow Ethan LeBlanc on Twitter here: @TedescoTime
Follow Free Super Tips on Twitter to stay up to date with our daily tips and predictions or browse more football content on our website: