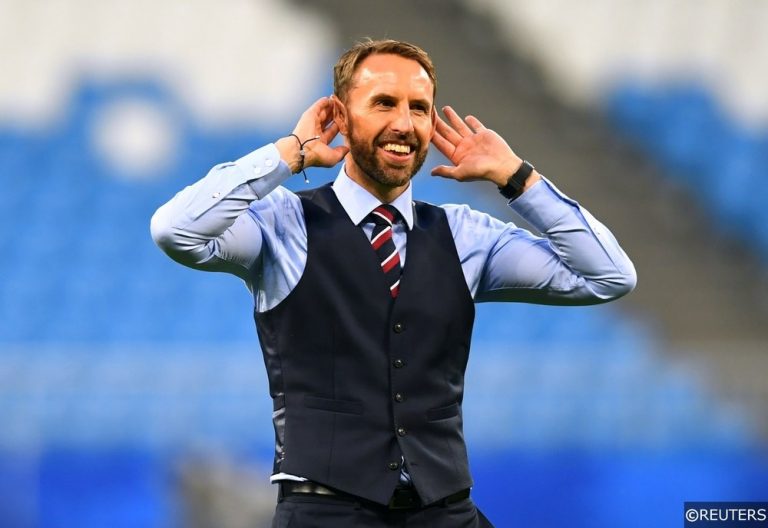 Gareth Freeman
@TheGFreeman
Sports Journalist at FST, Gareth qualified as a journalist after graduating from university and spent over a decade as a freelance broadcast journalist, commentator and tipster before joining FST. Now living in Manchester, he is a long suffering Bolton Wanderers fan who also enjoys boxing, the NBA, tennis and rugby league.
FST caught up with former England international Danny Mills this week to get his thoughts on the title race, whether Leeds and Burnley were right to part company with Marcelo Bielsa and Sean Dyche respectively and Gabriel Jesus' future at Manchester City.
We also asked who his top choice would be for the right-back spot in the England squad ahead of the World Cup, and the ex-Leeds man doesn't think Liverpool's Trent Alexander-Armstrong is the "best option" for Gareth Southgate.
How do you see City coping with their mounting defensive injury problems in the final few games, can they manage until the end of the season?
I think they will.
Obviously Cancelo comes back into it in terms of the Champions League, but I think they've got enough quality.
The Real Madrid game was a bit of an anomaly really, it was purely down to the fact that John Stones went off injured who has played well at right-back, Walker was out, and Joao Cancelo was suspended.
Cancelo will be back and can play on either side, so unless something dramatically happens, then I think there's enough cover.
Even if something happened to Zinchenko, then Nathan Ake could play left-back and even Laporte could play there.
Great teams have to deal with this, it normally happens towards the end of a season but their strength in depth is phenomenal, and I think Pep will find a way to deal with it.
Nathan Ake has come on well in recent weeks – is he starting to justify his signing?
I think at the time when Ake came in, there was a lot of speculation around John Stones and what he was going to do.
His form was a little patchy at times, so I think they brought in Ake as possible cover in case Stones left.
He hasn't had a huge amount of football at Manchester City, but he's a good player.
He came through at Chelsea, played well at Bournemouth, but was he good enough to be a regular starter at Manchester City; probably not, is the answer.
And still "probably not" is the answer when you talk about winning the title and trying to win the Champions League.
He's a very good Premier League player and obviously features for his national side as well.
He's good in terms of serving a purpose, but I would still have some concerns if you're using him for six months.
I think he's one of those players who are magnificent to come in for four or five games, but beyond that, if that's a long-term strategy, then I think there would be concerns.
Pep Guardiola says City have to win all remaining games unless they won't be champions, can you see anywhere they might slip up in the last five fixtures?
Not for Manchester City, they are just a relentless team, and they can score in so many different ways which we saw against Real Madrid.
Kevin De Bruyne doesn't get too many headed goals or Phil Foden, but it happened in that game.
They've got exceptional talent all over the pitch and if you look at their fixtures there's only West Ham who could be a problem.
But you would think that West Ham will be looking at their own European ambitions so they could rest one or two.
Even still, I don't see any massive issues, Leeds at the weekend will not be easy, but they'll rotate their squad and probably have too much.
There's no reason why Manchester City shouldn't win every game until now and the end of the season.
Who are your favourites to win the Premier League and Champions League?
Liverpool will be Manchester City's main issue assuming they both go through in the Champions League, but they're both favourites for it.
Anything can happen in a semi-final; stranger things have happened which is why we all love football.
Liverpool are Manchester City's nemesis, as we saw in the FA Cup semi-final.
It will be an incredible game if it's Manchester City vs Liverpool in a Champions League final.
I don't think Liverpool will get their hands on that quadruple because I think Manchester City will win the league.
That's the dilemma for Liverpool, both teams could have successful seasons with a couple of trophies each.
I think City in a one-off game just have to do what everyone knows they can do where they swarm all over you.
Their quality is exceptional, but their press and ability to put teams under pressure is superb and if they can do that to Liverpool for 90 minutes, then I think they'd win the game in a potential final.
Gabriel Jesus has been linked with an exit, and then went on to score four goals vs Watford – should he leave, or stay and fight for his place?
I think it'll be very difficult for him.
He's never been the out and out number nine at Manchester City, obviously he had to compete with Sergio Aguero who he was never going to live up to those standards.
It was always going to be unfair to expect him to as well and I guess you'd put him in the category of Divok Origi.
I think he's a better player than Origi, but he's a player who's going to play enough games and get his fair share of goals.
He will be useful for Manchester City as a backup striker, but that's what I think he's always going to be.
Pep has always raved about his unselfishness, his ability to help the team out, his running and the movement he makes which leaves gaps for other players.
But he's never really fancied him in a regular starting position, and I think that shows when they play him out wide rather than down the middle.
I think it'll be down to Jesus and what he wants to do.
If he's happy with that role, winning the league, winning trophies and I'm sure he's rewarded financially as well.
There aren't many better places to play your trade than Manchester City with the training ground and the experience he'll get.
If he's happy, then great and I think City will want to keep him for that secondary role.
But if he wants to move on, play regularly and be the main guy, then he'll have to move on.
I wouldn't be surprised if City said that's ok, as long as he isn't going to a direct rival such as Liverpool.
With the service he's given to City, I don't think it'll be an issue if he wants to leave, they've been good with players like that.
Can Gabriel Jesus fulfil his potential as a Man City player if they sign Haaland?
I don't think it massively affects Jesus.
Jesus is secondary already; he can play in numerous positions which we've seen.
If Haaland does come in which we're all expecting, then Jesus will still probably play 20 games a season at least.
That's still not bad for a backup forward, he'll still get his share of goals and the fact he can play all three positions along the front means he'll dip in and out of games.
I don't think Haaland coming in will massively change his role, he'd be there as a backup as and when needed.
Can Arsenal tempt Gabriel Jesus to north London this summer and if he is to leave City, should other Premier League sides like Man Utd and Liverpool be in the race for him?
There will be a lot of teams looking at him, it obviously comes down to the fee and the wages involved.
There may well be a lot of teams looking for strikers, you drop out of the top three or four and suddenly all the teams are looking for strikers.
Jesus will probably guarantee you 16 or 17 league goals if he's playing every week, possibly more.
He's definitely going to be 15+ in the Premier League and there's a lot of teams out there, so it's how far does Jesus want to drop down.
Does he want to continue playing Champions League football or is he prepared to play Europa League or no European football at all?
It's a personal dilemma that only Jesus will know the answer to.
Any surprise Sterling's contract is being allowed to run down by City? Can you see them selling him this summer? Can City handle his sale?
I don't think he will be leaving this summer.
This talk and speculation was around last summer, his form wasn't great and he'd left out and I said at the start of the season that he'll still play 30+ games for Manchester City.
Even if he isn't first choice right now, I don't think he's far off 50 game involvements this season so far.
City will usually play around 60 games in a season with the cup runs and Champions League.
I'm sure there will be things going on behind the scenes with his contract and there will be a few debates or games around it.
He could leave or go play elsewhere and I think City will look at him and look at how well he's served the club.
It'll come down to value of money and where City value him at.
What's the length of his next contract and how much is he worth; that'll be the next decision.
He's been great for City, Pep's been great for him, and he's been great for Pep so I would be very surprised if there isn't an offer on the table for him shortly.
Were you supportive of Bielsa's sacking? Do you think the decision to bring in Marsch has worked?
I think it was the right decision at the time to sack Bielsa.
I know there were a lot of Leeds fans who were very unhappy because it's Bielsa and this hero status he has.
From where he took the club, languishing in mid-table in the Championship to the playoffs, then promotion and then a fantastic season in the Premier League.
He will always be loved by Leeds fans and considered a hero, rightly so.
But it wasn't working this season, they were struggling big time.
He was going to be leaving at the end of the season no matter what and I think there was a slight issue with the players looking slightly fatigued.
The tactics weren't working for whatever reason, whether it was second season syndrome and teams had worked them out.
Yes, they've had injuries to big players, but the decision was made that actually they thought they needed a change.
Hindsight will tell us once we're at the end of the season whether bringing in Jesse Marsch was the right decision.
He was coming at the end of the season no matter what and it was a matter of timing.
We'll never know if Bielsa would have managed to keep them up and if Marsch keeps them up people will go it was the right decision and vice versa it was the wrong decision if they go down.
But it still probably was in all honesty if you look at their form and results since.
Jesse Marsch has come in and done a good job in my opinion.
I didn't think it was right for Burnley to sack Sean Dyche but would Sean Dyche have got those results in the last few games? Probably not.
So, we can all be proved wrong at times, but the decision to sack Bielsa and move on was the right decision.
It was a decision made for the right reasons because I think if it wasn't then they would have been in real trouble.
Do Leeds have enough points & squad depth to survive relegation?
They do but it'll be very tight.
If you look down there it's Everton and Burnley, but Leeds are still in it.
Leeds probably need another four points to guarantee safety, but they've got some very difficult games coming up.
The next three fixtures are very tough against the top sides.
If they pick up zero points in those next three games, I can see Everton and Burnley picking up points in that time.
Then you start to go into the last games of the season with a point or so in it and that becomes nervy.
You do start to worry, and it can become one decision, one slip or mistake or one wonder goal that could be the difference.
They're not out of the woods yet, I think they've done very well since Jesse Marsch came in, but I still think the other teams will get results along the line.
It's in Leeds' hands, but if they don't get anything in those last three games, then you go into the last two thinking you need another three or four points.
That's when it becomes pressure and sometimes when that pressure is on that's when teams can crack.
Why have Leeds struggled this season? Could it be a lack of investment in the squad?
Injuries have played a huge part in that, and I think Jesse Marsch was right in some ways to come out and say the players have been over trained at times.
I think we can see the players have looked fatigued at times, Bielsa has always struggled to maintain a team beyond three seasons because the demands are so high.
The training regime is incredible, we all know about 'murderball' and to be fit for Saturday you have to perform at 120% on a Thursday afternoon.
That can be difficult when you're coming back from injury and sometimes when players are desperate to play, they can push themselves too hard too soon and break down again.
I think Jesse Marsch was right in those comments, he probably didn't need to say it at the time when he did.
It's possibly the only thing he's said wrong, not in terms of what he said, just the fact he didn't need to say it.
But I think with the Americanisms, the 'soccer' talk and the Ted Lasso comparisons, I think with the good results he maybe didn't think he was getting the credit he deserved.
I think he wanted to ride that wave and let people know that he is doing a good job.
But the struggles have been down to injuries, being in their second season because it's not quite the same.
The thrill and the buzz isn't quite the same for the players, the first season is a new experience for the players and your adrenaline is flowing.
Sometimes you can lose that 3 or 4% which isn't huge but can lead to a drop off.
Add that to teams working out how Leeds play and the element of surprise goes.
It's no different from Leicester City winning the league, they won the league playing a certain type of football, so everyone the year after dropped off a little which they struggled with.
I think teams have done similar to Leeds, they worked out the 'man for man' tactics and managed to pull players out of position to exploit the gaps left.
So, there's lots of factors involved, but with the new manager they look a lot more solid and organised, so they've just got to dig in.
The performances don't matter, they just have to find a way to get over the line.
What does Erik ten Hag have to do to get a tune out of Man Utd next season?
I think he's got to clear out the backroom staff, there's a lot of legacy people at Manchester United who know the club inside out, but it hasn't worked for the last ten years now.
They've struggle and when you bring a new manager in, with the way they work wanting to develop players and younger players through to first team, then I think he needs to clear out the backroom staff and bring his own people.
You don't have the issues then of 'well we used to do it this way'.
One bad apple can spoil the whole barrel, it's easy to point fingers when you're not winning games and compare it to Sir Alex Ferguson.
You don't need any of that influence, United have struggled for long enough so it should be a clean sweep and start again.
There's a lot of players who need clearing out, get rid of the big egos and players who haven't really performed.
It'll give Ten Hag a chance to start afresh and start from scratch.
When you look at the players who will go and the ones out of contract, there could be 10 first team players moved on.
That then gives him the opportunity to start again, implement a style of football that he's developed at Ajax, but it'll take time.
It could take a season and a half to do, it won't be great for Manchester United fans, but I think they'll find it difficult for a while until they're challenging for the Champions League again.
Which players will be the biggest victims of Erik ten Hag's arrival at Manchester United?
When you look at the players expected to leave, Paul Pogba and Jesse Lingard who are out of contract.
Phil Jones expected to go, Matic and Mata will probably go, and Ronaldo could be a bit of an issue.
If you're coming in with a new plan and a new way of playing energetic football and Ronaldo doesn't suit that, then it's an issue.
He's only going to be there for another year at most, so would it be wise to move him on now.
Not because he's a bad player or a bad influence, but just because he doesn't play the way you want to play.
United have had to adapt around him this season and will have to next season until he's gone.
Or do you say we need to start again without him because one of the problems will be if Ronaldo isn't playing and the team aren't winning, then there will be questions why.
If he does play and score then it just comes down to Ronaldo and his ability, so it's always going to be an issue for a new manager.
He's an incredible goal scorer and if you have a philosophy that he doesn't fit in to, then sadly I think you have to move him on.
Look at what Pep did, immediately he moved Joe Hart on without watching him train.
Joe was a fantastic goalkeeper, but Pep knew he wasn't right for the way he plays.
Guardiola struggled in his first season, Jurgen Klopp struggled at first, so it will take time and I think Manchester United have made a good appointment if they allow the manager to do what he needs to do.
That's the big question because they didn't let Mourinho do that or any of the other managers since Sir Alex left.
Will Cristiano Ronaldo be prepared to stay on next season without Champions League football?
I think Cristiano Ronaldo is about Cristiano Ronaldo; he wants to break records and achieve all sorts.
If he's not playing week in week out, then that will be a huge frustration for him.
We know he's an unbelievable goal scorer, he's magnificent and a big game player.
Without Champions League football how many big games are there?
Five or six in the Premier League that you look towards, so I would think they may come to an agreement with him.
They didn't pay a huge amount for him don't forget, but his wages will be significant.
They would come to some sort of deal, but it also depends on what Ten Hag wants and whether he wants to keep him around.
Does he feel he can get the most out of him for half of the games in a season or whether it would be a weight around his neck.
We all know what Ronaldo is like though, he wants to play every game and be involved in everything.
There could be a difficult conversation to have over the summer.
Should Ralf Rangnick be given a job upstairs at Old Trafford despite failing to impress as interim manager?
I think he should.
I justify that by saying that he's not a great coach, but that doesn't mean he doesn't know what a bad coach looks like or that he doesn't know how to run a football club.
David Gill was an incredible football operator, but he wouldn't have made a good coach.
He knew enough about football, but that doesn't make you a good coach.
We've seen that with David Dean at Arsenal, fantastic football operator but he couldn't have done Arsene Wenger's job.
Ralf Rangnick is great at what he does, he puts people in the right places, and I would compare him to Sir Clive Woodward.
I know Sir Clive Woodward went on to manage England, but when you listen to him and read his books and his methodology; he built a team of managers to manage the team.
He put people in the right roles to get the best out of the team on the pitch and he didn't have too much involvement in the coaching.
That's a Ralf Rangnick sort of role, he will put the guys for the recruitment and build the club away from the pitch.
Recruitment, scouts and the academy; just because he hasn't worked out as first team coach doesn't mean he isn't good in that role.
We've seen before where good coaches don't become good managers.
Sir Alex Ferguson wasn't the greatest coach in the world, that's why he got fantastic coaches alongside him to do that role.
Everybody has a specific role, and I don't think Rangnick was ever the right person to be the coach or manager at a club the size of Manchester United.
But that doesn't mean he isn't the right person to do the job upstairs.
You've been critical of Arsenal and Mikel Arteta's tactics this season, do you believe he is still the right man for the job?
I think the jury is still out on Mikel Arteta.
He does really well then has two or three bad results which brings questions marks again.
A lot of it depends on whether they get into the top four and the North London derby will be huge in that race.
Whether they can hold off Spurs to get into that position.
I would say he's done a decent job, but not a great job.
He's done well in clearing out the players he doesn't want, but they have an issue with having no centre forwards in the summer.
Nketiah is out of contract, Lacazette is out of contract and they're going to have to fill that space with a quality player which will cost a lot of money with big wages.
Arsenal seem to be coming away from that with the departures of Ozil and Aubameyang since Arteta's been there.
It'll be a big decision in terms of who they bring in and whether they're the right player to be a striker at Arsenal.
But he's done an ok job, there's positives in the progression of the young players coming through, but then you watch some games where they look like they've gone backwards.
Arsenal at the moment is a case of two steps forward one step back, one step forward two steps back.
They're getting better very slowly and not as quickly as I would have expected.
Look at what Patrick Viera has done at Crystal Palace, it was an incredibly difficult job going there and he turned around the style of play quickly which has brought results.
That's on a more limited budget, so that's why I think Arteta has done ok, but I would have expected more.
What poses the biggest threat to Arsenal's top four hopes, now that they are back in control of their own destiny?
I think it has to be the Spurs game because if they lose that then that does a lot psychology to you.
West Ham won't be an easy game, Leeds won't be particularly easy but with three games to go against Spurs is a huge game.
Arsenal are just slightly ahead right now, but if they lose that game with two to go then they'll think they've blown it.
Could Arsenal bounce back for those last two games? I'm not sure.
The mentality of Arsenal is still the question marks around Arsenal, do they have that fighting spirit, do they have that willingness to grind in and dig out a result when they're not playing well? That would be my concern.
I know they came back well against Chelsea and Manchester United after those three defeats.
But sometimes it's easier to play in the big games because you get yourself up for it, you know you have to be at your best.
Can they grind out results and if it goes to the last game of the season, then they have Everton who are fighting for their lives.
They might need something from that game and do Arsenal have that fire in their bellies to win ugly; that would be my question mark over them.
Can you see Antonio Conte and Harry Kane departing Spurs in the summer?
I can actually see a swap happening between Conte and Pochettino.
I think we've known for a while that he would be leaving PSG and we know how ambitious Conte is and how much he wants to win.
If you turn up at PSG, then you win the league more often than not, you have to be poor to not win the league.
The Champions League would be the one he's after and the strength in depth at PSG is off the charts, their reserve XI is incredible.
There's some outstanding in that squad, so I could see Conte wanting to go there.
I guess then it becomes if Pochettino comes back, he had success for five years, but it didn't end well.
A lack of investment didn't help, but Harry Kane must be thinking that he's lost a manager who wants to win things and has a proven track record to getting Pochettino back.
He hasn't massively been successful at PSG; he's won a couple of trophies but it doesn't constitute massive success.
Harry Kane will be thinking will he win a trophy, will he be in the Champions League next season which could be a huge factor.
But who's going to take Harry Kane, Manchester United would be the best and only suiters if we're assuming Haaland goes to Manchester City.
Liverpool won't spend that sort of money and Chelsea can't buy anyone at the moment.
He would suit a Ten Hag system and Manchester United could afford to do the deal, so it might be the only option for him if he does want to leave.
But then again, he'd be without Champions League football for another season.
As a former right-back when you see the options England have ahead of the World Cup in December – if they're all fit who would be your choice to start?
Kyle Walker for me, I still think he is the best mix of all attributes for what you need.
As a right-back in a back four I think he's the best option by far, he's the best defensively and can offer a lot going forward.
He has tremendous pace to cover round as well.
The argument is around Trent Alexander-Arnold going forward and his attacking prowess which I get completely.
But I still think the way Liverpool play suits his style and he still gets caught out from time to time.
Kyle Walker is the better option as an out and out right back.
The challenge to that might be Kieran Trippier, since he's arrived at Newcastle he's performed really well before that injury.
People will talk about Trent's delivery, but Trippier was put into that World Cup squad and Walker was moved into a back three because of Trippier's delivery.
We saw that throughout the tournament, his crossing ability is fantastic, and he brings a lot of experience, especially with going to Spain and working under Simeone.
Newcastle could be in great form going off what they're doing at the minute and if Kieran Trippier is playing well then, he has to come into it.
Then there's Reece James at Chelsea, Gareth Southgate is blessed with quality right backs and it's not just about picking the best player.
It's about picking the player that fits into the way you need to play and the opposition you're coming up against.
People always think it's easy but it's not Football Manager or Fifa, you can't pick all the best players and throw them onto a pitch.
That's never worked in football, the chemistry has to be right, the understanding and the balance.
But if they're all fit and all on form, then I still think Kyle Walker is the best option.
---

Build better bets with our free betting tips, predictions and accumulators, every day.
More betting news:
In the Mixer: "Mitrovic is just not a Premier League-level striker"
To take full advantage of our Free Football Tips we recommend you take a look at our Free Bets page, where you can compare all the best free bets and special offers from the country's top bookmakers.