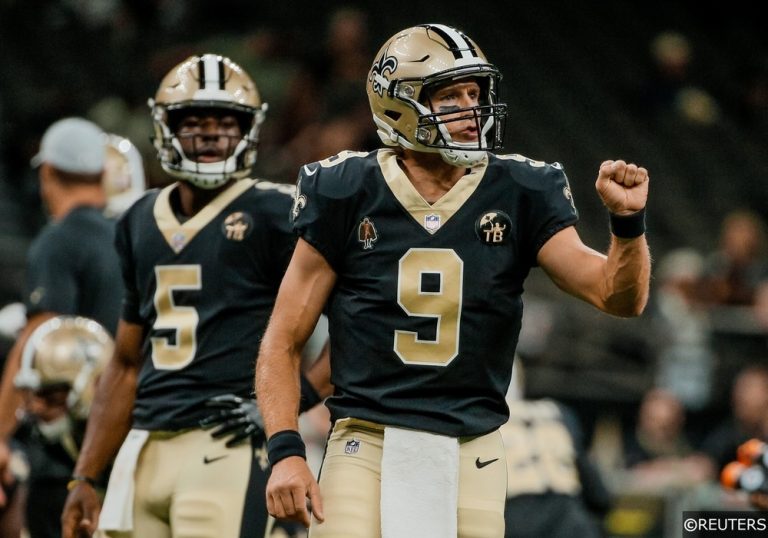 We are now a week into the second half of the 2018 NFL season with the slate of Week 10 games finishing up this weekend. For many teams, the next couple of weeks are crucial for deciding whether or not they will reach the playoffs. To prepare you for the madness, we have ranked every team in the NFL to show you where your team stands as the playoff pushes begin! (All records as of November 9th, 2018)
1. New Orleans Saints (7-1)
Almost nobody can touch the Saints right now offensively. QB Drew Brees is playing at an MVP level, they have the best RB duo in the league in Alvin Kamara and Mark Ingram, and WR Michael Thomas has established himself as a Top 5 WR in football. The defense needs some work but is improving, and it won't cost them wins if the offense keeps averaging 34.9 points per game.
2. New England Patriots (7-2)
QB Tom Brady has so many offensive weapons its hard to count. RB James White is as dynamic a back as they come, and the midseason addition of WR Josh Gordon provides a deep threat and redzone target that can complement TE Rob Gronkowski. The defensive line has some studs and their special teams unit is still one of the best in football. New England will be Super Bowl contenders as long as Belechick and Brady are still in town.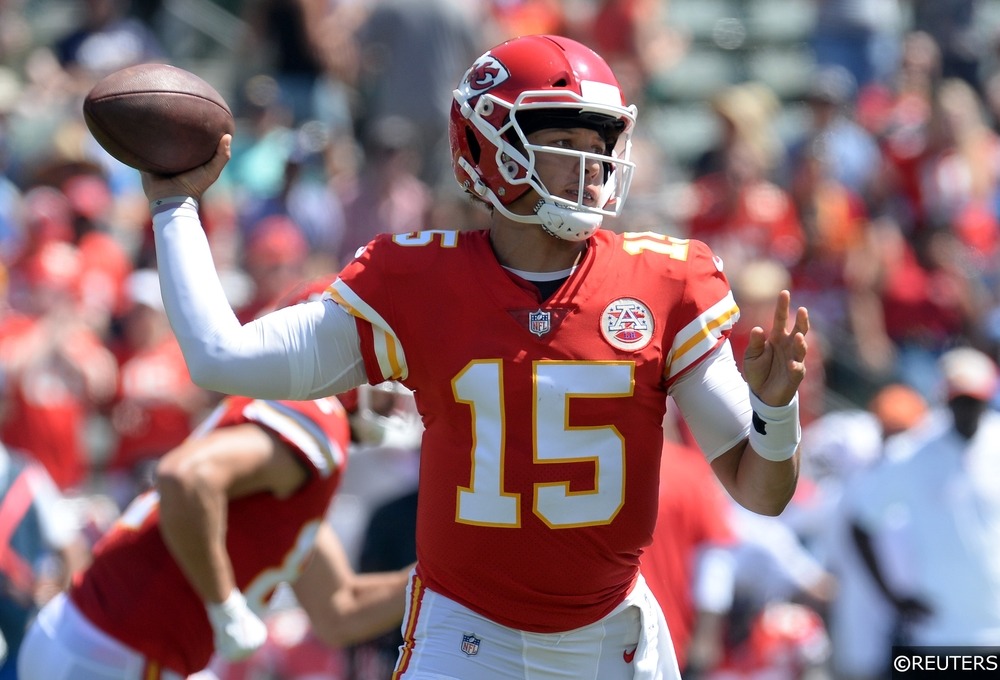 3. Kansas City Chiefs (8-1)
Andy Reid has been incredible implementing his system with QB Patrick Mahomes. The second-year QB is an MVP candidate and has a ton of weapons on offense including one of the fastest players in the league in WR Tyreek Hill. The secondary is spotty but they do have one of the better pass rushes in football.
4. Los Angeles Rams (8-1)
The Rams are coming off a tough loss but are still one of the favorites in the NFC. HC Sean McVay is running a great offense and has the best RB in football in Todd Gurley. The defensive line has the best overall player in football in DT Aaron Donald, but they do have problems at LB and in the secondary that need to be addressed.
5. Pittsburgh Steelers (6-2-1)
The Steelers have come a long way since their dreadful start. RB James Connor has been great in the absence of Le'Veon Bell, but more importantly their offensive line has been one of the best in football. Pro Football Focus has the Pittsburgh O-Line as the 2nd highest graded pass blocking unit, behind only the Packers. The defense has been great as of late and their pass rush is really starting to come alive.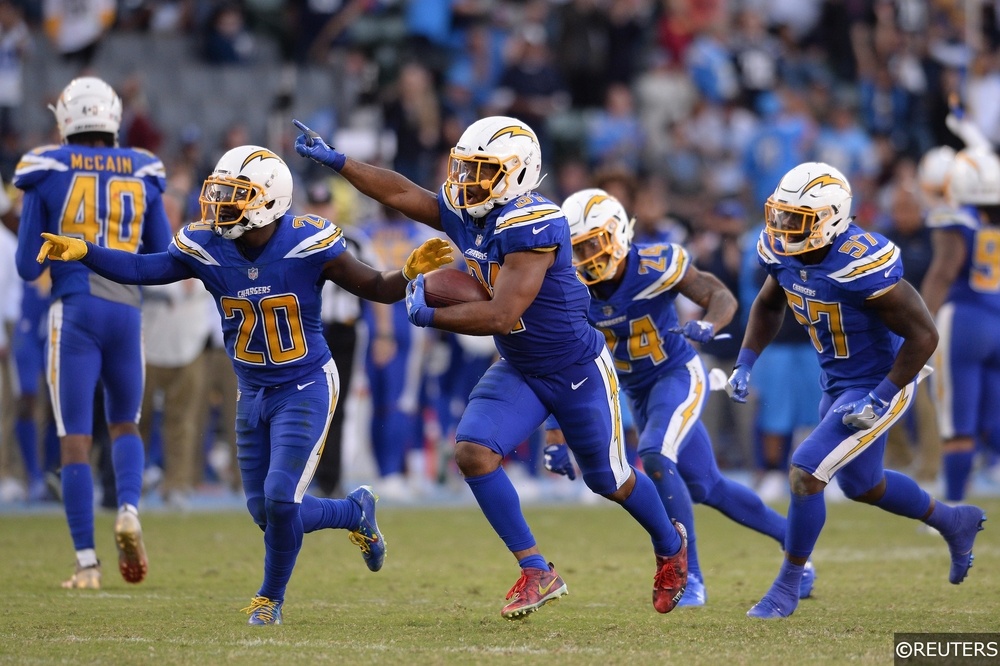 6. Los Angeles Chargers (6-2)
The Chargers just keep finding ways to win, mostly because of the balance they display on offense. QB Philip Rivers is quietly having a great year and RB Melvin Gordon has been excellent in both in and out of the backfield. They do have work to do on defense, however, as Pro Football Focus has them graded as the 10th worst tackling unit in football.
7. Minnesota Vikings (5-3-1)
The Vikings have a great offense that has arguably the best WR duo in football in Stefon Diggs and Adam Thielen. The defense has been shaky but is finally getting healthy. Minnesota has enough playmakers on both sides of the ball to scare some teams down the stretch.
8. Philadelphia Eagles (4-4)
Philly is finally getting healthy and just made a great move in acquiring WR Golden Tate from the Lions. The defense is stacked with talent across the defensive line, but they do have issues in the secondary. The running back situation is getting slim, but QB Carson Wentz has plenty of weapons in the passing game to make up for it.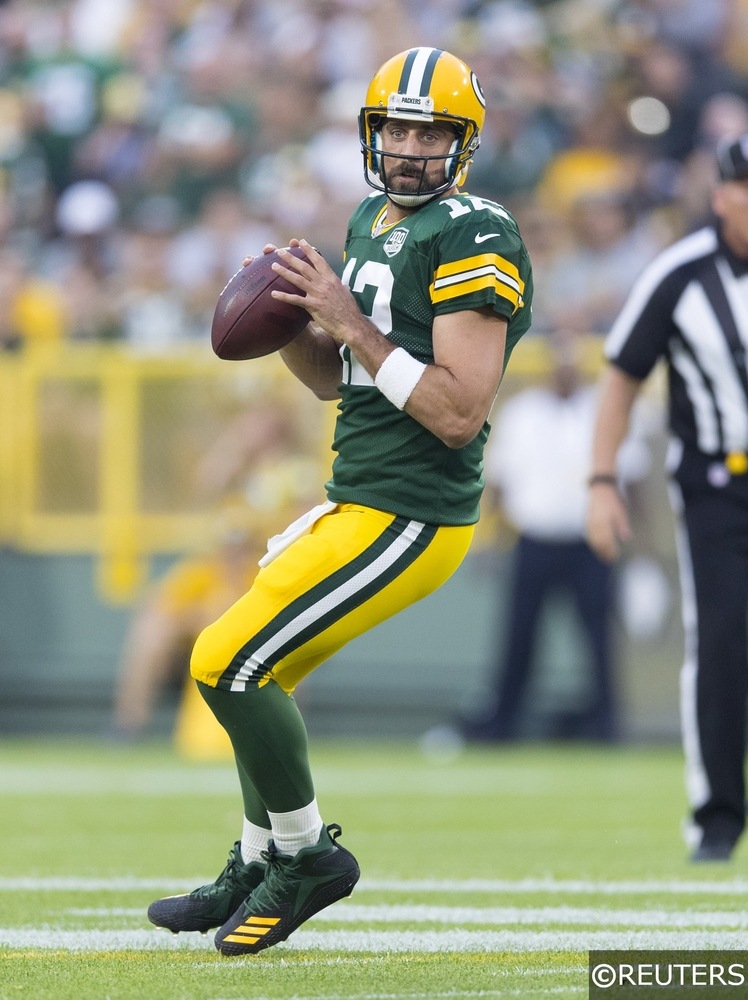 9. Green Bay Packers (3-4-1)
Its been a tough few weeks for Green Bay, as they had to go up against the Rams and Patriots. Although they dropped both games, they are still a terrifying team to face with QB Aaron Rodgers getting closer to being 100% healthy. The defense has some studs in DL Kenny Clark and CB Jaire Alexnader and the WR corps is deep now that everyone is back healthy.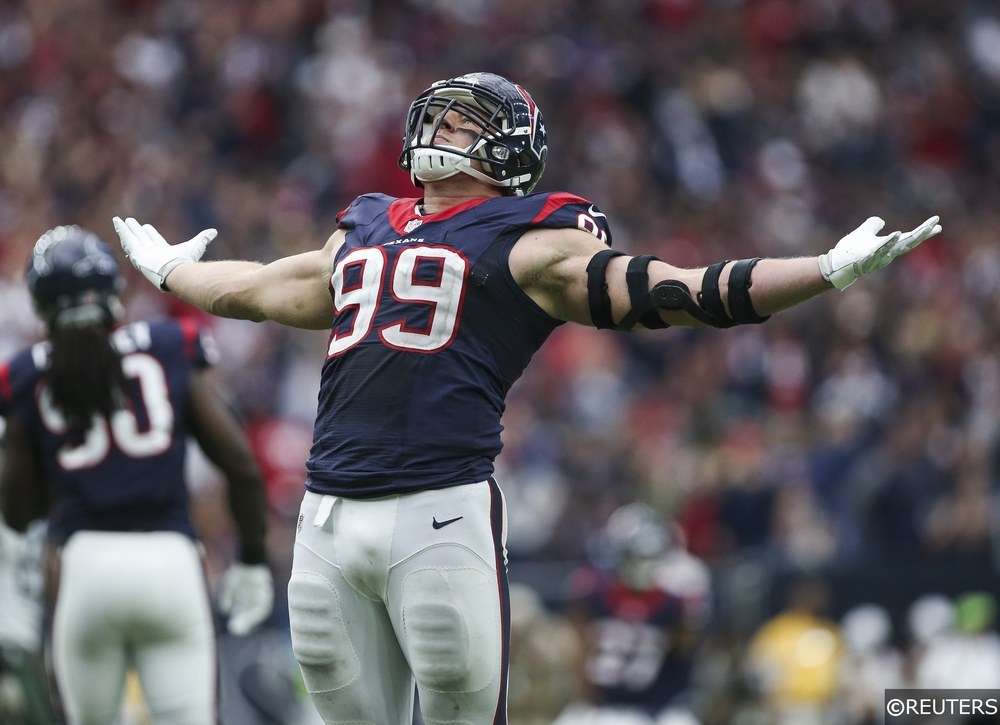 10. Houston Texans (6-3)
The Texans are starting to click and have a ton of talent on both sides of the ball. The defense has been great, especially against the run, and the offense has found some balance. Its up to QB Deshaun Watson to see how far he can take this team, but having a Top 5 WR in DeAndre Hopkins certainly helps.
11. Atlanta Falcons (4-4)
Atlanta has rattled off a couple of wins to get them back in the playoff picture and the credit has to go to the offense. QB Matt Ryan has been great and it looks like he is finally starting to click in OC Steve Sarkisian's system. WR Calvin Ridley is a stud but major problems on the defensive side of the ball limit the potential of this Falcons' team.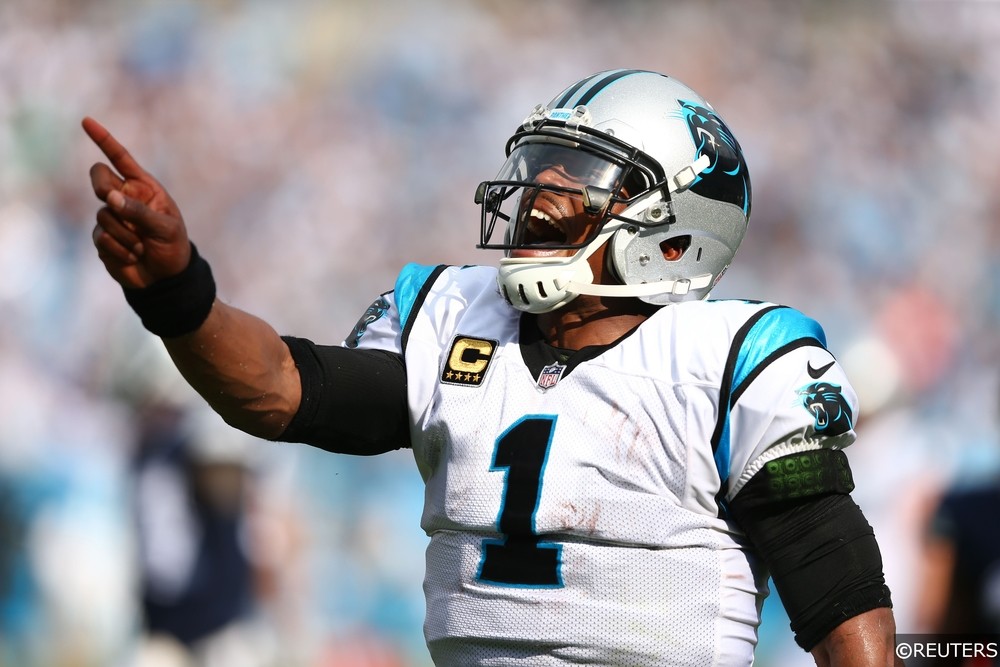 12. Carolina Panthers (6-3)
Running the ball is the specialty for Carolina and they are great at it. But the passing game is struggling and they don't have enough talent on defense to keep them in games. QB Cam Newton is still inconsistent, but does show potential when he's on that can make Carolina a tough matchup as the season goes on.
13. Seattle Seahawks (4-4)
Defense is back in Seattle, as Pete Carroll's unit has been improving greatly each week. The key though has to be the running game, which is finally taking off under the trio of Carson, Penny, and Davis. The WR group is getting healthy again which is great news for QB Russell Wilson. But the offensive line isn't good and it looks to be the Achilles heel for this team.
14. Chicago Bears (5-3)
The Bears defense has been great, but the offense isn't as great as it seems. The running game does deserve credit with Tarik Cohen and Jordan Howard, but QB Mitchel Trubisky has been anything but sharp this season. His PFF grade ranks 35 out of 36 qualifying QBs, with only Nathan Peterman being lower. Problems arise when the Bears are forced to throw the ball, which is why they will have trouble staying competitive in the divisional race.
15. Cincinnati Bengals (5-3)
The Bengals have come down to Earth after a hot start, but we think they are deserving in the top half of the league. The offense was good when it was healthy, but now the injury bug has taken its toll on the team. There isn't much talent left for the Bengals to be able to make a playoff push.
16. Washington Redskins (5-3)
The Redskins just don't have anything special about them. The offense has gotten a boost from RB Adrian Peterson, but otherwise its been very boring. The defense is solid but isn't as good as advertised. QB Alex Smith is a great game manager but not a winner.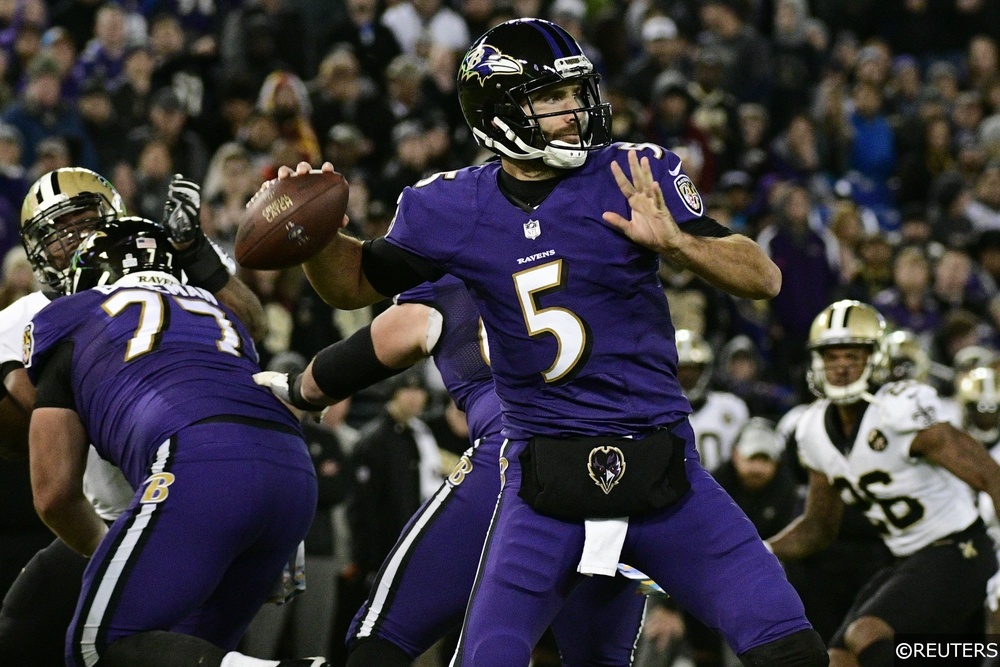 17. Baltimore Ravens (4-5)
The Ravens have taken quite a the spill over the past few weeks. The offense isn't as good as expected because QB Joe Flacco is very overrated. The defense is very good and CB Jimmy Smith is a star, but a couple bad performances from the group might have killed their playoff chances.
18. Tennessee Titans (4-4)
The Titans had a huge win over the Cowboys but they still aren't very good. QB Marcus Mariota has been underwhelming in his young career and the offense doesn't have many good wideouts either. The defense has been solid but they don't force a lot of turnovers.
19. Miami Dolphins (5-4)
Brock Osweiler has been an upgrade from Ryan Tannehill, but the Dolphins still aren't very good. The defense is no where near as good as advertised and the offense doesn't have a lot of creativity. There are some good young players like WR Albert Wilson and DeVante Parker but it hasn't been enough to bolster the Miami offense.
20. Jacksonville Jaguars (3-5)
Blake Bortles just isn't the answer in Jacksonville. The defense is somehow bad even though they have great players at virtually every position. The inconsistencies of this Jags team are too big to overcome, leaving the Jags with basically zero chance at making the playoffs this year.
21. Dallas Cowboys (3-5)
Similarly to Jacksonville, the Cowboys also have a problem at QB. Dak Prescott has not been good since he came into the league except for a couple games. His inability to throw the ball downfield has really limited this offense. The defense is solid, but LB Sean Lee is constantly injured which changes their entire scheme. HC Jason Garrett is one of the worst in football and should be out of Dallas soon.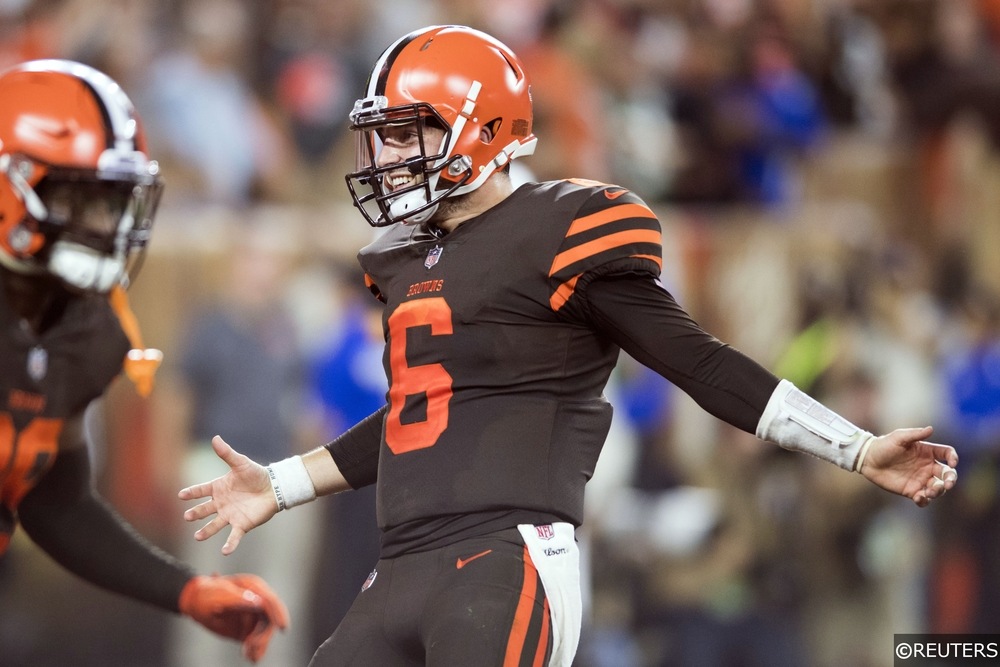 22. Cleveland Browns (2-6-1)
The Browns have been solid this year despite rookie QB Baker Mayfield undergoing a steep learning curve. The defense has been good except when they play the top offenses, but most of the young talent has performed well. CB Denzel Ward and DE Myles Garrett have been particularly impressive and look to be centerpieces for this defense for years to come.
23. Denver Broncos (3-6)
The Broncos have a coaching problem. Vance Joseph needs to go. But besides that, the Broncos also didn't give QB Case Keenum a lot to work with on offense. The offensive line has been horrible and for some reason the Broncos don't run the ball a lot. On the defensive side of the ball, they are good at home but really struggle outside of Mile High.
24. Detroit Lions (3-5)
Losing WR Golden Tate hurts a lot, but the Lions still have a good offense under QB Matthew Stafford. They have been inconsistent this year, but the development of a running game has helped them out tremendously. The real problem is the defense, which has not only been terrible all year long but also hasn't improved much since the beginning of the season.
25. Tampa Bay Buccaneers (3-5)
The Bucs can score. QB Ryan Fitzpatrick is far better than Jameis Winston and loves to air it out to his plethora of WRs. But the issue is that Tampa Bay has by far the worst defense in the league, and honestly one of the worst defenses the NFL has seen in the past couple of years. They can't stop anybody, which is why they find themselves near the bottom of the NFC.
26. Indianapolis Colts (3-5)
This has been an interesting year for the Colts, but it can be marked down as a success. They weren't supposed to compete and aren't really, but QB Andrew Luck has been getting plenty of reps and the defense looks to be improving. The Colts can definitely scare some teams because of the high ceiling their offense provides, but still are a year or two away from being serious threats.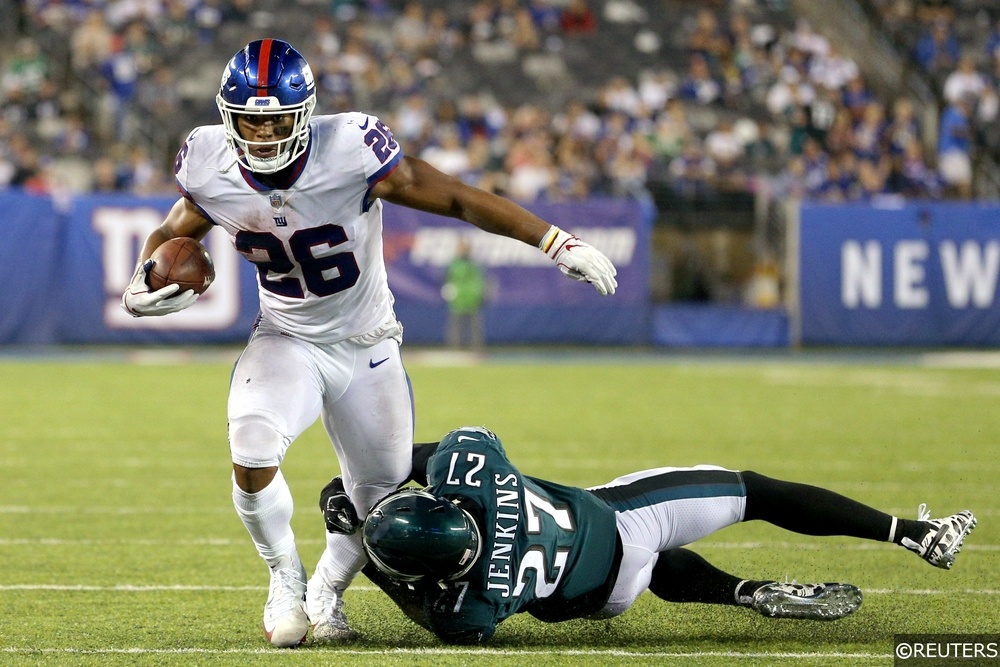 27. New York Giants (1-7)
RB Saquon Barkley has been incredible, but problems regarding the offensive line and quarterback play have halted the Giants. QB Eli Manning has lost all mobility in the pocket and doesn't have much arm strength left, which has resulted in a frustrated Odell Beckham Jr. The defense hasn't been great either, which explains why the Giants are in contention for the #1 pick.
28.  New York Jets (3-6)
QB Sam Darnold has been horrible since his great performance in Week 1 and its resulted in the Jets losing a lot of games. The defense has been good at times, especially S Jamal Adams who has emerged as one of the premier safeties in football. But the bottom line is Darnold needs more time to grow and HC Todd Bowles should be let go.
29. Arizona Cardinals (2-6)
Rookie QB Josh Rosen hasn't been great, but has put together a few nice moments. The defense is all over the place and the team doesn't seem very well coached. The main concern is the offensive line, which has been horrible even after shelling out a ton of money in free agency.
30. San Francisco 49ers (2-7)
The Niners defense is a mess, but they do have some great skill players on offense in RB Matt Breida, WR Marquise Goodwin, and TE George Kittle. Subpar QB play has limited their success, but Kyle Shanahan has something to work with in the next couple of years on the offensive side of the ball.
31. Buffalo Bills (2-7)
Nathan Peterman has been the worst QB in the league by far, and they don't have much talent elsewhere offensively. The defense has shown some real potential but is too inconsistent.
32. Oakland Raiders (1-7)
The Raiders have given up on HC Jon Gruden and simply look like they don't want to play. Playing them is essentially a bye week as their offense can't move the ball and their defense is horrendous.
Free NFL Predictions, Picks & Betting Tips
Follow Free Super Tips on Twitter to stay up to date with all of our daily predictions or browse more sports betting content on our website: