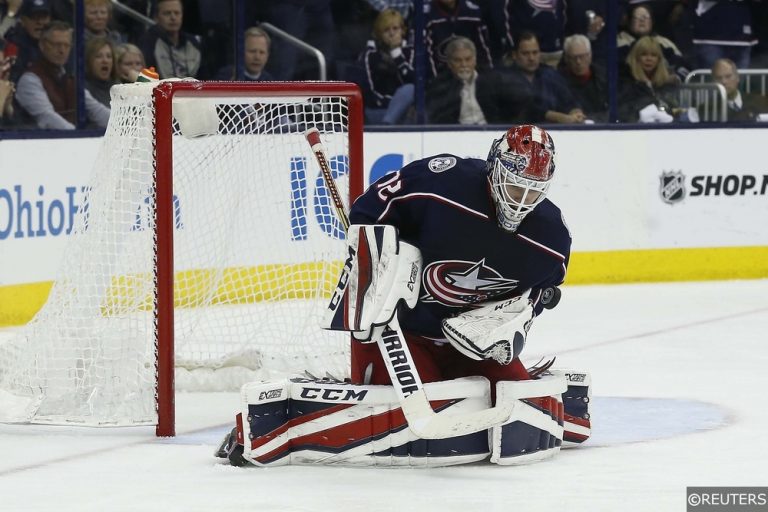 Metropolitan Division Predictions
Carolina Hurricanes
Last Season: 6th (21st overall); 36-35-11.
Haven't qualified for the Stanley Cup Playoffs since 2008-2009 when they lost to the Penguins 0-4 in the Conference Finals.
Team Leaders: Sebastian Aho (Right Wing, 21 years old, 29-36-65), Dougie Hamilton (Defenseman, 25 years old, 17-27-44), Scott Darling (Goalie, 29 years old, 13 wins, 88.8 save percentage, 3.18 GAA).
The main Hurricanes acquisitions are Dougie Hamilton (Defenseman, Calgary), Petr Mrázek (Goalie, Philadelphia, 14 wins, 90.2 save percentage, 3.03 GAA, 4 shutouts) and Andrei Svechnikov (18 years old, right wing, no.2 in 2018 draft). Carolina lost their no.1 goalie Cam Ward (Chicago).
The Canes have a big problem between the pipes – Scott Darling's last season was a disaster (in comparison to his previous seasons). We don't see the acquisition of Petr Mrázek as a proper solution for this (although Mrázek's end of the last season was excellent). The good news is Carolina's defence was one of the best last year (Hurricanes permitted only 28.9 shots per game – best in the league). Acquiring Dougie Hamilton will probably make things even better.
Unfortunately though, the Canes don't have enough firepower to keep up with the top teams. This young and talented Carolina team is very promising for the future, but right now it won't be enough. We don't see them qualifying for this season's playoffs.
Columbus Blue Jackets
Last Season: 4th (14th overall); 45-30-7.
Eliminated in the first round by the Washington Capitals.
Team Leaders: Artemi Panarin (Left Wing, 26 years old, 27-55-82), Seth Jones (Defenseman, 23 years old, 16-41-78), Sergei Bobrovski (Goalie, 29 years old, 37 wins, 92.1 save percentage, 2.42 GAA, 5 shutouts).
Riley Nash (Center, Boston, 15-26-41) and Anthony Duclair (Left Wing, Chicago, 11-12-23) are the most important new faces in the Jackets' squad. Columbus lost Jack Johnson (Pittsburgh) and Thomas Vanek (Detroit) among others.
Columbus was a mediocre team in terms of goal scoring last year (236 scored, 2.88 per game), but the main problem was their scoring personnel. Artemi Panarin (82 points, 27 goals, 55 assists) was the Jackets' leader. Second was Seth Jones, 25 points behind Panarin, and this is usually not a sign of a well-balanced team, considering Jones is a defenseman. If goalie Sergei Bobrovsky has the same (or an even better) season, and if other players start producing points, the Blue Jackets will crush their opponents this season. They should qualify for the playoffs for the third time in a row.
New Jersey Devils
Last Season: 5th (15th overall); 44-29-9.
Lost 1-4 to Tampa in the first round of the playoffs.
Team Leaders: Taylor Hall (Left Wing, 26 years old, 39-54-93), Will Butcher (Defenseman, 23 years old, 5-39-44) and Keith Kinkaid (Goalie, 29 years old, 26 wins, 91.3 save percentage, 2.77 GAA, 1 shutout).
Eric Gryba (Defenseman, Edmonton, 0-2-2) and Egor Yakovlev (Defenseman, St. Petersburg, 5-4-9) were the only acquisitions for New Jersey. Devils lost wingers Patric Maroon (St. Louis Blues) and Michael Grabner (Arizona Coyotes).
The Devils were quite impressive in offensive tasks last year (ranked 15th in goals scored), mainly thanks to their superstar Taylor Hall. Problems are in New Jersey's inexperienced defense, and acquiring one experienced player and one NHL noobie will not solve it by our point of view. If Corey Schneider remains healthy, the Devils could be a tough opponent for many teams in the league, but it probably won't be enough to make the playoffs.
New York Islanders
Last Season: 7th (22nd overall); 35-37-10.
It was the second straight year in which the Islanders did not qualify for the playoffs.
Team Leaders: Mathew Barzal (Center, 21 years old, 22-63-85), Nick Leddy (Defenseman, 27 years old, 10-32-42) and Thomas Greiss (Goalie, 32 years old, 13 wins, 89.2 save percentage, 3.82 GAA, 1 shutout).
Islanders lost their superstar John Tavares (Toronto) and their goalie Jaroslav Halák (Boston), but acquired Leo Komarov (Center, Toronto, 7-12-19), Valteri Filppula (Center, Philadelphia, 11-22-33), Robin Lehner (Goalie, Buffalo, 14 wins, 90.8 save percentage, 3.01 GAA, 3 shutouts), Tom Kuhnackl (Right Wing, Pittsburgh, 2-6-8), Matt Martin (Left Wing, Toronto, 3-9-12) and Jan Kovář (Center, Magnitogorsk, 7-28-35).
The biggest Islanders' issue was their goaltending: Thomas Greiss and Robin Lehner were very average players last season, and both of them need to elevate their game in 2018-2019. On the other side, New Jersey's offense was great (they were the 7th best scoring team with 261 goals scored). To make things worse for their opponents, acquring Leo Komarov and Valteri Filppula will make New York's attack even more deadly. We think that the Islanders will make the playoffs this season.
New York Rangers
Last Season: 8th (24th overall); 34-39-9.
Didn't qualify for the playoffs for the first time since the season 2009-2010.
Team Leaders: Mats Zuccarello (Right Wing, 30 years old, 16-37-53), Brady Skjei (Defenseman, 24 years old, 4-21-25), Henrik Lundqvist (Goalie, 36 years old, 26 wins, 91.5 save percentage, 2.98 GAA, 2 shutouts.
Fredrik Claesson (Defenseman, Ottawa, 1-6-7) is the Rangers' only notable acquisition. New York lost David Desharnais (Omsk – KHL) and Ondřej Pavelec (retired).
The Rangers need to rebuild their squad, and their bunch of youngsters could help. Center Lias Anderson is 19, another center Filip Chytil is 18, right winger Vitaly Kravtsov is 18 too, and goalie Igor Shestyorkin is 22. The Rangers are a middle-of-the-road team in offense and their defense lacks some experience too. We think that the Rangers will not make the playoffs this year.
Philadelphia Flyers
Last Season: 3rd (13th overall); 42-26-14.
Lost in the first round to Pittsburgh.
Team Leaders: Claude Giroux (Center, 30 years old, 34-68-102), Shayne Gostisbehere (Defenseman, 25 years old, 13-52-65) and Brian Elliot (Goalie, 33 years old, 23 wins, 90.9 save percentage, 2.66 GAA, 1 shutout).
Two main new faces are James van Riemsdyk (Left Wing, Toronto, 36-18-54) and Christian Folin (Defenseman, LA, 3-10-13). Flyers' lost Valtteri Filppula (Islanders) and Petr Mrázek (Carolina) among others).
Flyers have a great defense but they have been missing a really good goaltender for many years. Brian Elliot's performance went from bad to worse since his departure from Blues three years ago and Michal Neuwirth's star season of 2015-2016 seems like ancient history for the current Philadelphia team. The offense is not bad, but it needs to do way better (considering the talent of their offensive stars). Because of their issues between the pipes, the Flyers will not make the playoffs this season, unless their offense dramatically steps up.
Pittsburgh Penguins
Last Season: 2nd (10th overall); 45-29-6.
Eliminated by the Capitals in the second round.
Team Leaders: Evgeni Malkin (Center, 32 years old, 42-56-98), Kris Letang (Defenseman, 31 years old, 9-42-51), Matt Murray (Goalie, 24 years old, 27 wins, 90.7 save percentage, 2.92 GAA, 1 shutout).
Main acquisitions: Jack Johnson (Defenseman, Columbus, 3-8-11), Matt Cullen (Center, Minnesota, 11-11-22), Derek Grant (Center, Anaheim, 12-12-24), Jimmy Hayes (Right Wing, New Jersey, 3-6-9). Pens lost Tom Kuhnhackl (New Jersey).
Pittsburgh were 3rd in goals scored (270, 3.29 per game), but 20th in goals against (248 goals, 3.02 per game), so there are definitely some troubles in their defense. Pens also had a very sloppy start to last season. For us, it looks like the Penguins' gameplan is no longer a miracle, but rather an NHL standard to which other teams adapt to. Will the Penguins be the next Stanley Cup winners? We don't think so.
Washington Capitals
Last Season: 1st (7th overall); 49-26-7.
Stanley Cup winners for the first time in franchise history.
Team Leaders: Alex Ovechkin (Left Wing, 32 years old, 49-38-87), John Carlson (Defenseman, 28 years old, 15-53-68), Braden Holtby (Goalie, 28 years old, 34 wins, 90.7 save percentage, 2.99 GAA).
Caps lost Jay Beagle (Vancouver) and Philipp Grubauer (Colorado). No new faces in Washington uniform.
Caps may be the Stanley Cup winners, but Holtby's 2.99 GAA and 90.7% of save percentage is something that Washington fans could be concerned about. His back-up this season will be highly unexperienced Pheonix Copley. Washington defense was 16th last season in terms of goals against (238 GA, 2.90 per game) and tied in 17th for shots against. The Capitals will face even tougher opponents this season and we are not sure if they'll have enough.
Weekly NHL Picks, Predictions & Betting Tips
Follow Free Super Tips on Twitter to stay up to date with our weekly NHL picks, predictions and betting tips or browse more NHL content on our website: