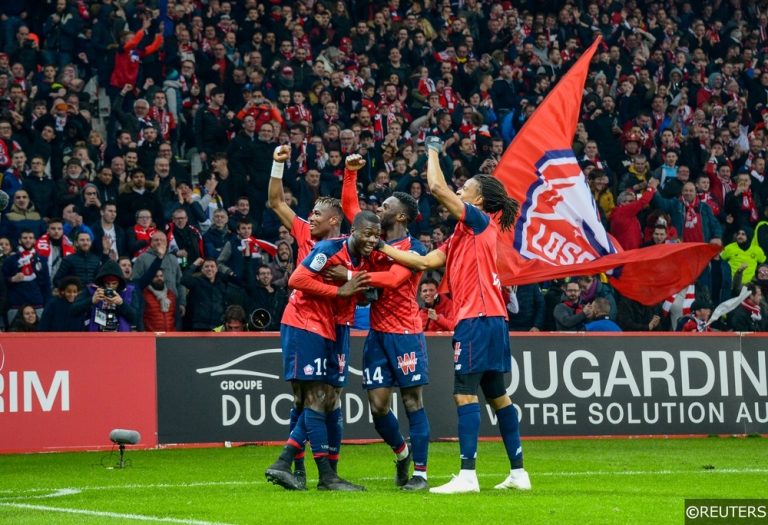 Lille have been incredible in Ligue 1 this season with Christophe Galtier's team currently sitting 2nd despite finishing the previous campaign in 17th. Galtier has managed to build an extremely impressive attacking unit with Nicolas Pépé flourishing as the main man on the right wing. Lille have scored the second most goals this season with 61 and over half of those have either been scored or created by Pépé.
The Ivorian scored 13 times last season but has kicked it up a notch this year and has drawn the attention of most of Europe's elite along the way. PSG, Bayern Munich and Arsenal have all been heavily linked with the 23-year-old and for good reason as Pépé has been one of this season's best wingers across Europe. 
Click here to see our match previews and tips for this weekend's Ligue 1 matches.
Although he wasn't exactly a household name before this campaign, every football fan has sat up and realised the talent that Pépé has and with Lille's president Gérard Lopez confirming that he would leave at the end of the season, bids have already reportedly come in from various clubs from different parts of Europe. 
Bayern Munich – 1/1
The German champions have been one of Pépé's main suitors ever since rumours started popping up around the tail end of last year. Niko Kovač and Bayern's board have tracked his progress for a long while and with Franck Ribéry and Arjen Robben leaving at the end of the season, the club is in desperate need of clinical wide players.
HEAD-TO-HEAD: Memphis Depay vs Nicolas Pepe

Pepe scored one of his 20 league goals this season when Lille hosted Lyon back In December — How will he get on today in the reverse fixture?

Full match preview — https://t.co/yYVASjoMSj pic.twitter.com/j9SLoFb9b9

— WhoScored.com (@WhoScored) May 5, 2019
Callum Hudson-Odoi appeared as the frontrunner for Bayern's shopping list but reluctancy from Chelsea and his recent cruciate ligament injury will probably postpone this until at least next year. Therefore it makes perfect sense for Pépé to be Bayern's main target but the two clubs haven't been able to agree on a price, and this has apparently scuppered the transfer negotiations.
Click here to see our Bundesliga match previews for this weekend.
Bayern are big fans of Pépé but value him around the £30m mark while Lille are apparently looking for at least double that. Reports had previously understood that a deal was almost done between the two clubs a few months ago but it seems that that was not the case and considering how long Bayern have been involved in this transfer saga, it seems unlikely that Pépé will be moving to the Allianz any time soon. 
You can find our preview for Bayern Munich's trip to Leipzig by clicking here.
Arsenal – 8/1
The Gunners have also been hurt by the recent valuation of Pépé from Lille as it seems that Unai Emery's transfer budget for this summer decreases with every passing week. The latest number has reported that the Spaniard would have £45m to spend this summer so the dream of signing Pépé may start to fizzle out with more realistic targets being set on the likes of Ryan Fraser.
Pépé would add a lot to Arsenal's frontline if they could somehow manage to make the deal work but with Emery under such a tight stranglehold when it comes to budget, this seems another unlikely option. 
https://twitter.com/Wideoverload/status/1125965623631261696
Mesut Özil's future isn't exactly clear as the German hasn't been getting as much game time as he probably would have liked. He is approaching 31 years of age and with him nearly tipping his peak, Arsenal may be looking to cash in on the German while he still has a large price tag. Özil's contract at Arsenal expires in 2021 but if offers start to flood in for the attacking midfielder the Pépé transfer could be back on.
Click here to go to our match preview for Burnley vs Arsenal.
Paris Saint-Germain – 3/1
As is the case with a lot of players in Ligue 1 who spark the interest of clubs across Europe, PSG also usually have their name in the hat and Nicolas Pépé has been no different. The Ligue 1 champions are ramping up preparations to make a bid for the player but reports suggest that their offer will be far below what Lille are asking for. 
Thomas Tuchel and PSG's hierarchy value the player at around £43m so it will be interesting to see if Lille will bite. Pépé grew up in Mantes-la-Jolie which is just outside Paris though so the winger may push for this move to be closer to his home town. His agent Samit Khiat says that "we have not decided on which league" yet though so it is still very much up in the air regarding where he will end up this summer. 
The general consensus is that he will definitely leave but with many not willing to meet Lille's valuation, could the transfer fall through? Of the teams that have been named, Paris seems the most likely destination for Pépé as Edinson Cavani appears to be on the way out so a place in their attacking unit could soon open up for the Ivorian. The wage for Pépé would also be extremely desirable so we could well see him in that famous red and blue strip sooner rather than later. 
PSG travel to Angers this weekend and you can find our match preview by clicking here.