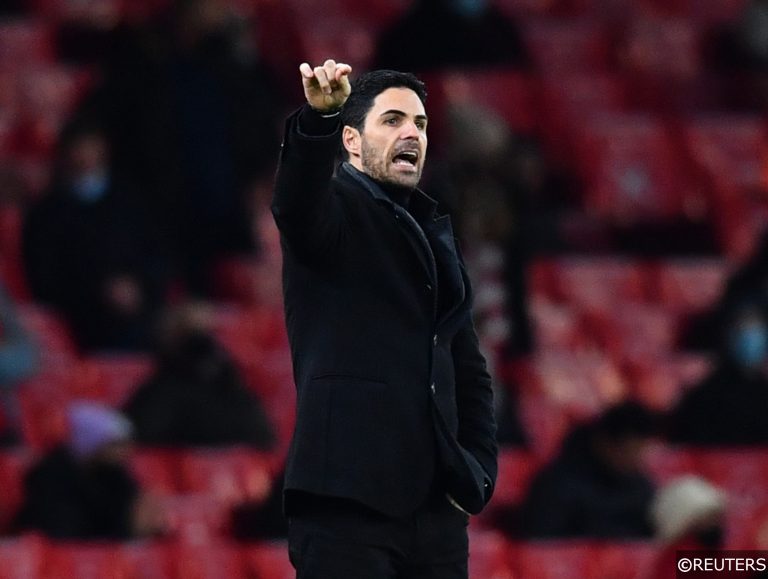 Despite dropped points at the weekend away to Southampton, Arsenal remain top of the Premier League. We caught up with Ex-Gunner Nigel Winterburn for his thoughts on Arsenal's chances of glory this season.

What did you make of Sunday's draw at Southampton? Is there any concern that Arsenal seemed a little flat?
I think you always have some concerns when the performance dips off.
Arsenal basically bossed the game in the first half, created some good chances and moved the ball really well.
Mikel Arteta and a couple of the players said the same, the second half was a bit sloppy from Arsenal.
They were poor with the ball in possession, particularly at the back because it was just so slow at times, and they needed a lot more movement.
But in saying that, Arsenal missed a couple of big chances at 1-0 so it could have been a different story if they go in.
I think when you're leading in game despite it being away from home and against a team who are struggling and fighting for points, then you're always disappointed.
But I think you can look back on the past two away games and four points from those two games I actually don't think is a bad return if I'm honest.
Should Mikel Arteta and fans be worried by the 1-1 draw against Southampton or is it still a positive weekend for Arsenal given the fact that United, Chelsea, Liverpool and Tottenham all dropped points?
You always have to take care of your own business and then you can start looking at the other results.
The fact that all the other teams apart from Manchester City was good for Arsenal anyway.
But I think Mikel Arteta will be disappointed with the result, but it will also be a little reminder to the players.
Unless you're spot on for large portions of the game, then you're going to give the opposition the chance to work themselves back into a game.
That's exactly what Arsenal did, they weren't as fluent in the second half and Southampton were so much better.
They started to take control of the game more and got themselves back into it, but from an Arsenal point of view I think they looked a bit leggy again.


---
Find the latest football predictions from our team of experts for all the upcoming games this weekend, or check out our World Cup 2022 content ahead of the tournament this winter.
---
What did you make of the referee's performance during Arsenal's draw against Southampton?
Well, I didn't think it was the best.
It can be seen as cry wolf a bit when your team doesn't come away with a victory.
But I think the best thing for me to say is, I was slightly surprised with a fair few of the decisions made by the referee.
I thought it was a clear penalty on Gabriel Jesus, I just don't see how that can't be given as a penalty.
Pretty much Jesus was man handled from behind a few times in the game and you just can't do that.
In my day it was alright, you could go through the back of a player, and it was absolutely fine.
But you can't do that in modern football, and I just think the referee wasn't consistent enough throughout the game.
I'm also surprised that VAR didn't even ask him to take a look at the Jesus penalty incident and it pretty much shows you where we are on that front.
Should Arsenal fans dream a first title since 2004 or manage expectations and focus on just getting back into the top four? If you were Mikel Arteta, would you prioritise a Premier League tilt or winning the Europa League?
They will want to finish as high as they can in the Premier League, that will be their number one priority.
But you've got to consider that the Europa League gets you back into the Champions League as well.
There's no doubt in my mind that both of those competitions will be the main focuses for Arsenal's season.
That doesn't necessarily mean they'll wipe away the FA Cup or the Carabao Cup, but they may have to take a chance and really rotate.
We'll see what happens in the PSV game, but my suspicion is that they've got some big games coming up in the Premier League before the break for the World Cup.
Arsenal will want to be right up there, if not top.
They've put themselves in a great position in the Europa League group, so they've done a great job so far.
They just need to finish the last few league games off before the break and see where they are at that point.
It's very early, at the start of the season I said Arsenal need to be pushing hard to get into the top four.
After the start Arsenal have had, I would be saying they have to finish in the top four.
At the moment Arsenal can challenge for the title because Arsenal are currently top of the league.
But I'm only judging it like everyone else after 11 games into the season.
We all know it can change dramatically, but at the moment Arsenal are up there and deserve to be up there.
Arsenal have surprised a few people which is a good thing, everyone thinks Manchester City will be way too good for the rest.
If they are, then fair play they deserve to win the title.
What Arsenal need to do is try and keep the consistency up and don't have any bad runs like they had last season.
They can't afford to do that because that lets other teams back into the top four race.
Given the start they've made, would finishing outside the top two represent a 'bad' season for Arsenal?
You always want to finish as high as you can and if Arsenal finish outside the top two then I don't think that's a bad season as long as they're in the top four.
Where I was looking at the start of the season, I said Arsenal would be pushing for top four, now I'm saying after 11 games we should be inside the top four.
However, I remember saying after that Watford game last season there was no way Arsenal should finish outside the top four but that obviously happened.
The run towards the end of last season was poor and it goes to show how quickly things can turn against you.
As a manager and players, you've got to make sure that doesn't happen again.
If Arsenal can't win it, then finishing in the top four would be fine for the club whatever position that is.
It's a bit of a guessing game, but at the moment they're doing great.
No player in the Premier League has missed more key chances that Gabriel Jesus this season. Is his finishing becoming a concern?
For me no it isn't a concern, but I understand why it might be to some people because we are obsessed with stats.
I'm not a stat man myself, but what I will say is I much prefer a striker to be in those positions and missing than not getting any chances at all.
Obviously, that run has to come to an end, but I think he's got too much ability and energy to allow it to go on.
I love what he's brought to the club and I'm still pretty sure that he will score plenty of goals.
But you can see it in his face, he will want to start scoring goals again very quickly, particularly going into this World Cup break.
We know Dusan Vlahovic turned down Arsenal for Juventus in January. Do you think Arteta still needs a centre-forward of his type? Or can Arsenal be successful with a different striker like Gabriel Jesus?
I'm not sure if they will go out and get another striker with Jesus as first choice and Nketiah as the backup.
I think Nketiah has developed considerably from the end of last season with getting all that game time.
I think he's upped his level and he's going to get plenty of game time this season.
Like all strikers, you get judged on the number of goals you score though.
In an ideal world it would always be great to bring in another top striker, but realistically I'm not sure that's going to happen.
What have you have of Gabriel Magalhaes over the past two years? Does he deserve his new contract?
I think he does deserve the new contract, otherwise it suggests you've got no trust in the player.
He's a player who is very aggressive and at times he wants to be too aggressive, but he's got great desire and a good understand with Saliba.
They might be making one or two individual errors between them, but I think with experience they'll cut out those little mistakes.
They'll know and get to understand each other the more they play together, but how can you criticise a team or individual players when your team is sitting top of the league.
Everybody makes mistakes, it's how you respond to those mistakes and how you limit the amount of them throughout the course of a season.
That's where defenders are judged, they're judged on their consistency, and I don't see any issue with Gabriel because he's been a very decent player for the club.
Arsenal need to tie down all these players at this moment in time whose contracts are getting close to renewal because we don't want to lost anybody.
Do you believe that Granit Xhaka is one of the most underrated players in England?
I think I've said in the past that he gets criticised for being a bit rash at times and being a bit hot-headed.
But there's no doubt that he is so well respected at the club, I've never had any contact with him but I can just see it by watching the games and looking at the games at half-time or full-time.
It appears to me and I'm sure a lot of people would agree that his role changed towards the end of last season and he's playing in a more advanced role.
He just seems to be thriving from it and at the moment you would say that he's a player that Arsenal cannot afford to leave out of the team.
Do the likes of Fabio Vieira and Kieran Tierney need to be given a chance in the starting XI in the Premier League?
They've got to earn the right and I think with Fabio Vieira it's going to take a little bit more time because he is quite slight.
I think he's got to get used to the pace of the game, but he did have an outstanding game against Brentford which shows his quality.
It's not easy when you come to a new club, in a new country and not getting lots of game time.
Obviously, he's getting minutes in the Europa League, but it can take a little while to adjust.
You just want to see him in those attacking areas, picking out passes and we know he can score the odd goal.
Arsenal will need him at his very best as the season goes on, but he's just not quite there yet in my eyes.
I don't think he would come into the team and replace someone full time.
Kieran Tierney is a difficult one because he's a terrific fullback, but Zinchenko came in and did very well before his injury.
Tierney came into the team, then all of a sudden there was a tactical switch with Tomiyasu coming in against Liverpool which I think everyone understood.
Even now as Arsenal sit top, there are still questions around Kieran Tierney because Tomiyasu has played there since.
It's difficult to answer because I don't know the ins and outs why, but it is slightly surprising to see.
I think Arsenal do lose something slightly when Tierney doesn't play because he's very good going forward as well as defensively.
I think Mikel Arteta would argue that Tomiyasu hasn't let the side down either, but this season will be about shuffling the pack with the number of games to play.
But when you get the game time, you've got to make sure that you're that impressive the manager can't justify leaving you out.
I don't think Kieran Tierney has been at his very best yet, I thought there were signs he was coming back to that but then he was left out of the team.
It's a battle when you're at a big club, there's always someone wanting to take your place and you've got to make sure that over the season you win the battle and you're important to the team.
That's what Tierney has to do; he's got to push himself now to make sure he gets himself back as the number one in that position.
Arsenal have obviously improved recently, but do they still lack on-field leadership, the kind the club had in abundance during the 90s & early 00s?
I think football is just different now and you get different characters because I think there are some leaders in this squad like Granit Xhaka.
He's been so important to this team both on and off the pitch and it depends on what you actually class as a leader.
Certain clubs will say they want a leader and identify someone to be that leader, obviously in my old dressing room it was Tony Adams.
But when you're out on the pitch you are a leader anyway with your own performance, so it doesn't worry me so much.
All I want to see is the team as a whole together moving in the right direction.
There will obviously be players who are more vocal than others and at Arsenal you can see who they are.
But at the moment it's working well, so I wouldn't see any reason to question or criticise that at all.
What have you made of the Ronaldo saga at Man Utd? How would the dressing room of yourself, Tony Adams, etc have handled it?
I think initially I would have shocked because you're talking about Ronaldo who has been and still is one of the best around, so that will always be his legacy.
Even when he retires, he will still be classed as one of the two best players to have played the game along with Messi.
I don't think anyone else has been near them for that length of time, so that would shock me with what happened.
I don't know if I would have said something to him because you don't always know the full story or the reasons to why that may have happened.
But I was very surprised that someone of his magnitude would do that, and I think now it becomes a bit of an issue for Manchester United.
You know the press and the media will now be watching his every move and it won't be dropped.
I think it's a case of watch this space because it'll be intriguing to see what happens.
I would imagine that Ronaldo will not be too happy sitting on the bench for long periods of time.
His contract is obviously up in the summer, but maybe that will be ended early if they can come to some agreement.
In essence the scenario did surprise me that someone of that iconic status would do that, I found it strange.
How do you think Mikel Arteta would have handled the current Cristiano Ronaldo situation if he was his manager?
What we don't know is how many times Mikel Arteta fell out with Aubameyang if we want to try and compare the two situations.
I think this is the second time the incident has happened but the first time where it's been solely Ronaldo.
But I think Erik Ten Hag has dealt with it superbly, he's left him out of the squad for the next game and he got the backing from the board on that decision.
It's almost a case of, I'm now in charge and everybody has to do it my way and I can't let you (Ronaldo) get away with it just because you're such a huge figure in the game.
I think a fantastic job and he dealt with the situation superbly because it sort of squashed the whole thing straight away.
I think any manager in that position would have done the same thing.
What have you made of West Ham's season so far & What have you made of the club's summer signings?
Their season is stuttering slightly, and you can see they're trying to get in a rhythm that we expect from West Ham based on the past two seasons.
They're just finding it a little difficult so far this season, but the win against Bournemouth was a huge victory for the club.
We're only 11 or 12 games in and we all want to judge players very quickly and we all want players to hit the ground running which obviously can't always be the case.
It can take a little time; you have to give some of these guys time to settle in especially if they've come over from a completely different country.
I still think those summer signings will strengthen West Ham in the long run, but like everything else those West Ham supporters will be judging each player and their team performance as it goes along throughout the season.
I just think with West Ham they still need to shift through another gear at the moment and put three or four really strong performances together.
With that comes the confidence and they'll start to shoot back up the league, but let's be fair they're doing ok in terms of the league position, they aren't a million miles away.
I think they'll be fine because the squad is too good, but they're just finding it a little difficult at the moment.
Should West Ham be going for a long run in the Europa Conference League?
Well, they will do because they had a taste of it in the Europa League last season coming so close.
They'll also know that the league position gets you back into the European competitions.
They'll be saying inside the dressing room that they haven't been at their very best, but there's still a lot of time to catch up which is true.
But they've got to put it right quickly and the conundrum for every club will be that in under a month's time we're closed down until Boxing Day.
I just don't know how that's going to work if I'm honest, it will be a strange situation for all clubs.
I think you want to get yourself into the best position you possibly can before the break, then you have to hit the ground running after that World Cup.
The teams playing catch up can't afford to make any slip ups and there will be huge pressure on Liverpool for example after the World Cup.
They're already trying to play catch up and I'm sure West Ham will not want to be in a similar position.
How important is the form of Jarrod Bowen to West Ham's success?
Well, he was sensational last season with the amount of goals and assists he contributed to the team.
He's a player who was exciting to watch last season, but he will know that without the service and the team being slightly off the pace that he needs to keep pushing himself to deliver performances.
He's become a hugely important player for West Ham, but if it doesn't click together as a team then in the Premier League you're going to struggle.
Is Mark Noble coming back as the club's sporting director a smart move?
He's the legend of West Ham so I don't know why it wouldn't be a good move.
I'm not sure what his official role is going to be because that title can let you do a number of things.
But I can't see how it won't be beneficial to the club, it's someone who is hugely popular with the supporters and a large portion of that squad.
The passion he showed for the club as a player, I can't see any reason why it would be a negative, I can only see the appointment being a positive for the club.
Based on what's happened so far, how well do you think West Ham will do across all competitions this term?
I think they'll do ok in the Europe, and it will be a competition they'll want to be successful in.
The domestic cup competitions are always a little bit dodgey depending on who you draw and whether you decide to rotate the squad.
They're going to have to pick up their form in the Premier League, but as I've said they're not a million miles away right now.
There are a few teams that have stuttered a little bit which has given other teams a bit of breathing space to catch up.
West Ham are in a group of teams who you thought might be slightly higher in the table at this period of time.
They're not currently, but it isn't out of the question that they can finish sixth, seventh or eighth again.
It all depends on how good of a run they can put together, they've shown they can do it in the past.
But once you've done it once, you have to do it twice and then again and again and again.
That's the hard part to do, never rest on where you get to and always push for more.
That's the big thing David Moyes will stress to his team, he knows that they will be judged on what they've achieved over the past couple of seasons.
They've got to go again, and they've got to be better, but in fairness I think that's what they've tried to do with the summer transfers.
Let's just see if it works or not this season.
How do you look back on your playing career and is there anything that stands out achievement wise or you would change looking back?
I wouldn't change a single thing about my career.
Listen I got involved in two or three incidents that I wish I never got involved in, but if I was asked to be playing now and hand my medals back, there's no chance I would do that.
I wouldn't change anything, and I've always said to anyone who has asked me the question that I felt very lucky, honoured and privileged to have played professional football.
Getting paid to play professional football is ridiculous and I wouldn't change anything because you've got to grasp the moment.
I had a good start to my career at Birmingham, I was in the team at 18 then all of a sudden with a change of manager I wasn't good enough.
I always held that close to me, when anything was ever difficult, I just thought back to that moment and when I was told that, it became my driving force.
It pushed myself forward again and again and I took it to both Wimbledon, Arsenal and right through to the end at West Ham.
That was all the motivation I needed, and I wouldn't swap anything.
I'd have loved to have been playing now and see how I did because the game has changed dramatically.
But I'm not swapping my medals for anything.
You had a brief spell in coaching, what happened and do you wish it had panned out differently or are you more happy with the media work you do?
One it was a disaster because I wasn't qualified enough and it was a bit of an eye opener.
The way I look at it, I just didn't think it would work the way I wanted it to work.
In a way, although I didn't want to see anyone getting sacked with Paul Ince when I was there with him at Blackburn.
Sam Allardyce coming in, he does everything himself, so I knew then that wasn't going to continue.
If I'm being honest, I wouldn't go bad and do it again because I didn't enjoy it and I had visions of the way I thought it should work.
You need a lot of time and education to do that, but to sum up I wasn't good enough.
You experienced the highs of Wimbledon and have since seen the club move to Milton Keynes and AFC Wimbledon borne in their stead, as a former player how has it felt watching this unfold from the sidelines?
It was horrible and I hated it.
It felt as if they club, I had played for was wiped away and it only had history to that day when the club moved to Milton Keynes.
It felt like an American franchise, and I absolutely hated it.
For a long time, there was a bitterness to the situation.
I don't blame AFC Wimbledon one bit for resetting back up, if you ask me what teams I look for the results for, other than Arsenal obviously, then it's AFC Wimbledon.
It's definitely not MK Dons because my team was almost disbanded and it was quite upsetting with what they had achieved before me, with me and after I left the club.
It was horrible, but if I was to be asked, I would say I'm a AFC Wimbledon fan and not the other side.
What do you make of Tony Adams' performance on Strictly Come Dancing and would you ever follow his and David Seaman's footsteps by signing up for the show?
I'll answer the second part of the question first, I'd be a little bit richer but no I would never ever do that.
I don't think that is in my remit, I like a nice quiet life and I don't want to put myself in the public eye.
I haven't seen it all, I've only seen Tony a little bit when I've gone onto YouTube and watched it later on.
I admire him for what he's doing because as I've just said there's no way I would do something like that.
But let me tell you, he will not be going anywhere.
All the messages I'm getting through from Arsenal supporters are making sure on a Saturday night that you're voting for Tony Adams.
Unless they're going to rig the votes, they are not getting Tony Adams out for a long time that's for sure.
How do you fancy England's chances at the World Cup going into just under a month until the tournament starts & Who would be your favourites for the tournament?
Well, there will be a host of favourites at the World Cup won't there.
France will be there; Germany will be up and it'll be the usual suspects like Brazil as well.
I suppose we'll be up there as well based on the last couple of performances at major tournaments.
But let's wait and see, we'll come out of the group and then see who we get in the knockout stages.
It's slightly worrying with the injuries we might have, players with a lack of form and England's form in general going into the tournament hasn't been great.
If you up your form going into the tournament, then it all becomes irrelevant.
I'd be very disappointed if we didn't get to at least the quarterfinals, that should be achievable.
But we're going to have to play a lot better than we have done in the last few games that's for sure, but I keep my fingers crossed because it's so exciting when England do well.