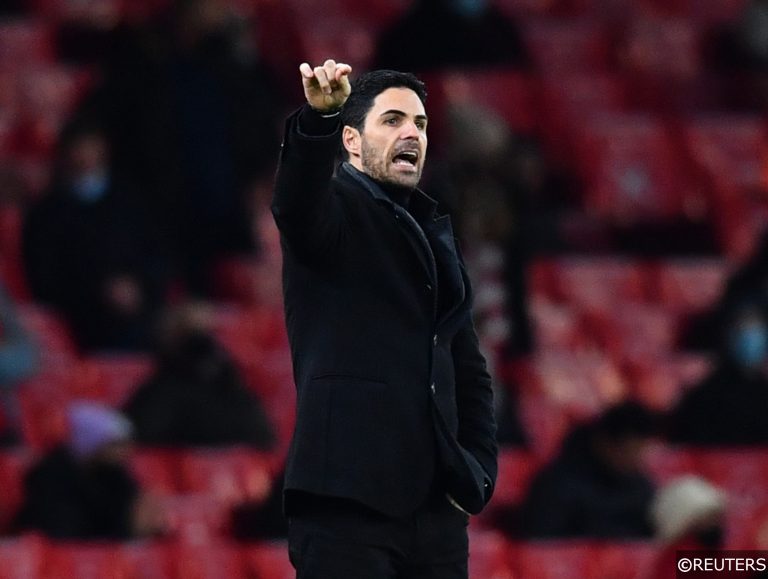 Gareth Freeman
@TheGFreeman
February 23, 2022
Show Bio
Sports Journalist at FST, Gareth qualified as a journalist after graduating from university and spent over a decade as a freelance broadcast journalist, commentator and tipster before joining FST. Now living in Manchester, he is a long suffering Bolton Wanderers fan who also enjoys boxing, the NBA, tennis and rugby league.
FST caught up with former Arsenal, West Ham and England defender Nigel Winterburn ahead of the Gunners' key clash against top four rivals Wolves on Thursday.
Winterburn thinks Arsenal are moving in the right direction under Mikel Arteta but doesn't see them as potential title challengers just yet, while he also offered his thoughts on in-form West Ham forward Jarrod Bowen and Jack Wilshere's surprise move to Denmark.
---
Having played under Arsene Wenger, can you see similarities, in terms of style of play, between the Frenchman and current Arsenal boss Mikel Arteta?
I still feel that Arsenal's style of play at the moment is a little slower than when we played.
We kept the ball well, but transitioned through the lines quickly, so I would still say in terms of modern football our transitions were quicker than they are currently.
When Arsenal do play well, they move the ball through the lines very quickly, the periods where I do find it frustrating at times is when Arsenal keep the ball without purpose.
It's ok to keep the ball if you're dominating the game or trying to take the sting out of it, but I think when you then attack you've got to have somebody trying to break the line.
That creates space for yourself as well as your teammates.
There's a lot of improvements that have happened under Mikel Arteta in terms of changing the squad up.
I think he'll do that again in the summer, but he's brought in a lot of young players who are doing very well at the minute.
We're still nowhere near the finished article, but for large periods I like what I'm seeing from this team.
I still believe the gap between good performances and poor performances is still too big and that's something that Arteta realises and acknowledges that it needs working on.
I see progression in this team, and we just need to keep on making this progression month after month.
A lot has been made about the cultural changes Arsene Wenger brought to Arsenal when he joined in 1996, notably the importance he placed on diet. Just how drastic were those changes – and did every player buy into the project straight away?
I've always said that I think Arsene Wenger was ahead of his time in the things that he did.
It was something we weren't really used to, there were little bits we were already doing, but not a lot.
Initially all the food at the training ground was quite plain, it was boiled chicken or fish and pasta.
There wasn't a lot of spices or sauces to go with it, so it was very plain.
For me and I still believe this now, once I had done a couple of training sessions with Arsene Wenger, I wanted to make sure I could be part of this transition from George Graham to Arsene Wenger.
I felt very early that this was going to be an exciting journey, so I wanted to be a part of it.
The biggest thing about Arsene Wenger was his empathises on recovery, we used to stretch before the games, walks at the hotel and more stretches there.
At away games he wanted players back on the coach with an hour after the game because he wanted you to rehydrate and eating as quick as you can for the recovery going into the next game.
It was a big change, and it was different in terms of the way we prepared for games.
But the biggest thing was his training methods and the sessions he would run, that was the biggest thing for me because I loved them.
You can read into it however you like, but the manager and the staff can only control what you're doing when you're at the training ground.
Personally, I was always cautious with what I was eating and tablets I was taking anyway, some of those things I couldn't take.
But there was never any pressure for you to do that, you were told what they were for, and it was up to you, but it wasn't an issue if you didn't want them to Arsene Wenger.
How far away are Arsenal from challenging for the Premier League title again – and what do you think is required for them to make that step?
I think Arsenal have done pretty well, for the majority of the season, against the teams you would expect them to do well against.
It's now about taking it to the next step, if you're constantly beating the teams inside the top six, then that says to me that you're going to jump back into the top four.
Then that allows the opportunity to potentially challenge for a title, you may not win it, but you'll be up and around there.
I don't think Arsenal are at level yet, but that's what we're all hoping for as supporters.
I go back to the Emirates on a regular basis, and I hope in my lifetime that I see a title come back to Arsenal.
I don't know whether that's going to happen, but I have that hope.
I'm working as well and I love watching the games, so I want to see this club being successful in the future.
As a former England international yourself, just how good is recently-capped Emile Smith Rowe – and how far can he go, both at Arsenal and in a Three Lion shirt?
Smith-Rowe has made huge strides as a player and we heard from Arteta at the weekend that if he's in that type of form, then he simply can't be left out.
He's had a spell out of the team because he looked a little jaded and he may have had a knock and it was the right decision to take him out in that period.
He's had to wait to for his opportunity again, there was a suggestion he wasn't quite right physically, but he's come back, and he looked very sharp against Brentford.
He's an exciting talent, Arsenal have got some young players that can really push this team to the next level in a short period of time.
They're being given their opportunity to impress and of course there will be times when they're in and out of the side.
Even when Smith-Rowe was coming off the bench, his attitude was first class and he was still scoring goals.
He gets his start, scores again and I think people will be expecting him to keep his place going forward.
Mikel Arteta talked up Martin Odegaard this week as a future captain – can you see that happening? What have you made of Odegaard's impact this season?
I think he's been very good, I would call him a 'ball player' in that position he plays, but he is very hard working for the team as well.
I think he's actually been better this season than he was on loan last season.
His levels of performances have gone up again and he's started to really influence games.
When we signed him, it was a good signing for Arsenal, but there was that question of whether he can go to that next level after his loan spell.
He had a little bit of a blip earlier in the season, like other players he had some time out of the side, but he's come back in and kept that position.
He's been playing to a very high level and that's what the manager wants.
They're all very good players, but if they aren't playing at that level, they want to be then there's someone else who can come into the side.
If the person coming in takes that opportunity, then you'll be left out and I like that about this forward line Arsenal currently have.
What do you make of Steve Clarke's comments about Kiernan Tierney potentially being 'the best left-sided centre-back ever to play for Scotland'? Could he play there for Arsenal? Overall, how do you rate Tierney as a left-back? Where can he improve? Can you understand the rumours that Real Madrid are now scouting him?
If Arsenal played in a back five then yes, I could see it happening, but not in a back four, I would be worried height wise.
For me he's a left-back, he's done very well since he came to Arsenal having worked through a few injury issues.
He's a player I really like, and I might be wrong, but I don't see him playing for Arsenal as a centre-halve in a back four.
In a back five he could do that as well as wing-back, but I think we can see that Arteta's preference is to play with a back four.
Xhaka sometimes drops in which allows Tierney to go higher or come inside, but generally when Arsenal line up, they are a back four.
I don't think we'll see Tierney play as a centre back regularly for Arsenal.
Bakayo Saka is in talks for a new contract but there seems to be a delay with him wanting Champions League football, can you understand that with the way he's played over the past few seasons?
I can understand his ambitions, but I also think he's a young boy that needs to keep progressing.
There's no doubt in my mind that he seems to have the right temperament and that's what has impressed me about him.
When he first came into the team, he was left-back, left-wing back, left-wing or right-wing, so he could play in a host of positions.
But his level of performances and consistency was so high.
I don't know whether the delay is a bit of a smokescreen because he is an Arsenal boy.
I don't think he will leave regardless of where Arsenal finish, but Arsenal have to make sure that they get the contract right for him.
Sometimes the problems and issues can be that as a player coming through the academy, your wages can be lower that someone who's been brought in.
I think those times may have changed, but they will have to pay Saka what he's worth.
At this moment in time, I know he's only young, but he should be on a very high salary and up there with some of the top salaries at the club.
He's that important to the team, his age shouldn't be something to worry about, he is the first name on the team sheet every single week, so he should be paid accordingly.
I don't know what his contract is, but it's going to have to change and that will be the factor in whether he asks to leave the football club or not in the future.
I don't believe for one minute that at this stage of his career that he will leave Arsenal Football Club.
I could be completely wrong because I'm an Arsenal guy and I don't want to believe it because he's such a great player.
But I don't see him leaving the football club anytime soon.
There was a strange incident in the Arsenal vs Brentford game with Xhaka not putting the armband on after Lacazette was substituted, what did you make of that?
I've talked about it and debated it a few times and my stance is quite clear, I wish there was an out and out captain.
They still have this group system, but it's quite clear that when Lacazette plays he's captain and if he doesn't it gets passed around.
It's a little bit boring, I'm more concerned with the performances on the pitch and there's a lot of opinions on who should be captain.
Tierney's name is mentioned a lot, I don't think we need to concentrate on it too much.
We know Xhaka had his fallout with the supporters, but he's still someone that Mikel Arteta relies on, and he has a strong presence in the group.
We've just got to move on, but it always seems to be a talking point when something happens with Xhaka.
To me it's not an issue, he didn't take the armband and Tierney did so let's get over it.
Tierney is strong enough to lead the group anyway, so it's not a big issue for me.
How important this the game against Wolves in terms of the top four race?
Everyone says it and I say it myself, each game is three points, but this feels like a significant game.
You need to take care of your business on a weekly basis and see where other results can leave you.
This game could propel Arsenal away from Wolves and put them in a really strong position if they were to win this game.
If they were to lose it, then it throws it up in the air a little bit more.
There are five teams chasing that one position, West Ham have played more games which makes them the outsiders.
But we know they're capable of putting a run together, so it's five teams chasing that one place.
These teams will be hoping that Chelsea don't pick up and get dragged into the battle, but I think Chelsea will be too strong to catch.
What's happened to West Ham this month? Do you think they'll regret not signing a striker in January? What would be a good finish for David Moyes' team? 
I would have thought that they were looking at that scenario and maybe they just thought it was the wrong time to do it.
They might have felt the risk was too much and we all assume sometimes that players can come into a club and slot in straight away.
But there's a danger of these players not settling in and getting used to the style of play.
If things don't go well, it can put some added pressure on.
Every time a team struggles, we tend to look at what transfers they've made or what they could have done.
All those teams chasing fourth can improve otherwise they'd be sitting at the top with Manchester City and Liverpool.
There's no doubt that all those clubs need to improve, but I definitely think it's an area West Ham will look at come the end of the season.
They will need another option, they've tried to fill it before, but it didn't work out.
I think you need to analyse why the results aren't going well in terms of their play, not just because they've failed to sign somebody.
How can West Ham get back to their goal-scoring form of early in the season, in particular Michail Antonio?
You always want your main centre-forward scoring goals.
I've spoken about it before with Arsenal and their issues scoring goals, a lot of clubs have this issue where you're looking for 20+ goals a season in the Premier League from the striker.
If you're not getting that, then the players around your main striker have got to get a considerable amount of goals as well.
West Ham are having that issue, Jarred Bowen is doing very well, but they need goals from other positions in the front areas.
Antonio's whole game isn't too bad, he still contributes to the side with his work ethic, but he also needs to find his scoring touch again.
That's what you need when you're chasing the big teams, a lot of all-round goals rather than just relying on the striker.
What are West Ham's realistic ambitions for the remainder of the season?
They're still in the Europa League and they've got a fantastic opportunity there.
I don't see any reason why they couldn't go a long way in that competition.
I know that they've had a little bit of a dip, but I don't think it will last too long and get back to winning ways.
David Moyes has hinted that they've dropped off a little bit, but at the moment they will still believe that they are right there for a top four finish.
They've got a huge amount to go for still and they will push right through to the end of the season.
I'm the sure West Ham supporters will enjoy seeing their club sat there at the top end of the table again.
They're well within that top six again, they've just got to keep going and maintaining this level and hope that they can break into the top four at some point.
The Premier League is so competitive now, so if you do go on a bad run, it can put you under so much pressure.
This is Mark Noble's last season at West Ham – how much of a miss will he be to the club on the pitch?
We've got to sit back and wait to hear from him and what does he want to do.
Does he want to carry on playing? Does he want a complete break from football? Does he want to go into the media? Does he want to be a coach?
I don't know whether he's already doing his badges or not, so there's a lot of possibilities for him.
It's never completely decided until you start the following season.
He can sit back and see what offers come his way and decide what route he wants to take when the season ends.
There's a suggestion that he could go into an ambassador role, but what does that entail really?
It's a case of getting the season out of the way and then hearing what Mark Noble's thoughts might be and what he wants to do.
You're retired for a very long time in football, so it's almost as if you can restart fully when you call it a day and go into a new venture.
He's been a fantastic servant to the club, so I think whatever happens there will be plenty of opportunities for him in the future.
Jarred Bowen continues to impress with calls of him earning an England call up, do you think he deserves it over the likes of Grealish and Rashford who haven't quite hit form?
I think if you're just looking at it on form, then I don't think anyone could argue.
I think what we have found with Gareth Southgate is that players who have performed for him do tend to get a bit of leeway.
If they've produced for him in the England team then he tends to keep them in there, so it'll be interesting to see.
There's a lot of English players playing in the same position, and you can't fit them all in, but in terms of form, I would be very surprised if he isn't in the England squad soon.
Even if Gareth Southgate just wants to take a look at him in training, maybe get a feel of his temperament and how he behaves in that environment. 
I think Southgate does that very well, so I would expect Bowen to be involved soon.
With Leicester City struggling this season and seemingly going to be out of the European places, could you see clubs raiding in for the likes of Maddison and Tielemans?
It would depend on how Brenden Rodgers feels with the board and whether it needs a shake-up.
I would imagine they'd be looking at this season as disappointing so far, but they've had a huge number of injuries.
It might not be the worst thing if Leicester were out of Europe next season, they can refresh and go again.
Any players who have been linked with other clubs will be linked again, Tielemans and Maddison will be two who will be linked with other teams, there's no doubt about it.
It'll come down to their lengths of contracts, where they see the club going and whether they want to stay.
They've let players go in the past and reset before, so it could happen again.
I don't know whether they'll leave, but they certainly will be linked with other clubs once the transfer window opens.
I wouldn't take much notice of it right now; the transfer window is closed so it's not really relevant right now and you can get sucked into believing players are going to end up elsewhere.
It will depend on Brenden Rodgers, the board and where they see themselves going.
They've just had a bit of a blip, they've done unbelievably from winning the league to where they are now, so they should be proud of that.
What have you made of Jack Wilshere's move to Denmark and Aarhus?  Any surprise (or disappointment) that no concrete offers came from English teams for Jack?
When I've listened to the Arsenal supporters and from working at the games, I always get asked what's happening with Jack?
Mikel Arteta's stance was always clear that he was there training and helping some of the younger players as well as working towards his badges.
A supporter asked me whether it would be a good thing if Jack resigned for Arsenal and my comments have always been the same.
From a romantic point of view, we always want to see these players resign for you.
See them come off the bench and score a winning goal in a game, but for Jack's career, he needed to get back to playing regular football wherever it may be.
He's got that offer, so hopefully from now until the end of the season, he'll get that game time and put in the level of performances people still think he's capable of.
That may then lead to somebody taking a chance on him in this country next season, if that's what he wants to do.
The only thing that is clear in my mind is that he's lost so much game time in his career because of injury, so now he just needs to play.
From the romantic side you'd say he can come in and come off the bench occasionally, but for him and his career, it wasn't the right thing.
I'm please he's signed for a club, and I wish him all the best because when you spend that amount of time injured, mentally it becomes testing.
He has unbelievable ability and to keep coming back is something I admire him for.
I just hope he gets all the game time he needs until the end of the season.
---

Build better bets with our free betting tips, predictions and accumulators, every day.
More betting news:
Experts' Best Bets: Five tipsters pick out 110/1 acca for Thursday's Europa League action!
33/1 & 45/1 Each-way bets for this week's Honda Classic
In The Mixer: 8 experts give us their ultimate Carabao Cup Bet Builder!
The experts at Free Super Tips aim to get their predictions out as early as possible, so you can check out Tomorrow's Football Predictions as well as Football Predictions for today. Get a head start with your football betting with our Free Bets page to compare all the latest betting offers.