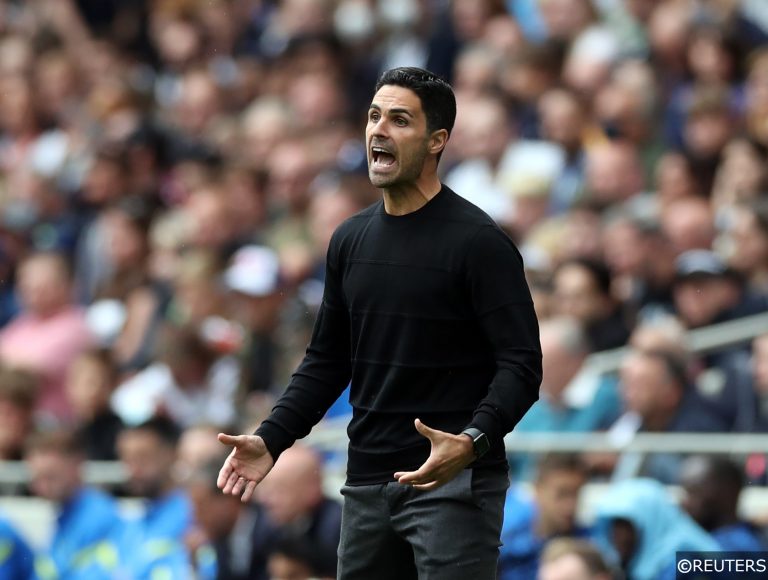 Content Editor at Free Super Tips, Alex was born in the shadow of Old Trafford and is an avid Man Utd fan. After graduating from university he combined his love of football, writing and betting to join FST and now closely follows goings-on in all of the top European leagues.
The Premier League may be on pause but to keep your spirits high we caught up with Nigel Winterburn this week to talk about Arsenal's top four prospects, their struggles in the transfer market and the future of Pierre-Emerick Aubameyang and Granit Xhaka.
---
On Friday, it is 21 years to the day since Paulo Di Canio scored that famous FA Cup goal at Old Trafford to seal a 1-0 win for West Ham while Fabian Barthez was waving his arm about claiming for offside. You started that day, what do you remember about the game, Di Canio's mood before and after the game, and what it was like playing with him generally – especially given the incident when he was at Sheff Wednesday and pushed the ref over?
Firstly, it was an unbelievable victory from us because a few weeks earlier we had been beaten quite heavily off United in the league.
To be drawn in the cup and have those fixtures fairly close together was difficult enough and nobody expected us to win that cup game.
The best way to describe it was a 'backs to the wall job' and with Barthez I think he was trying to con the referee and the linesman in essence.
When Paulo went through, he had his hand up for offside and Paulo was too cute for that, he was one of those guys who finishes off the chance and see's what happens afterwards.
Paulo scored and Barthez played the rest of the game on the halfway line as a sweeper for United and we camped on our six-yard box.
We managed to hold out and it was a great victory from us especially after taking a bit of a walloping a few weeks earlier.
Nobody expected us to win and United would roll us over, so it was a shock because they were such strong favourites, but it's not like some of the shocks in history where lower teams have beaten Premier League sides.
It was a great team performance because we had limited opportunities, Paulo scored, but we defended really well and United couldn't break us down.
When you win at a big away game there's always celebrations and it was a great day for us.
It was Old Trafford against Man United and as I've said we were expected to get a walloping, so it was a great day for the team.
I have to say when I went to West Ham I got along really well with Paulo, his mentality was a bit like mine, and I think we got to understand each other very well.
I hated losing and so did he, he liked things to be run smoothly and properly.
I've seen him walk in several times from training where he's not been happy with a session, or he thinks players have been messing around.
He's showered and he's gone as you watch his Ferrari leave the training ground, but the next morning he comes in as Paulo Di Canio as if nothing has happened.
He's got the same mentality as I had, but he had wonderful ability and I admired that in him.
He had a presence on the pitch and the Sheffield Wednesday incident wasn't a factor, I still get people today sending me stuff trying to wind me up.
I always say if you can't laugh at yourself, then don't laugh at others.
I have a laugh with my kids about that incident, but it's funnier when people send me those pictures to provoke a reaction out of me.
It's something I shouldn't have got involved in, but I did, and it was just one of those things.
When I went to West Ham, the guys put me changing next to Paulo on the very first day, so as soon as I walked in, I was getting changed next to him.
Next thing was getting a tap on the shoulder and that was it, the ice was broken.
We were in the same team trying to achieve the same things and I am respectful of everyone I ever played with.
Just because I had a small spat with Paulo doesn't mean I couldn't encourage him, give him a bollocking or ask things from him on a pitch.
I wasn't going to change the way I was because of an incident years before, but regardless I got on really well with him.
As I said, we both had the same mentality, so our relationship was fine.
Mikel Arteta looks determined to keep Aubameyang banished from his team even with Arsenal struggling for goals). Do you think it's time to welcome him back when the team need him or is his time at Arsenal up? And why?
I don't know whether it's true, but there's a suggestion he isn't travelling with the squad to the warm weather training camp.
That suggests to me that there isn't a way back for him because I believe he's had more tests and been cleared to play.
Unless that's one of the reasons, then it's looking very unlikely he will be included in squads going forward.
When I've asked people about it, it seems to be very quiet when you ask about what happened and what's going on with him.
I think we all know about him travelling and coming back late, but it seems to me that's there's other issues that are unknown.
We're all speculating, and I don't know myself otherwise I would be able to say it's because of this.
It's state the obvious, but every week that goes by and he's not involved with the squad, then chances are he's not going to come back in.
You'd think with this little break we've got, if he's not back in training with the team then the suggestion is he won't be involved for the rest of the season.
It's a wait and see job, but we all want the information, but I don't think we're going to get it.
Given everything that has happened, would Pierre-Emerick Aubameyang's continued presence at the club beyond January be potentially harmful for Arsenal's top four hopes?
I would expect players who aren't playing to be unhappy, if you have any player who aren't playing but they're not unhappy, then there's something wrong.
But you have to be disciplined, professional and you have to train properly.
Hopefully you get opportunities through injuries or training performances that put you back in the good books of the manager.
It's hard to give an answer when there seems to be a bit more going on than I think we know.
He's been disciplined, unless Arteta has asked him to apologise to the team and he's refused.
I don't know what's happening fully, but he's a centre forward who can score goals which Arsenal have lacked of late.
To go through half a season with one striker who may get injured, suffer a lack of form, rotation to the squad, then you limit your options.
Time will tell us whether that will cost Arsenal come the end of the season.
If he is to leave on loan, then I think Arsenal will be paying a huge amount of his weekly wage because I don't see anybody matching it.
I imagine that's one of the big issues as well.
The January transfer window is nearly closed, would you like to see Arsenal do business and if so, what positions and who would you like to see arrive? If not, why?
Obviously, we're not scoring enough goals, Lacazette has come in and to a certain extent has done well, but strikers are always judged on goals.
I've always said the one thing Arsenal have lacked in recent seasons is a striker who gets 20 league goals.
Aubameyang has done it in the past, but we haven't had a striker who does that on a regular basis.
If you don't have that then you need two forwards who get 16 or 18 goals a season each.
I'm not sure we have that within our squad, and I've said in the past the two areas we need are central midfield and a centre forward.
Particularly when the Aubameyang story started to break, some people thought we needed another striker before that because he was struggling for form.
For Arsenal at the moment, he looks out of the picture, so we need another striker, but with only a few days to go in the transfer window, it's looking very unlikely.
Does Alexander Isak fit the bill for Arsenal if they cannot secure a deal for Dusan Vlahovic, or would you prefer to see a more Premier League-proven option come in up front?
It's hard to describe what Premier League proven is, is it someone who's played in the Premier League before?
Arsenal need a striker who could potentially score 20 league goals a season.
I know Calvert-Lewin has been mentioned and I've spoken to people who think he would fit perfectly and score those goals in an Arsenal team.
The question is do Everton want to sell?
Isak's been mentioned as well, so whatever you do there's always an element of risk that comes along with it.
The only conclusion I can make is that we definitely need a striker, and this problem isn't going to go away because we'll need one for next season anyway.
Whenever we can get one in this transfer window remains to be seen.
Arteta has said himself the club are working hard to bring someone in, but it's difficult and when managers usually say that, then it tells you they can't get who they want right now.
With Vlahovic, he's been linked with Arsenal for so long, but I think he's always wanted to go to Juventus.
It's time to move on from him, there's no point talking about a guy who potentially doesn't want to come to you.
We might have to take a chance on somebody and with Isak he reminds me a little of Henry with the goals he scores.
When Arsene Wenger brought Henry in, he played as a centre forward, but not in the role of a centre forward.
He used to drift into clever little areas in midfield and on the left-hand side and if you look at Isak, and a lot of his goals, they come from a very similar area.
But who knows, if we do bring somebody in then they need to hit the ground running.
A lot of supporters are frustrated that we haven't been able to do anything, especially now we've put ourselves in a good position where we could potentially finish in the top four.
It's opened up and the feeling is that if Arsenal don't get somebody in, then they'll probably come up short.
If Arsenal fail to sign Arthur Melo this month, should the club turn to Jack Wilshere to help see them through until the end of the season?
Arteta has come out and said Jack is working towards his badges with the youth teams.
If I'm honest, I don't see it as an option.
I've seen Jack's interviews and I know Jack is fit enough to play, but he hasn't been in the Premier League for a while.
I've always stood up for him because although I wasn't injured a lot, I've seen others go through it.
Mentally, it's difficult to get yourself back into training and then back into action with the first team, match by match.
I just feel with all the injuries he's had and the time that's gone by, I don't personally see it being an option for Mikel Arteta.
I think if it was then it would have already happened.
Do you think he'll be disappointed if the market closes without any new additions? Where do you think Arsenal could instantly improve with a new signing?
I hope so, and I think he should be.
Our first XI is alright and it can produce a high performance but as we saw against Burnley it wasn't working.
We didn't have everyone out there playing, but it needed a switch up and to try something different.
Unfortunately, we didn't have those options to try something different and that might just tell you we need some additional players.
The two priorities are a central midfield player and a centre forward because we seem to be in a mess in that area with what's happened with Aubameyang.
Who is your ideal long-term option for the Arsenal captaincy within the squad?
I know a lot of people want Tierney as captain and he's spoken very highly on what he believes a captain should be like from his time at Celtic.
He's a favourite with a lot of the fans, so I think that's an option.
I've said before when you look at some of the younger players and I've mentioned Saka in the past because sometimes it depends on the group you've got.
Mikel Arteta might feel he needs a more senior figure than Saka, but to me he leads by example.
If you don't have the right personnel in the squad, give it to the most outstanding people and Saka has been outstanding for the last two seasons.
I don't understand this leadership group, it wasn't something that occurred in my day.
I just expect players when they go out onto the pitch to be their own captain and if you need to dish out orders, you don't wait for a captain or manager to say it.
If you see an issue that you think needs resolving, then you ask the players to fulfil that role.
If you felt somebody needed to shift positions slightly then you would tell them to do it and face the consequences afterwards if the manager didn't agree with you.
At least it was a decision made whilst out playing to try and help the team, so I don't understand this leadership group to do that.
I think the issue over captaincy will have to be addressed in the summer ahead of next season.
Tell us your impressions of Takehiro Tomiyasu. Has he surprised you?
I didn't know a lot about him when he joined and probably against Liverpool was the worst game he's had so far in an Arsenal shirt.
He's been so consistent; he supports Saka well going forward and defensively he's been strong.
I think it helps when defending set pieces, but also balls to the back post he has that height to deal with it.
His all-round presence and determination is there to see and I think he has done very well.
He's probably reached higher expectations than some people thought when he first arrived , but he should be pleased with what he's achieved so far.
They key is to finish it off for the rest of the season and make sure to follow it up season after season.
That's when you know you have a real player at your club.
We've seen players in the past who have had little three- or six-month bursts, then we wonder why they've fallen apart.
So far, along with Ramsdale, he's been absolutely outstanding, and he might have the odd poor game, but he bounces back quickly.
If Xhaka was a teammate of yours back in the day, what would the players be saying to him about his red cards? Is it acceptable for a player of his experience?
I think it could be the positions he gets himself into or he's asked to take up occasionally.
I think he may have been unlucky on the Liverpool sending off, but I was having a debate with someone at that Burnley game about Xhaka.
There was a tackle from Westwood, and I said if that's Xhaka he gets booked or potentially sent off.
People say referees don't base it on who the player is, but you can't kid me, they know who it is and their reputation.
He's built his own reputation, so you've got to live with that.
But if he was in my team and picked up a yellow, I'd be grabbing him and reminding him of his discipline.
A lot of his sending offs are his lunges, he isn't quick enough to recover and he lunges in.
There should be players around him at Arsenal reminding him to be disciplined and focused.
If you have to, let the guy go past you, don't lunge into anything.
You can try and intercept or a body check because you probably won't get booked for a body check.
You've just got to let the guy go sometimes and if you're last man, trust your goalkeeper is going to help you out.
Even if they score, there's a better chance of getting back into the game with 11 men.
I think he's a strong character within the squad and that's why Arteta likes him, but it doesn't stop the younger players or any player to grab hold of him.
You can get away with it in central midfield sometimes by letting players go compared to a full back or centre halve.
In the position he's in, he doesn't need to make those challenges which is the most frustrating thing.
Do you support the plan to hand Arteta a new contract? Where do you think he can improve?
I think he's learning all the time and there's been a bigger shift to Mikel Arteta's popularity than there was at the start of the season.
The last few games we've seen people come out and say he still isn't the right guy, but I'm not a big believer in changing your managers.
It's clear to me what we're trying to do, bring in younger players, develop them and build a stronger squad.
I've been clear all season, we're going to get some outstanding and exciting performances, but we're also going to get results like we saw against Burnley and to a certain extent against Man United and Everton.
It will be frustrating, but we're seeing progression and if we're still fighting for fourth come the end of the season, then I think it shows progression.
Then we look to the summer to see who leaves and who Mikel Arteta can bring in because there's still players in the squad who need to be rotated around.
If the club think it's the right thing to do, then I'm happy with that and I love watching the younger players come into the team.
Sometimes you do get those performances which frustrate you and you think it's wasted opportunity, but it's a learning curve for these players.
Will Declan Rice be a West Ham player next season? Stuart Pearce rates him ahead of Roy Keane at Forest at the same age. Would you agree?
Stuart Pearce is a good judge to have with him seeing both players and he obviously works with Declan Rice on a daily basis.
I have to say the game is different, so it's a big statement to make.
I don't like trying to look at players from 10 or 15 years ago to today because the laws of the game has changed and it's completely different.
Your Keanes, Beckhams, Vieras, Overmars and Bergkamps; it's the mentality they had and I think their individual quality is taken for granted.
But their temperament, they're all winners and hated to lose football matches.
With Rice I think he will still be at West Ham unless someone meets his valuation.
I would imagine it would take a huge fee to see him go and whether the player pushes for a move away.
I don't know what the fee would be at the moment, but you're looking in the excess of £100 million.
I think when Harry Kane was touted to go to Manchester City for £150 million, I said that Man City wouldn't pay that.
It's not doable in the current situation and market we're in.
I can't see West Ham letting him go for £70 or £80 million, so it'll end up being over £100 million.
If Rice wants a move, then I'm sure they would do a deal, but I would think they'll try to keep hold of him for as long as they can and keep pushing over the next couple of seasons.
They'll be looking at bringing in players to improve their squad and they've had a fabulous season and a half West Ham.
They've done really well, and they'll be looking to sustain that, cement that top four place and try to break into to regularly, but it's a difficult thing to do.
What do you make of the top four race? Man Utd, Arsenal, Tottenham, your old team West Ham and even Wolves are in the running. Who do you think looks most likely to finish fourth and who do you think will finish outside the European places all together?
Personally, I don't think it'll be Wolves because they don't have a big enough squad.
Some of those teams mentioned, and Wolves if we want to include them, will see some results as a wasted opportunity across the season to take a foothold of fourth.
I really don't know who's going to nick that fourth place.
Some people have said third is up for grabs, but I feel Chelsea are just too strong and I don't think they'll relinquish that spot.
For me it's spin a coin and take your pick, whoever you support, you will think they will finish in fourth place.
I don't think we can look at it in terms of form because some drop off a little bit then bounce back with a couple of victories.
It's not a surprise Tottenham lost at Chelsea because they struggle there anyway, but they picked up some good results and lost.
My brain was thinking I don't want them to go to Chelsea and win otherwise they'll be looking really strong for fourth.
All of a sudden, four teams are now clustered together again.
I think for me it's down to who you support you believe will finish fourth and I can't give any scientific answer with the fixtures.
I'm an Arsenal man so Arsenal are finishing fourth in my eyes but ask supporters of the other clubs and they'll say the same.
What I would say is that I think this will go down to the last game of the season, I don't think it'll be settled before then which makes it very interesting.
---

Build better bets with our free betting tips, predictions and accumulators, every day.
More betting news:
Huge 449/1 Champions League, Europa League and UECL winners treble
53/1 Cards & Corners acca for this weekend's Championship action
Five uncapped players who could make England's World Cup squad
Here at Free Super Tips, we cover the entire English Football League. Make sure to check out our Championship Predictions, League One Predictions and League Two Predictions, all covered by our betting experts.