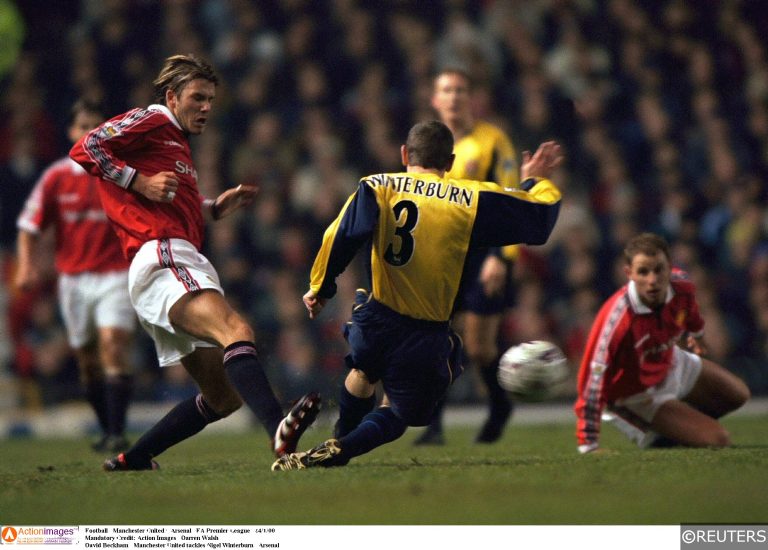 Content Editor at Free Super Tips, Alex was born in the shadow of Old Trafford and is an avid Man Utd fan. After graduating from university he combined his love of football, writing and betting to join FST and now closely follows goings-on in all of the top European leagues.
After an emphatic resurgence Arsenal's top four challenge is under serious threat thanks to a couple of recent defeats. We caught up with former Arsenal defender Nigel Winterburn to talk about Arsenal's chances, how Mikel Arteta can rebuild the Gunners' squad and why their rivalry with Manchester United was so different to Manchester City's battle with Liverpool.
---
It's been a notably bad week or so for Arsenal in terms of their hopes of a top four finish, do you think this is the wheels falling off? If not, what do you put the two defeats down to and can the Gunners still get fourth?
The last two results and performances were poor if I'm honest.
Mikel Arteta and the team need to respond quickly, starting with the weekend's game with Southampton.
It's hard to know why those results happen, you could say there was some disruption with the Brighton game, but the Crystal Palace performance was so disappointing.
It wasn't competitive from the very start; they didn't get into the game and Crystal Palace completely bossed Arsenal throughout.
I didn't see it coming, the results have been consistent and good on the whole.
To add to it, Arsenal picked up a couple of big injuries to important players and I just think it was the hangover of the Crystal Palace game into the Brighton fixture.
It didn't look confident in possession, it looked slow, and Arsenal struggled to get any momentum.
Brighton were structured defensively and used the counter attack to good effect whenever they could.
Arsenal were under pressure with Brighton scoring first and unfortunately couldn't respond.
Arsenal now need to get back to the levels they were at before these past two games and it'll be interesting to see what selection and formation Arsenal play at the weekend.
But it's now become a huge game for Arsenal.
Do you think momentum is now with Tottenham for fourth place? Can you see Arsenal fighting back? 
Well, if we win our game in hand we're back level and we need to play Tottenham, so it's still up for grabs.
I've said all along that all teams would drop points between now and the end of the season and I still believe that.
It's going to come down to consistency, Arsenal have had a big setback with those two defeats whereas Tottenham have pounced on that.
I like to think Arsenal are still there and will still be there, but we've handed back the initiative to the other teams going for fourth place.
I'm just waiting to see how Arsenal respond to those defeats at the weekend and it's a crucial game against Southampton before we look at anything else.
Should Arsenal fail to secure fourth – what do you think that means for Arteta's future? Would it ensure next season is a 'make or break' campaign for the Arsenal boss? 
I said at the start of the season that Arsenal wouldn't get the top four, I didn't think they were ready for it.
A few weeks ago, with the way we were playing and the games in hand we had that we would finish in the top four, but that just shows how quickly things can change.
From where we were, I think there it would be a huge disappointment if we don't finish in those Champions League positions.
But I think if we don't then we reset and go again.
There's going to be some more changes to the playing squad throughout the summer and there will be a more realistic view on things.
It'll give Arsenal supporters a chance to see how Mikel Arteta and the club are restructuring.
This is the first season where we've seen the methods of Mikel Arteta, he's had European football and Covid to deal with, which I know is the same for everyone, but as a new manager you want that time on the training pitch to implement ideas.
He's needed to make huge changes to the personnel which he started to do, and I actually think we're a little short right now in terms of players.
He needs players that he's confident in playing week in week out if there are any injuries or problems with the regular players.
Arsenal aren't at that stage yet, so I still believe there's still a lot more work for them to do and Mikel Arteta will be the man to do that next season.
What are your views on the process that Arsenal under Mikel Arteta has gone through so far and what do you think the peak of what this team could accomplish is? 
I think what he can accomplish depends on what he can potentially do in the next two transfer windows.
First of all, this summer is crucial for Arsenal because that's when you have the best opportunity to bring in the players you want.
It can always be more difficult to do in January and a bit of a lottery as players are looking at a lot of things.
The next transfer window throughout August is huge for Arsenal, we all know they're desperate for one, if not two strikers.
Then they're going to need to strengthen other areas such as the midfield.
There's a lot of work still to be done, but a lot has changed under Arteta because I don't think people realise how far Arsenal had fallen.
Arsenal needed the squad changing drastically and the mentality at the club needed to change.
Mikel Arteta has spoken about that a lot, and I think there are a lot of signs that it is changing, but we're still far off from where we want to be.
This summer is massive and crucial for Arsenal to continue that progression and we may get a better idea of what the club could achieve.
Do you see any similarities between George Graham and Mikel Arteta's mentalities and aspirations with 'bringing Arsenal back?'
He seems to be doing what George Graham did when he first arrived at the club which is revamping the squad.
George Graham let a lot of the senior players go at the time and brought in players like myself, Lee Dixon and Steve Bould from lower down the leagues.
He brought players into the club that he wanted and let senior players go who weren't going to play.
Mikel Arteta is doing the same thing in terms of trimming the squad down and bringing in younger players that can be developed in the future.
I think it's quite a clear objective from my point of view looking from the outside in.
I can see some similarities, but unfortunately for Mikel Arteta, George Graham was very successful, and that success came very quickly in winning two league titles.
It'll be interesting to see where Mikel Arteta can take this team, certainly next season.
But you don't want to look too far ahead because you're never sure what can happen in football, so I think it's just about a natural progression for Arsenal right now.
You want to see better quality of players coming in the club all the time and then the club need to re-establish themselves, firstly in the top four.
I would think that's the aim right now and keep going on good runs in the cup competitions and whichever European competition Arsenal are in.
How big of a blow are the injuries to Thomas Partey and Kieran Tierney at this point in the season? 
They're huge losses to the squad, Tierney is so consistent, gives you an attacking option down the left-hand side and is steady defensively as well.
I just like his attitude since he joined, then Partey in midfield is a loss.
He has been erratic at times, but he started to find a level of consistency up until that Crystal Palace game.
He was improving and having much more of an influence on the game.
But one of the main reasons I like Thomas Partey is because when he picks the ball up from deep; he tries to play forward.
We saw at the weekend with him and Xhaka missing in the midfield that Arsenal went sideways and backwards too much and at times it was painful to watch.
As a left-back yourself, what do you put Nuno Tavares recent struggles down to? Having been taken off at half-time against Palace and dropped for Brighton, do you think he has lost the trust of his manager? 
It's hard to say what's happened when you're looking from the outside, but it seems his level of performance has dropped.
I'm not sure if that's down to the amount he's played or if it's a confidence issue.
For me I don't see him at this minute in time as a viable option for Arsenal due to his performances.
He played well in certain games at the start of the season when Tierney was out injured.
I just don't think he fully understands the complete role of a fullback and I think there's a lot more he needs to learn defensively in terms of the situations he puts himself in.
He needs to learn that side of the game very quickly and get back to the form going forward that he showed earlier in the season.
The problem is when you've had a couple of games like the ones he's had, then your confidence just drops so quickly.
You can also lose the trust of the supporters, so it makes it difficult to come back when that happens.
What advice would you give a fellow left back in a similar situation in Nuno Tavares?
If I was speaking to him, then I would tell him to concentrate on the defensive side of his game.
He needs to better understand his defensive duties and maintain that attacking intent.
But one of the main things you need to do when you're in bad form is to just keep it simple.
Keep the ball moving, keep going forward not over-complicating anything and just build up your confidence again.
It'll be interesting to see if he gets any more game time from now until the end of the season with Tierney out.
That will tell us a lot about his game and how much work needs going into it.
Team selection and the formation will be very interesting to see at the weekend for Arsenal.
Should he be playing now Tierney is out injured?
Personally, I would like to see it happen as it keeps Xhaka in midfield.
But when a manager makes a decision and the team wins, then he's justified in what he does.
If he loses and the performance isn't good, then that's when you get the criticism.
It only ever gets questioned when your team don't perform because it normally means you lose.
If Xhaka plays left-back and Arsenal won, then people wouldn't have batted an eyelid.
But because Partey was out, a poor performance and Xhaka's experience taken out of the midfield it gets highlighted.
Xhaka probably needs to be in that midfield, then you make a decision who comes into left back.
Do you move other players around, do you change formation, but I was surprised to not see Nuno Tavares play just because I felt Xhaka should have been in the midfield.
What are your thoughts on the evolution of the modern fullback from when you were playing? because you were a bit of that 'modern' mold as a left back scoring and assisting a lot for Arsenal. Were you often instructed as your role to play further up the pitch or was it more instinct to play higher up to have a role in the attack?
When I first came to Arsenal it was a lot more traditional and I still think with Arsene Wenger it was still a traditional fullback role.
One thing I would say is that when I joined Arsenal, if you couldn't defend then you wouldn't be playing at one of the big clubs.
The defensive role of a fullback is so crucial and now it's more focused on what you can do going forward.
You see it with Trent Alexander-Arnold, he's excellent going forward but he does have some frailties defensively.
But that gets offset by the number of assists and goals he contributes with.
The role has changed completely, I wouldn't say I was anything special back then because under George Graham it was very regimented.
If the ball was on my side I could join in as much as I liked, but if the ball was down Lee's (Dixon) side then I had to come in and act as a third centre half for cover.
Under Arsene Wenger we got more freedom where we'd both be further forward, but I still don't see the role I played being similar to the modern fullback role.
These guys are so far advanced nowadays which never used to be the case when attacks were starting from the back when I played that's for sure.
Alexandre Lacazette's struggles have been well-documented, who do you think Arsenal should be eyeing up as a realistic replacement for the Frenchman in the summer?
If you gave me anyone who could score 20 Premier League goals a season, then I would be very happy because that's what Arsenal need.
I think with the way Mikel Arteta plays; Arsenal need someone who is powerful and quite athletic.
To be fair to Lacazette, I know he hasn't scored a lot, but his link up play and assists was still very good in this team.
You could say this about a lot of the players, but the last two games the performances have dipped and been well away from what we expect.
I think it just highlights the forwards Arsenal have got right now, it's a small squad overall if there are injuries or players are out of form.
There's not many to bring on to the pitch and change things dramatically, but that's where Arsenal are at the moment.
I'd be disappointed if we were still there because we need to bring in options in certain areas where we're lacking at the moment.
Darwin Nunez has been linked with a move to the Emirates, have you seen much of the Benfica striker, and would he be a good addition?  
I've seen bits of him and whenever someone gets linked to your club, you go away and watch snippets of them.
I haven't watched many games, but I've tried to see what he could potentially bring to the squad.
For a start he's six foot plus and seems to know where the back of the net is.
His goal scoring record is certainly very good, but the question will be whether Arsenal are actually interested because I know he has links to Manchester United.
You don't know how these things will go, but he is the type of player that Arsenal will be looking at.
In terms of the signings Arsenal have made recently, he certainly fits the bill being a younger player that can develop.
I do think they might try to get a couple of strikers in, obviously we don't know what Lacazette will do with his contract.
I think they might try to bring in someone with a bit of an experience along with a young, up and coming striker.
Balogun will be back, but he might be loaned out again and it seems like Nketiah won't be here either.
So, there's a lot up in the air at Arsenal, especially with that centre forward role.
But they will bring at least one in, that's for sure.
How important is it that Arsenal get Tomiyasu back fit for the season run in?
Well, they need him back and Mikel Arteta seemed to suggest that he could be ready after Southampton.
With Tomiyasu as well, he's someone that can play left-back if needed, but I think getting him back at right back and switching Cedric over would be the ideal solution.
They don't have to change the shape once he's back, but he's been out for such a long time.
It didn't seem to be a serious injury, but it's proved very difficult for the medical staff and Tomiyasu himself to shake off.
I'd be pleased if he is back this weekend, but it's looking like it'll be after Southampton, but regardless it's good news if he's back fit and able to play.
Do you support Arsenal's move for Hazard? Do you think it can work, even with his injury record in Spain?
If you give me the Hazard that was at Chelsea, then absolutely it would be a great signing.
But the one that's gone to Real Madrid and hardly played because of these injuries, then no it wouldn't be a good signing.
I haven't seen him around that much and I don't know if that's a serious transfer that could happen.
Arsenal do need to improve their squad numbers, but with Hazard would he be expected to play all the time and who's position does he take.
You do want that competition for places so it is interesting to see if it would happen, but I'm more interested in what Arsenal are doing in other positions, then worrying about Hazard coming or out.
It's very much a wait and see with Arsenal, we seemed to be linked with everybody who could become available.
Ruben Neves is also a player linked with Arsenal once again, is this the summer he finally leaves Wolves for European football?
It's looking more likely that he could leave Wolves this summer.
I think when you're linked with that many clubs and the transfer fee seem to be substantial enough for a move to happen.
In terms of Arsenal, it's the type of player we've been linked with recently and he would fit the mould.
But he's someone who's been linked with Manchester United which will make any deal difficult.
Arsenal have been linked with a lot of younger players who haven't hit their prime yet, so I expect that to continue in the transfer market.
Neves has a lot of Premier League experience which is a massive for clubs looking to buy in this league because you know what you're getting.
Sometimes you bring someone in from abroad and although you might be confident in the signing, they still might need time to adjust to Premier League football.
I think it would be another option Arsenal are looking at, but whether they can meet the transfer fee is another question with the club presumably already spending a lot of money on a striker.
Arsenal also need more than two players to come in if it was to be Neves and a striker, so it's a huge spending budget Arsenal.
No matter what happens at Lyon this week, West Ham's resurgence is no fluke. Have you had the chance to attend a game at London stadium this season? What would be like for a player playing in front of such a full house? Could it now be an attraction for potential signings?
I think West Ham have always been an attractive club to join and there's always a fascination around certain players they have.
In terms of where they are in the league, I think they can bring in more players that they want to sign to take them to the next level.
I think they should be able to attract quality players in, especially if they can maintain their European status.
What they're achieving is incredible and the style of football is developing all the time.
I haven't had chance to go to the stadium because I spend the majority of my time at Arsenal, but I've watched a lot of their games on tv when they're on and the highlights.
It hasn't surprised me where they are because of the job David Moyes has done with them, they're up there again, got some exciting players so I don't see why they couldn't continue to improve that.
There was a lot of talk before the game that Manchester City vs Liverpool was the greatest rivalry in the Premier League, do you agree with that, or would you look at the Wenger vs Ferguson battles as the greatest?
It's a different rivalry between Manchester City and Liverpool, it's a rivalry based on the quality of the two teams.
They are so far ahead of the rest and it's more about the football ability of the players in the two teams.
Our rivalry with Manchester United was more intense because we hated each other.
You could tell from some of the things that went on and it depends how you like your football to which one was a bigger rivalry.
I love watching Liverpool vs Manchester City, but do I think anything apart from a game of football was going to happen? no, I didn't.
When I retired, I still wanted to watch Arsenal vs Manchester United because you were never sure what was going to happen.
In terms of the quality and explosiveness on and off the pitch I know which one I would choose.
I think the rivalry is just in different eras, but the reasons could be seen as the same.
We always believed if we beat Manchester United then we would most likely finish above them and win the league.
It's the same sort of rivalry between Liverpool and Manchester City in the past couple of seasons, but it's not as in intense in terms of the warfare that went on between some of the players.
---

Build better bets with our free betting tips, predictions and accumulators, every day.
More betting news:
Star-Struck accumulator lands at 18/1 on Easter Monday
Five winners on Sunday including 26/1 Bet to Net accumulator
To take full advantage of our Free Football Tips we recommend you take a look at our Free Bets page, where you can compare all the best free bets and special offers from the country's top bookmakers.