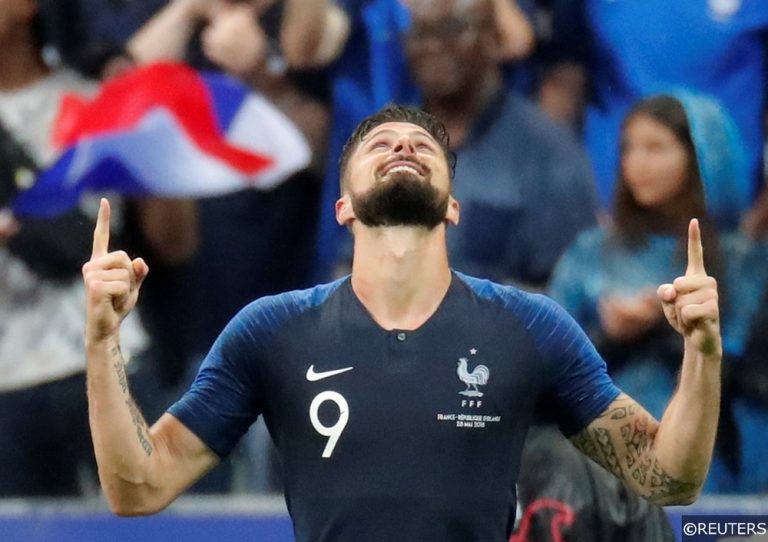 Over the last few seasons, striker Olivier Giroud, who switched North London for the South-West equivalent when moving from Arsenal to Chelsea in January, has divided opinion as much as just about any other attacking player currently playing in the Premier League. To some the enigmatic Frenchman has a tough of class about him, while to others the forward is nothing but a player who is laughed at by opposition fans.
Deemed surplus to requirements at Arsenal in January, France manager Didier Deschamps recently declared himself very much a supporter of the six-foot-three number nine, who netted 15 goals in all competitions at club level last season, by naming him in a major tournament squad for the third time running.
Read More: World Cup 2018: Les Bleus' boss puts his trust in youth
Where does he slot into the team?
With players such as Kylian Mbappé and Antoine Griezmann vying for the single striker position, it's easy to think that Olivier Giroud will struggle for game time in Russia, though that may not be the case. Even if he is restricted to a role off the bench, the Chelsea forward can make his presence felt.
Compared to most of the other selections, the inclusion of Giroud isn't exactly in-keeping with the theme. The Les Bleus squad is comprised largely of fast, explosive players. Giroud is neither fast nor explosive, though he does possess several qualities that make him a viable attacking option in a squad such as the current French one.
As France have other attacking players such as the lighting quick duo of Ousmane Dembélé and Kylian Mbappé, not to mention the likes of expert crosser Thomas Lemar or attack-minded full-back Benjamin Mendy, someone with Giroud's footballing make-up should find himself being the recipient of lots of service into the opposition box. Adept at losing his marker, the tall striker has made a name for himself as someone capable of applying the finishing touches to attacking moves that culminate with a delivery being sent into the area.
Fun Fact: During the 2015/16 Premier League season, of those who played made at least 20 appearances, only two strikers won more aerial duels than Olivier Giroud.
Who could've gone instead?
In terms of alternatives, there are probably three players who could've gone to Russia in Giroud's place. Here's how they've fared both for France and at club level over the last couple of seasons:
Anthony Martial
Perhaps more of a winger than a forward, the tricky Manchester United player made the cut for EURO 2016, though he failed to really make an impact at that tournament, while he's been afforded very little game time, especially from the start, since Mourinho took charge at Old Trafford.
Record for France: 18 appearances, 1 goal scored
Record at club Level since start of 2016/17 season: 91 appearances, 20 goals scored
Alexandre Lacazette
Prolific for Lyon in Ligue 1, Alexandre Lacazette, who was arguably the reason for Giroud leaving Arsenal, failed to nail down a regular spot in North London during the 2017/18 season, though he still scored 17 goals for his new club.
Record for France: 16 appearances, 3 goals scored
Record at club Level since start of 2016/17 season: 87 appearances, 53 goals scored
Karim Benzema
The longest serving French player in Real Madrid's history, Benzema is one of the most recognisable forwards in world football, though he has been out of favour with France boss Didier Deschamps since an off-field scandal back in 2015.
Record for France: 81 appearances, 21 goals scored
Record at club Level since start of 2016/17 season: 95 appearances, 31 goals scored
Don't forget to check out more of our World Cup articles, such as: World Cup 2018: Can France do it away from the comforts of home?
Giroud's Numbers:
Record for France: 72 appearances, 31 goals scored
Record at club Level since start of 2016/17 season: 96 appearances, 35 goals scored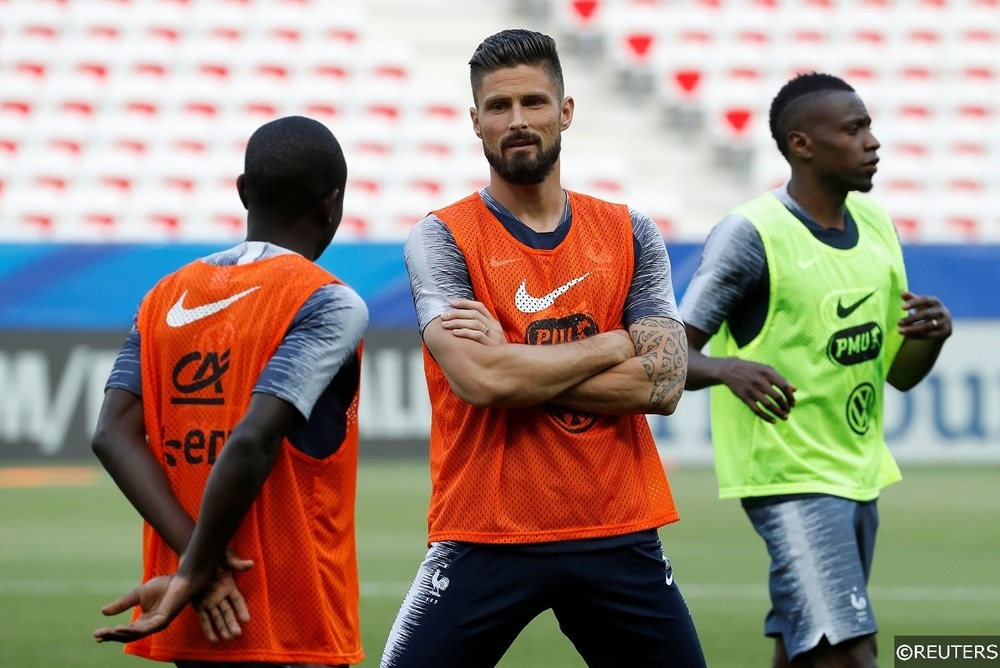 As the numbers at international level suggest, Olivier Giroud is the standout performer from the four players above, so it's not all that difficult to see why Deschamps went with the 31-year-old.
In terms of goals scored at club level, a case easily could be made for taking Lacazette over Giroud. After all, the ex-Lyon man has scored more goals in less games over the last few seasons, though a stagnated first season at Arsenal probably put paid to Lacazette's hopes of featuring in Russia. Having said that, it's not as if Giroud goes to the World Cup off the back of an especially successful campaign, while he too has struggled to playing time.
However, it is probably the fact that Giroud has proven himself to the France boss whilst playing for the national side that earned him his place on the plane to Russia.
Given that both Martial and Lacazette haven't played too many times for France, it's only fair to compare Giroud with Karim Benzema in terms of international form. Despite representing Les Bleus ten times less than the Real Madrid striker, Giroud has notched ten more goals, so it doesn't take too much working out to see why the Chelsea man was selected over the exiled Benzema.
Despite being off-loaded by Arsenal and despite finding himself regularly on the bench for Chelsea since moving to Stamford Bridge back in January, Deschamps' decision to take Olivier Giroud to Russia makes perfect sense. The aerial threat offers something different to Antoine Griezmann, while he's no stranger to putting the ball in the back of the net, especially at international level.
As we've seen on several occasions throughout his career, Giroud has a knack of scoring goals, goals that often require quick adjustment and improvisation in the box – a player with that sort of ability is always worth having around. Moreover, With the wide players at Deschamps' disposal, France are likely to get plenty of crosses into the box, so, whether he starts regularly or features from the bench, the number nine should be in his element.
There will be plenty of fans who feel that France should've opted for someone other than Giroud's, but those who believe that the striker, who averages 0.43 goals per game for Les Bleus, will do well may fancy backing him in the 'Top Scorer' market. The bearded forward can be backed at a rather chunky 40/1 to outscore his peers in Russia.
Follow Free Super Tips on Twitter to stay up to date with our daily tips and predictions or browse more football content on our website: