Patrice Evra believes his friend and compatriot Paul Pogba will leave Manchester United this summer.
Pogba was involved in a heated back and forth with United supporters after the club's final game of the season on Sunday, when the French midfielder appeared to react sarcastically to verbal abuse from disgruntled fans near the tunnel.
As a result of that confrontation and the subsequent negativity surrounding Pogba and the club, former United star Patrice Evra believes the World Cup winning midfielder will be seeking a move this summer.
In an interview with Sky Sports, Evra said:
"It's not like I am protecting Paul but when there are incidents like yesterday with the fan, they are killing Paul.
He has the most goals, most assists. I know you can question his leadership and in the last few games you want more, so that's why you can criticise him right now, but overall, he has been the best player this season.
Just because it's Paul Pogba, he has haircuts, he dances, his Instagram and everything, people will criticise him while forgetting the player that he is. Only him and (David) De Gea can play in a big team in Europe."
As United's record signing and most high-profile player, the inconsistencies in Pogba's game have made him something of a lightning rod for criticism in the midst of a Manchester United crisis.
The 26-year old finished the season as the club's leading goal scorer and assist maker in the Premier League, yet his relationship with United supporters remains strained, with doubts about his commitment and long-spanning rumours of his departure abound.
With Pogba's Manchester United future continuing to look uncertain, we've compiled a list of possible destinations for the marauding French midfielder as well as the latest odds for each.
Check them out below:
Read our Alternative Premier League Team of the Season here – did Pogba make the cut?
Real Madrid – 11/10
Real Madrid's admiration for Paul Pogba is well-documented, and with the midfielder's compatriot and hero Zinedine Zidane back in the Bernabéu hot-seat, the chances of the two World Cup winning superstars uniting in the Spanish capital seem higher than ever.
However, reports emerging from outlets in Madrid suggest that the fee that United would demand for Pogba as well as the Frenchman's enormous salary could provide major stumbling blocks for any possible deal.
The chance to compete for football's biggest prizes and major honours would help to offset any financial hit taken by Pogba though, and with the enigmatic schemer entering the prime years of his career, a switch to the La Liga giants would be difficult to turn down.
PSG – 20/1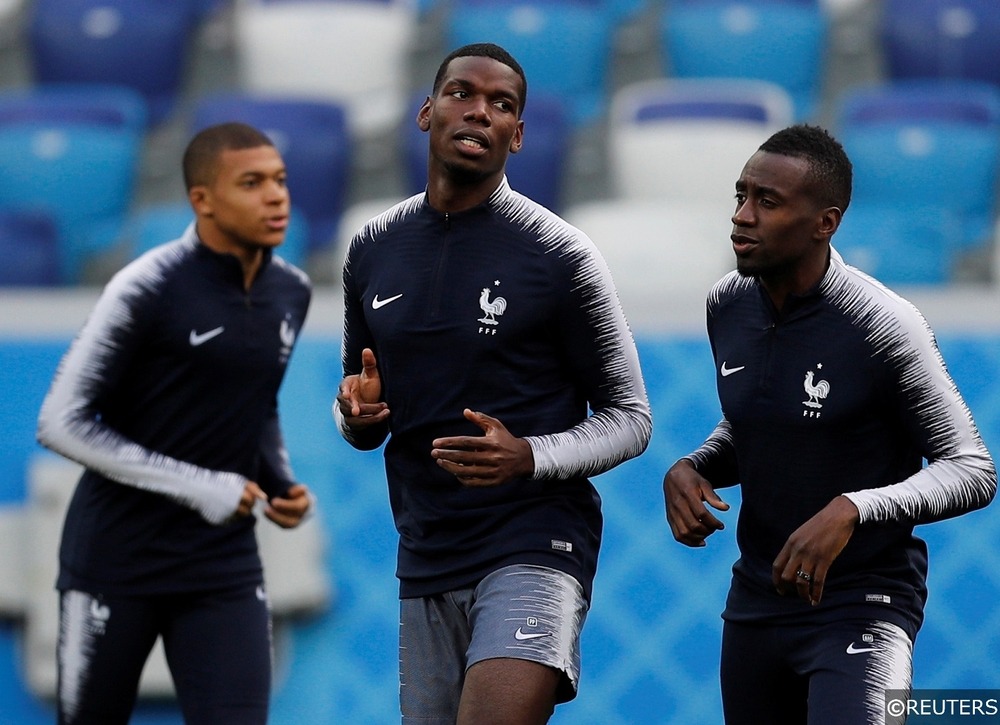 When the wage demands and valuation of a player prove a financial combination too hefty for Real Madrid to match, French champions Paris St. Germain are generally waiting in the wings to pounce, yet the Ligue 1 side have economic problems of their own to contend with.
Having fallen foul of UEFA's Financial Fair Play regulations over the past couple of years, the Parisian's could be forced to sell far more players than they bring in this summer to balance the books.
Subsequently, PSG would have to take a hatchet to their expensively assembled squad to free up funds for a money-spinning Paul Pogba transfer.
With that considered, a return to his homeland and the city of his birth an unlikely scenario for this year at least, and the bookmakers' 20/1 odds on a PSG transfer reflect that.
Barcelona – 33/1
Last month, Barcelona club president Josep Maria Bartomeu admitted in an interview that he had made enquiries over the availability of Paul Pogba when the midfielder was still at Juventus in the summer of 2015.
However, when Pogba eventually left Turin the following year, Bartomeu revealed that Barca were priced out of a move by Manchester United.
While Barcelona have only been loosely linked with a move for Pogba since, Bartomeu's long-standing interest in the unsettled player could spark a fresh move for the 66-times capped Les Blues international.
The Catalonian giants are preparing for a major squad shake-up this summer after another season of Champions League disappointment, and Pogba would undoubtedly add some sparkle to their ageing midfield.
Paul Pogba to not sign or agree a contract with any other club before August 9th – 4/6
At present, Paul Pogba still being a Manchester United player come August 9th feels like an unlikely scenario, but the long summer break from club football could help to heal wounds and repair damaged relationships between the club, player and supporters.
United's summer business in terms of arrivals could also be a determining factor in Pogba's thinking – if the club buy well and strengthen in numbers, the Frenchman could be convinced to give it another crack at Old Trafford.
Pogba, is of course, a hugely valuable commercial asset, and though it might irk United fans further to hear, the decision makers at boardroom level will be desperate to keep one of football's most profitable and recognizable faces at the club.
Keep up to date with the latest Premier League predictions, news, betting tips and special offers here.