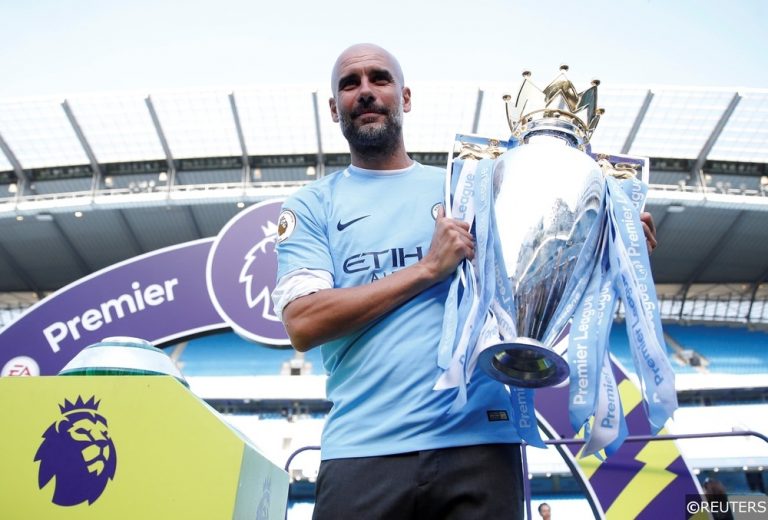 Simon Winter
@simonjwinter
September 26, 2018
Show Bio
Born in the south east of Ireland, Simon put his life-long love of football to good use when he started a successful independent blog in 2010. That opened up an alternative route to a career in journalism, and having had work published across a number of sites and publications, Simon joined the staff at Spotlight Sports Group in 2018.
Manchester City held complete dominion over the Premier League last season. More goals, more points, more wins, best goal difference, biggest winning margin – records were tumbled and replaced with new entries, written in sky blue by the all-conquering Citizens.
2017/18 was a season of unprecedented monopolisation for City, as they danced their way to a tiki-taka title. They timed their movements to a "pass, pass, pass" soundtrack, intoned by the composer of modern football's possession aria – Pep Guardiola.
City topped the average possession per game chats in 2017/18, keeping the ball 66.4% of the time. They became the first English team to attempt over 1,000 passes in a single game against Swansea City in April and completed 942 of those passes on the same day – another record.
Those are the kinds of numbers that fuel Guardiola's possession football fanaticism. But it wasn't that long ago the Pep was roundly criticized for sticking so vehemently to his principles.
"It won't work here" was the often-heard jingoistic cry of English football fans who took pleasure in watching Pep struggle to apply his methods successfully to the blood and thunder Premier League in his first season as City manager.
In 2017/18, Guardiola proved a lot of people wrong. The investment of another couple of hundred million certainly helped too, but Pep will feel that his possession obsession was vindicated.
There is more than one way to skin a cat however. Pep influence on the perception of how the game should be played and on football aesthetics has been far reaching. Now, different styles of play are often categorised like this:
Possession football = good, counter attacking football = ok, direct football = bad.
But is Guardiola's doctrine and philosophy nonpareil? Is possession football really king? Let's take a closer look.
Read More: Dropping Points After European Games: Fact or Myth?
Premier League Winners
Manchester City topped the possession charts in 2017/18, keeping the ball for 66.4% per game on average on their way to amassing 100 Premier League points. They were however, the first team to top both the final league standings and the possession charts in the same season in relevant records stretching back to 2008/09.
It's interesting to note that 5 of the last 9 winners of the Premier League title also finished among the top 3 sides in the average possession per game rankings, though 3 of the last 4 winners were ranked 6th or lower in the same metric.
Remarkably, Leicester City had the 3rd lowest average possession per game figure in the entire league when they won it in 2015/16.
Read More: FST's Premier League Power Rankings – Gameweek 6
Are low average possession numbers and relegation linked?
In short – no. Newly promoted Cardiff City have seen remarkably little of the ball so far in the Premier League this season, averaging just 38.1% possession in their fixtures to date.
While a figure like that is enough to send ripples of panic through possession fetishists everywhere, Bluebirds fans can rest assured that low possession numbers don't equate to certain doom in the Premier League.
Of the 27 teams relegated from the Premier League since 2009/10, only 8 were ranked among the lowest 3 teams for average possession per game in the same season.
Read More: Premier League Best of the Rest – Predictions and Betting Tips
Continental and international football

Pep Guardiola also applied his passing carousel and revolving rondos to last season's Champions League – City topped the average possession per game charts on the continent, hogging the ball for 62.6% of their games. They were however, undone by the explosive counter-attacking thrust of Liverpool in the Quarter Finals.
Jurgen Klopp's Reds ranked 14th in the Champions League for average possession overall (50.1%) and Liverpool were eventually beaten by the competition's 5th best ball retainers in the Final, Real Madrid (55.8%).
In fact, in the Champions League in general, it could be argued that if teams want to increase their chances of winning the competition, possession obsession should be abandoned and tactical focus re-tuned on the old smash and grab, counter attacking style. Take a look at the table below:

Pep Guardiola was the last manager to lead a team to glory in the Champions League while simultaneously topping the average possession charts for the tournament. But since 2009/10, by and large, the counter attackers have been trampling ruthlessly all over Europe. Where that leaves this season's Champions League favourites Manchester City remains to be seen.
If you're in the "it's not how long you have it, but what you do with it" fooballing ideology demographic, and have fist pumped the air just now, get ready to do it again. Take a look at the next table and take aim.
Read More: FST's Ultimate Guide to the Champions League

The 2018 World Cup was another victory for the counter-attackers and possession conceders. France's spectacular tournament win was achieved with incredibly modest possession of the ball. Les Bleus ranked 18th for average possession per game in total, keeping the ball just 49.1% of the time. Teams like Peru, Australia, Tunisia and Japan all enjoyed more of the ball on average than the World Cup winners.
The top 5 possession obsessives left Russia alarmingly early, while the 4 World Cup Semi Finalists, France, Belgium, England and Croatia ranked 18th, 12th, 8th and 7th in the average possession stakes respectively.
Conclusion
The cyclical nature of football styles and constantly evolving methodologies ensures that just about every way of playing the game has its own period of pre-eminence. When one approach seems to trump all others, the innovators work on ways to beat it.
Pep Guardiola's philosophy and possession obsession feel like an unbeatable combination in the Premier League right now, though history has shown us that every seemingly unconquerable tactic has inherent weaknesses waiting to be exposed.
Outside England, it seems the effectiveness of your time in possession has become much more important than the amount time you are in actually possession itself.  However, what works best today, might not be as effective tomorrow. Dominant football philosophies and tactics are ephemeral things. Is possession king? Not right now. Though it's next turn on the throne probably isn't too far away.
Check out our Premier League match previews, predictions and betting tips here
Follow Free Super Tips on Twitter to stay up to date with our daily tips and predictions or browse more football content on our website: