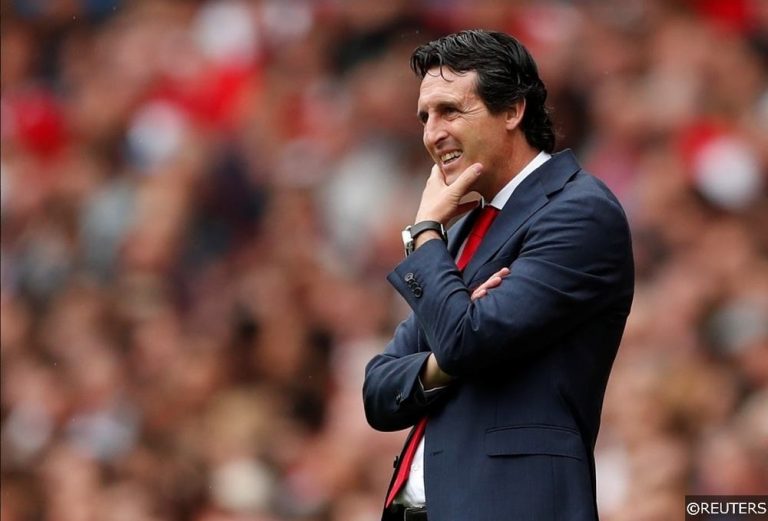 Simon Winter
@simonjwinter
Born in the south east of Ireland, Simon put his life-long love of football to good use when he started a successful independent blog in 2010. That opened up an alternative route to a career in journalism, and having had work published across a number of sites and publications, Simon joined the staff at Spotlight Sports Group in 2018.
Arsenal supporters' long-held desire for a change in managerial direction was finally satisfied last summer, when Unai Emery was appointed to fill the void created by Arsene Wenger's departure.
After successive finishes outside the Premier Leagues top 4 in 2016/17 and 2017/18, Wenger finally called time on an Arsenal career that spanned 22 seasons.
Experienced former Sevilla and PSG Coach Unai Emery was chosen to usher in the new era at the club, bringing his considerable continental pedigree to London along with a fresh set of footballing principles.
His appointment was greeted with almost universal enthusiasm by Gunners supporters, and the impact Emery has made in terms of the team's performances has been championed with just as much positivity.
However, has Emery's influence been as efficacious as it seems on the surface? Or has that impact been oversold by a fanbase who are desperately seeking vindication for their decision to chase Arsene Wenger out of the Emirates?
Let's take a look at the numbers:
Read more: Premier League 2018/19 Mid-Season Betting Tips – Title Winners and Relegation Predictions
2017/18 and 2018/19: A comparison
Arsenal's figures and totals after 21 Premier League matches in Wenger's last season as manager (2017/19) and Emery's first (2018/19) are eerily similar.
Emery has collected 3 more points than Wenger did at the same stage last season, and the Spaniards' Arsenal incarnation have outscored his predecessor's side by 8 goals.
Somewhat surprisingly, Wenger's notoriously porous Arsenal side conceded 5 fewer goals than Emery's defence had after 21 Premier League matches. In terms of league position, wins, draws and losses, nothing much has changed at all.
Buried within the most remarkable aspect of Emery's early days at Arsenal coach, his team's fabulous 22-game unbeaten run between August and December, is another incredibly uncanny parallel between his and Wenger's last season.
Arsenal's lengthy unbeaten streak included an 11-game winning run between August 25th and October 25th.  In almost a carbon copy of that sequence, Arsenal won 11 of their 12 matches between September 9th and October 28th last season under Wenger.
Attacking Statistics
As we detailed above, Unai Emery's Arsenal have been finding a successful route to goal more regularly this season than Wenger's team did last term, though the numbers suggest that this year's Gunners have had a little more luck on their side.
Emery's Arsenal (12.6) have had 3 fewer shots per game on average than Wenger's team did last season (15.6), while the Frenchman's attack also hit the target (6.2) more often than his replacement's forward line (4.9).
The difference in the teams' percentage of shots on target is admittedly paper thin (Wenger 39.7%, Emery 38%), though Expected Goals (xG) models return figures that are firmly in favour of last season's Arsenal team.
After 21 games of the 2017/18 Premier League, Arsenal's Expected Goals figure stood at 41.04, almost 3 goals higher than their actual total, while their 34.8 xG figure for the 2018/19 so far under Emery is roughly 12 goals lower than the 46 they have actually  managed to register.
It's safe then, to say that Arsenal have been overperforming in front of goal this season. The ruthless streak that their leading scorer and Premier League Golden Boot contender, Pierre-Emerick Aubameyang, has had to show since the summer lends credence to that train of thought. The 29-year old has had to be incredibly clinical this term, netting his 14 goals from far fewer attempts than the majority his rivals.
Defending Statistics
As we pointed out in our introductory section, Arsenal's defensive record is worse this season after 21 Premier League games than it was at the same juncture this time last year.
And even though the 5-goal differential isn't something to scream and shout about, the statistics behind that figure give us plenty to ponder.
The most common criticisms levelled at Arsenal under Arsene Wenger were always linked to the team's often cited "soft underbelly", their inability to defend properly and their lack of organisation in that area.
It's a facet of Arsenal's make-up that Emery has been desperate to improve, and the Spaniard signed 4 defensive players in the summer (Lucas Torreira, Bernd Leno, Sokratis and Stephan Lichtsteiner) to that end.
However, so far at least, Arsenal haven't shown any sign of a defensive evolution or improvement under Emery's instruction.
This season, Arsenal have conceded more shots on average per game this season compared to last, while their tackles and interceptions numbers have stayed more or less the same.
Arsenal's expected Goals (xG) models from the 2017/18 and 2018/19 seasons reflect the actual number of goals they conceded relatively accurately.
Style of Play
The statistics show that there has been a definite shift in Arsenal's style of play under Unai Emery. Those changes, illustrated by the figures above, don't necessarily suggest that Arsenal are less easy on the eye than they were under Wenger however.
They merely suggest that Wenger's philosophies are being eased out and replaced by new ideas. Arsenal fans routinely lamented the Frenchman's refusal to budge from his footballing ideals and Wenger's lack of tactical flexibility.
In contrast, Emery has shown a willingness to bend and mould the structure of his team for different fixtures and opponents.
This season, Arsenal have played more long balls on average compared to last year. They have played considerably fewer short passes on average per 90 minutes, while their average possession and pass success rate have also fallen short of last season's equivalent figures.
However, Arsenal fans will be happy to accept efficiency over aesthetics if the results are right, especially after Wenger seemed to prioritise those things in reverse order.
Conclusion
While there has undeniably change in the way Arsenal approach their football under Unai Emery, at this stage at least, there has been little discernible improvement in terms of results and performances from a statistical standpoint.
Of course, the numbers only scratch the surface of larger overall picture, and some elements of Emery's tenure are much harder to quantify and measure.
For instance, Arsenal top the charts for the number of Premier League points recovered from losing positions this season – that suggests that the players are developing the kind of resolve that was often missing under Arsene Wenger.
Ultimately, Arsenal are the very definition of a "work in progress" under Unai Emery, and any improvements were always likely to be transitionary rather than instant.
Check out all of the latest Premier League match previews, predictions and betting tips here.