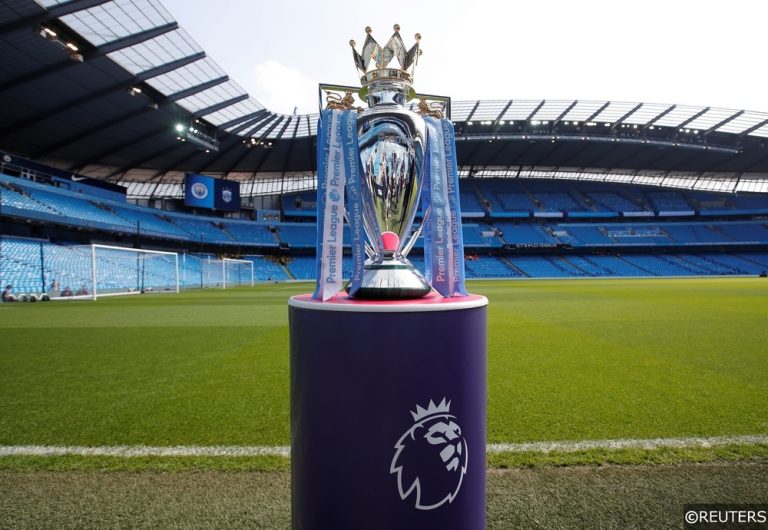 Content Editor at Free Super Tips, Alex was born in the shadow of Old Trafford and is an avid Man Utd fan. After graduating from university he combined his love of football, writing and betting to join FST and now closely follows goings-on in all of the top European leagues.
We all know that the final score of a match doesn't necessarily reflect what happened in the actual game. Football, at times, can be a game of chance, and it's entirely possible that a team who completely dominated a match end up losing 1-0. I'm sure you can all think of examples of past occurrences where exactly that has happened.
Enter: Expected goals.
Expected goals simply assigns a percentage to each shot of becoming a goal. It crunches the numbers from thousands of historical shots and filters them using a wide array of variables such as distance to goal, type of shot, number of defenders nearby and more. A shot with an expected goal (xG) of 0.15, for example, should be scored 15% of the time. Calculating this for every shot in a match gives an overall Expected Goals total, which can then be translated across to Expected Points and eventually into an entire league table.
Last season saw a significant rise in the attention played to this metric. Sky Sports and BT Sport both started tracking the data and bringing it to your TV screens occasionally, but we're going one step further and tracking it for every game throughout the season, trying to spot future trends and gaps in the betting market to bring you even better football tips and predictions!
Our first point of call was to look at the Premier League last season. Generally speaking, the aspect of luck in football should even itself out over time. The cream always rises to the top, after all. However, 38 games sometimes just isn't enough, so we used the data to put together an alternative Premier League table based on expected goals and expected points.
Who were the lucky ones, and which teams were less fortunate in the long battle for position in the English top flight?
Read More: Expected Goals (xG) Round up: Championship Week One
Premier League 2017/18 Expected Points Table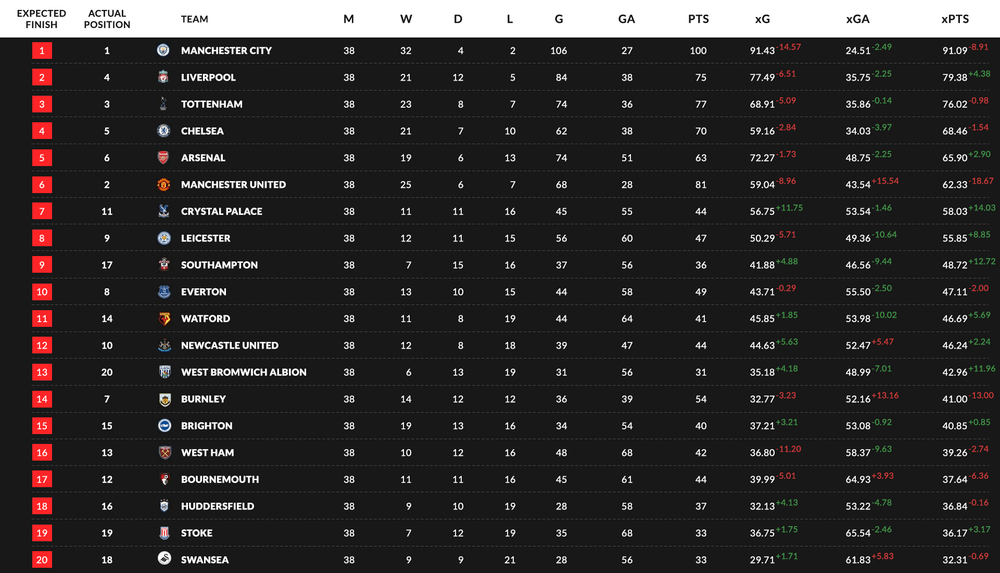 The Overachievers
As you can see, quite a few teams rode their luck last season and should feel fortunate to have ended the campaign where they did. Good fortune will only last so long though, and these are the teams that should be looking closely at how they can improve their performances. There are a fair few notable teams who overachieved, but a few of them stick out like a sore thumb:
Manchester United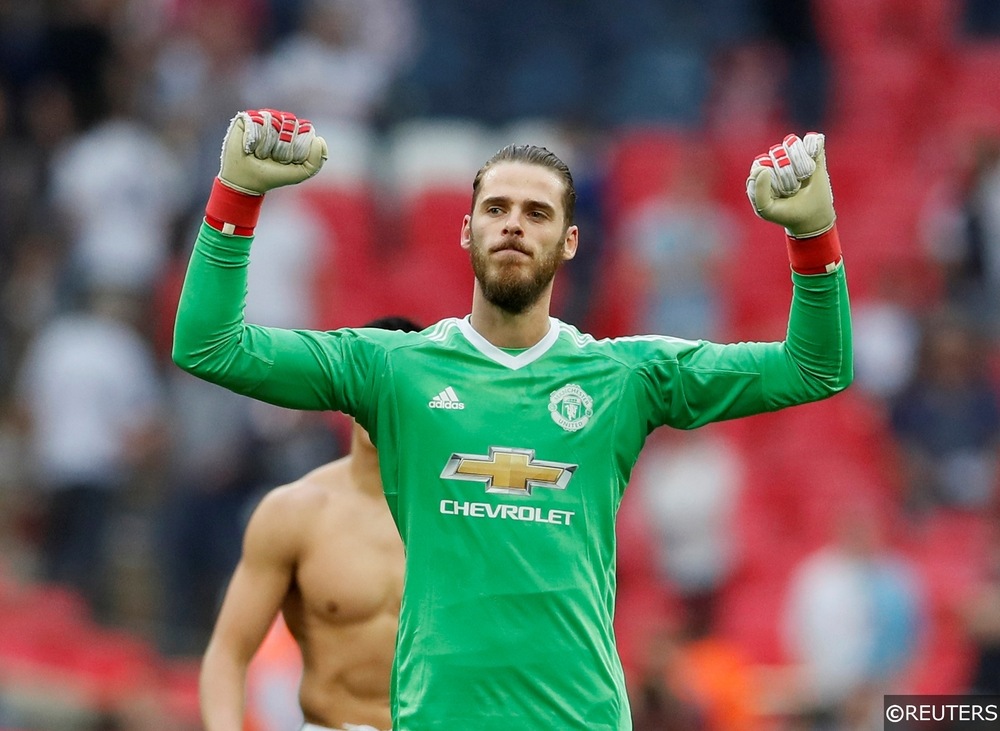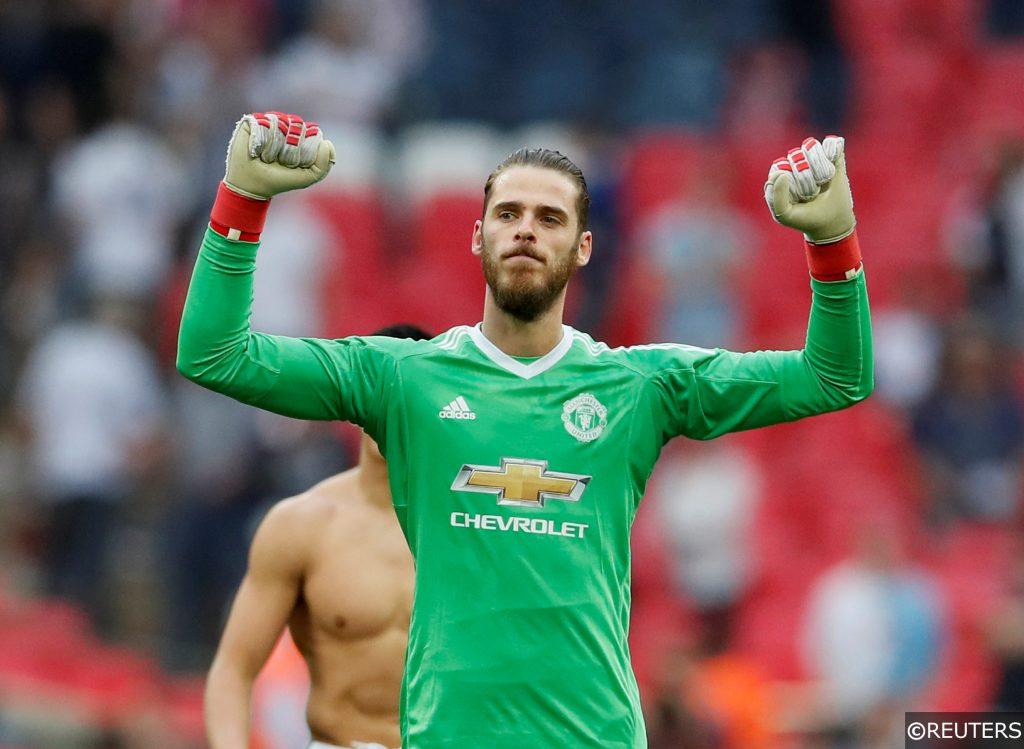 Actual finishing position: 2nd
Expected finishing position: 6th
Expected points differential: -18.67
Things do not look good for Jose Mourinho's men at the moment. Their pre-season campaign has had the constant shadow of a moaning Mourinho hanging over it, and an early injury crisis plus their numerous World Cup attendees mean that they begin the campaign with a rather depleted squad. Not only that, but they can't rely on being as fortunate as they were last season.
The Red Devils' expected points tally was a huge 18.67 below what they actually achieved, and had the actual results followed the xG throughout the season they would have ended in a miserable 6th place. They scored fewer goals than any of the other top four sides last season, but they still managed to overachieve in this regard too, scoring almost nine goals more than they were expected too. Where did these come from? I'm looking squarely at the random body parts that Romelu Lukaku let the ball hit before it trickled into the net.
Figures at the other end are even more shocking though. Manchester United had the second best defensive record in the top flight last season, but according to expected goals they should have conceded 15.54 more goals than they actually did. David De Gea's heroics undoubtedly have a lot to do with this, making Thibaut Courtois' move to Real Madrid even more of a lifesaver for the Old Trafford outfit.
Unfortunately, the red half of Manchester has done very little to remedy their lacklustre showings. Mourinho was visibly and audibly frustrated by the lack of transfer activity, and you get the feeling that Fred and Diogo Dalot aren't going to do much to drastically improve their inadequacies.
Read more: Will Miserable Mourinho Cause Manchester United Implosion?
Burnley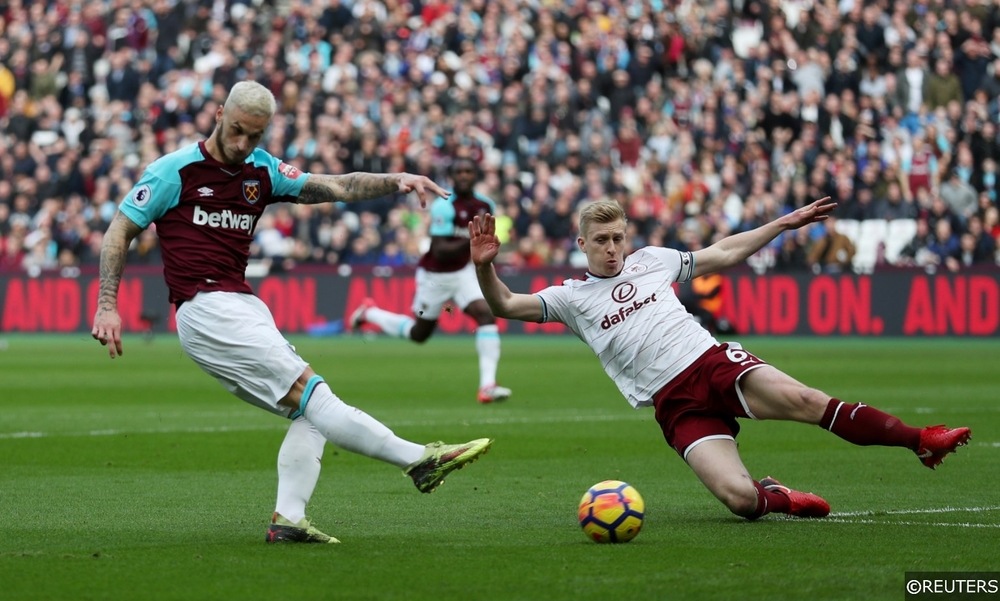 Actual finishing position: 7th
Expected finishing position: 14th
Expected points differential: -13
Burnley enjoyed an incredible season in the Premier League last term, entering the campaign as relegation candidates but surprising everyone by qualifying for the Europa League in 7th place. Can we expect the same from Sean Dyche's team this time around? The expected goals team think not.
The Clarets won 13 more points than was expected last term, and the tightness of the mid-table section means that would have been enough to drop them all the way down to 14th place.  With Europa League football also occupying their attention this this season, maintaining their top half status is looking increasingly unlikely.
Burnley actually scored 3.23 fewer goals than expected last season, although that isn't much of a surprise considering they were the 3rd lowest scoring team outside the bottom three. Their luck came at the other end of the pitch in spades though. Their defensive record of 39 goals conceded in 38 games made them the 6th best defensive side in the top flight, but their expected goals conceded was a huge 13 goals more than that.
Like with De Gea, not all of this is good luck alone though. Ben Mee and James Tarkowski were absolute rocks at the back for Burnley, putting in an average of 1.4 shot blocks per game throughout the season and launching themselves in front of everything within their substantial reach. The expected goals model simply can't account for their immense desire to get in front of a potentially goal-bound shot, and if Dyche can keep this incredible determination instilled in the squad they do have a good chance of overachieving again.
Read more: Can Burnley Emulate Last Season's Success?
Huddersfield
Actual finishing position: 16th
Expected finishing position: 18th
Expected points differential: -0.16
Huddersfield were the prime candidates for relegation in their debut Premier League season last time around, but their incredible start to the season saw them stave off relegation by a four point margin. This is almost exactly in line with their expected points, but nevertheless they can count themselves very lucky indeed.
Other teams around them ended up on the wrong side of fortune, and had the likes of Southampton and West Brom lived up to their expectation then The Terriers would be plying their trade in the second tier again by now. It's worth noting that they were unlucky in terms of both goals scored and goals conceded, but with their expected points differential being so insignificant we can gather that these were goals that didn't really matter.
David Wagner has taken bold steps to sustain their Premier League status though, spending nearly £40 million on either bringing new players in or securing permanent contracts for last terms loanees, but whether it will be enough remains to be seen.
Read More: Huddersfield Set for a Season of Struggle
The Unlucky Ones
West Brom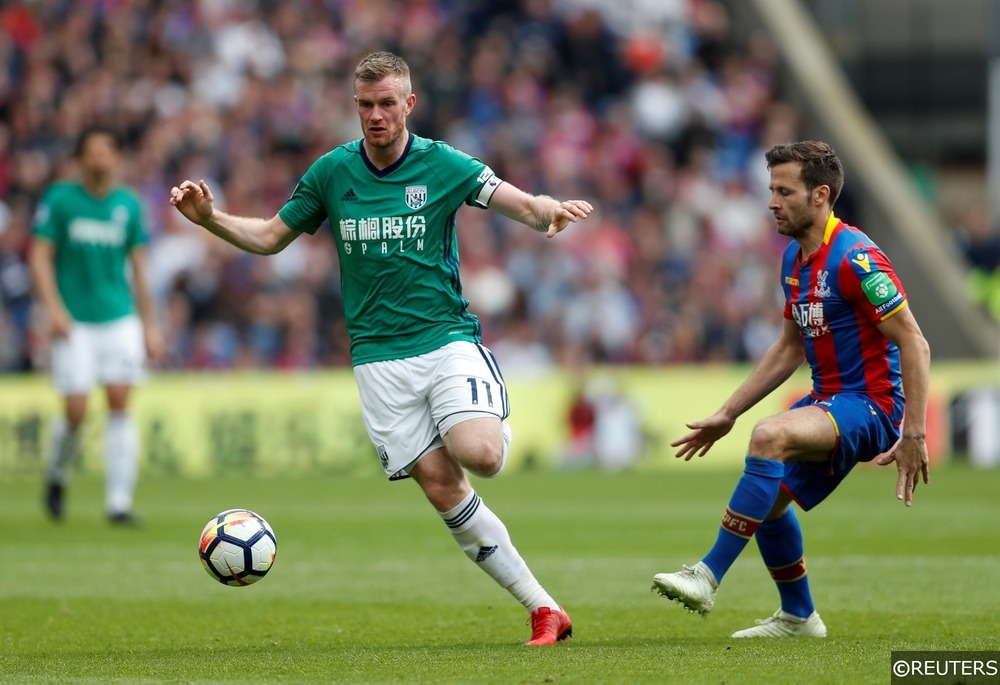 Actual finishing position: 20th
Expected finishing position: 13th
Expected points differential: +11.96
Honestly, when you look at this table you can see exactly why the West Brom players looked to give up at times last season. Absolutely everything that could go against them did, and it made the difference between comfortable Premier League survival and a stint down in the Championship.
They finished rock bottom of the pile with just 31 points from 38 games, but had things gone their way they would have found themselves with almost 43 points and well clear of the drop zone. The differences in expected goals and expected goals conceded are rather modest, but these were important goals where fate conspired against them.
They scored 4.18 fewer goals than expected and conceded 7.01 more than they should have, and when you compare it to the expected points you can see that each of these goals was worth over a whole point on average! It truly was a season to forget at The Hawthorns, although the positive swing on this is that they should be able to bounce back up to the Premier League quickly.
Southampton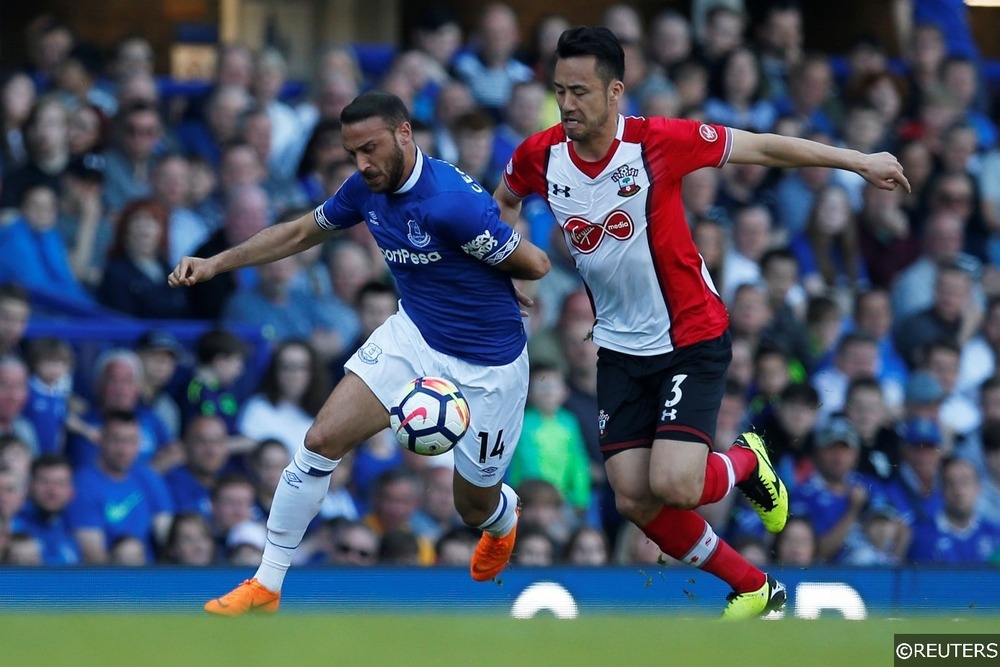 Actual finishing position: 17th
Expected finishing position: 9th
Expected points differential: +12.72
What's the difference between a stadium full of seething fans, a managerial sacking, and a brutal relegation battle? A bit of luck of course. Southampton managed to narrowly avoid the drop last season as they finished one position above the doomed Swansea, but they should have had a much more comfortable time of things.
The Saints scored 4.88 fewer goals than was expected of them, but it was at the back where their river of luck ran truly dry. They shipped 9.44 more goals than their expected 46.56, and along with their goals deficit this was enough to cost them a huge 12.72 points. Again, the tightness of the mid-table section comes in to play, because that difference would have been enough to rocket them up to a more than respectable 9th position, rather than the quagmires of that they actually ended up in.
Read more: Southampton Brace Themselves for Another Struggle
Crystal Palace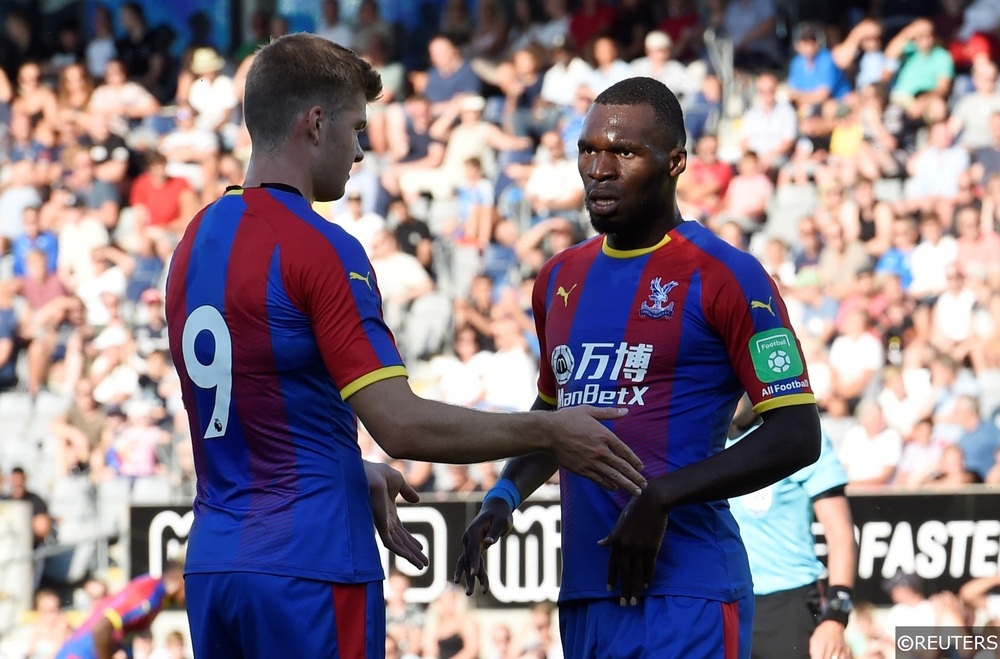 Actual finishing position: 11th
Expected finishing position: 7th
Expected points differential: +14.03
After their dreadful start to the Premier League campaign last term many people couldn't see beyond a looming relegation battle for Crystal Palace. Roy Hodgson managed to reverse their fortunes and take them to a rather comfortable 11th place finish, but things could have been even better for The Eagles.
They scored 45 league goals last season, but according to the xG model they should have netted 56.75 times. This 11.75 goal difference makes them the most unfortunate attacking side in the Premier League, and it was enough to deny them an extra 14.03 points in the end. That, had Burnley also adhered to the xG model, would have taken them into the Europa League.
There is a definite positive side to this one though. Palace have one of the most talented starting XI's outside the top six at the moment, and the fact that they have managed to keep the majority of it intact means that this season has much better prospects for the Selhurst Park faithful.
Read more: Can Roy Hodgson Provide a Rare Season of Comfort for Crystal Palace?
The Premier League Title Race Ramifications
Manchester United aside, the movement at the top end of the Premier League doesn't look like much on the face of things, but it does hint at the potential for a much more exciting title race this season.
Manchester City picked up 8.91 more points than they should have in their record breaking season, scoring 14.57 goals more than expected as well. Combine that with Liverpool, who ended up 4.38 points off their expected pace, and the gap between the top two… Still looks very large. However, while Manchester City have only really added Riyad Mahrez to their ranks, Liverpool have spent upwards of £180 million on new recruits and have a full season of Virgil van Dijk.
Suddenly, an 11 point gap doesn't look so large. Certainly, it's a much more promising prospect than trying to close the 25 point gap that was between the two sides in last season's actual table.
Follow Free Super Tips on Twitter to stay up to date with our daily tips and predictions or browse more football content on our website: