Sheffield United moved up to 5th place in the Premier League on Sunday after the Blades cut through Storm Ciara and Bournemouth's rearguard to earn a dramatic comeback win over the Cherries in blustery conditions at Bramall Lane.
Bournemouth broke the deadlock on 13 minutes to take a deserved lead when Callum Wilson reacted first to knock home the rebound after Harry Wilson's initial effort had been blocked by John Egan
However, in first half stoppage time, veteran target man Billy Sharp put the finishing touch to a sustained spell of United pressure, grabbing the equalizer from close range after a penalty area scramble.
After a second half that ebbed and flowed from one end to the other, midfielder John Lundstram provided the game's decisive moment with a neatly taken angled finish with just six minutes on the clock to seal the victory along with three precious Premier League points for Sheffield United.
Check out the latest Premier League predictions, news, match previews, betting tips and special offers here.
A step closer to continental qualification
Having never played in a major European competition at any point during the club's 130-year history, hope is slowly starting to solidify into belief that 2020 can be a trailblazing year for Sheffield United.
After their triumph over Bournemouth on Sunday, the Blades moved to within two points of Chelsea in 4th spot and into a surreal double-ended scenario that makes qualification for the Champions League a genuine prospect and entry into the Europa League the most cushioned of fallback possibilities.
With just 12 games of the 2019/20 Premier League season left to contest, the bigger names around Sheffield United in the standings are running out of time to shake off the inconsistencies that have plagued their respective campaigns, and Chris Wilder's newly promoted Blades look well placed to capitalise.
The Blades' favourable run in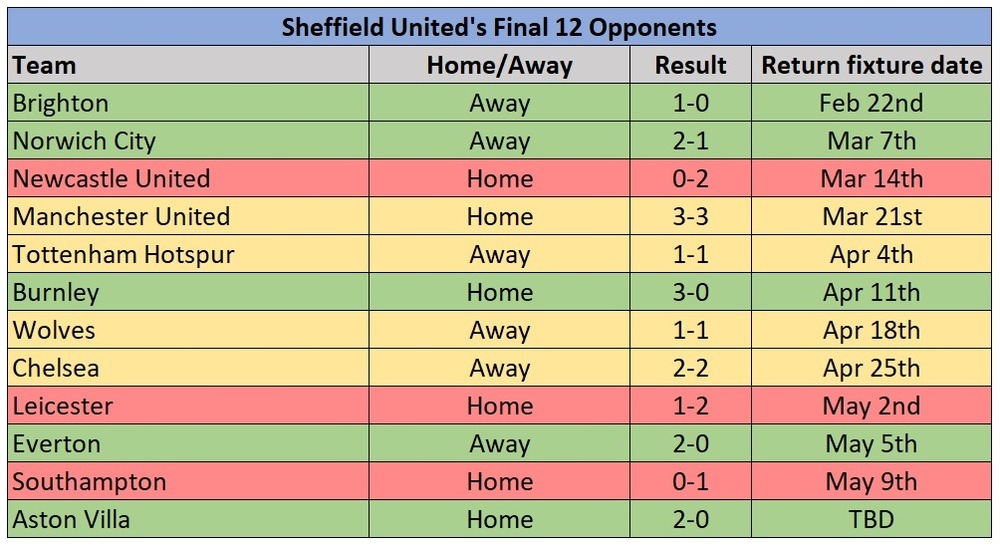 While few Premier League fixtures can be described as "gimmes" in this season's ultra-competitive landscape, there still looks to be plenty of points on offer for Sheffield United in their last glut of 2019/20 top-flight fixtures.
The Blades were beaten by just three of the 12 opponents they face between now and May in their reverse Premier League fixtures against them earlier this season, taking 19 points from the 36 on offer, while posting a record of five wins, four draws and three defeats overall.
A similar haul from their run in would leave Sheffield United with a final tally of 58 points – a total that would have seen them finish 7th last season and the season before.
However, with the clubs around them continuing to stutter, the Blades could land a Champions League spot with what would be the lowest final points tally ever posted by a team finishing 4th in the Premier League.
Sheffield United's fresher legs?
There is plenty of evidence to suggest that Sheffield United have benefited from playing considerably fewer games than any the teams around them in the Premier League so far this season.
Already unburdened by the early energy-sapping rounds of continental competition thrust upon their rivals this season, Sheffield United also made an early exit from the Carabao Cup at the third-round stage in September – an elimination that allowed the Blades to focus fully on their Premier League endeavours.
It's little wonder then, that Blades boss Chris Wilder felt his team didn't need the rest offered by the Premier League's first ever winter break.
Speaking after his team's win over Bournemouth, Wilder said:
"I know there's been different views on it. I'd have liked to have gone straight through. The supporters are not going away on holiday and they are the ones that keep this division going."
With a one game per week calendar for the majority of their 2019/20 campaign, Sheffield United's squad has felt the strain less than most, and their comparatively light schedule has in part resulted in the Blades picking up fewer injuries than every other Premier League club so far this season.
Return of European football to strengthen Sheffield United's bid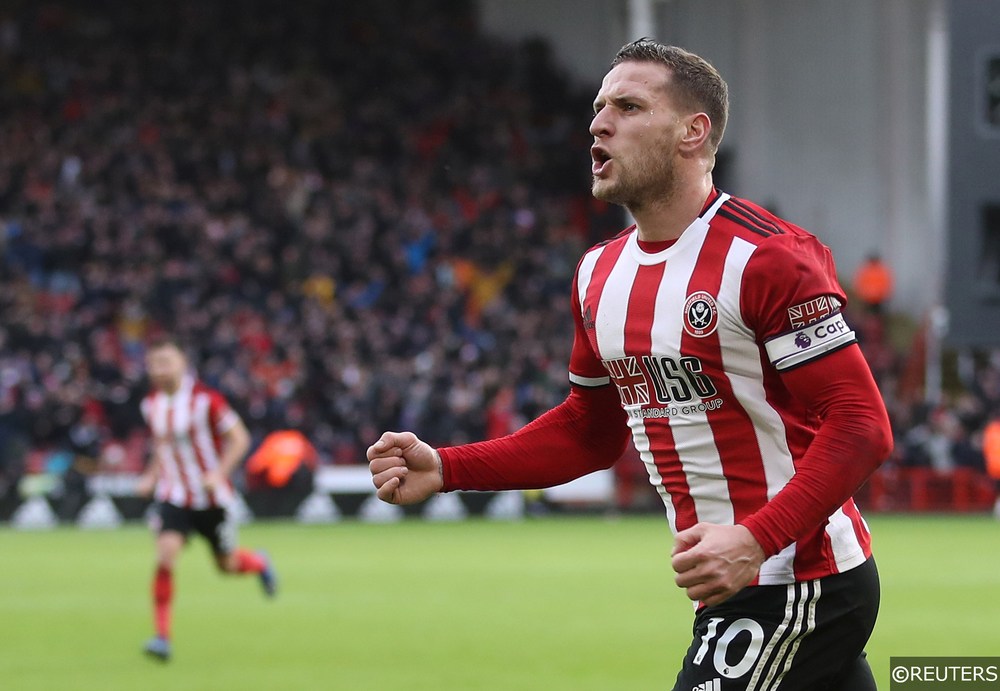 Sheffield United's final burst for European qualification this season will undoubtedly be helped by the resumption of the Champions League and Europa League next week.
Chelsea (4th), Tottenham Hotspur (6th), Manchester United (8th) and Wolves' (9th) resources will all be stretched thin as they attempt to juggle domestic and continental responsibilities from mid-February onwards, and Sheffield United could well meet their Premier League antagonists just before and after they play in Europe.
With the head-to-head fixtures between the clubs certain to be crucial, the Blades play Man Utd at Old Trafford just a few days after the Europa League's Round of 16 second leg, while their home game against Spurs falls just three days before the Champions League Quarter Final first legs are scheduled to be played.
Should Wolves make through to the Quarter Finals of the Europa League, then Wanderers will play Sheffield United at Bramall Lane just two days after competing in the potentially pivotal second leg.
Sheffield United European qualification odds
As we enter the final months of the 2019/20 season, circumstances seem to be falling nicely in Sheffield United's favour and continental qualification of some description looks increasingly likely.
The Champions League and Europa League qualification markets continue look favourable, both still holding value where Sheffield United are concerned.
The Blades are currently well priced at 2/1 with bet365 to secured a top six finish, though their 14/1 odds for a top four finish with the same bookmaker look generously long, especially with the other contenders showing signs of capitulating.
It's incredible to think that on February 11th 2017, one of the Blades' match-winning heroes on Sunday, Billy Sharp, was notching Sheffield United's only goal in an uninspiring 1-0 win at Peterborough in League One.
Just three years later, the Blades are on the cusp of making history after their equal parts meteoric and miraculous rise under Chris Wilder – and a place in one of next season's European competitions would be a fitting reward for their performances.
14/1
Sheffield United to finish in the top four
Bet Here
New bet365 customers can
join here
2/1
Sheffield United to finish in the top six
Bet Here
New bet365 customers can
join here
Check out the latest and best Premier League offers and specials in our FREE BETS section here!