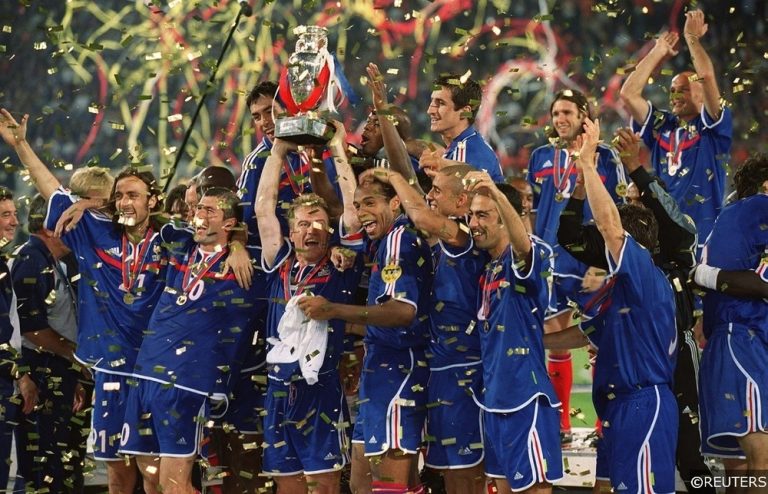 When we think of the major footballing nations, there's usually a specific tournament, or rather a specific era that springs to mind. Bobby Moore leading England to glory on home soil back in 1966 remains the Three Lions' finest hour, Spain's defining period came between 2008 and 2012, where they won three major tournaments on the bounce, while Holland's total football dominated the mid-seventies.
However, some nations, those who've been very successful on the international stage have enjoyed several defining periods. Brazil, inspired by greats such as Pelé and Rivelino, won the World Cup three times between 1958 and 1970, while they were also the dominant force in world football between the mid-nineties and early in the 21st century. Italy have certainly had more than one golden age – between the early-seventies and mid-way through the 21st century – while the Germans, who've appeared at 11 major finals since first winning the World Cup back in 1954, seemingly have a golden era every time a tournament comes around. The French also fit into this second bracket.
If the golden years of French football are mentioned, people will often be drawn to the team including midfield maestro Zinedine Zidane around the turn of the century, though Les Bleus' first golden age came some years before.
Can the current French side compete defensively at the upcoming World Cup? Read: Do France have the defence to lay down a serious challenge in Russia?
1982 – 1986
France's initial golden era started at the 1982 World Cup where they eventually came fourth and continued until they finished third at the 1986 renewals of footballs' biggest tournament.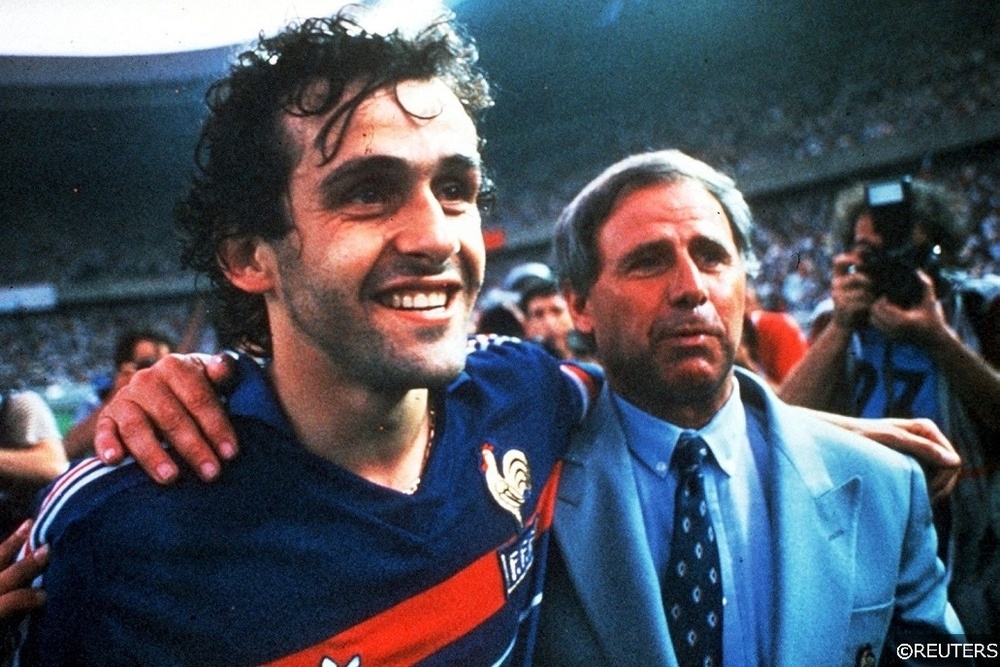 1982 – Laying the foundations
With the likes of Marius Tresor, a player who to this day is regarded as one of France's greatest ever defenders, intelligent playmaker Alain Giresse, and the now infamous Michel Platini, who was first and foremost one of the most gifted players ever to step onto a football pitch, France had what was their finest team to date at the 1982 World Cup in Spain; however, as they could only manage a fourth- place-finish, they couldn't quite reach the summit of the international footballing mountain.
1984 – Carré magique
In 1982, France had begun to establish themselves as one of the best teams in world football, but in 1984, when hosting a major tournament for the third time, Les Tricolores were ready to really stamp their mark on the beautiful game. Two years previously, with Platini, Giresse and the industrious Jean Tigana, France already had a blossoming midfield, but they were one piece short of completing the jigsaw, the magic square, or rather Carré magique as the famous midfield four soon became known as. In Spanish born Luis Fernández, the French had found the missing piece and now had a midfield capable of running riot. With Fernández alongside them, Tigana, Giresse and Platini bossed the show before going on to be crowned as European champions, beating Spain in the final by two goals to nil.
1986 – End of an era
Unfortunately, even though they went into the 1986 World Cup in Mexico as European champions, France were unable to command and conquer. Ultimately, they fell short, finishing in third place.
Carré magique remained and Les Bleus were still a top, top side. The fact that they came through a quarter-final against a Brazil team containing two of the all-time greats in Zico and Sócrates speaks volumes. By beating one of the most charismatic and flamboyant teams ever to play at the World Cup, the French proved that they were still a force to be reckoned with. However, wily West Germany stopped them in their tracks in the semis, beating Carré magique and co. by two goals to nil. Despite failing to earn further riches, the 1986 team is most certainly a part of France's first golden era.
For more World Cup content visit our betting blog. Here are our thoughts on Brazil's Best Ever World Cup XI
1998 – 2000
Unlike the first golden group, who lifted one major trophy and made it one final, the second golden generation of French footballers went further and emerged successful from not one but two major tournaments.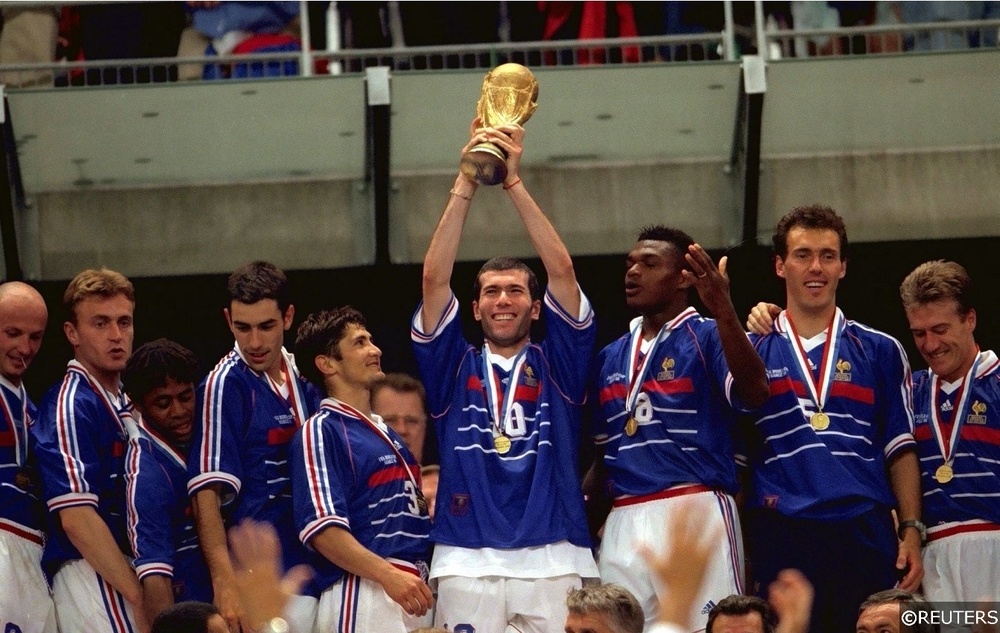 1998 – World Cup glory in their own backyard
After winning the European championships on home soil in 1984, France were looking to add the World Cup to the trophy cabinet when the most prestigious prize of all was to be fought for on their own patch. Having reached the semi-finals at Euro 1996 in England, Les Bleus', who had players such Laurent Blanc, Lillian Thuram, Youri Djorkaeff and 23-year-old Zinedine Zidane, were once again simmering, though it wasn't until two years later, at the World Cup, that the French reached boiling point.
The 1996 side was more than useful, but the 1998 French team had a far more balanced look to it. The seasoned campaigners, such as Blanc, Deschamps, Desailly were at their peak, while key players such as Zidane and Thuram had gained more experience at international level. What's more, manager Aimé Jacquet had added several highly talented younger players to the squad. The likes of Thierry Henry, Patrick Vieira, Robert Pires and David Trezeguet were all present having not featured in England two years previously.
With an upgraded squad, France got down to business, eased through the group stages, scoring nine goals in the process and, though knockouts were predictably tougher for the French, they made it to the final unscathed, conceding just one goal in the last-16, quarters and semis combined. Facing a Brazil side that was spearheaded by the explosive Ronaldo, a player who became known as O Fenômeno (The Phenomenon) because of his wondrous talent with the ball, was unlikely to be easy but the French made it look so. Inspired by a headed brace from the legendary Zinedine Zidane, who remains one of footballs' finest ever midfielders, Les Bleus went on to win 3-0 and thus etched their names in the history books, lifting the World Cup for the first time ever.
2000 – Déjà vu on home soil
1984's Carré magique was special, as was the 1998 side, though the team at Euro 2000 was perhaps the greatest France have ever had. Having won the World Cup on home soil, the French, managed by Roger Lemerre, had the chance to double up with the European Championships being in France for the third time.
Having blossomed on the big stage in 1998, Henry, Vieira and Trezeguet had all come into their own and were becoming some of the most sought-after players in Europe, Zidane had established himself as one of the best midfielders on the planet, while exciting players such as Bordeaux's Sylvain Wiltord and Real Madrid's Nicolas Anelka were also brought in. The squad also benefited hugely from the experience of main-stays Blanc, Thuram, Deschamps and Desailly, who by now had over 300 caps between them.
With a truly star-studded team, a team that may just be Les Bleus' best ever, France went all the way, beating the likes of Spain, Portugal and Italy in the final, courtesy of a David Trezeguet strike that came straight out of the top drawer, on route to securing their second European championship success. It was very much a case of Déjà vu for French football fans, who by July 2000 had seen seen their country win not one, not two, but three major tournaments on home soil.
Can the current crop of French players, who'll shortly be heading to Russia for the latest renewal of the FIFA World Cup, match those who went before in 1984, 1998 and 2000?
Follow Free Super Tips on Twitter to stay up to date with our daily tips and predictions or browse more football content on our website: