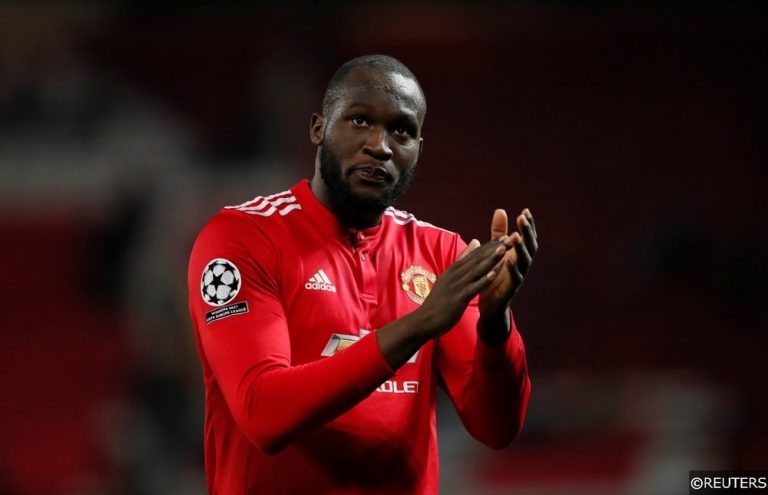 Simon Winter
@simonjwinter
Born in the south east of Ireland, Simon put his life-long love of football to good use when he started a successful independent blog in 2010. That opened up an alternative route to a career in journalism, and having had work published across a number of sites and publications, Simon joined the staff at Spotlight Sports Group in 2018.
Romelu Lukaku will miss Manchester United's Champions League Group H clash with Juventus in Turin tonight. The muscle strain that turned him from player to spectator is reportedly minor, though it's been enough to keep Lukaku on the sidelines for successive matches now.
The reaction to Lukaku's enforced absence from United fans on social media has been almost unanimously positive. A large chunk of the club's fanbase believe that the Belgian international's poor individual performances this season have been a major contributing factor to the team's problems as a whole.
It's easy to see why much of their ire has been directed in Lukaku's direction. The 25-year old hasn't found the net for this club in 9 appearances and Lukaku seems to be suffering from a crisis of confidence.
When he's not scoring goals, Lukaku can often cut a dejected figure on the pitch, moving across the grass with the reluctant, grudging effort of a teenager asked to rake up the leaves.
However, while it's certainly true that Lukaku lacks the class and finesse of many of his predecessors at United, it's equally true that he lacks the service they were given.
It could be argued that Romelu Lukaku's confidence has been almost completely eroded by playing at the blunt end of a tactical system that has repeatedly starved him of the ball.
Let's take a look at some of the numbers that seem to back that train of thought up:
Read More: Juventus vs Manchester United match preview, predictions and betting tips
Statistics paint a picture of an under-serviced centre forward
Premier League attacking players touches stats for 2018/19 season so far (Taken from official Premier League website)

When compared to other attacking players in the Premier League in 2018/19, Romelu Lukaku ranks depressingly low in terms of the number of times he has touched the ball.
The Belgian comes in at a staggeringly low 28th for Premier League touches this season among attacker players, coming in contact with the ball just 289 times in his 768 minutes of league football this term.
It might not come as too much of a surprise to see a target man like Lukaku have less than half the touches of creative conduits like Eden Hazard, Willian and Raheem Sterling, but when we compare Lukaku's figures to players from other teams with similar positional remits, the numbers aren't any prettier.
Read More: Mixed Night For English Clubs in The Champions League
Premier League strikers touches stats for 2018/19 season so far (Taken from official Premier League website)

Again, Lukaku falls well short of many of his counterparts across the Premier League when it comes to involvement in play. The Belgian is ranked 13th in the list of Premiership centre forwards for touches of the ball in 2018/19.
With a goal or assist every 72.3 minutes on average, Lukaku ranks as the 6th most productive striker in the league this season however, though maintaining a clinical edge over a sustained period with a trickle of service is always going to be incredibly difficult.
Jose Mourinho's tactical system at United requires every drop of productivity to be squeezed out of the team's centre forward. Lukaku has had to be ruthless since joining United, and to his credit, last season his efficiency with the ball reached strikingly high levels.
Lukaku finished as the Premier League's 6th highest scorer in his debut season for Man Utd in 2017/18, despite ranking 22nd for touches of the ball among the division's attacking players for that year.
Read More: Stats show Premier League clubs have little trust in youth
Premier League strikers touches stats for 2016/17 season (Taken from official Premier League website)

The season directly before that in 2016/17, in an individual campaign that earned Lukaku his money-spinning move to Manchester United, the Belgian finished with a career-high 25 league goals. Lukaku ranked 9th among attacking players in the same season for touches of the ball.
In his last season at Goodison Park, he was given the service and consistently delivered the goods.
The problem is the system and not the individual
It seems then, that being a centre forward in Manchester United's current system is a bit of a tough gig. Being deployed as an isolated target for long balls, or a chaser of hit and hope passes into the channels is not ideal when you are expected to be a match winner for one of the world's biggest clubs.
A lack of service isn't of course, a beat-all excuse for the comedic technique Lukaku regularly displays when attempting to control or cushion a pass to his feet. Though, maybe that looseness of touch is a direct result of simply not touching the ball enough during a game.
It could be that Lukaku is a product of his current environment, in that, he finds himself on the periphery of football matches so often, that he lacks the flow or confidence to make an impact when those fleeting moments of involvement eventually arrive.
He's not the only Manchester United attacker struggling to find their groove in a system set up to strangle rather than create.
Read More: Liverpool reaping the benefits from their defensive rebuild in the Premier League
When Romelu Lukaku was left on the bench on October 28th for United's meeting with his old club Everton at Old Trafford, Marcus Rashford was drafted in to spearhead United's attack.
From that starting berth, Rashford had fewer touches than any other player on the pitch (25), including both goalkeepers, before he was replaced by Lukaku on 65 minutes. Lukaku only came in contact with the ball 16 times before the final whistle blew 25 minutes after he was introduced.
In United's next league match against Bournemouth, Alexis Sanchez was chosen to lead the line for the away team in pink at the Vitality Stadium. Romelu Lukaku was on the treatment table, and Marcus Rashford didn't impress enough with his 25 touches against Everton to keep his place in United's starting XI to play the Cherries.
Sanchez racked up 35 touches of the ball before he was hooked on 78 minutes – only 3 players touched the ball less often during the contest; Callum Wilson (34), David de Gea (34) and Juan Mata (29).
The evidence suggests that it doesn't matter who starts as the furthest forward player in Jose Mourinho's Manchester United incarnation. Whoever plays is likely to be rendered ineffectual by a system that fails to adequately support and supply them.
Read the rest of our Champions League match previews, predictions and betting tips ahead of another evening of top-level action here
Follow Free Super Tips on Twitter to stay up to date with our daily tips and predictions or browse more football content on our website: