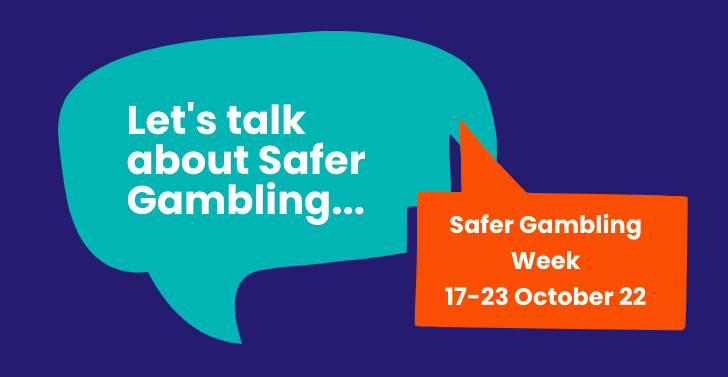 Free Super Tips
@FootySuperTips
Safer Gambling Week, which runs from the 17th to the 23rd of October this year, is a campaign initiated and led by the gambling industry that aims to raise awareness and create conversations about:
How to gamble more safely
The tools that are available to help people gamble more safely
Various sources of relevant advice and support that are available
FST fully support this hugely important initiative and we will be promoting Safer Gambling Week UK & Ireland by sharing information about safer gambling.
---
What happens during Safer Gambling Week 2022?
Websites, venues and services provide information about safer gambling throughout the year, with a wide variety of options and tools available to people to help them manage their play.
During Safer Gambling Week, those tools and options will be much more visible, to help guide people through safer gambling guidelines along with how and where they can seek further advice and support should it be required.
A range of key Safer Gambling information and promotional material has been made available to all the organisations supporting Safer Gambling Week, including Free Super Tips. Those materials contain lots of valuable info, including:
Questions about gambling behaviour
Five key behaviours of gambling more safely
Details of where and how to obtain further information and help if needed
Information about the Safer Gambling Week website and social media channels: Facebook and Twitter @SGWeek21
Gambling venues will also be promoting SG Week, prior to and during the week itself, and you'll find posters, leaflets, banners and more both off and online to encourage conversations about how to gamble more safely.
Some venues are undertaking special events during the week
Online gambling websites will also be promoting the week with pop-ups and banner ads
Both land and online organisations will be promoting the week through their social media channels: Facebook, Twitter & Instagram
Supporting organisations, such as Facebook, will also be supporting the week and promoting key messages, information and materials
Key support organisations like the National Gambling Helpline, GamCare and GambleAware will also be promoting the week and preparing for increased numbers of enquiries due to the national campaign
Staff working at those venues and online will continue to be points of contact customers who would like to find out more about gambling safely or where to find support if they have any worries or concerns about their gambling.
---
SG Week 2022: Training Sessions and Workshops
Leading charities, GamCare and YGAM, who provide SG help and support, are also running workshops and training sessions right throughout Safer Gambling Week 2022.
The workshops are particularly focused on parents and professionals working with younger people (teachers, youth and health professionals), and their aim is to provide information that can help those young people to better understand the high risks and pitfalls associated with gambling.
The sessions also aim to provide people with the steps they can take to help them gamble in a safer way, as well as the tools and services that are available to help manage their gambling behavior.
To find out more about these workshops and training sessions click here.
For more information about Safer Gambling Week, visit the initiatives official website here
Free Super Tips are committed to keeping gambling fun and enjoyable by helping people to stay in control and gamble more safely. You can read more about our own Safer Gambling guidelines here.
---
 If you are concerned about your gambling, more details on actions to take can be found at safergamblinguk.org. You can also contact GamCare free on 0808 8020 133.