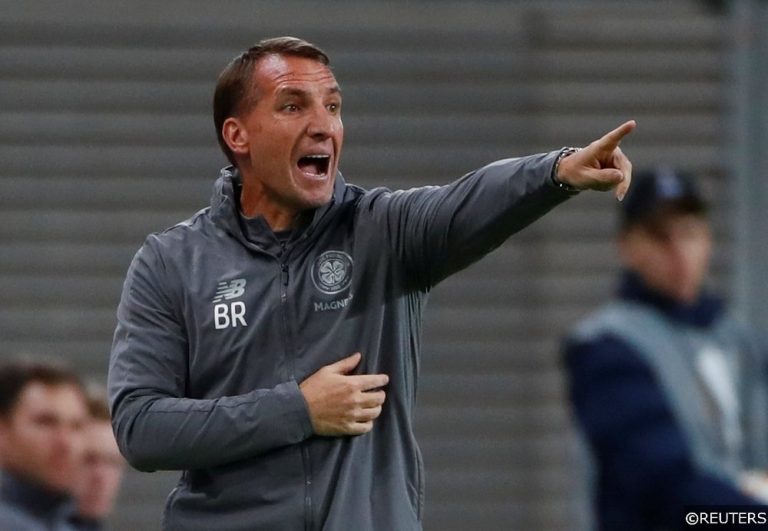 It seems to have a become a routine, at least in this day and age- an aided by the rise of social media-, for football managers to be continuously linked to jobs at other clubs, even if said manager is halfway through a season with their team.
It's rare for any manager to switch during the season, as it's not the most convenient move for either party. Mauricio Pochettino was heavily linked for days on end when José Mourinho was sacked by Manchester United back in December, even though there was never any real danger that the Argentine would sign in the weeks after Mourinho's sacking.
The cycle seems to be repeating itself once again after Leicester City's Claude Puel was sacked this week following the Foxes' loss to Crystal Palace. One name that has been thrown around to replace Puel is Celtic's Brendan Rodgers. However, does it make any sense for Rodgers to leave Glasgow and head back to the Premier League?
Read all of our Scottish Premiership match previews, betting tips and predictions here
The answer isn't so simple. Rodgers arrived at Celtic in the summer of 2016 for his first job since being sacked by Liverpool the previous October, and the fact Celtic were able to sign a manager of such high calibre was unprecedented. It was a crucial season too for the Glasgow club, as it marked the return to the top flight after 4 years of one of the Scotland's biggest clubs and Celtic's bitter city rivals: Rangers.
But that didn't seem to affect Rodgers quality as a manager. In fact, Celtic's season would go on to be one of their best, and the style of football that the Hoops would play throughout the duration of all competitions enabled them to win all three domestic trophies with ease. Moreover, they did so without a single defeat, an invincible treble.
BREAKING NEWS: Celtic FC is delighted to announce that it has appointed Brendan Rodgers as the Club's new manager. pic.twitter.com/u2s2FwgChm

— Celtic Football Club (@CelticFC) May 20, 2016
Celtic carried that invincibility into the 2017/2018 season, with Rodgers steering his side to yet another treble once the season ended- although the Hoops weren't able to avoid defeat this time around, and Hearts made sure of that when they thrashed the reigning champions 4-0 in December 2017.
Fast-forward to this season and not much has changed. Granted, Celtic had a much tougher and rockier start to the season, and their title defense wasn't going as smoothly as the club had accustomed to. As the months wore on, Celtic got better and eventually knocked Hearts off the top spot. The Hoops also retained their League Cup title by beating Aberdeen at the start of December, but the year ended with a sour taste in all of the Celtic fans' mouths, as Rangers were able to beat them for the first time since their relegation back in 2012.
The only real 'failure' in Rodgers time at Celtic has been the lack of European success. In three seasons he has taken Celtic to two Champions League campaigns and once, this season, into the Europa League. It's not easy for clubs from Scotland to gain easy access to these tournaments, with the qualifiers often stacking up to 4 knockouts stages.
Read about whether we think St Johnstone's Zander Clark should be Scotland's number one goalkeeper here
Looking back at what Rodgers has achieved at the club, 7 out of 7 trophies with the high possibility of the Northern Irishman making it 9 out of 9, it's easy to think that he's done all that he can do for the club, as it's clear he's more than capable on the domestic front but not so much on the European end- so why stay any longer if you haven't been able to improve in Europe these last three seasons?
Celtic supporters are often critical with Rodgers' tactics and choices in their European games, as his stubbornness and lack of awareness to make other decisions has always been present. But there was a hint of hope when Celtic played their return leg against Valencia just a few weeks ago. Despite losing the first leg 2-0, the Hoops played extraordinarily well in their opening 35 minutes at Mestalla- that gives Celtic fans something to hold on to.
After he was asked about the possibility of him moving to Leicester, Rodgers stated that his job is to "concentrate on the football aspect, and that is with Celtic".
"I've been stood here for two and a half years and I've been asked similar questions, my message is always very, very clear, I'm very concentrated on the game." Rodgers said.
Will Brendan Rodgers end up at Leicester City as an immediate replacement? The answer is no. But the possibility of him moving to the Kingpower Stadium at the end of the season is increasingly likely, with Betfair offering odds as low as 1/10 for the Northern Irish manager to be named as Claude Puel's permanent replacement and with  BetVictor offering odds of 6/4, it seems like a great bet to back for Rodgers to take over and return back to the Premier League.