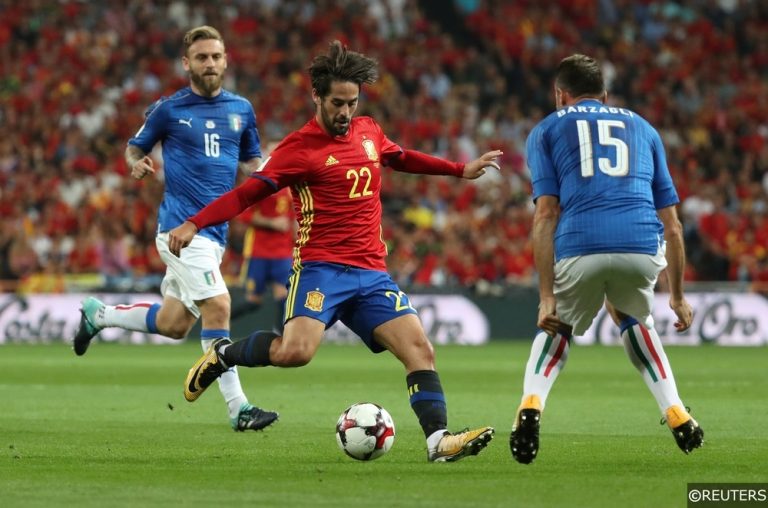 September 7, 2018
Show Bio
Content Editor at Free Super Tips, Alex was born in the shadow of Old Trafford and is an avid Man Utd fan. After graduating from university he combined his love of football, writing and betting to join FST and now closely follows goings-on in all of the top European leagues.
It has been a turbulent and overall pretty disastrous summer for the Spanish national team. The World Cup started with the sacking of a coach and ended in a penalty shootout defeat against what was on paper a vastly inferior Russian team. Star players failed to perform and for the third tournament in a row, La Roja failed to make it past the last 16, an awful record for a side which dominated international football over a four year period prior to that.
After a fair bit of soul-searching, Spain are now looking to move forward into a new era without several members of their golden generation. They do so with a new coach in the form of former Barcelona boss Luis Enrique and he has a fairly sizeable job on his hands but still plenty of quality to call upon. This new era begins in the UEFA Nations League against England at Wembley, a stadium which still holds almost mythical status in Spain and the Iberians travel chasing what would only be their second ever win at the home of English football.
Spain's Squad to play England
After a summer of chaos, what's next for Spain?@GuillemBalague's first BBC Sport column: https://t.co/Y7UZhcElZp pic.twitter.com/8juNqgmIdp

— BBC Sport (@BBCSport) September 7, 2018

Goalkeepers
David de Gea, Kepa Arrizabalaga, Pau López
Defenders
Dani Carvajal, Marcos Alonso, Nacho, Iñigo Martínez, César Azpilicueta, Sergio Ramos, José Luis Gayà, Diego Llorente, Raúl Albiol
Midfielders
Sergio Busquets, Saúl, Thiago, Suso, Rodri, Sergi Roberto, Marco Asensio, Dani Ceballos, Isco
Strikers
Álvaro Morata, Rodrigo, Iago Aspas
Perhaps the most striking thing about this squad is the names that aren't present. Gerard Pique, Andres Iniesta and David Silva have all retired from international football since the World Cup, ending remarkable careers with the national side that saw each of them amass more than 100 caps. All three were still first-choice picks in Russia and with Jordi Alba also excluded and Diego Costa injured, Spain suddenly have several holes to fill and their starting eleven at Wembley will be very different from the one that bowed out of the World Cup in Moscow a couple of months ago.
Luis Enrique has never been one to shy away from confrontation and his first squad has caused quite a stir for numerous reasons. The fact it contains six Real Madrid players and only two from Barcelona has certainly attracted attention given he is only relatively recently out of the Barca hotseat with the selection of Real fringe player Dani Ceballos ahead of the likes of Koke, Dani Parejo and Asier Illarramendi one that is quite hard to fathom. If the argument is that Luis Enrique is looking to build for the long-term then the recall of 33 year old defender Raúl Albiol seems to contradict that and it's clear that he is going to do things his own way and right through the team there are big calls to be made.
David de Gea has had a dreadful 2018 for Spain and new Chelsea signing Kepa will be hoping to wrestle the number one jersey away from him. Sergio Ramos is one of the few surviving members of the golden era now and will continue to skipper the team but the other three defensive positions appear to be totally up for grabs with Diego Llorente, José Luis Gayà and Marcos Alonso in this squad with just two international caps between them. There is a much more youthful feel to the midfield now and it will be interesting to see what system and style of play Luis Enrique decides to go with and which players he will trust to fill the huge void left by the retiring Iniesta and Silva.
Read more: Belgium Reluctant to Change in Euro 2020 Chase
Alba Excluded as Luis Enrique bears a Grudge
What is Spain boss Luis Enrique's problem with Barcelona star Jordi Alba? https://t.co/VgYwMuosaw pic.twitter.com/FSY1ZDLjf9

— Goal Nigeria (@GoalcomNigeria) September 6, 2018

If there was one man, who perhaps wasn't happy to see Luis Enrique appointed as the new Spain boss, it was Jordi Alba. The pair fell out during the latter days of Luis Enrique's time at Barcelona with the switch to three at the back resulting in the left-back losing his place in the team. The arrival of Ernesto Valverde in the summer of 2017 prompted a return to a back four and was good news for Alba, who publicly stated he was happier playing under the new boss. None of this was particularly earth-shattering in that footballers are clearly more content when they are on the pitch and while his comments may have touched a nerve, few expected Luis Enrique to seriously hold a grudge when he was appointed Spain boss in July.
However the exclusion of Jordi Alba, a mainstay of the Spanish national side ever since his debut in 2011 bears all the hallmarks of a personal rather than footballing decision. While tactical reasons were largely behind Alba losing his place in the Barcelona team, the squad Luis Enrique has picked strongly suggests he will use a back four. The left-backs included are Marcos Alonso of Chelsea and uncapped José Luis Gayà of Valencia. While Alonso is perhaps unfortunate to have only played once for Spain given his excellent club form over the past few seasons, it's still a stretch to say he has moved ahead of the Barcelona man, who was arguably one of Spain's better-performing defenders in Russia. Gaya meanwhile is certainly not operating at Alba's level yet and it's a very odd decision to leave Jordi Alba out altogether at a time when Spain are already dealing with the retirement of a host of experienced and proven top level performers.
Read more: Are Italy on course for 2020 recovery?
The death of Tiki-Taka?
The 2018 World Cup and specifically the exit against Russia may prove to be a turning point in the evolution of the style of the Spanish national side. For years, it seemed foolish to even question the tiki-taka approach given it had fired Spain to two European and one world crown between 2008 and 2012. The 2014 World Cup was brushed off as a blip, likewise Euro 2016 and even the suggestion that Spain should adopt a different approach was almost taboo for several years following their golden era. However there has been an increasing clamour for change in recent times and an uninspired 120 minutes of possession football but few chances created against Russia may prove to be the final nail in the coffin of tiki-taka or at least Spain's total dependence on it.
Luis Enrique is seen as a more pragmatic coach rather than a true believer in the Cruyff-inspired total football that grew to shape Barcelona and then Spain's philosophy. That didn't always make him a popular man in the Camp Nou hotseat but he might be just what La Roja need to move on from a difficult period.
The squad he has picked certainly suggests we could be in for a different style. Initially he named both Diego Costa and Alvaro Morata in the party due to travel to England and although Costa has since withdrawn that suggests he is keen to play with a target man of sorts. There is also more of a physical presence in midfield than we've seen in recent squads with the likes of Sergi Roberto and Rodri capable of playing the holding role. One of the main criticisms of Spain's World Cup squad was the absence of a defensive-minded midfielder to cover for Sergio Busquets but Luis Enrique's first offering appears to have more bases covered and should bring more energy to the middle of the park.
The new boss has spoken of evolution rather than revolution and while we are unlikely to see Spain start pumping lots of long balls, a faster, more purposeful style is likely as opposed to the patient, probing football that has failed to deliver on the big stage for La Roja in recent years.
Free Super Tips on Twitter to stay up to date with our daily tips and predictions or browse more football content on our website: