Steph Curry has been breaking records again. Could he be on his way to being the greatest player to ever play the game?
Back-to-back MVP
After an incredible season last year which saw him win the MVP award, Curry has somehow got even better this year and has been named MVP again.
Golden State @Warriors Guard @StephenCurry30 named 2015-16 @Kia NBA Most Valuable Player! #KiaMVP pic.twitter.com/B9tBIII2eC

— NBA (@NBA) May 10, 2016
He becomes one of only 11 MVP winners to win the title back-to-back, joining the likes of Michael Jordan, LeBron James and Wilt Chamberlain.
He also goes down in NBA history to become the only player to win every single vote from the 130 judges that are responsible for picking out the MVP.
First unanimous MVP in league history! #StephGonnaSteph#KiaMVPpic.twitter.com/pC3kW6kB5w

— GoldenStateWarriors (@warriors) May 10, 2016
Curry's clean sweep saw him receive 1,310 points from the 130 eligible voters. Only two other MVP's came close to a clean sweep: Shaquille O'Neal in 2000 and LeBron James in 2013 who both missed out on a unanimous decision by a single point.
Record Breaker
He broke loads of records last year and he's been breaking even more this year…including his own!
Curry made an NBA record 286 3-pointers last year (breaking his own record of 272 in 2012-13) and this year he's absolutely blitzed his new record by scoring a ridiculous 402 3-pointers.
400! Steph Curry drains his 8th 3-ptr tonight and No. 400 for the season, an NBA record. pic.twitter.com/SqOhsn8CLk

— NBA on ESPN (@ESPNNBA) April 14, 2016
This incredible record is just one of the many that Curry has surpassed this year.
Steph Curry is the first scoring leader to reach the NBA's 50-40-90 club https://t.co/pUran7wbC3 pic.twitter.com/q7UQA6gcms

— CBS Sports NBA (@CBSSportsNBA) April 14, 2016
Steph Curry's 17 Pts in OT are the most by any player in an OT period, regular season or playoffs, in NBA history. pic.twitter.com/oAZ05qxdmN

— NBA on ESPN (@ESPNNBA) May 10, 2016
Steph Curry Breaks NBA Record for Most Consecutive Playoff Games with 3-Pointer #nbahttps://t.co/ekiEyk2W0spic.twitter.com/ECkh297McA

— NBA by WordLink (@NBAbyWordLink) May 17, 2016
Curry's colleagues have been quick to praise him as shown in ESPN's article on Steph Curry's 3-point record.
Greatest Of All Time?
People have also been quick to compare Steph Curry to some of the all-time greats. So where does he rank and does he have what it takes to be named a legend along with the likes of Michael Jordan, Kobe Bryant and LeBron James?
We took a look at Curry's key stats (the ones that really count) from landokbasketball.com to compare him with some of the legends of the game.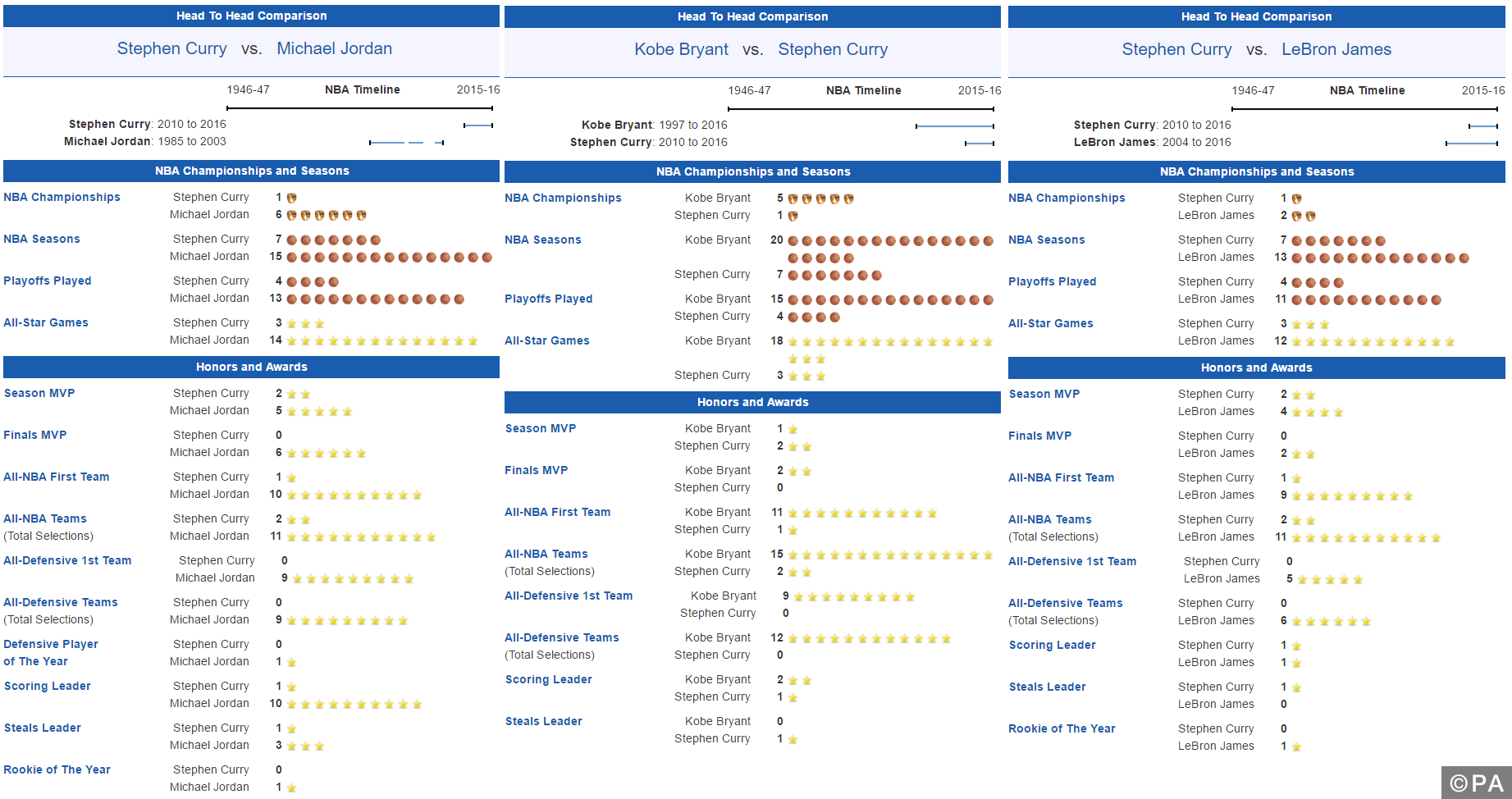 Now judging by all of the above stats, Curry has got a long way to go to be regarded as the greatest of all time but what he has achieved over the last couple of seasons has set the benchmark for what he could accomplish across the rest of his career.
Curry is 28 and has only been in the NBA for 7 seasons. If he carries on posting outrageous stat lines and breaking all these different records as he has been then he is certainly going to end up being regarded as a legend.
Steph Curry actually stared in a guy's face before the ball went in. That happened #MVPhttps://t.co/bB9fq1fdZ7

— BreatheSport (@BreatheSport) May 19, 2016
People thought he couldn't get any better than last year and he has. So what next for Curry?
Well, the sky is the limit for the unanimous MVP and you should be looking forward to the ride as we watch him progress (and probably improve even more) through his career.
Curry's next game is on Tuesday night as the Golden State Warriors go to Oklahoma City to take on the Thunder in the Western Conference Finals. His team trail 2-1 in a best of 7 series so it's going to be a fun game and you can find our betting tips and predictions on our free NBA picks page.