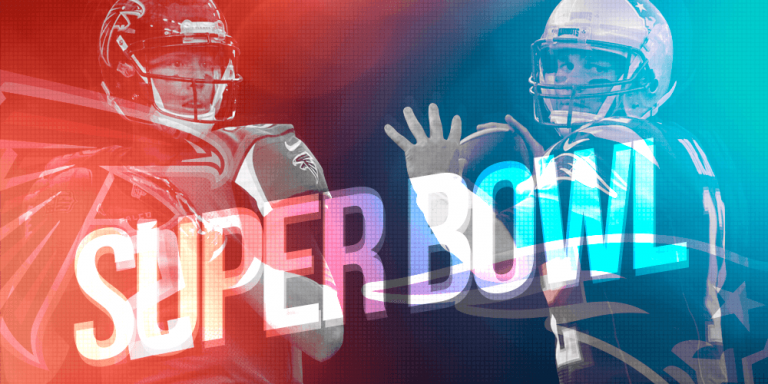 Get the latest Super Bowl odds on all the major Super Bowl betting lines including Money Line, Point Spread, Total Points and MVP. It's very important to ensure you're getting the best Super Bowl betting odds on all your bets to maximise profits. Shopping around for the best odds takes very little time and can add extra cash into your pocket.
Super Bowl Betting Lines
Let's take a look at the best Super Bowl betting odds for Super Bowl 51 on the most popular Super Bowl betting lines.
Money Line
The Money Line or as it's more commonly known Outright Win market simply means for a team to win the Super Bowl.
New England Patriots
The New England Patriots are making their seventh Super Bowl appearance in 16 years. The combination of Quarterback Tom Brady and Head Coach Bill Belichick will aim to strengthen their claim as the greatest QB/Head Coach duo of all time. Belichick holds the record for the most Super Bowl appearances by any head coach and post season wins.
Best Odds
Atlanta Falcons
Head Coach Dan Quinn is making his third Super Bowl appearance in four years but his first as a head coach. He won a Super Bowl back in 2013 as a defensive coordinator with the Seahawks, where they defeated the Broncos 43-8. The Atlanta offense has been red hot all season and their defense has been playing much better during the back end of the season. Just look what they did to Russell Wilson and a red hot Aaron Rodgers.
Best Odds
Point Spread
New England are 15-3 against the spread this season and have opened up as a three point favourite for Super Bowl 51. Some bookmakers are reporting that they have already taken a six figure wager on the Patriots laying 3 points and numerous 'healthy' five figure wagers on the Patriots and over total points.
Best Odds
However, New England are 2-5-1 against the spread in their Super Bowl appearances. In recent years the underdog is 13-5-2 against the spread, cashing in four out of the last five and seven of the last nine games. We're picking the Atlanta Falcons to cover the point spread in Super Bowl 51 and continue the trend of the underdog covering. Their defense has five sacks and three interceptions in their two playoff games and could be the difference maker in this shoot out.
Best Odds
Total Points
A Super Bowl record high total of 58 isn't stopping the money flooding in on the overs and it now sits at 59 and even climbed to 59.5 with some offshore bookmakers. The Patriots have cashed win and over total match points the past three weeks and in seven of their 18 games this season. The Falcons also follow this trend, they cashed the win and over total match points in both of their playoff games and in a whopping 10 of their 18 games this season. The over is 15-2-1 in Atlanta's games this season.
Atlanta has been averaging 33.8 points per game during the season and 40 in the playoffs. New England are no slouches on offense themselves, they average 386.2 offensive yards per game, which is fourth best in the NFL. They also average 27.6 points per game, which is good for third best in the league. It's no surprise why our experts are predicting this game to be a shoot out.
Our tipsters have picked out over total points as their best Super Bowl 51 bet which you can see in our NFL Picks section of the site.
MVP
Let's take a look at some of the leading contenders for Super Bowl 51 MVP.
Tom Brady
Brady is seeking his fourth Super Bowl MVP and is the favourite to be Super Bowl 51 MVP. In what should be an offensive shoot out, Brady could easily put up similar numbers to Super Bowl 49 where he had four touchdowns and 328 yards.
Best Odds
Matt Ryan
Matty Ice has three or more touchdown passes in seven of his last 11 games. He is surrounded by offensive weapons in both the pass and run game, which includes arguably the best receiver in Football – Julio Jones. He has led the Atlanta offense to a record breaking season and sits second in total yards and touchdowns thrown during the regular season. If he can lead the Falcons to Super Bowl victory over the Patriots then he will be Super Bowl 51 MVP
Best Odds
Julio Jones
Julio averaged 100.60 receiving yards per game during the regular season, which of course topped the NFL. He went off in the NFC Championship against Green Bay, scoring two touchdowns for 180 yards receiving. He's scored in his last three games and is such a versatile receiver that he causes mismatches wherever he lines up. He is a massive price to be Super Bowl MVP.
Best Odds
Mohamed Sanu
Bill Belichick and the Patriots are well known for trying to take away the oppositions best receiver. Whilst it's easier said than done against Julio Jones, this opens the door for other receivers. Mohamed Sanu interestingly is Matt Ryan's favourite red zone target with 14.1% of balls being thrown his way. If Ryan throws an interception or two and Sanu picks up multiple TD's then he is another huge price to be Super Bowl MVP.
Best Odds