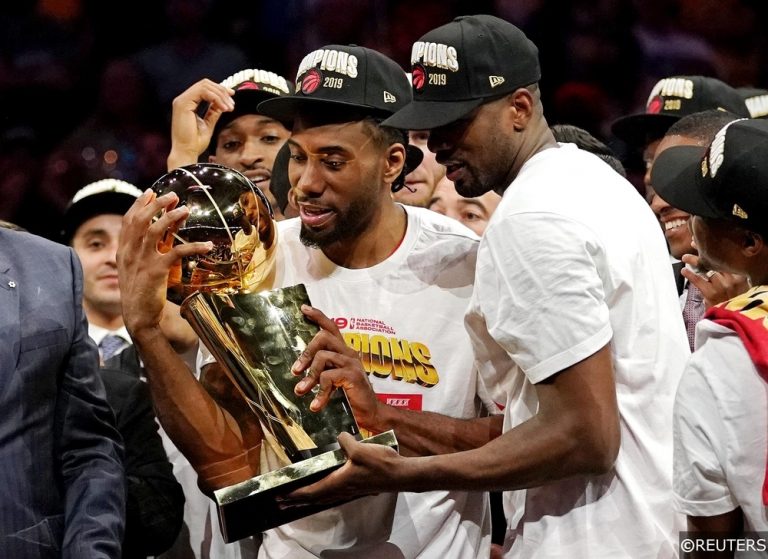 It was a historic night in the NBA last night as the Toronto Raptors captured their 1st NBA title in the history of their franchise, beating the Golden State Warriors 114-110 to clinch the series 4-2 in their favour.
As it was the case in all four wins, the Raptors won the game as a team. Kyle Lowry & Pascal Siakam scored 26 pts a piece, Finals MVP Kawhi Leonard chipped in 22 as well as Fred VanVleet who came off the bench.
The @Raptors are the 2019 NBA Champions! #WeTheNorth pic.twitter.com/nooya0x6Db

— NBA (@NBA) June 14, 2019
Injuries once again hurt the Golden State Warriors who were without their star man Kevin Durant in this one. The game was pretty much up for grabs during the 3rd quarter when Klay Thompson went for a breakaway dunk, but landed awkwardly and tore his ACL which will keep him out for 6-8 months. It was a serious blow for the 2-time defending Champions who, despite playing without Klay, weren't out of this one. Steph Curry had a chance to give the Warriors the lead, but his 3-point attempt was short and the Raptors ran away with it.
Toronto's run to the NBA title:
It didn't start off well for Canada's only team in this year's playoffs. A shocking defeat to the Orlando Magic in their Playoff opener at home had a lot of people thinking it would be yet another disappointing post-season for the Raptors.
However, Kawhi Leonard didn't allow that to happen as they cruised and won the next four games to move on.
Just like in the first series, the Raptors trailled in the Eastern Conference semi-finals against the Philadelphia 76ers as well. It was 2-1 Philadelphia after three games, but again a big performance from Kawhi Leonard got them a all-important win on the road which tied the series at 2-2. The two teams exchanged home wins after that game and it went to a deciding Game 7.
Kawhi made sure he was going to go out shooting. The now 2-time NBA Finals MVP put up 39 shots in that game en route to 41 pts, but most importantly he hit the game and series closing buzzer beating shot to move the Raptors past the up and coming 76ers.
KAWHI. GAME 7. FOR THE WIN. pic.twitter.com/MH9CBjQ2uK

— SportsCenter (@SportsCenter) May 13, 2019
The Raptors didn't have much time to celebrate as they faced the Milwaukee Bucks who dominated in both of their series up to that point. Led by most likely the MVP of the regular season Giannis Antetokounmpo, the Bucks went up 2-0 in the series after winning both home games and many people thought Toronto was done and dusted in this one.
But, another comeback was on. The Raptors clawed their way back in this one, mainly thanks to the heroics of bench player Fred VanVleet who came alive in the next four games and with the brilliance of Kawhi Leonard on both ends, the Raptors found a way to stop the Greek Freak and won the next four games to advance to their first ever NBA Finals appearance.
Many people viewed these finals as the classic David vs Goliath story, with the Raptors making their first ever finals going up against the Warriors who were in mindst of a 5-year finals run themselves.
But, without Kevin Durant who played only 12 mins before injurying his acchiles in Game 5, the Warriors simply didn't have enough in this one to keep up with Toronto, especially when Klay Thompson went down in Game 6 after hurting his knee.
Interestingly enough, the road team won 5 of the 6 games in these finals, with Toronto being the only team to win a home game when they went up 1:0 to open the series. Golden State responded with a win on the road to make it 1:1. Toronto then responded two wins at Oracle Arena, taking full advantage of Klay Thompson missing Game 3.
The Raptors missed a chance to clinch the title at home in Game 5, as Golden State escaped with a narrow 1-point win to keep their season alive. At home though, they simply didn't have enough bodies to compete with Toronto after Thompson's injury and Toronto clinched Canada's first major sports title since the early 1990s.
What's next for Toronto?
Despite winning the title this season, Toronto has got a huge summer ahead of them as star man and Finals MVP Kawhi Leonard becomes a unrestricted Free Agent, which means he can sign with any team he would like.
Kawhi Leonard ends his historic playoff run as the #NBAFinals MVP! 🏆 pic.twitter.com/XbBGkTtOBw

— NBA Fantasy (@NBAFantasy) June 14, 2019
Toronto can offer him the most money and years, so they have the upper hand in signing him, however we've been hearing reports for basically the last two seasons that Kawhi is headed to one of his hometown teams in Los Angeles. If they intend on being competitive again next season and try to defend their title, then retaining Kawhi is priority number one.
Is the Dynasty over in Golden State?
By the looks of it, it might very well be over. Kevin Durant has suffered a rupture to his Achilles Tendon which means he will miss the entire 2019/20 season. Durant has a player-option which he can excercise and stay with Golden State for another season, but many people believe he will decline that and enter Free Agency himself. Any team that wants to sign him will have a big decision to make if they want to gamble on a 31-year old player who suffered a catastrophic injury which no player in the NBA has ever come back from 100%.
With the news of Klay Thompson tearing his ACL in his left knee, that means he will also miss 6-8 months, which could mean he's also out for the entire season.
After recovering from his Achilles Tendon injury, Boogie Cousins is still not yet close to being the player he once was and it is unsure if the Warriors will retain him next season.
Depth will also be an issue for the Warriors and since they are in the luxury task it makes it very difficult for them to acquire new talent.
All-in-all this was the most competitive NBA season we had in years and with so many injuries to their roster, we have no clear-cut favourite heading into next season which promises yet another competitive and fun year in the NBA!
We will be covering the entire 2019/20 NBA season, starting with Free Agency updates, draft and offseason news, pre-season tips and much more! Be sure to bookmark our Free NBA Tips page to receive the latest tips and offers!