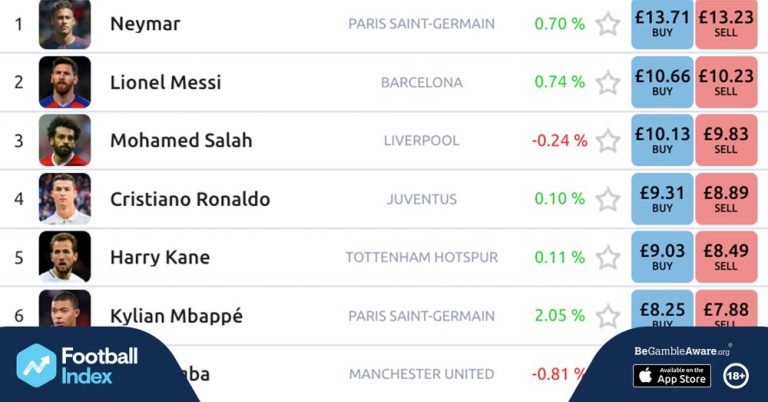 So, you've heard the hype surrounding the world's first football stockmarket and you're wondering whether it's for you? Well, luckily Football Index are offering you the chance to trade up to £500 risk-free for the first 7 days!
Signing up to Football Index and taking advantage of this introductory offer could not be simpler, just follow these three easy steps:
Step 1: Register
Step 2: Deposit
Deposit a minimum of £10 using a valid credit or debit card.
There is no maximum amount you are able to deposit, however only the maximum risk-free amount eligible is £500.
Step 3: Trade
Begin purchasing players for your portfolio.
If you decide within the first 7 days that trading on Football Index isn't for you, all you have to do is email support@footballindex.co.uk and a Customer Support Representative will provide instructions on how to liquidate your portfolio.
They will then arrange to have any losses refunded to your account within 48 hours.
At this point, you are able to withdraw your money back to the debit/credit card used to make your initial deposit with zero charge.
Read More: How Does Football Index Work?
Here are two examples of what could happen within the first 7 days:
You deposit £500 and at the end of the first 7 days, your portfolio after liquidation is worth £480. If you decide not to continue trading, Football Index will credit your account with £20 to take your total balance back to £500. You are then able to withdraw this in full.
You deposit £500 and at the end of the first 7 days, your portfolio is worth £520. As you are in profit, you will not be eligible for any refund.
There are some other important things to remember when participating in the £500 Risk-Free offer:
If you decide not to continue on Football Index you must contact them within the first 7 days after deposit. If you email later than this, you will not be eligible for any refund.
The offer is only currently valid for customers in the United Kingdom.
Should you request a withdrawal within the first 7 days, you will automatically be disqualified from the promotion.
Football Index is a whole new way to experience the beautiful game. Unlike traditional football betting, once the final whistle blows your bet is still very much alive! By offering multiple opportunities for you to profit, Football Index is revolutionising the football gambling industry and with the £500 risk-free offer, there's never been a better time to get involved!
So what are you waiting for?
Visit www.footballindex.co.uk and get started today!
Follow Free Super Tips on Twitter to keep up to date with our daily tips or browse more football content on our website to help you make your Football Index trading decisions!