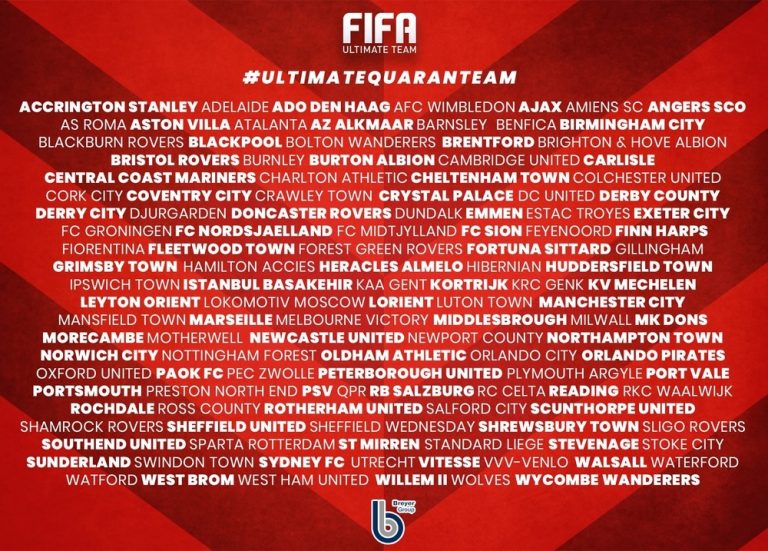 Simon Winter
@simonjwinter
Born in the south east of Ireland, Simon put his life-long love of football to good use when he started a successful independent blog in 2010. That opened up an alternative route to a career in journalism, and having had work published across a number of sites and publications, Simon joined the staff at Spotlight Sports Group in 2018.
Leyton Orient's massive 128-team FIFA Tournament has been generating huge amounts of buzz on social media – and with good reason too.
The League Two club's uniquely innovative #UltimateQuaranTeam idea was floated tentatively on Twitter earlier this month with a view to filling the void left by English football's postponement.
However, just a couple of weeks later, Orient's FIFA tournament has exploded in terms of its reputation and participation, topping the noughts and crosses and connect four one-on-one battles we've seen between clubs by some distance in terms of virality.
Now supporters worldwide are itching to watch 128 professional clubs from across the globe compete in a knockout style tournament for online glory and bragging rights.
There is still a thick veil of mystery hanging over the tournament, with little concrete information about the identity about the players likely to represent each competing club.
However, early favourites to claim the first ever #UltimateQuaranTeam title have already emerged, as well as some outsiders that are worth keeping an eye on.
Let's take a closer look at some of them below.
You can read about the #UltimateQuaranTeam FIFA tournament in much more detail here.
 #UltimateQuaranTeam favourites
At the time of writing, Sheffield Wednesday are listed as favourites at several different bookmakers, with rumours abound that the wily Owls will be represented in the tournament by an experienced e-sports pro.
Manchester City will have a FIFA expert of their own in the hotseat with Shaun Springette, who goes by the PS4 name of 'xShellzz, pulling on sky-blue for the eagerly anticipated digital kick-off.
Watford might be embroiled in a relegation battle in real life, though many are anticipating a Hornets #UltimateQuaranTeam title challenge in the virtual world after they put forward Tom Leese as their representative.
With the PS4 username 'Hashtag Tom', Leese was already due to represent Watford at the end March in the ePremier League Finals in London. However, with that event now cancelled due to the Coronavirus, Leese is free to compete in Leyton Orient's inaugural tournament.
French club Angers and social media heavyweights Roma are all also among the early front runners to be crowned as the first #UltimateQuaranTeam champions.
Elsewhere, high-profile Premier League players Andros Townsend, Neal Maupay and Todd Cantwell will represent Crystal Palace, Brighton and Norwich respectively, though the professional footballer's inclusion hasn't exactly boosted their clubs' market odds.
All three clubs are ranked outsiders at around 150/1 each, hinting that there are doubts about their ability to transfer their skills from the pitch to the screen.
#UltimateQuaranTeam Dark Horses
While they haven't officially announced who will be representing them in the approaching FIFA tournament, Wolves already have a player in their e-sports stable that could blow the competition wide open if he gets involved.
'Wolves Fifilza', who currently sits as the world number 5 on PS4, could end up being the Wanderers go to guy this weekend, and while concrete news is yet to emerge, Fifilza's did like a reply to Wolves involvement in the tournament saying "@Fifilza7 bring it home". Sensational.
Millwall could also spring a surprise or two in the tournament, with YouTube star Zerkaa set to take the controls for the Lions in the #UltimateQuaranTeam tournament.
Zerkaa (real name Joshua Bradley), has more than 5 million subscribers across his YouTube channels and more than 1.8 followers on Instagram.
Most importantly, Zerkaa is a FIFA and football nut who should have more than a few tricks up his sleeve to use when the action gets under way.
Why are they doing it?
The #UltimateQuaranTeam tournament was initially devised as a lighthearted way to bring supporters and clubs together online in the midst of the unprecedented Coronavirus crisis, however, it has since transformed as a genuine vehicle for positivity.
Ahead of the tournament, Leyton Orient have set up a JustGiving page here to raise money for a couple of extremely worthwhile causes:
75% of the money raised will go towards funding EFL clubs heading for serious financial difficulties as a result of the postponement of football and the subsequent lack of matchday income.
The remaining 25% will be split between two charities – the EFL's chosen charity "MIND" and the COVID-19 Solidarity Response Fundraiser by WHO.
#UltimateQuaranTeam  – How can you get involved?
The best way to get involved right now is to head over to Twitter and use the #UltimateQuaranTeam official hashtag. That will allow you to follow all the latest developments on the Leyton Orient Twitter account (@LeytonOrientFC) ahead of the commencement of the tournament.
You can also do your part for the cause by donating on their official JustGiving page that you can find via the link.