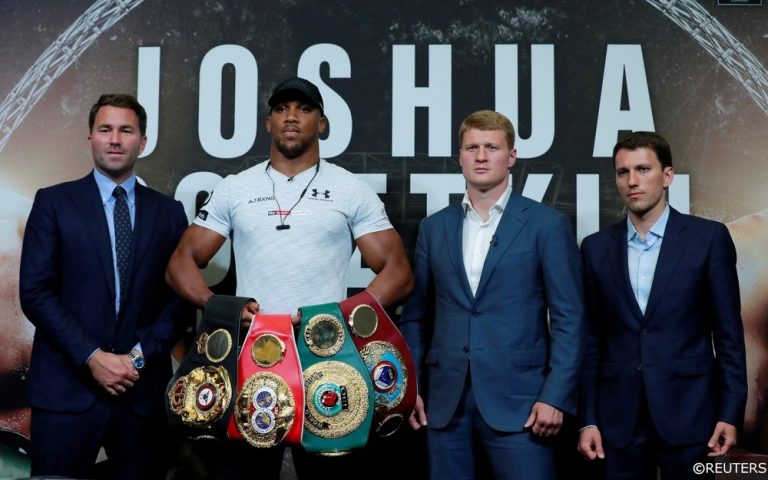 When announcing Matchroom's venture into the American market with DAZN, Managing Director Eddie Hearn was widely quoted as saying he believed the pay-per-view model in boxing was not the way forward and with the new subscription service, boxing fans in America would be able to view pay-pay-view quality events without the high purchase price. Meanwhile, back in the UK, boxing fans now have three pay-per-view channels offering a wide range of fights. Given that fans of boxing are already having to fork out for Sky Sports, BT Sports and Box Nation, the inclusion of pay-per-view can make watching boxing quite an expensive pass time, and with the rumoured schedule, things are only going to hit the purse strings even more between now and Christmas.
Read More: Boxing Betting Tips and Predictions
Confirmed Fights
Gennady Golovkin vs Saul Alvarez – BT Sports – £16.95 – 15 September 2018
Ok, so we are going to start with some old news. The rematch between Gennady Golovkin and Saul Alvarez saw two of the finest fighters in the world collide after their highly disputed draw first time around and represented BT Sport's first foray into the pay-per-view market. Despite the early morning, or late night, by all accounts it is thought to be a pretty successful start for BT Sport and with further fights already in the works, it is not going to be the only time BT ask fight fans to pay money on top of their monthly subscription.
Anthony Joshua vs Alexander Povetkin – Sky Sports – £19.95 – 22 September 2018
AJ is probably the biggest star in world boxing right now and with sell outs at some of the biggest venues in the country over his last few fights, his power to attract fans is undeniable. His defence of the IBF, WBA and WBO heavyweight titles against former world champion Alexander Povetkin will be contested in front of 90,000 people at Wembley as well as hundreds of thousands at home.
George Groves vs Callum Smith – ITV Box Office – £16.95 – 28 September 2018
The conclusion of the World Boxing Super Series super middleweight section sees George Groves against fellow Briton Callum Smith for the WBA Super World Title and WBC Diamond Belt. Both men are also looking to win the right to be only the second ever recipient of the Muhammed Ali trophy after Oleksandr Usyk claimed the title in the cruiserweight division a few weeks ago.
Oleksandr Usyk vs Tony Bellew – Sky Sports – TBC – 10 November 2018
After a break in the pay-per-view schedule, the undisputed cruiserweight title will be on the line at the start of November as Oleksandr Usyk defends his crown against Tony Bellew. The Bomber has been a frequent fighter on pay-per-view of late and this fight, which is thought to be the final occasion he will step into the ring as a professional boxer, gives him the opportunity to finish his career as one of the finest fighters the country has ever produced.
Josh Warrington vs Carl Frampton – BT Sports – 22 December 2018
After capturing the IBF Featherweight title against Lee Selby a few months ago, Josh Warrington will defend it in a huge domestic dust up against Northern Ireland's Carl Frampton. Both men are hugely popular among the boxing public and their clash in Manchester will almost certainly be a sell out. With tickets at a premium, many will have to watch from home on BT Sport's new pay-per-view channel.
Rumours
Floyd Mayweather vs Manny Pacquiao – TBC – Rumoured for 1 December 2018
So now we move into the realm of the paper talk and it is not a bad place to start as the rumours suggest one of the biggest ever contests is set to have a second chapter. The first contest between Floyd Mayweather and Manny Pacquiao saw the talented American retain his undefeated streak and although he is now in retirement, the bout against UFC star Connor McGregor has proven he can be tempted to step back into the limelight, providing the money is right.
Deontay Wilder vs Tyson Fury – BT Sport – Rumoured for 8 December 2018
It is on. That is the message Tyson Fury promoter Frank Warren has been spreading about the rumoured clash between the lineal champion, Fury, and the brash American and WBC Champion, Deontay Wilder. Given that the pair met in the ring following Fury's last fight and said as much, it appears as though this rumour is fairly certain to become true. At the end of that event, it was also confirmed the bout would take place on BT Sports Box Office.
Amir Khan vs Kell Brook – Sky Sports – Rumoured for 15 December 2018
Following Kell Brook's injury a few months ago, 'Special K' set about preparing for a major fight at the end of the year. His rivalry with fellow Brit Amir Khan has long been rumoured to be settled in the ring, but the fight so far has never come to fruition. With both fighters looking to fight at the same time, both at similar points in their career and both promoted by the same company, it seems like the stars are finally aligned for the clash to take place. However, doubts have been cast over the contest as Khan has admitted he favours a fight with ex-stablemate Manny Pacquiao.
Dillian Whyte vs Derek Chisora – Sky Sports – Rumoured for 22 December 2018
With so much boxing planned for December, it is almost inevitable there would be a clash in the schedule. However, for the first time we could also see a clash in the pay-per-view market as the rumoured rematch between heavyweights Dillian Whyte and Derek Chisora is rumoured to take place on the same night as BT Sports' Josh Warrington vs Carl Frampton.
With season two of the World Boxing Super Series fights being announced and new contests being planned all the time, it is a schedule which may well increase in the coming weeks. For those of you who have an interest in other combat sports, the fact that BT Sports will show its last UFC event in December having lost the rights fees for UFC to Eleven Sports, things only look to be getting more and more expensive for fight fans.
Follow Free Super Tips on Twitter to stay up to date with our daily tips and predictions or browse more content on our website: