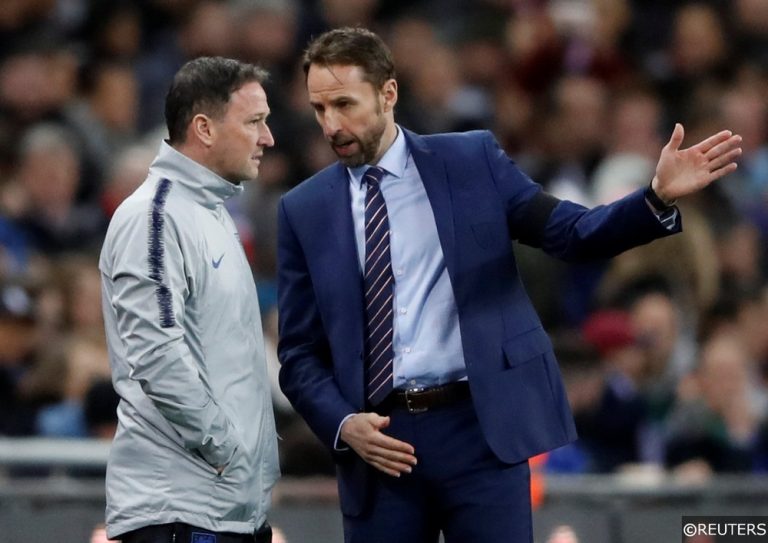 Content Editor at Free Super Tips, Alex was born in the shadow of Old Trafford and is an avid Man Utd fan. After graduating from university he combined his love of football, writing and betting to join FST and now closely follows goings-on in all of the top European leagues.
England's back line is… Everything from the controversy surrounding John Terry and Rio Ferdinand which saw the Manchester United centre back miss Euro 2012 to the issues between Wayne Bridge and… John Terry a few years earlier. Okay, so much of the controversy has surrounded John Terry's various exploits, but there have been points of interest on the pitch too. Perhaps most importantly, there has always been a star centre back to lead the team. The story starts with the legendary Bobby Moore and goes on to include the likes of Jack Charlton, Tony Adams, Sol Campbell, and most recently John Terry.
Gareth Southgate himself was one of the stalwarts of the England team in the mid to late 1990s. Of course, he is remembered for that crucial penalty miss in the semi-final of Euro 1996, but he was key to England's admittedly minor successes that tournament. For now though, England seem to be without that leading figure at the back, and Southgate's choices at the back have been a big talking point.
Many fans have expressed surprise at his choice to take as many as five recognised full-backs to the tournament and leaving the midfield comparatively thin. However, there could well be method behind the madness. It all starts after the 1-0 win over Slovenia in October 2017. Qualification to the 2018 World Cup was sealed, so Southgate decided to follow the lead of many Premier League managers of late and thoroughly test a three at the back formation.
England have played five matches since then, and every one of them has utilised the same defensive setup. Three central defenders with two wing-backs, with the more attacking side of the formation often dictated by the presence or absence of Harry Kane. It's the defensive side we're interested in here though, so let's take a look at The Three Lions' options.
Read more: Was Southgate Right to Snub Wilshere?
Gary Cahill
Eyebrows were partially raised when Chelsea's veteran centre back was announced in the squad, although it's no real surprise. Admittedly the 32 year old hasn't had the greatest of seasons at Stamford Bridge, but he brings a level of experience to the team that others simply can't match. This could prove more important than ever with three inexperienced goalkeepers behind the back line, and it's likely this factor that pushed Southgate towards choosing him.
In all honesty, Southgate seems to prefer Cahill in a centre back partnership rather than a back three. He's not been selected in any of the starting lineups since the switch was made, and it's likely that he's on the plane to Russia simply to offer a backup option if Southgate decides to go to a flat back four.
Verdict: Backup Player
John Stones
John Stones is the closest that England have got to a promising young centre back at the moment. Aged just 23, the Manchester City defender has improved with his experience at The Etihad this season. Pep Guardiola has obviously imparted a lot of his knowledge to Stones, and with 24 caps to his name he's hardly a fresh-faced newcomer to the setup.
This is something Southgate knows. He has started every game since that switch to the back three, which is something that none of the other players on this list can claim. No matter which system is played, it seems like Stones is the first name to go down in that back line, and it's obvious that the manager highly rates him. He has long been praised for his ability on the ball, but throughout this season his defensive abilities have improved massively and he's no longer the liability he was.
Verdict: First choice defender
Harry Maguire
Emerging as a contender for the national team just this season, Harry Maguire has quickly established himself in Gareth Southgate's plans. He made his debut for England against Lithuania as they switched to this three at the back formation, and since then he has started three of the five games England have played. In the two games he hasn't started in this time he has been replaced by Joe Gomez and James Tarkowski, both of whom aren't on the plane to Russia.
Maguire is used on the left side of the central John Stones and looks primed to be a starting choice in Southgate's back three, although he is likely to be the most vulnerable to getting replaced. His positioning over on that left side does leave the one remaining spot open for the next player on our list.
Verdict: Starter
Kyle Walker
One of the key criticisms of this England squad is the apparent overload of full backs, but when considering the formation change it actually makes perfect sense. Kyle Walker has been deployed as the right sided centre back in England's last two games, and it's a decision that Pep Guardiola himself praised. With the added central protection provided by Stones and Maguire  Walker's lack of physical presence isn't as much of an issue, and he more than makes up for that with his pace and ability on the ball.
It's certainly not unheard of either, with Chelsea's Cesar Azpilicueta making the exact same switch under Antonio Conte and plenty of the recent greats being equally adept at playing across the back line. This, plus his season-long affiliation with Stones, makes it a potential master stroke to play Walker on the right side of a back three.
Verdict: Starter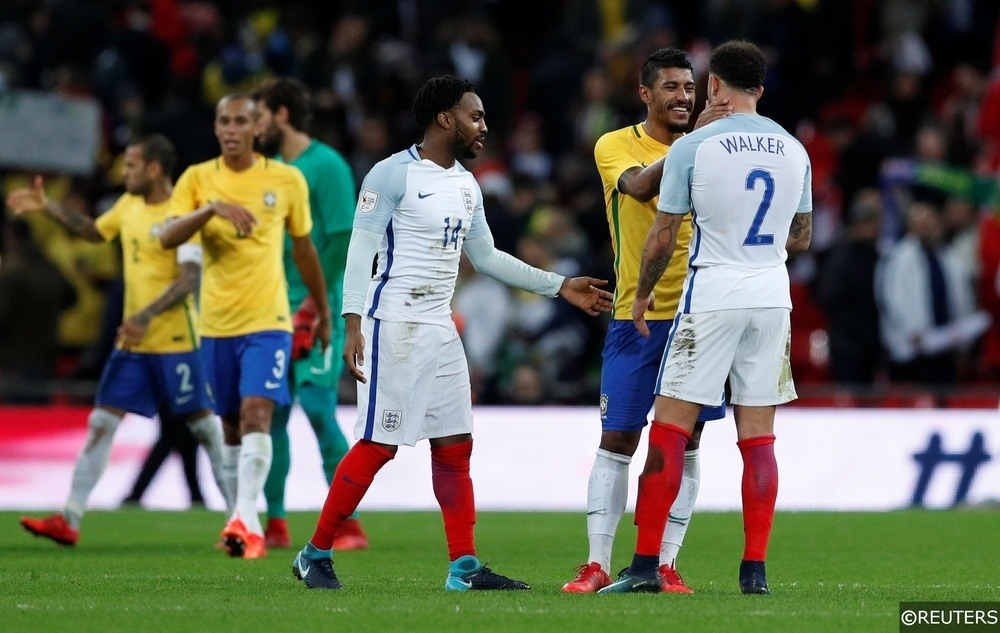 Phil Jones
If eyebrows were raised at Cahill's inclusion, they ascended even farther when Phil Jones' name was seen on the roster. The Manchester United defender is often, and understandably, seen as somewhat of a liability at the back. His lack of planning and anticipation result in the need for last ditch heroics, and it's not unheard of for him to get injured in the process. His mistake in the FA Cup Final is the perfect example of this, with him completely losing Eden Hazard before chasing back and giving away a careless penalty.
His one advantage over club teammate Chris Smalling is his versatility. He has been played all over the back line in his career, as well as in the defensive midfield berth. This probably gave him the edge over the likes of Tarkowski and Smalling, but with him being used just once in Southgate's preferred back three he is unlikely to be the first choice defender. Generally, he's been preferred in a flat back four alongside Cahill, so if Southgate decided to mix it up we could see Jones in that role.
Verdict: Backup/Utility Player
Conclusion
From the looks of things Gareth Southgate is covering all bases with this selection. He has played with a three man back line in friendlies against Germany, Brazil, Netherlands, and Italy and conceded just one goal in the process, so it's a valid hypothesis that this is his preferred setup. However, they have only scored twice in these four games too, so it's entirely possible that he'll need to switch it up in order to get an attacking foot in some games.
It's clear that the likes of Gary Cahill and Phil Jones aren't rated in this possession-based back three, but Southgate seems to prefer Cahill's experience in a potentially more exposed flat back four. The conversion of Kyle Walker into a centre back could yet prove to be a masterstroke, but again if this isn't working he always has the option of switching Walker out wide and going to a back four instead. With all options covered there should be very little in the way of risk here, although this selection has certainly taken something away from the midfield options available.
Follow Free Super Tips on Twitter to stay up to date with our daily tips and predictions or browse more football content on our website: