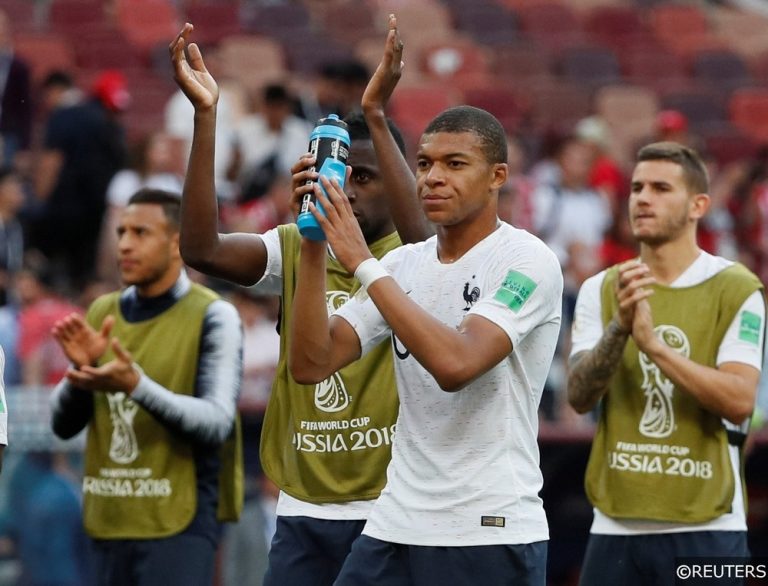 Having confirmed their place in the knockouts after just two matches, France went into Tuesday's final group game against Denmark knowing that a point would see them top the group. A rather drab affair saw Les Bleus and the Danes deadlocked at 0-0 as the referee blew for full-time in Moscow, so it is indeed the French who advance to the last-16 as Group C winners. On the surface, all is well for Didier Deschamps men, though they will need to improve if prolonging their journey in Russia is the aim.
Read More: Nigeria's World Cup May be Over, But The Super Eagle's Future Looks Bright
Lacking a cutting edge
At major tournaments in the past, France teams have entertained fans by playing fast-paced, exciting attacking football, and that was exactly what was expected from the current crop when they left Paris just a few weeks ago, though those fans who made the trip to Russia are yet to witness any such football. Instead, those who've travelled to watch Les Bleus have seen nothing other than a team of individuals, a team lacking cohesion and a team who've struggled to imposed themselves on matches, particularly in the offensive third. Each of their three performances in Group C left both viewers wanting more, as France struggled to find any sort of attacking rhythm.
France 2 – 1 Australia
But for a late goal against the Socceroos on match-day one, which came via the most fortuitous of deflections, after a lacklustre and frankly all-round below par performance, France would've kicked their tournament off with a 1-1 draw. As they managed a measly five shots on target, one of which came from the spot, while only two of the other four came from shots inside the Australian penalty area, Deschamps men struggled to piece together the attacking jigsaw first time out, while they were also a tad shaky at the back.
France 1 – 0 Peru
Against Peru, the French failed to move up a gear; they were slow in possession, lacked attacking cohesion and once again found it tough to create clear-cut opportunities. The only goal scored by Didier Deschamps men on match-day two came as a direct result of another fortunate deflection, a deflection that landed right at the feet of youngster Kylian Mbappé, who gleefully tapped home from little more than yard out. With just four shots on target, three of which came from inside the box, a lack of attacking dominance was once again a problem for Les Bleus.
Denmark 0 – 0 France
Prior to their match against the Danes, France were already through, while they also had the knowledge that anything other than a loss would see them top the group. This meant that Didier Deschamps men didn't really need to force the issue in Moscow, though given the nature of their previous performances, such excuses don't wash. Instead of looking to kick forward and build momentum ahead of the knockout stages, the French chose to once again slow things down at every opportunity, while with just three shots on target, none of which troubled Danish keeper Kasper Schmeichel, they were even worse offensively than they had been against either Australia or Peru.
Read More: Portugal Edge Through Group B, But Can They Beat Uruguay?
Offensively outperformed by other big nations
Most of the other big nations have also failed to hit their stride in Russia, so the French shouldn't be panicking just yet, though it's fair to say that the likes of Spain, Brazil, Uruguay and Belgium have all shown moments of brilliance, whereas France are yet to produce a moment of quality that has warranted the other teams to sit up and take notice.
From an attacking point of view, especially in terms of shots on target and shots in the box, not to mention the most precious footballing commodity of all – goals, France have failed to match the level achieved by the likes of Brazil, Spain and Uruguay, or even the likes of England and Belgium, both of whom have played a game less as things stand.  Not only have each of these five teams scored more goals than France, but they're all averaging both more shots on target per game and more shots in the box per game.
Negative tactics could come back to bite them eventually
Scorers of just three goals, France, who managed a combined total of just 12 shots on target in three group matches, have failed to impress on route to the knockouts, but what's the reason for such lacklustre performances? On paper, France have one of most talented squads in Russia, while they're certainly not short of forward quality.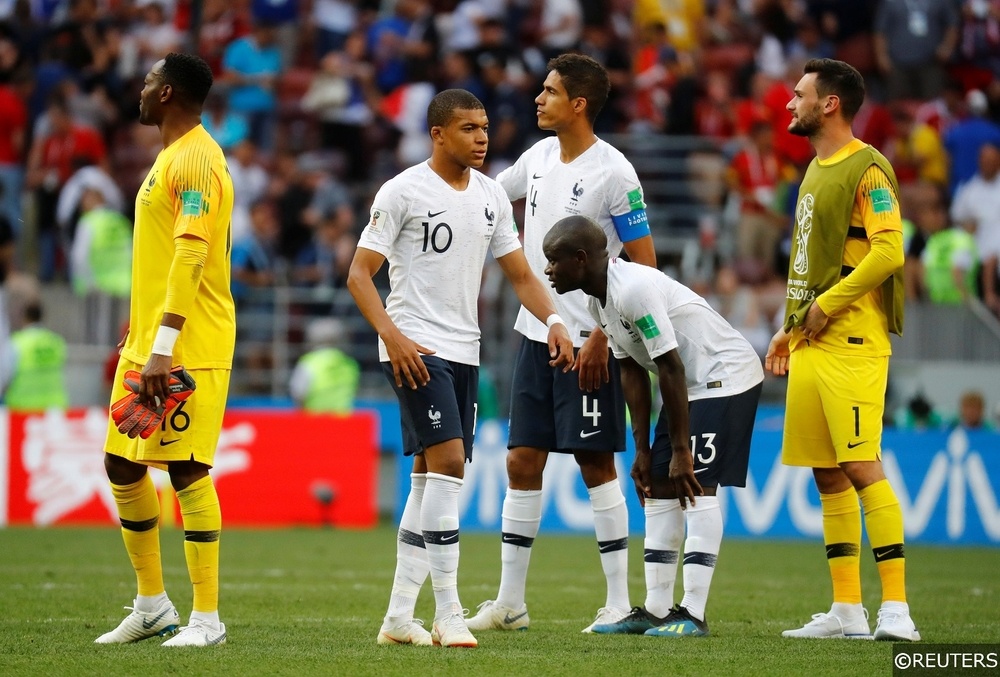 As the ones tasked with walking onto the pitch and delivering the goods, the players are largely at fault for not performing anywhere near their best, though it must be said that Didier Deschamps, or rather the tactics adopted by the French boss, has played a part. It's hard to believe a team containing players such as Antoine Griezmann, Kylian Mbappé, Thomas Lemar, Ousmane Dembéle and Nabil Fekir, all of whom scored/assisted goals on a regular basis at club level last season, can struggled to seriously threaten as they have done without being tactically instructed to do so.
From a tactical point of view, Les Bleus have been particularly negative in Russia so far. It appears that Deschamps has clearly asked his team to adopt a cautious approach, one where they're in no hurry to get the ball forward. Given the direct/explosive forward players selected by the manager, it seems strange that France have opted not to put teams under considerable pressure by advancing at pace. Instead, in all of three of their matches, Les Bleus have been content with holding the ball in the midfield and playing square without any real direction or attempt to regularly penetrate. It will be interesting to see if the tactics change when they come up against better quality opposition.
Eight years ago, France went to the World Cup in South Africa and were already back home by the time the knockout rounds got going. They finished bottom of the pile having scored just one goal to their name. This time around, Les Bleus may well have made it through without really needing to do much, though there are clear similarities between recent performances and those of eight years ago. The bottom line is, things needs to improve if the French wish to avoid exiting the competition before things really get serious.
Follow Free Super Tips on Twitter to stay up to date with our daily tips and predictions or browse more football content on our website: