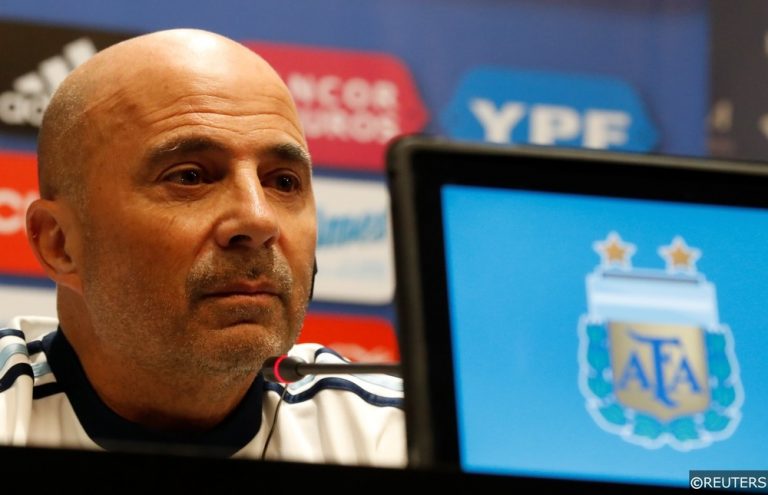 With Jorge Sampaoli having now cut his 35 man provisional squad down to just 23 ahead of the action beginning in Russia. we take an in-depth look at a potential Argentina starting line-up to provide readers with an insight of what to expect from La Albiceleste this summer.
Despite toying with the idea of a three man backline, Sampaoli settled on a four man defence in the friendlies against Italy and Spain and that's what he's expected to go into the tournament with. The Argentine manager himself has stated that his style of play is so fluid that's it hard to put an exact numerical figure on its formation but that following men could well by starters come kick off in Russia.
For more World Cup content, such as our interview with Argentina fans Ricardo and Federico, be sure to check out our betting blog!
Goalkeeper: Franco Armani
Sergio Romero's late injury has really thrown the cat amongst the pigeons as far as the starting goalkeeping berth is concerned. Romero has been the established and unquestionable number one and his withdrawal may well hand public favourite Franco Armani a chance.
Uncapped Armani, who was on the brink of taking up Colombian nationality comes into the tournament in stunning form. After 8 trophy laden years with Atletico Nacional, Armani returned to his homeland at the start of the year and his signing hias coincided with River's return to form, with his simply stunning form playing a huge role.
Armani's catlike reflexes have taken viewers' breath away and playing for one of Argentina's biggest clubs has finally given the 31 year old the platform from which to gain national recognition. Having conceded just a single goal in his last 11 outings, the Casilda born stopper is well and truly in peak form and looks ready to grab the opportunity Romero's injury had handed him with both hands.
Right back: Gabriel Mercado
Fitness permitting, Gabriel Mercado will be the starting right back and is the preferred choice of Sampaoli. Mercado faces a race against time to be fit for the opening game, after picking up a back injury in club Sevilla's derby with Real Betis but there's no doubting if available he'll be selected.
Mercado can hardly be described as a typical 'modern day full back' that loves to bomb forward, but what he does bring to the table is wealth of experience and a no nonsense approach that has him a popular figure back home. Mercado had a solid, if unspectacular campaign with Sevilla but with little competition for his place, is the first choice in this Argentina team.
Centre back: Nicolas Otamendi
Fresh from an excellent campaign with Manchester City, Nicolas Otamendi has almost re-invented himself under Pep Guardiola and is one of Argentina's leaders. Otamendi is the organiser of the back line and will be desperate to make up for having been cut from the 2014 squad with a good showing in Russia.
Otamendi has the ability to play out from the back, favouring the system Sampaoli is looking to deploy and is simply dominant aerially, in both boxes. Aggressive, powerful and now consistent, Otamendi has transformed into one of the world's top defenders over the last year and will be keen to transfer that onto the world's biggest stage.
Centre back: Federico Fazio
Despite Javier Mascherano calling the forthcoming World Cup his "last battle" which he's going to "die in", it may well be a watching brief for the former Barcelona man, with Federico Fazio arriving in by far the better form of all Sampaoli's options and looking like the boss' preferred choice.
After a failed spell at Tottenham and a short, unsuccessful return to Sevilla, Fazio's move to Roma has re-ignited his career and seen him come back into the international reckoning. Far from blessed speed wise, Fazio's presence in the Argentine back line is one of supporter's real concerns, with questions remaining as regards his ability to cope with Sampaoli's high line. As much as his season with Roma commands respect, Fazio could well prove one of the team's weakest links.
Left back: Nicolas Tagliafico
Still yet to play a competitive match for his country, Nicolas Tagliafico is one of the most inexperienced members of the squad but is likely to win the battle for left back after a fantastic personal year.
Tagliafico's key role in Independiente's Copa Sudamericana win at the end of 2017 drew plaudits and also earned the Banfield graduate a move to Dutch giants Ajax, where he's established himself as a starter. Although more capable than Mercado going forwards, Tagliafico is another defender who does exactly that primarily and consistency is certainly one of his main attributes, something that is certainly useful to bring to the table in tournament football.
Deeper Midfielder: Lucas Biglia
Far from popular in Argentina, Lucas Biglia still remains firmly in Sampaoli's plans and is an unquestionable starter in the manager's eyes. Biglia is one of the most experienced men in Argentina's ranks and will once again be sitting at the base of Argentina's midfield, having fulfilled said role successfully in the 2014 run to the final as well as throughout qualification.
Biglia is disciplined and will be key to Argentina's build-up. Whilst those around him will play in very fluid fashion, Biglia will remain central, and at times drop into the back line, looking to break opposition attacks up and initiate the transition once Argentina win possession.
Deeper Midfielder: Giovani Lo Celso
Raised a number 10, Giovani Lo Celso ability on the ball has won the heart of Sampaoli and the ex-Rosario Central man is set to form the far more adventurous half of a potential Lo Celso/Biglia pairing.
Lo Celso showed himself to be a tremendous technician during his time in Argentina with Rosario Central and has since added further strings to his bow, often starting deeper for club PSG, for whom he's become a valuable squad member of since making the leap to Europe a year and a half ago. Lo Celso is one of the brightest prospects amongst travelling Argentine ranks and his ability to unlock a defence, either from deep or more advanced areas could prove crucial, particularly in the earlier phases of the competition.
Right Winger: Cristian Pavon
Featured as the one to watch in our earlier analysis of the Argentine squad, Boca winger Cristian Pavon is amongst the world's brightest young talents and looks ready to unleash himself on its biggest stage.
Pavon brings qualities few Argentines have in recent years and for that reason, Sampaoli looks set to name him in the starting eleven. Possessing blistering pace and great ability on the ball, Pavon is equally as capable of picking the ball up from deep and running against deeper opposition defences as he is getting in behind higher back lines with penetrative runs in behind. At times erratic in the earlier days of his career, Pavon is now the star performer for a Boca side that has won the league two years in a row and will be looking to bring similar success to his national side.
Number 10: Lionel Messi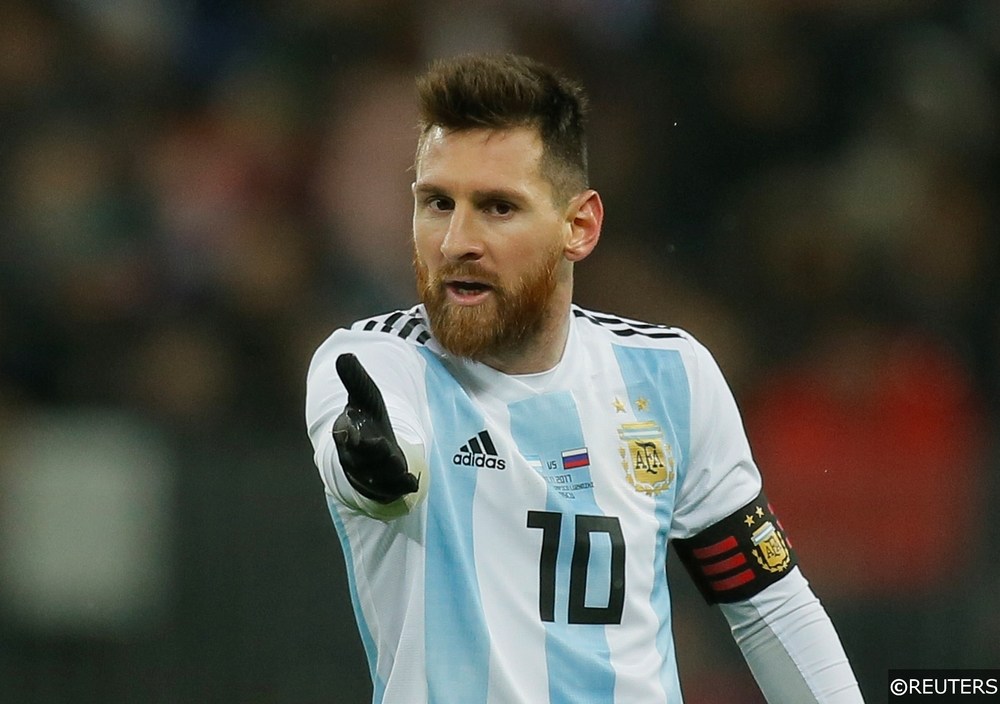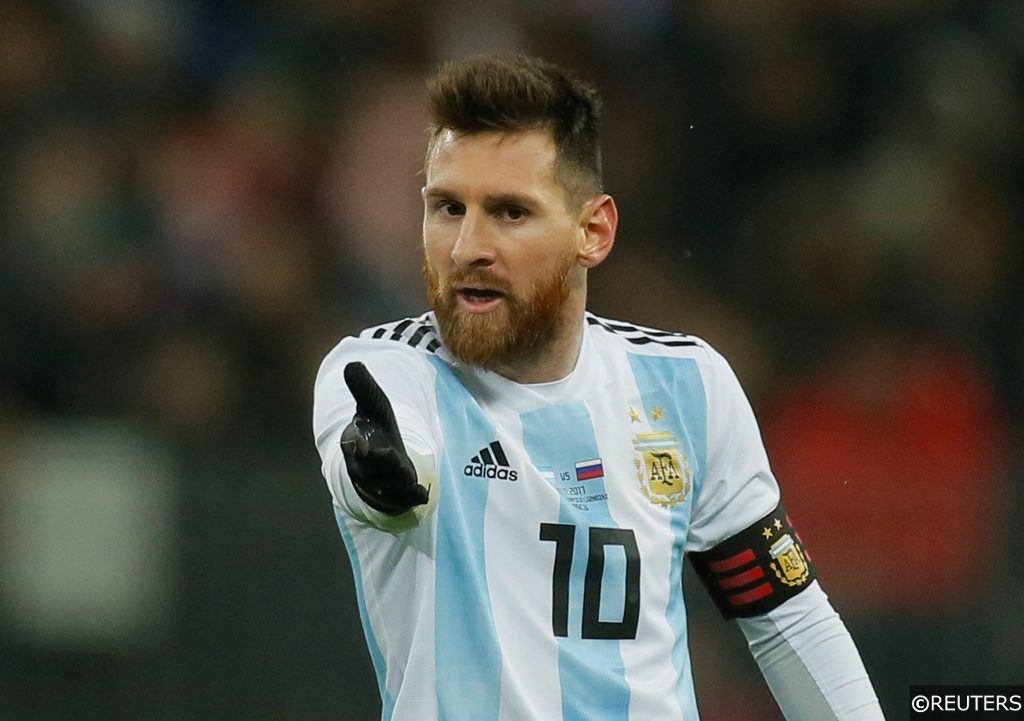 Capitan and talisman, the entire system is designed around getting the best out of Lionel Messi and allowing him to get the best out of everyone else. Messi is the heartbeat of Sampaoli's Argentina side, and the objective is to get him onto the ball as often as possible in areas in which he can so typically wreak havoc.
Messi effectively carried his limping nation over the qualification line with a stunning individual performance in the all deciding trip to Ecuador and he'll have to perform similar magic if Argentina are to claim a third world crown. Fresh off the back of 41 goal season at club level, Messi arrives at the peak of his powers and will be looking to give everything in what could be a last stab at international glory.
Left Winger: Angel Di Maria
Another one of the experienced heads in the group, Angel Di Maria will just be hoping to stay fit, having missed both a World Cup and Copa America final through injury. Whilst there are certainly plenty of competitors for Di Maria's role, the 30 year old looks likely to hold it down, having featured in every single qualifier.
After somewhat regaining his performance level with PSG, after a rough spell with Manchester United, Di Maria looks like being a key player for his country once again, as he was back in 2014 before injury cruelly struck. An undoubted beneficiary of Neymar's foot injury, Di Maria has strong momentum behind him after a sustained run of games and will be desperate to make an impact in what's likely to be his last World Cup
Striker: Sergio Aguero
A topic which has been raging on and on and on in Argentina has been who will spear the nation's attack. Despite plunging home close to a goal a game in Serie A, Mauro Icardi has been left at home and it's Manchester City hit man Sergio Aguero who looks like winning the battle of those in the travelling party.
Aguero certainly looks the best fit for the system; extremely mobile but not looking to occupy the same spaces as Messi. Aguero simply put, is a cold-blooded assassin and after coming up with the goods year after year at club level, he'll be extremely hungry to finally do the same at the World Cup, having failed to score in the competition both in 2010 and 2014.
Follow Free Super Tips on Twitter to stay up to date with our daily tips and predictions or browse more football content on our website: