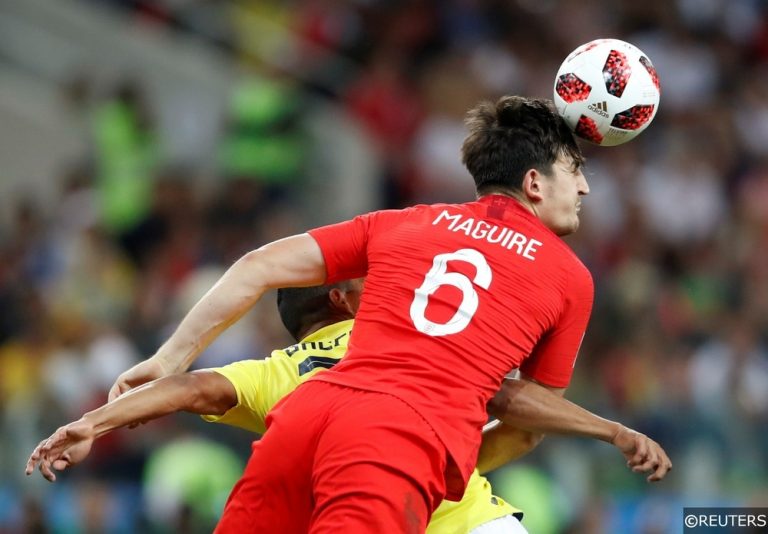 Content Editor at Free Super Tips, Alex was born in the shadow of Old Trafford and is an avid Man Utd fan. After graduating from university he combined his love of football, writing and betting to join FST and now closely follows goings-on in all of the top European leagues.
The 2018 World Cup in Russia will be remembered for a few things: The introduction and subsequent controversy of VAR, the surprising Russian hospitality, and the glut of set piece goals. The latter of these is what we're focusing on today, and it happens to be the area that Gareth Southgate will be focusing on against Croatia on Wednesday too.
Two years ago in France, Roy Hodgson made the bizarre decision to put Harry Kane on corner taking duties. Not only did that decision remove one of England's most dangerous players from the penalty area for set pieces, but it also seems inconceivable that Kane was the most accomplished crosser of a football in an England side littered with talent.
Fortunately for England fans, Southgate has reversed that decision. Instead placing England's wing back options on set piece duty and leaving a dangerous slew of height and heading ability free to terrorise the opposition penalty area. It has paid dividends, but not all of the credit should go to Southgate here.
Read More: 5 Key Battles Which Will Decide Belgium's Clash with France
Russia's Set Piece Glut
Clearly, England aren't the only team to be placing emphasis on the importance of a dead ball this year. A huge 43 percent of the goals so far in this World Cup have come from set pieces, and while a finger can be pointed at the influx of penalties thanks to VAR there have still been an unusual amount from corners and free kicks.
In fact, five of the 11 goals scores in the World Cup quarter finals came from free kick or corner situations, and five of England's 11 goals this World Cup have as well. Three more have come from penalties, and they could have won a number of additional penalties from corner kicks were it not for some dubious refereeing.
To put this level of set piece goals into perspective, the last World Cup in 2014 saw just 27 percent of goals scored from set plays. The record proportion came back in 1998, and even that was just 36 percent. It's clear that England aren't the only team focusing on dead ball situations this summer, but with eight of their 11 goals starting with a stationary football it does seem that they are the best at exploiting this facet of the game.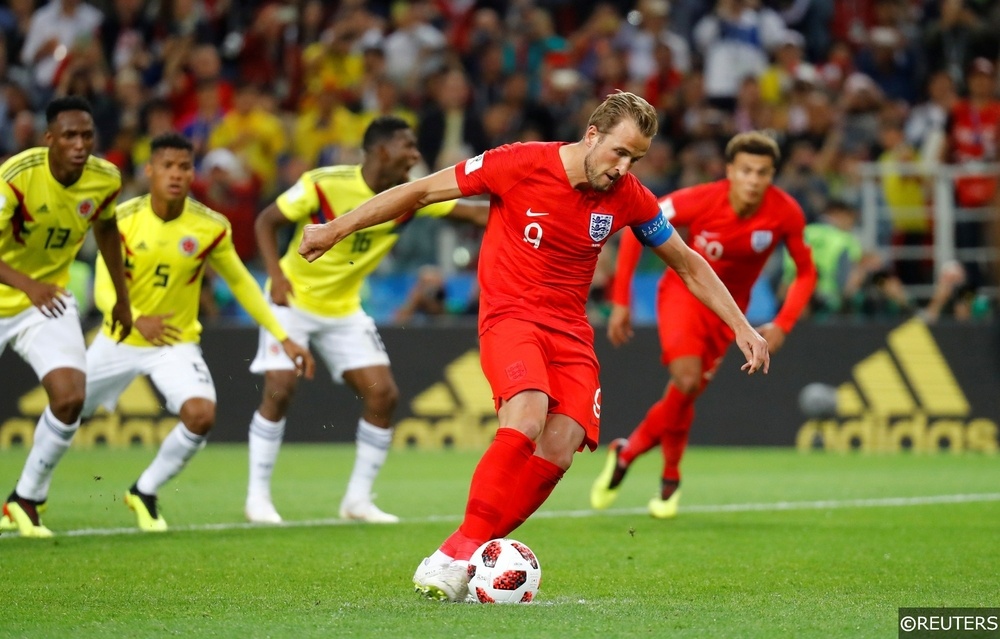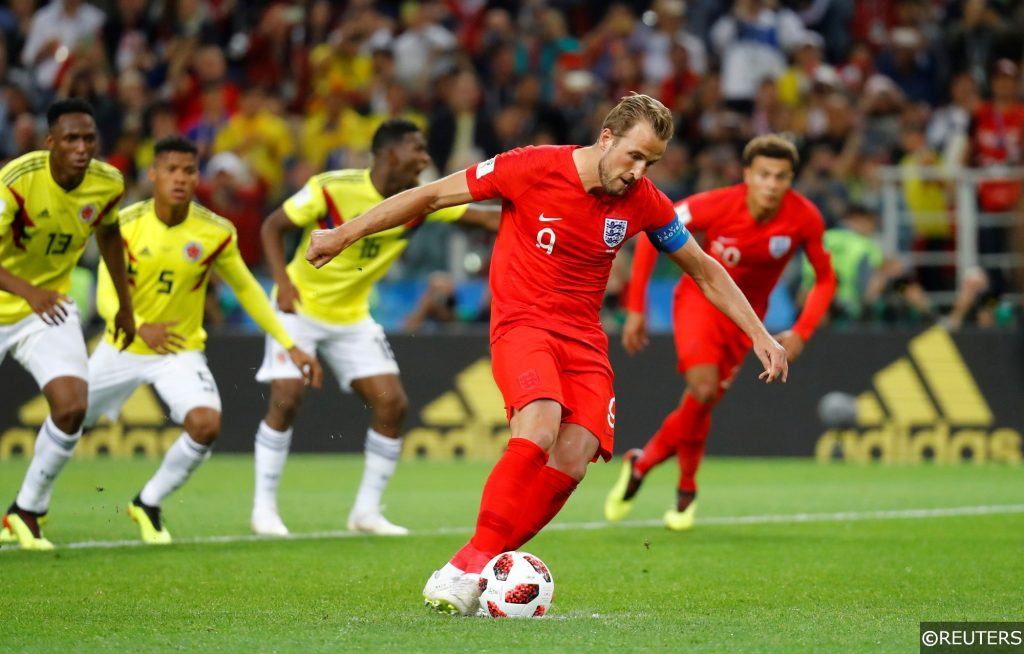 Allan Russell – England's Hidden Hero
The audible groan let out every weekend by football fans in pubs and living rooms around the country is almost inescapable. For the fifth time that match a corner feebly bounces off the first man and is cleared to safety. How hard for a player to just put the ball into a dangerous area from the corner flag?
This inability stretched to the national team as well. England arrived at the World Cup having failed to score from a corner kick in a major tournament since 2010. The previous 72 attempts had borne no fruit whatsoever, with Matthew Upson's goal against Germany in 2010 seeming like a lifetime ago.
Unsurprisingly, there was no fuss made about England's danger from set pieces coming into the World Cup. But all the markers for a promising  tactic have been there from the start. Kieran Trippier and Ashley Young are two accomplished crossers of the ball, and in John Stones, Harry Maguire, and Harry Kane they have a trio of dangerous aerial threats. Allan Russell noticed this, and the England coach took action.
Russell never played at the top of the game, spending most of his playing career travelling around the lower league clubs in Scotland and England as a striker. He ended his career in the United States at Orange County Blues, and it's there, in the state of California, that England's unlikely hero gained his inspiration.
The 37 year old noticed how much importance was placed upon set pieces in America, with the USL and MLS undoubtedly taking a lot of influence from other sports. Set play positioning is hugely important in both the NFL and the NBA, and it's something that is slowly being realised by the footballing world.
Russell has spent the last year working on this with England, coaching the attacking players in every little detail. Both Ruben Loftus-Cheek and Harry Kane have been quick to praise the work the England coaching staff have done, focusing their attention on seemingly minute details that could potentially provide an edge at the highest level.
He coaches the players on all the positioning, each run, and the legal blocks the players can employ to give their teammates that extra yard of space. Not only that, but he drills down into the opposition's performances and tells the players exactly where they can exploit a weakness. England captain Harry Kane says:
"Allan does finishing sessions with us, tells us about opposition defenders, goalkeepers, and tells us maybe where we can exploit a weakness. We are all top players so he is not running through technique or telling us how to strike a ball. It's just little stuff to maybe give us an edge."
Read More: Belgium on the Brink of Glory After Martinez' Surprise
Southgate's American Influence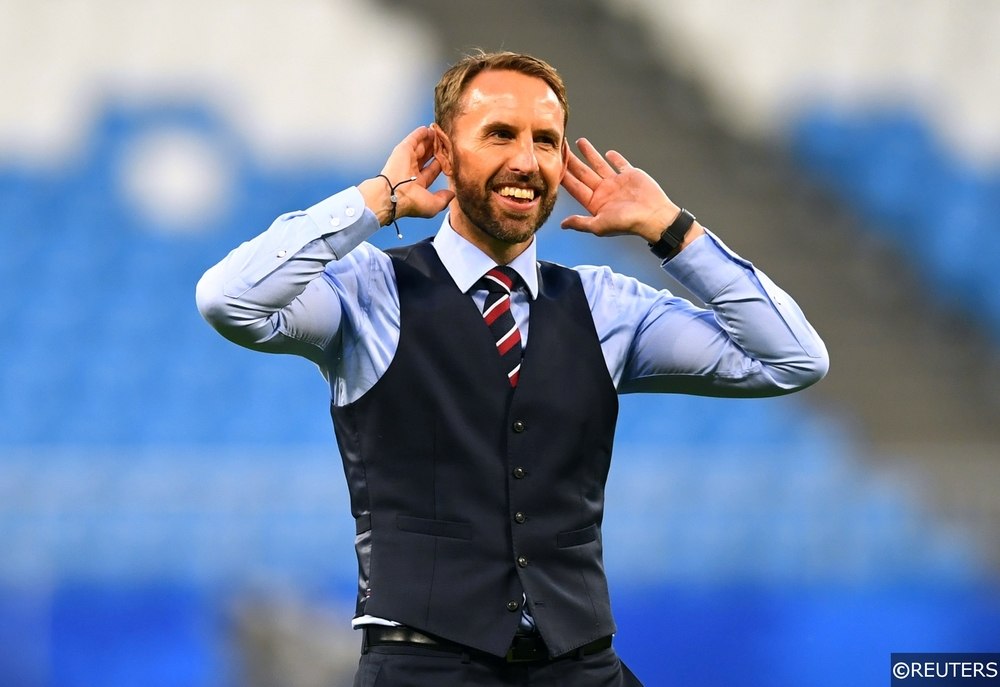 Allan Russell's appointment didn't happen by accident last year. Gareth Southgate, ever since taking over as the manager of the Three Lions, has been meticulous in his research. This has taken him across the pond on numerous occasions as he looks to divulge the secrets of some of America's most popular sports.
Anybody watching the Super Bowl this year will have noticed the presence of Southgate. He didn't give too much away in his brief appearance with the UK television crew, but he heaped praise on the coaching staff and stated that he was hoping to learn something from them. This wasn't just an idle threat either, and his focus on the sports on the other side of the Atlantic didn't happen by accident.
Southgate noticed that a slightly higher proportion of goals at the 2014 Wrold Cup finals came from corner kicks, and from further research came to the conclusion that set pieces are even more important in tournament format football as teams become more and more defensive as they look to extend their stay.
Football, for better or for worse, regularly lags behind other sports in terms of advancement. Quantitative performance measurement of players arrived at the NFL far sooner than the Premier League, and their approach to the serious issue of concussion and head injuries is still a long way off the likes of American football and rugby. It turns out that football is a long way off in other areas too.
Southgate not only attended the last two Super Bowls, but also visited the Seattle Seahawks and has spent time with set-play NFL analysts and NBA coaches in order to advance his own coaching of England. Obviously set plays in the NFL and NBA are different in many ways to football, but the approach to positioning is surprisingly similar. It's all about creating that extra half-yard of space in tight areas, timing your runs and trying to legally block off opponents to help teammates create even more space.
This approach from Southgate and his willingness to travel from the norm has reaped dividends. Him, Russell, and Steve Holland all know the importance of these situations and have exploited it, none more so than their excellently worked routine for John Stones' second goal against Panama.
It was a sensational free kick setup, with Jordan Henderson's short dash disarming the Panama defence instantly, leaving Harry Kane free to wriggle away at the back post and nudge it across the six yard box. Raheem Sterling was left completely unmarked by this point, and while his failure to convert did add a touch of rust to the well worked routine the conversion form Stones on the rebound was no less than they deserved.
Can This Lead to Victory Over Croatia?
Luka Modric has already come out in the media to acknowledge the danger posed by England's set pieces. Southgate knows that Croatia will be working hard on trying to nullify England's most potent threat, but whether they can pull it off is another matter entirely.
Read More: Croatia vs England Predictions, Betting Tips and Match Preview
Croatia have conceded four times in this World Cup, and two of those came directly from set pieces. Mario Fernandes was unforgivably left completely unmarked in the centre of the penalty area as Russia equalised in the quarter finals, and in the last 16 they were undone by a simple long throw-in against Denmark that seemed to wreak an incomprehensible amount of panic in the Croatia penalty area.
They will be working hard to try and plug these potentially tournament ending leaks, but whether they can do that in such a short space of time is another question entirely. Especially considering how tired the legs in the Croatia camp will be after two consecutive penalty shootouts.
Follow Free Super Tips on Twitter to stay up to date with our daily tips and predictions or browse more football content on our website: