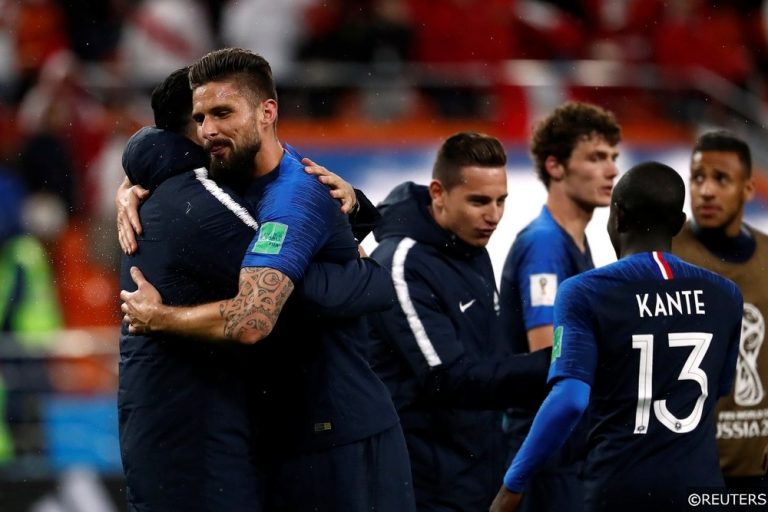 Two games, two wins, qualified for the knockouts before their final game; on the face of it, things are going swimmingly for Les Bleus in Russia, though if we dig a little deeper, all is not as well as it seems on the surface. They may have won two on the bounce, but from a performance point of view, France have been very disappointing, especially in the final third.
With a squad that is both full of big-name players and brimming with forward talent, France were expected by many to set the World Cup alight, though it appears that Didier Deschamps' men forgot to pack the matches when they boarded the plane in Paris. Unconvincing, laboured, lacklustre and lacking in real quality are all adequate descriptions of Les Bleus' performances in Russia so far. Although they've come through unscathed, the signs don't exactly look good for a side that has struggled to build any sort of momentum.
Before the tournament kicked off, there was a lot of buzz around the current France squad. On paper, Didier Deschamps has a wealth of forward quality at his disposal, though it's not really playing out that way on the pitch. Two games in and the pressure is on the current Les Bleus crop, who've already been harshly criticised by the media back home. Results are of course the most important thing – in the grand scheme of things, it doesn't really matter who you get there, look at Portugal in the 2016 European Championship – but fans and the media alike clearly sense that the end of the road will come before the July 15th for France unless they up their game.
Read More: Portugal Reveal Weaknesses in Win Over Morocco
Results paper over the cracks
The French have recorded maximum points in Group C, so you could easily say "well, what's the problem?", though had they failed to win each of their first two matches, it would have been very difficult to label them as unlucky, such has been the level of Les Bleus' performances.
In their opening match against the Aussies, the French failed to get a grip of the game from pretty much the word go. They were, at times, sloppy in possession, lacked a cutting edge in the final third, while they failed to utilise their pace in the wide areas. But for a penalty and a hugely lucky second goal, which just about made it over the line courtesy of a hefty deflection, France would've failed to score. Disappointingly, France's front three managed a measly four shots on target between them on match-day one.
Much of the same can be said for Les Bleus' second match against Peru. In Yekaterinburg, Deschamps' side failed to get control of the game, failed to dominate possession, while a lack of threatening play was once again evident throughout. As was the case against Australia, the forwards were irregularly served. On this occasion, the front three managed just three shots on target between them.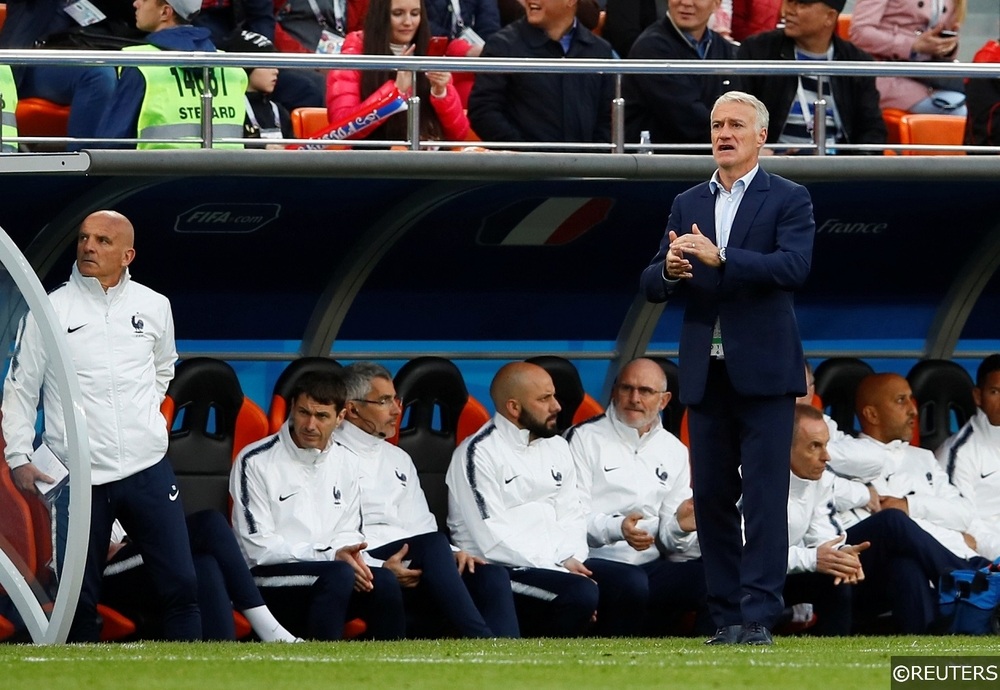 France's second game can be summarised by saying that they managed to score, somewhat fortuitously, from their only real opportunity, while Peru missed the biggest chance that came their way. The South Americans also hit the woodwork. Skin-of-the-teeth-victories are fine during the groups, but if improvement isn't found, Les Bleus' journey in Russia could come to an abrupt end.
Unable to pick the lock
The successful France teams of the past have all had physical, defensive and forward quality, but what they've also had is creativity and imagination in midfield. The legendary Michel Platini provided it during the 70's and 80's, while imaginative playmaker Zinedine Zidane made things happen for the all-conquering Les Bleus' side of 1998/2000. Since then, the French have lacked a real creator-in-chief, a player who can pull the strings and pick the lock. Have they got one now? Their first two performances in Russia would suggest not.
The fact that the industrious and defensively excellent N'Golo Kanté has been Les Bleus' best player at the tournament so far says it all. As good as it is to watch the defensive midfielder, who seemingly has unlimited stamina, scurry about the pitch putting out fires left, right and centre, the French fans would almost certainly rather see their team bossing games with the ball and doing far more in the final third.
Three goals in two matches isn't the worst return in the world, though from a creativity point of view, the French have offered very little. In fact, it wouldn't be an overstatement to say that they're yet to create a real gilt-edged opportunity. Their first goal against Australia came from the spot, their second on that occasion came via a massively fortuitous deflection, while Les Bleus' goal against Peru was nothing more than a goal-line tap-in after another rather fortunate (or unfortunate from a Peruvian point of view) fell right at the feet of a grateful Kylian Mbappé no more than two yards from the open net.
After Argentina vs Croatia reached spilled over in terms of discipline recently, we take a look back at the Dirtiest Matches in World Cup History.
If a team is creating opportunities or at least playing with an attacking intensity that looks as though it will yield chances sooner or later, then they can be forgiven for not scoring many goals in the short run. However, France have scored few goals and have created even fewer opportunities.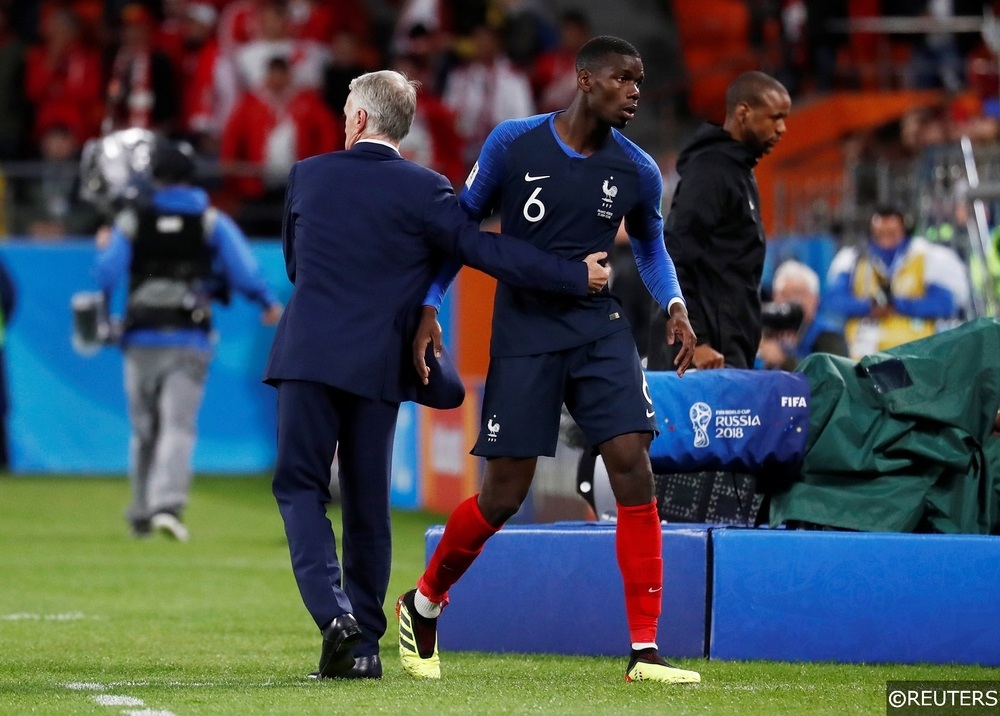 N'Golo Kanté is the engine room in the middle, the defensive cog in an otherwise top-heavy attacking machine, though the two players either side have failed to do their job going forward. Against Peru, neither Paul Pogba nor Blaise Matuidi managed to fashion any real opportunities for the forwards, while both failed to advance the ball with haste. Instead, both played the ball somewhat lazily – Pogba was especially slow to move the ball on, choosing mainly to keep possession at his feet before ultimately going nowhere as opposed to moving the ball fluidly and getting his team on the front foot – and often gave possession away cheaply.
They may have some very useful forward players in their ranks, but France will continue to struggle in the final third unless they find a way to forge goal-scoring opportunities on a regular basis.
No Intensity, dominance or attacking cohesion
Creating clear-cut, gilt-edged goal-scoring opportunities has been one of France's biggest problems in Russia so far, though their performance against Peru was poor for other reasons too. By no means did they control the game against Australia, but Deschamps' men failed to dominate massively against the Peruvians. Peru are a better side than their Group C position suggests, but that certainly doesn't excuse either the 43% share of possession that France had in Yekaterinburg or the fact that they rarely enjoyed a spell of sustained pressure with the ball. A team with an attack of Griezmann, Giroud and Mbappe should be managing more than just four shots on target, none of which troubled Peruvian keeper Pedro Gallese.
In possession France failed to move the ball quickly, rarely mustered a meaningful attack, especially after half-time, while they also found it very hard to link up fluidly in the final third. Realistically, a more polished team than Peru would've made France pay for what was an ultimately a sloppy performance.
Key players not seeing enough of the ball
During the first half of their 1-0 win over Peru, teenager Kylian Mbappé, who became the youngest player to ever score for France at a major tournament when he tapped home from a deflected Olivier Giroud shot, was one of the few bright sparks for France, though the France midfield failed to get the explosive forward in the game on a regular basis. Much of the same can be said for the talismanic Antoine Griezmann, who for the most part has cut a frustrated figure in Russia so far.
It's one thing having two supremely talented forward such as Griezmann and Mbappé, both of whom have the quality to turn a game on its head, though if regular service is not provided, they become largely ineffective, as we've witnessed over the last week or so.
It remains early days and things may yet improve, but if the French don't come up with answer to their blatantly obvious problems, then the wait for a first victory in a major tournament away from home will go on.
Follow Free Super Tips on Twitter to stay up to date with our daily tips and predictions or browse more football content on our website: