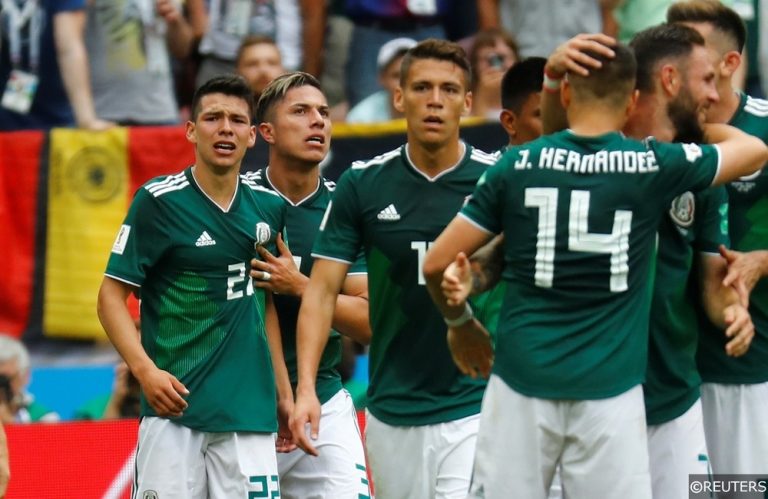 Sunday's World Cup action saw Mexico pick up one of, if not, the biggest win in their footballing history, seeing off reigning champions Germany by a 1-0 margin. El Tri put in one of the greatest performances in recent World Cup memory and in the following article we look at just how they manage to pull such a victory off against a German side that hammered them just a year ago at the Confederations Cup.
Be sure to check out our previews of every single World Cup match!
Pressing on Kroos:
Mexico pressed Germany's technician very aggressively throughout the match, and this was key to their victory. Toni Kroos, normally key to Germany's build-up was never afforded time to settle on the ball, with Miguel Layun, typically a left sided player, starting on the right side of midfield as an interior, to come inside and ensure Germany's number 8 was suffocated throughout.
This particular pressing strategy made it difficult for Germany to play out from the back with any efficiency and explained why we saw numerous uncharacteristic long balls hit forward by the Germans, in the first half in particular. The Mexicans controlled Kroos like few have done before and did not allow him to have his usual controlling impact on the game.
Hector Herrera:
We marked Herrera down as Mexico's key man in our preview of their squad; and he certainly live up to said billing in the match. The Porto man had an incredible game and his control over Kroos with Layun, and the midfield in general, was highly impressive and imperative to the win.
Defensively, Herrera won the ball time and time again, be it via an interception or a tackle, whilst on the ball he showed excellent quality, both in his dribbling and positive passing. Herrera's physical attributes allowed Mexico to execute their game-plan to perfection and his showing was as impressive as they come on the big stage and was largely the reason Germany's big names were so quiet throughout.
Quick Transition: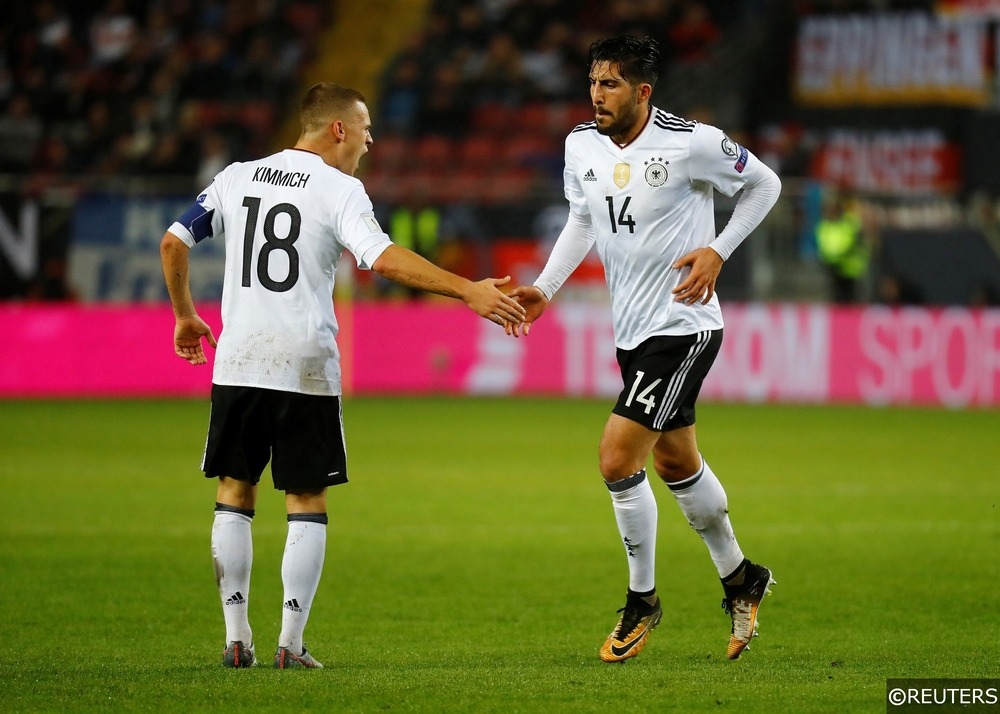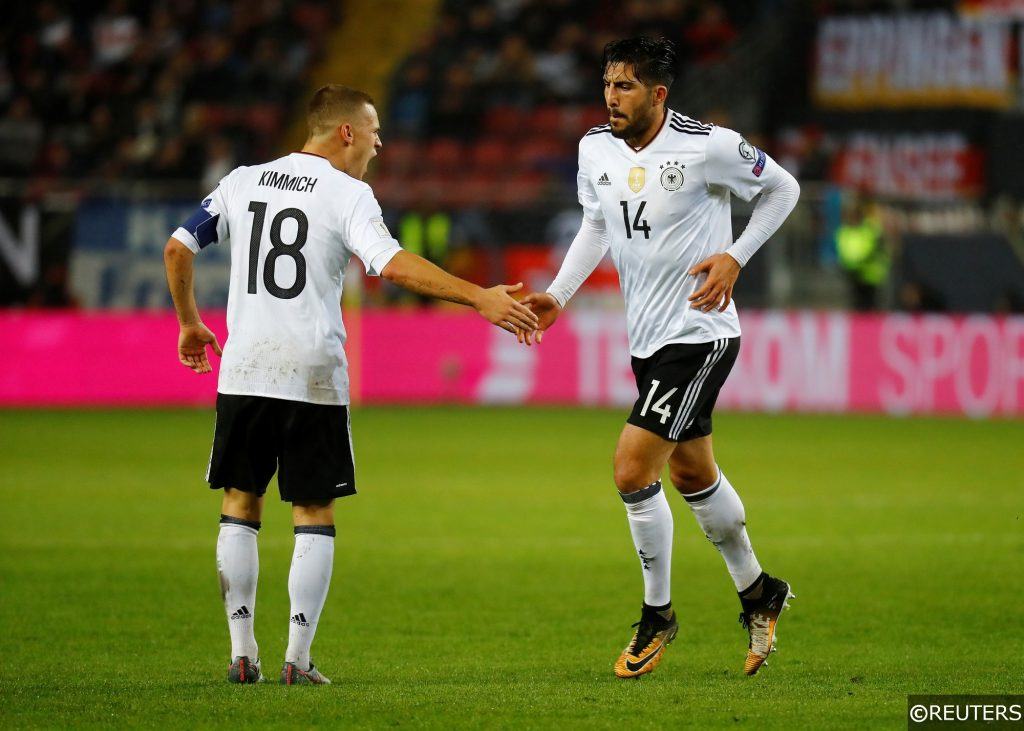 Mexico's transition to attack was simply too quick for the Germans to deal with. Osorio's men turned the ball over at frightening speed and with superb quality, with their approach up until the final phase almost always perfect.
Germany's slow midfield struggled throughout in its defensive transition and was caught out constantly by the speed of the Mexican counter. Right back Kimmich was the man caught out the most often though and Mexico clearly targeted him from the off, looking to work the ball wide to Lozano as often as possible, in order to utilise his speed in spaces vacated.
The goal was the perfect example of this strategy, with Kimmich nowhere to be seen as Lozano surged through and slammed home an excellent goal, capping off a brilliant performance from the man we tipped as the one to watch in Mexican ranks.
Strong Late Defending:
After their high intensity output to establish their advantage, Mexico saw the win out excellently by deploying a well organised deep block. Germany dominated possession in the closing minutes but struggled to find a way through Mexico's well organised defensive unit.
Try as they might, Germany just couldn't manipulate Mexico's set-up out of shape and were limited to efforts from range and balls pumped into the box, which El Tri defended manfully until the full time whistle.
Guillermo Ochoa: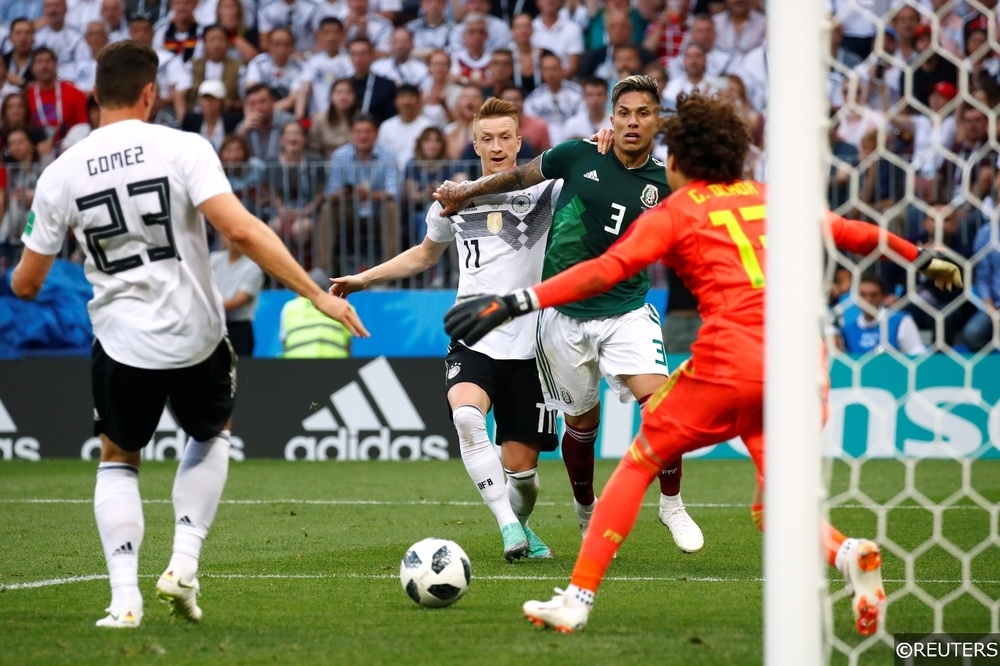 As much as Mexico were clearly the better side, they still had to call upon their goalkeeper on numerous occasions and he did not let them down. Germany didn't find it easy to create openings and when they did, Ochoa was in simply inspired form to ensure they never looked like scoring.
Ochoa made several impressive saves and his one to turn a free-kick onto the bar in the first half surely has to go down as one of the finest in the competition so far. With 9 saves made, Ochoa was just as key to Mexico's win as those in outfield positions.
Juan Carlos Osorio:
Every aspect of Osorio's game-plan worked perfectly and the match will go down as the Colombian's finest hour. As good as Mexico's individual performances were, without the strategies their manager came up with, they would not have had the platform on which to go and perform as they did.
To press as aggressively as Mexico did in the first half was an extremely bold move from Osorio that showed real bravery considering the opponent he was facing, but the established press triggers were hugely effective and made it very hard for Germany to gain a foothold in the game.
Osorio's fielding of Layun was simply a masterstroke and is something few could have seen coming prior to the game. His approach to the attack was also perfect given how dangerous Mexico were on the break, and with a bit more composure from those looking to carry it out, would have seen the side win by a far bigger margin.
Osorio set out the original plan and altered it at the right time with each of his subs, managing the game excellently. Mexico's strategy grew progressively more defensive in the second half and he introduced defensive re-reinforcements at well timed intervals, key to seeing the win out.
Overall Conclusion:
Make no mistake, this was no fluke result and Mexico were better than Germany in every phase of play from start to finish. They looked the more dangerous side throughout, were comfortable defensively and completely took Germany's key players out of the game.
Man for man, each individual Mexican performance was outstanding and the discipline and concentration required to execute such a well rounded performance illustrates the magnitude of what Mexico managed to achieve; complete domination of the world champions.
Not fancied coming into the competition, and desperate to break the curse that has seen them crash out of the World Cup at the last 16 stage in each of the last 6 editions, Mexico today showed they have the tools to not just go toe to toe with the world's elite, but to better them and if they can repeat what they produced in this famous win, this will be far from the last wave they make on Russian soil.
Follow Free Super Tips on Twitter to stay up to date with our daily tips and predictions or browse more football content on our website: