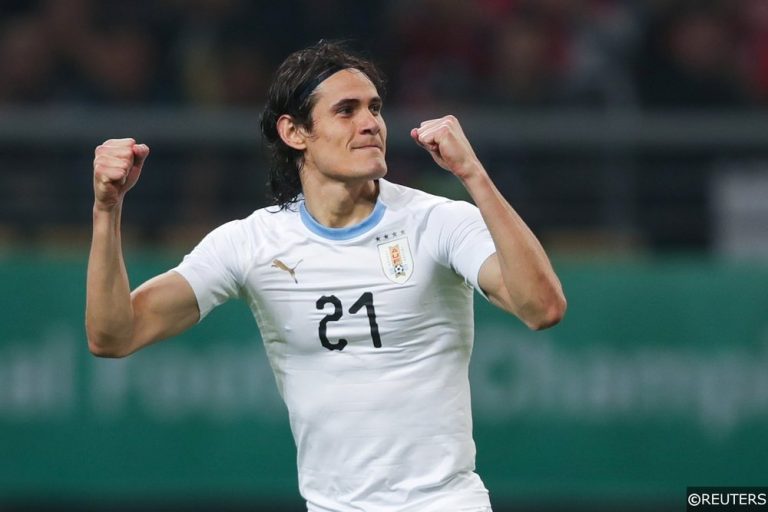 Tipped as one of the dark horses coming into the World Cup, it's fair to say Uruguay were far from impressive against a Mohamed Salah-less Egypt in Ekaterinburg. Though they collected the all important three points via a Jose Gimenez goal at the death, La Celeste's performance was significantly sub-par with several weaknesses that will surely be exposed up against stronger outfits if not eradicated swiftly.
Be sure to check out our previews of every single World Cup match!
The Issues:
Giorgian de Arrascaeta and Nahitan Nandez: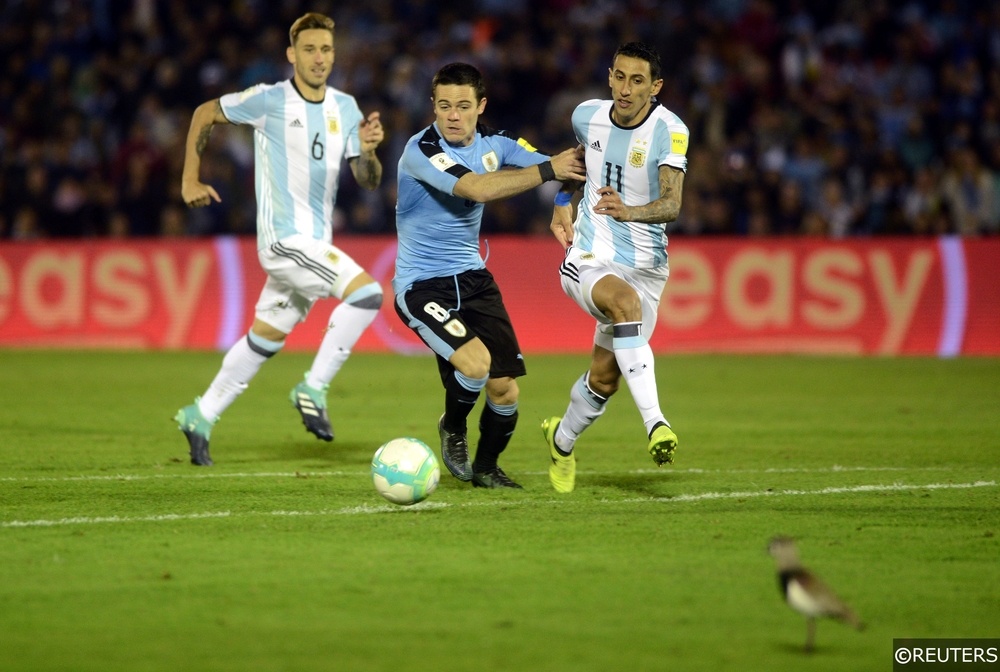 The decision to play Nandez, typically a combative central midfielder and de Arrascaeta, typically a 10, out wide simply did not function. In previous matches, Oscar Tabarez has fielded Nandez within a deeper three-man combination, with de Arrascaeta in behind Suarez and Cavani, a strategy that has provided far stronger performances than what the side produced against the Egyptians.
Both men looked extremely uncomfortable starting out wide and more used to playing in central areas, Egypt were able to funnel all of Uruguay's play into central areas, where they looked more than comfortable in containing them given the sheer numbers they put behind the ball.
With neither full back looking to really bomb on, Uruguay's play lacked width and this made it very difficult for them to break down Egypt's block. The lack of a 10 also created a complete void between the midfield and Suarez and Cavani, leaving huge gaps between the two units and a lack of options for a penetrating pass.
Matias Vecino and Rodrigo Bentancur:
Heralded as one of the strongest midfield groups coming into the tournament, neither of the central pairing of Matias Vecino or Rodrigo Bentancur came away from the match covered in glory.
Vecino tried more adventurous passes in order to open the game up, but they rarely came off whereas Bentancur, who did perform the better of the two, rarely broke any lines in his passing or dribbling, despite seeing huge amounts of the ball.
Of course the two men were not helped by the lack of fluidity and someone looking to move in behind Egypt's midfield screen, but their performances were simply not good enough and they were the main reason the game was played at such a slow, mundane tempo.
Luis Suarez: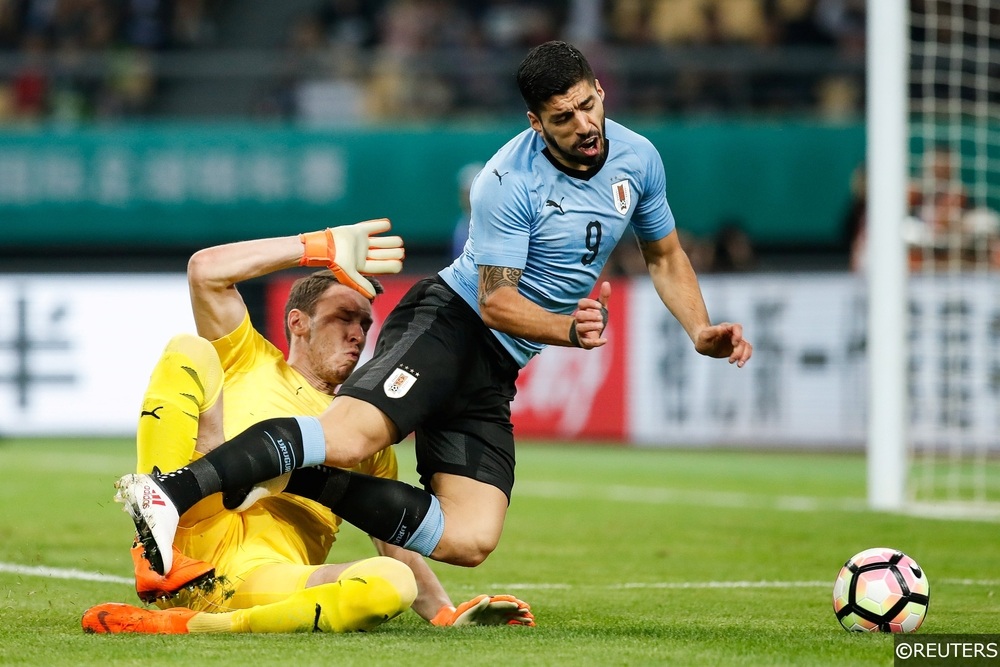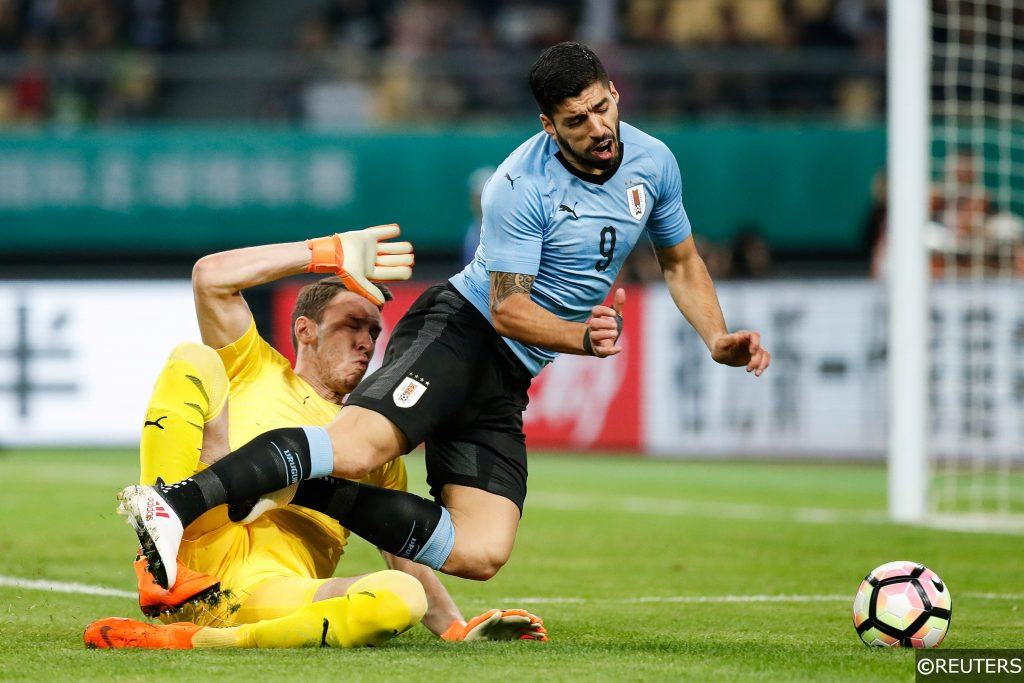 Suarez had a simply awful game and nothing he attempted came off. He's looked slightly on the decline at club level recently and that certainly showed in this fixture and  he could have had no qualms should he have been hooked.
His typical high work-rate was there but at times he pressed the ball without any obvious trigger, leaving him frustrated after running so much without reward. On the ball he was even worse, giving the ball away time after time, surprisingly being let down by his first touch on numerous occasions.
After being slipped in on goal by Cavani in the second half, Suarez's hesitancy in a situation you'd have put your house on him scoring a couple of years ago summed up his afternoon and it was certainly one to forget for him.
Low Tempo:
Uruguay played with an incredibly slow tempo throughout the match and rarely showed any urgency on the ball. Play was unimaginative, lacking penetration and overall helped create what will surely go down as one of the most turgid watches of this year's World Cup.
Diego Godin at times showed the drive those in front of him failed to and played a couple of positive forward passes after surges out of the backline, but he was alone in that aspect with the rest of the team failing miserably to show any sort of creativity.
Oscar Tabarez:
Tabarez himself is far from free from criticism and leaving it until the 87th minute to bring on Lucas Torreira simply defies all logic. Torreira is a man who possesses all of the traits Uruguay were lacking and could have helped unlock the stubborn Egypt set-up.
With Vecino and Bentancur providing little inspiration, quite how Torreira found himself on the bench for so long is a mystery and he'll surely be in with a shout of starting the next match should Tabarez show some bravery.
Bravery would also have been needed from the boss to take off Luis Suarez and whilst you can understand why he was left on the pitch given what he can bring to the table, substitutes Maxi Gomez and Cristhian Stuani plunged home a staggering 38 La Liga goals between themselves over the last season and surely would have been worth a run-out to end Suarez's torrid afternoon.
Overall Conclusion:
https://www.youtube.com/watch?v=bG32axfbzPw
If Uruguay are to make any waves in the competition they simply have to improve greatly on what they produced in the opener. Though they had more of the ball, they were very fortunate to find a winner and looked like they would go on to drop points.
Not pressed aggressively by Egypt, this was a chance for those selected to demonstrate their heralded respective technical ability and was something they simply did not do. Against better opponents when more pressure is applied, Uruguay are going to have to show more quality on the ball and find positive passes with more regularity.
Starting De Arrascaeta and Nandez out wide cannot be repeated and is a strategy that should be scrapped immediately. Both players have undoubted quality but squeezing them into the team in said manner just doesn't work and is to the detriment of the players themselves and the team overall.
Whilst Uruguay will likely face a more aggressive Russia, Saudi Arabia will deploy a similar game plan to Egypt's in the concluding match and the Uruguayans will surely have learnt lessons from their lucky escape as regards how to approach that one.
Overall, far more bravery is needed both on the pitch and in the dug-out and a player of Torreira's profile should not be consigned to tiny cameos if those ahead of him in the line-up are not functioning correctly.
Uruguay got away with one in the clash and whilst there's certainly still potential in the group and little damage done given the result, there's plenty for the camp to think about when they sit down and analyse the match; as stronger nations packing more of an attacking punch would surely have taken advantage of their showing today.
Follow Free Super Tips on Twitter to stay up to date with our daily tips and predictions or browse more football content on our website: