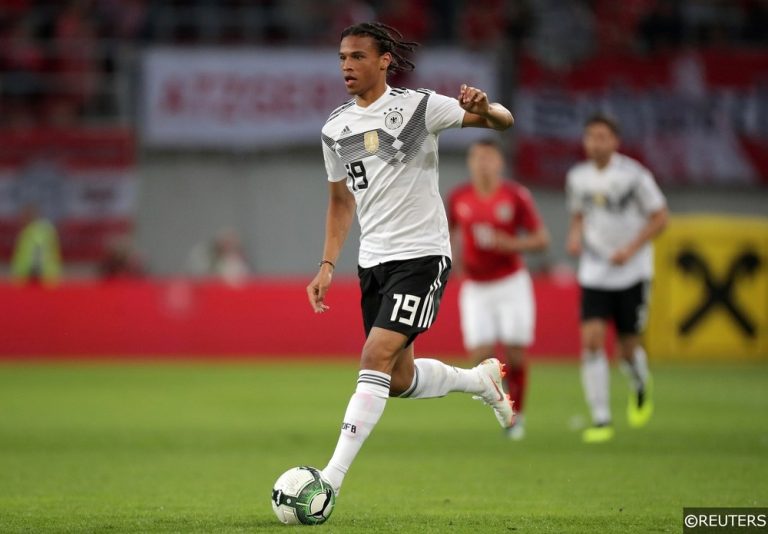 A lifelong Birmingham City fan, Tom relocated to Germany for five years after graduating from university, where his interest in the Bundesliga developed. He began writing about and betting on German football for FST in 2016. He's also an avid fantasy football player and closely follows the Premier League and European competitions.
Germany's Football Association (DFB) confirmed on Monday that Manchester City winger Leroy Sané will NOT be in Germany's final 23-man World Cup squad. He was one of four players not to make the cut from Joachim Löw's 27-man squad, with goalkeeper Bernd Leno (Bayer Leverkusen), center back Jonathan Tah (Bayer Leverkusen) and striker Nils Petersen (Freiburg) also missing out.
Sane, 22, was involved in 33 goals last season, which is more than any other German player across Europe's top-five leagues. He also won the PFA Young Player of the Year award for his contributions to Manchester City's Premier League title win. His axing therefore comes at a surprise to most, with Julian Brandt, who just tallied just nine goals and three assists on the way to a 5th place finish with Bayer Leverkusen in the Bundesliga finish, having been given the nod over him.
So, why did Germany boss Joachim Löw choose not to take Manchester City's prodigal winger to the World Cup? Free Super Tips analyses the potential reasons for the Premier League star being left at home.
Read More: Germany Name 2018 World Cup Squad
Performances at the International Level
12 Appearances – 0 Goals – 1 Assist
Leroy Sané made his first international appearance in a friendly against France in 2015, playing the last 30 minutes of a 2-0 defeat that was overshadowed by explosions outside the stadium. Following a successful season at Schalke 04, he was then selected to represent the country at EURO 2016, where he featured in just one match, replacing Bastian Schweinsteiger in the 79th minute of another 2–0 defeat to France (semi-final round). Suffice to say, Sané didn't exactly burst onto the international scene.
He then went on to miss last summer's Confederations Cup win after undergoing nose surgery that was deemed as "unnecessary" by coaching staff – something that was perhaps seen as a lack of commitment by national team coach Joachim Löw. Midfield counterparts Julian Draxler and Julian Brandt both played crucial roles in that tournament, not only building a repertoire representing Germany in a competitive setting, but also building an understanding relationship with coach Löw.
Having now made 12 appearances for the German national team, it's hard to say that Sané has not been given a fair chance to prove himself either. He's started in four of their last six internationals and his lack of goals and overall performances have been disappointing, particularly in the games with Spain, Brazil and, most recently, Austria. Shown in the video above, Sané was largely uninspiring in their first pre-World Cup friendly, once again due to his struggle to adapt to Germany's style of play.
Read More: Can Germany win back-to-back World Cups?
Role in Germany's Formation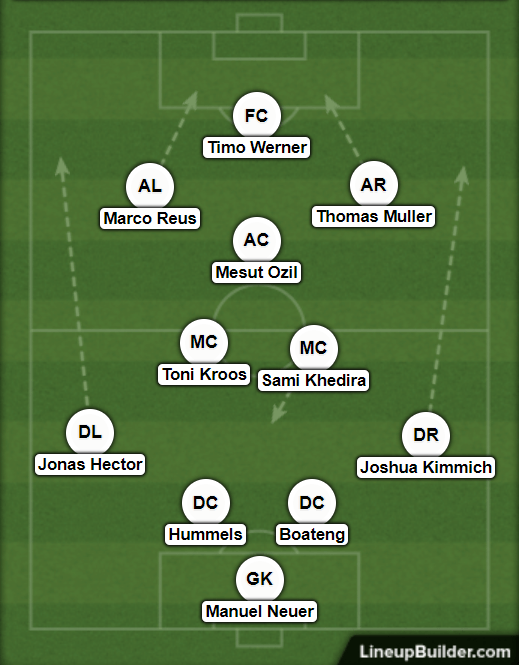 Noone can deny the fact that Leroy Sané had an excellent season at Manchester City or that he's arguably the hottest winger in the world right now. He's been getting better and better with each match and is developing an acute tactical understanding to a skill-set that already included electrifying dribbles and breath-taking goals. Sané is capable of changing a game in an instant and his pace makes him very difficult to stop when he gets going.
In Germany, however, the reaction has been a little more measured. While Sané has become a key tool in Guardiola's artillery, he has struggled to fit into Löw's system, often looking uncomfortable when asked to play a much different role for his country. Though Sané plays on the left of the attack in both teams, for City he hugs the touchline, while he is asked to play a less direct, more central orientated role, which includes some defensive duties, for Germany – Löw doesn't use wingers in the classic sense of the word.
Sane's duties with Germany are actually comparable to something like what David Silva provides for Manchester City. Löw needs his left (Reus) and right (Muller) forwards either side of the central striker – Werner, who is about as direct a forward as they come – to be more comfortable with their backs to the goal, more likely to start an attacking play than finish one. Germany's left back (Hector) and right back (Kimmich) will be providing plenty of overlap from the back and be responsible for most of the wing play.
Read More: Germany's Potential Starting XI at the 2018 World Cup
Lack of Versatility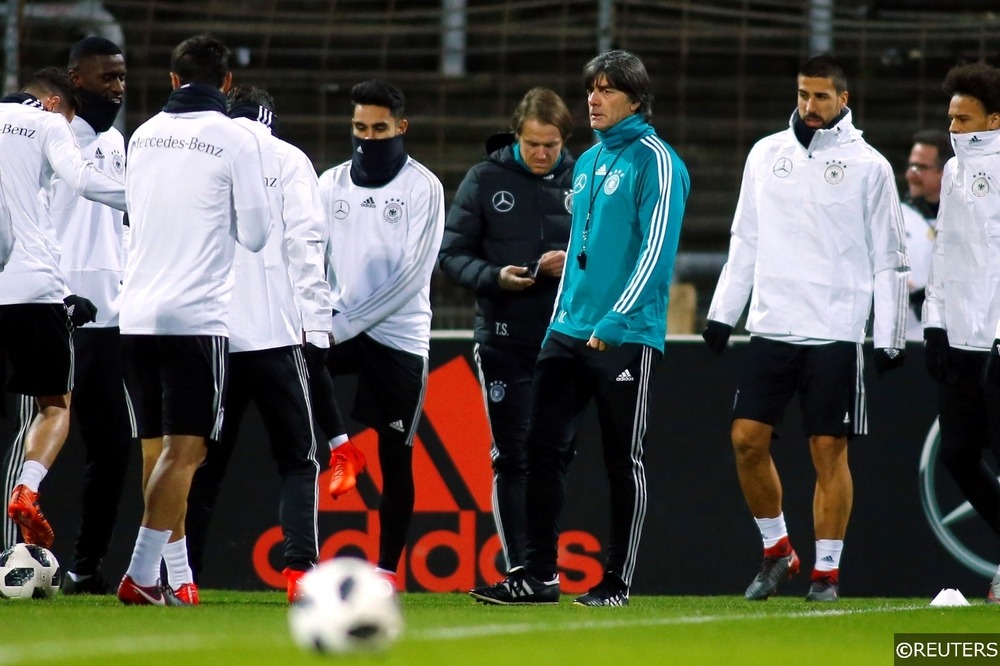 Nobody is invincible, and Sané had his ups and downs for City last season – in fact, his lows were arguably as spectacular as his highs were. However, for "die Mannschaft", it looks like he has simply had too many lows to be considered a viable option for a major tournament like the World Cup. It was always going to be a tight race between him and Julian Brandt in who would make Germany's 2018 squad – both having comparable qualities, especially in one-on-one duels – but Sané may not be to blame.
Germany could reasonably have left behind a player like Borussia Mönchengladbach's Matthias Ginter instead, with Germany already having Boateng, Hummels, Süle, Rüdiger and Rudy capable of playing in the center back role. As he didn't, it seems, therefore, more likely that Löw simply wanted to take a different kind of player to the tournament, especially with the weight of expectation on a major nation like Germany – he just loves a versatile player!
Germany's squad is peppered with players that are capable of playing in more than one position where necessary. Sebastian Rudy (CM or RB), Matthias Ginter (CB or CDM) Kimmich (RB or CM), Boateng (CB or RB) or even Thomas Müller (ST, RM or CF) have played in a variety of roles for club and country over recent years. Sané, meanwhile, is a through and through winger – a class one at that – but not much else.
Find out more about Julian Brandt, Niklas Süle and Joshua Kimmich in our article about Germany's Rising Stars
Not "German" Enough?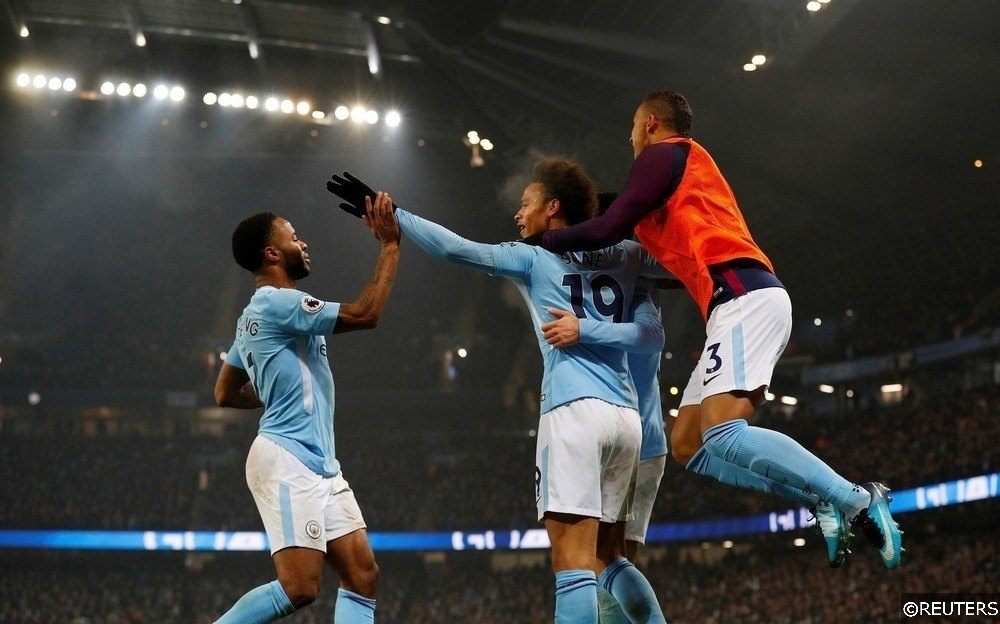 Numbers by League in the Germany Squad:
Bundesliga (15)
Premier League (3)
La Liga (2)
Ligue 1 (2)
Serie A (1)
Stereotypes are not always a good thing, but when you think of the German national team, some words often associated with the Germans – organised, structured, and efficient – spring to mind. One could also say that Germany's footballing philosophy stems (unsurprisingly) from the football played within their own domestic leagues. Joachim Löw's 23-man squad has many players that not only play within the Bundesliga, but also at the same teams in the league, so there is this pre-existing level of understanding between them in relation to German football – for example with Neuer, Boateng, Hummels, and Kimmich, who make up the majority of both Bayern Munich and Germany's back line.
Just three players within Germany's 23-man squad play in the Premier League – Chelsea defender Antonio Rüdiger, Man City midfielder Ilkay Gündogan and Arsenal playmaker Mesut Ozil – and it could be the case that Sane's move to England has actually been detrimental to his international prospects. Over his time in England he has developed to the next level and become a "Premier League star", but this has arguably made him much less suited to the German style of football that Löw needs from him – he was thriving at Schalke 04 when he first made his way onto the international scene.
Read More: Germany's 2018 World Cup Timeline in Russia
Bottom Line
For those of us supporting teams without any expectation heading into the 2018 World Cup, it seems insane that any national team could afford to leave such a quality player behind. However, maybe we are just focusing too much on Sane's development at Manchester City over the last two years. When you actually take a step back and look at the kind of attacking players Joachim Löw has chosen to take to Russia, it's reasonable to see why Sané is being forced to sit this one out.
Thomas Muller, though far less dynamic, understands exactly what his manager needs and has already been a key man at two World Cup finals. Marco Reus, who has missed major tournaments in the past due to injury, finished the season in top form and is already somewhat proven at the international level (9 goals in 30 matches for Germany). Julian Draxler and Julian Brandt are Germany's most tried and tested youngsters, having played key roles in their 2017 Confederations Cup win.
… and what has Sané done for them?
Let us know if you think Leroy Sané should be heading to Russia with Germany on our Twitter page.
Follow Free Super Tips on Twitter to stay up to date with our daily tips and predictions or browse more football content on our website: