It was another great night of betting for Free Super Tips followers as both of our overnight football accumulators won overnight returning £110 profit from a stake of £15!
The total profits from our overnight tips have now reached nearly £500 as our £10-£100 overnight challenge also landed this month!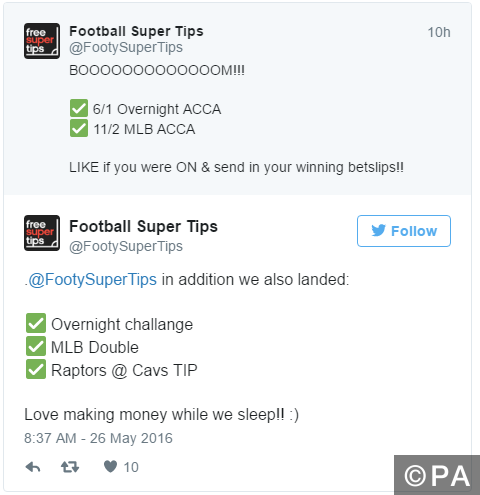 6/1 Overnight Accumulator
Firstly, our overnight accumulator won at 6/1 for a strong £63 profit from the recommended £10 stake. This was our fifth overnight acca win of the month taking our profit figures over the £300 mark. Not bad for free tips!
10/1 Overnight Mega Odds Accumulator
As well as a 6/1 winner, our overnight mega odds accumulator also paid out – eventually at 10/1 after one of the legs ended void due to the 'draw no bet' selection. A recommended stake of £5 returned around £47 taking Wednesday night's total profit haul to £110. That's how you make money while you sleep!
Followers Bet Slips
It was a morning of BOOMS on Thursday and we were greeted with many winning betslips which you can check out below. Don't forget to bookmark our free football betting tips page so you can join in the bookie bashing and make some money while you sleep too!
@FootySuperTips BOOOOOOM making money while we sleep nice one fella pic.twitter.com/dWvbcvDHTc

— Daniel Russell (@drussellgsu1129) May 26, 2016
@FootySuperTips Now that is a quality few overnight bets pic.twitter.com/w6DaCRdvnl

— Matt (@mattlfc6) May 26, 2016
@FootySuperTips getting to work at this time has been made so much easier, quality mate pic.twitter.com/M2Ze9fAB8U

— Niall Lehmann (@Niall23Lehmann) May 26, 2016
@FootySuperTips morning BOOOOM! pic.twitter.com/JzsZGlO7kD

— Ash (@ashstannard861) May 26, 2016
@FootySuperTips pic.twitter.com/pZqHPVyfbI

— Alex (@lear_alex) May 26, 2016
@FootySuperTips easy making money why I am asleep pic.twitter.com/RSqf0L5DPK

— Dan Dewsnap (@dwsnap_dan) May 26, 2016
@FootySuperTips Rounded ny balance off n put 41.25 on lol De Sucre game had already played but the 5fold was 5/1 pic.twitter.com/qcbxJMKzvb

— D.A.M.I.A.N (@da_prend) May 26, 2016
Congrats to those of you who combined our winning overnight tips with our MLB picks which also won at 6/1!
BM BM BM @FootySuperTips doubled up on the overnights!! pic.twitter.com/QfP53tMDge

— Rob Cary (@rob_cary) May 26, 2016
@FootySuperTips get in there nice to wake up to this morning booooooom pic.twitter.com/kLBdyexKCu

— Lee Charles (@leevcharles) May 26, 2016
@FootySuperTips put both together,but cashed out but still chuffed,cheers lads pic.twitter.com/ITjOCOFHEQ

— marcus delmonte (@haveitlarge007) May 26, 2016
@FootySuperTips pic.twitter.com/6koiIjVXsr

— Ian Hargreaves (@theobald55555) May 26, 2016
@FootySuperTips cheers pic.twitter.com/srzgqwdZRN

— Gregoo72 (@gregoo72) May 26, 2016
@FootySuperTips love you a little bit pic.twitter.com/I8fCTC2AVK

— Reedy (@ReedyBoiii) May 26, 2016
Overnight Football Tips
As well as providing free football betting tips daily from 12pm, we also have overnight football tips. You will be able to find these on our free football betting tips page and they are usually live on site around 9pm so make sure you check back around then!
In order to accomodate everyone's preferences, we offer lots of different types of bets including accumulators, singles, doubles and challenges!