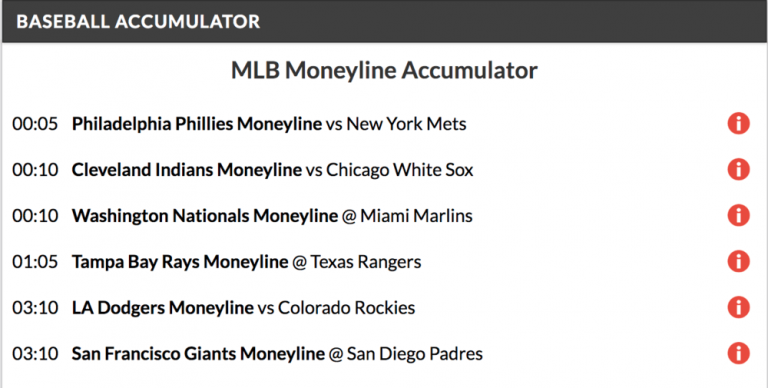 It's been an incredible month of September so far here at FST!
11/1 MLS Accumulator lands on Saturday!
11/1 MLB Accumulator & Double land on Tuesday night!
13/1 Overnight Accumulator & 11/1 Win Accumulator land on Wednesday!
33/1 Friday Win Accumulator Lands!
79/1 Correct Score Double Lands on Sunday Night!
120/1 Correct Score Double lands on Friday night!
We've added yet another winner to the list last night as our MLB Analyst has landed a 14/1 Accumulator.
Here's how it went:
14/1 MLB Acca LANDS
Good morning!!

14/1 MLB Accumulator & Double LAND overnight!! ⚾

GET IN!! WHAT A START TO WEDNESDAY!!

— Football Super Tips (@FootySuperTips) September 19, 2018
The Acca included a total of six games and we were underway with the first one as the Philadelphia Philles and New York Mets clashed.
The Mets got off to a decent start and were up 2:0 after 4 innings. It took Philadelphia a while to wake up, but the finally did so in the 6th inning where they completely overturned the game in their favour and went up 5:2. There was no coming back from that for the Mets and we landed our 1st game of the Acca.
We didn't require any comebacks in the 2nd game. The Cleveland Indians were up 5:0 after 5 innings and despite the Chicago White Sox' best efforts to come back, they failed to do so and Cleveland ran out 5:3 winners in the end.
Division rivals Washington Nationals and Miami Marlins clashed in the 3rd game of the acca. It was a tight one with neither team being able to get a clear advantage. In the end though the Nationals came out on top 4-2 and we were half way through our bet.
The Tampa Bay Rays dominated the Texas Rangers in the 4th game of the Acca. Texas didn't stand a chance in this one as it finished 4:0 in favour of the Rays. It was their 4th straight win, while Texas dropped their 3rd in a row.
The LA Dodgers won their 2nd game in a row, it was a dramatic 3-2 triumph over the Colorado Rockies which required extra innings, but we'll take it! This meant we were down to the final game of the Acca!
In that final game it was the San Diego Padres and SF Giants. The two bottom teams of the West division battled it out and it was a tight one. They exchanged leads a couple of times before the Giants pulled away in the 8th inning and it was too late for the Padres to mount a comeback. It finished 5-4 Giants and we could start celebrating yet another Acca Win!!
Free Baseball Predictions
The MLB regular season is in it's final stages and we couldn't be more excited for the Playoffs coming up! Be sure to bookmark the Free Baseball Predictions page of the FST website so you don't miss out on any more winners!
Followers' betslips
Our followers are once again buzzing in the early morning. They were kind enough to share their winning betslips with us over on twitter:
Been a while since I've done one of your mlb accas pic.twitter.com/sXsMMMjEqS

— Lewis Britter (@LewisBritter) September 19, 2018
thanks as always pic.twitter.com/g6pDzgTc3i

— DARREN WILBRAHAM (@BEEFY1973) September 19, 2018
@FootySuperTips cheers lads pic.twitter.com/LCPauWvJQE

— Mr Aj (@PhenomenalAJSim) September 19, 2018
— Paul Atkinson (@124atkinson) September 19, 2018
Cheers lads. Was watching the bet365 graphic without a clue as to what was going on. 10th inning Home run for the dodgers. That the equivalent to an injury screamer? pic.twitter.com/a8H5cpOUuM

— Simmy (@simmy1874) September 19, 2018
Thanks pic.twitter.com/pPPfKKvPlF

— Josh9 (@jayjayjay7777) September 19, 2018
@FootySuperTips You're a Jedi Master pic.twitter.com/duAQ2dRgH3

— African Geordie (@SalimHatib) September 19, 2018
Great start to the morning. Cheers guys!!! pic.twitter.com/iHLIgjYg1f

— LbJ Brady (@patscavs) September 19, 2018
@FootySuperTips great to wake up to this winner!!! pic.twitter.com/9ybe4CfuSf

— Chilly (@DanChilly) September 19, 2018