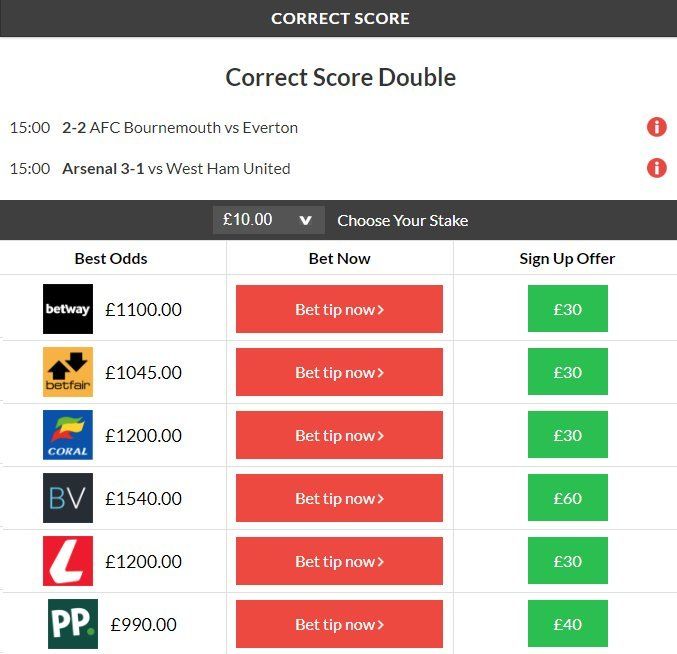 August has turned out to be quite the brilliant month for FST! Our analysts previously landed a 24/1 Win Accumulator , 13/1 Evening Accumulator, 8/1 Overnight Treble,  16/1 Match Goals Accumulator  and a 10/1 Win Accumulator, now they've done it yet again landing a huge 153/1 Correct Score Double from the Premier League games on Saturday!
Here's how it happened:
YESSSSSSSSSSSSSSSSSSSSSSSSSSSSSS!!!!!!! GET IN!!!!!

153/1 Correct Score Double WINS!!!!!

Well done to everyone who backed it, unbelievable scenes on a Saturday!!! pic.twitter.com/iklvEZ5QhZ

— Football Super Tips (@FootySuperTips) August 25, 2018
The two games we chose for the double required 4 goals from both Arsenal vs West Ham and Bournemouth vs Everton. In the game at the Emirates, we needed Arsenal to win 3-1, while over at the Vitality, we were looking for a 2-2 draw.
The game between the two London sides got off to the brighter start, with Marko Arnautovic combining with new signing Felipe Anderson to make it 1-0 to the Hammers against the odds after 25 minutes. The lead didn't last long though, as Nacho Monreal fired one home to level the scoring on the half hour mark. That's the way the game stayed until half time.
Nothing happened in terms of goals in the first half of the other game, however we did see a red card for Richarlison when he appeared to headbutt Adam Smith. In the 2nd half the game really came alive, with the away side Everton surprisingly taking the lead with 10 men through a Walcott goal. Just minutes later on the hour mark, the teams were evened out as Adam Smith also saw red, leaving both sides playing with 10 men. Everton used this new found parity to their advantage, with Michael Keane making it 2-0 after 66 minutes. There looked to be no way back for Bournemouth, but they were awarded a penalty on 75 minutes after Wilson was brought down in the box. King slotted home to make it 2-1. Just minutes later, Nathan Ake pounced on a loose ball to make it 2-2, the way the game would end.
Back over to the Emirates, where West Ham had arguably the better of the chances in the game, before Arsenal got a massive stroke of luck when Lacazette's driven effort took a huge deflection off new boy Issa Diop and into the West Ham net for an own goal making it 2-1. That looked like the way the game would end, but in the 92nd minute, who else but Danny Welbeck scored from the bench making it 3-1, which is how the game ended, landing our correct score double!
Free Football Predictions
The new season is well and truly under way, so be sure to bookmark our Free Football Predictions page in order to be on the next winner.
Followers Betslips
Our followers love getting involved and sent in their bet slips to our twitter
Steam Bet! pic.twitter.com/mfvzHMlbwE

— Twenty One (@spinwinspin) August 25, 2018
@FootySuperTips backed it. Thanks pic.twitter.com/T86mpo3lBN

— Joe Clayson (@Cassius_Clayson) August 25, 2018
@FootySuperTips not the biggest of stakes, but every little helps. Cheers guys pic.twitter.com/SzNbLvO3RV

— Horses17 (@Horses171) August 25, 2018
Cheers guys, first time i have followed your tips. pic.twitter.com/CXqkncbFO2

— stephen alderson (@salders) August 25, 2018
@FootySuperTips Cheers lads pic.twitter.com/l45GS4g8dR

— Matthew O'Neil (@Matti_ONeil) August 25, 2018
@FootySuperTips cheers for tip arse went so cashed out pic.twitter.com/TQ52wFPWej

— dan (@danmoore1714) August 25, 2018
Thanks again you guys are unbelievable pic.twitter.com/B2bT6NIZLd

— robert air (@robertair1) August 25, 2018
Boom pic.twitter.com/UW1rCoRgSc

— Rob (@diecoledie) August 25, 2018
@FootySuperTips Couldn't hold out so settled for this!! #littlewin pic.twitter.com/Uh9h1dm4RE

— Craig (@Craigeddy7) August 25, 2018
Thanks pic.twitter.com/Vx06GX05kj

— KingJamesPicks (@raimonllorca) August 25, 2018
@FootySuperTips Cheers lads!! To the pub pic.twitter.com/zjYuP3H5AC

— Michelle Townsend (@sailortownsend) August 25, 2018
— Sami Rashid (@twk14) August 25, 2018
Beaut pic.twitter.com/XmiSXdZZO4

— Tom (@twkm05) August 25, 2018
Scenes pic.twitter.com/54cyXeaoqQ

— J B (@bainbrj) August 25, 2018
@FootySuperTips only put a couple of quid on , and I bottled it and cashed , glad I was on though , thank you pic.twitter.com/1UE3uhOmul

— Annie (@AnnParkes2) August 25, 2018
I cashed out b4 arsenal goal BUT £5 into £116 is pic.twitter.com/PnY416FRyR

— thefilmcritic (@thefilmcritic1) August 25, 2018
Bottled it, but lovely win pic.twitter.com/gR8swkNi9V

— justin 'jlk' odell (@lledonitsuj) August 25, 2018
I bottled it and cashed out but cheers guys pic.twitter.com/25Mvhodqnu

— stephen prince (@stephenprince2) August 25, 2018
I chickened out and cashed out pic.twitter.com/MxafEvyGP6

— Cloynejoker_1981 (@1981Cloynejoker) August 25, 2018