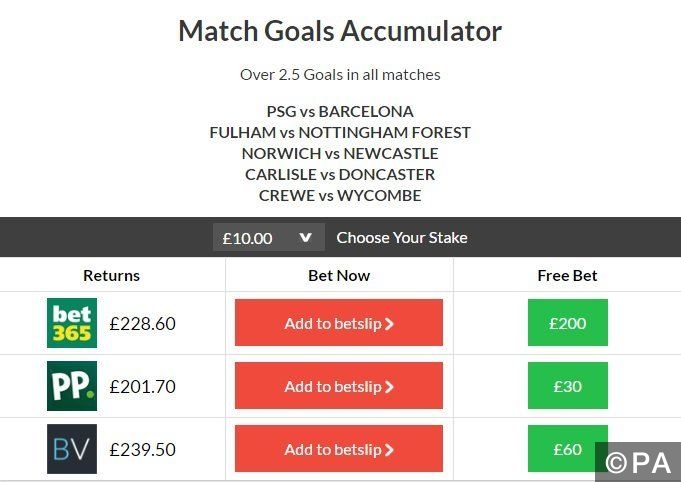 The Champions League is back! We're only half way through February and our tipsters have made us happy yet again, with another Footy Accumulator win!
Combining matches from the Champions League, Championship & League Two, they worked their magic and landed a 23/1 "Over 2.5 Match Goals" Acca.
In case you missed it, this is a new type of bet we only recently started doing. Just 4 attempts in we have managed to land ourselves an Accumulator!
23/1 Valentines Day Acca lands
BOOOOOOOOOOOOOOMMMMMMMMMMMMMMMMMMMMMMMMMM!!!!!!!!!!!!!!!!!!!!!!!!

Match Goals Acca WINS at 23/1!!!

WHO WAS ON!?

https://t.co/6alRyCESVX pic.twitter.com/ugRO4zK0i1

— Football Super Tips (@FootySuperTips) 14 February 2017
It was a busy night on Tuesday and our tipsters had a lot of games to choose from. All five matches in the Accumulator started at the same time, at 7.45 pm. PSG entertained Barcelona in the first game of the accumulator and we got off to a winning start fairly easily as it only took 55 minutes on the clock for the game to reach 3 goals. The home team was firing on all cylinders last night and dismantled the Catalan giants 4:0. Barcelona face an uphill struggle to overturn the deficit in the return leg.
Next up we had a couple of Championship games and as it turned out they both landed fairly easily. First it was Fulham & Nottingham who clashed at the Craven Cottage and just like in the first game, we didn't have to wait long for this one to come in. After the visitors took a shocking lead in the 2nd minute, Fulham kept their composure and managed to answer back with 2 of their own which ment we've landed the 2nd leg of our Acca. Fulham came out on top 3:2 after 90 mins.
The 2nd Championship leg landed even faster. Norwich hosted league leading Newcastle with both sides looking for an important win. The visitors took the lead after just 1 minute played, but Norwich answered back with two of their own and leg #3 was in after just 17 minutes.
It was a different story with our League Two tips as both legs landed in dramatic fashion. The Crewe vs Wycombe game was locked at 1:1 after 75 minutes and things weren't looking good for us. But, thankfully in the 87th minute it was midfielder James Jones who scored the winner for Crewe and the much needed 3rd goal for us!
At just about the same time, Carlisle took a 2:0 lead against Doncaster at home and all eyes were pointed at that game as it was the remaining leg on the Acca. Luck was definitely on our side in this one, as deep into injury time it was Doncaster's Tommy Rowe who bagged the consolation goal for his side and subsequently scored the 3rd and deciding goal for our Acca!
Valentines day 2017 will be definitely remembered as a tense night and we came out of it with a £229 profit from our Accumulator!
Want to follow our football accumulator tips?
As we mentioned earlier, the "Match Goals" Accumulator is a fairly new type of bet we started doing last Friday and it's already proven to be a fun and profitable bet to do. Make sure you bookmark our Footy Tips page so you don't miss any more winners!
You can expect the next Accumulator of this sorts on Thursday night as the Europa League games roll on!
Followers Bet Slips
Despite it being Valentines day and most of our followers spending the night with their better halves, a decent number of winning accas were sent in last night and here are some of them:
@FootySuperTips thank you! pic.twitter.com/lQ5pC1zcIj

— Mark Whittle (@whitdawwg) 14 February 2017
@FootySuperTips What a nice way to finish a late shift with no access to phone Cheers pic.twitter.com/KOqUwwWA3o

— Lee Cleeton (@ljclee79) 14 February 2017
@FootySuperTips pic.twitter.com/dREtegoNCk

— Scott Duffy (@DocbrownScott) 14 February 2017
@FootySuperTips pic.twitter.com/Ak6zErXnTC

— Monika Sanbak (@monika_sanbak) 14 February 2017
@FootySuperTips happy days pic.twitter.com/iN80I0CXbw

— scott walsh (@walshy2567) 14 February 2017
@FootySuperTips cheers lads, just covered a nice steak dinner pic.twitter.com/jKuW2jFbw5

— Matt Khine-Short (@_Matthias_) 14 February 2017
@FootySuperTips Cheers Lads Happy Valentines Day pic.twitter.com/hmVdjpHjjP

— A___M___J (@justthejob2010) 14 February 2017
@FootySuperTips pic.twitter.com/olxQ1EB3RT

— Jamie Wallis † (@JamieWallis_) 14 February 2017
@FootySuperTips cheers guys pic.twitter.com/yDjoe4MBZa

— keith (@keithEastleigh) 14 February 2017
@FootySuperTips Great Tip pic.twitter.com/ADHKOm9yXg

— Richard (@ras1127) 14 February 2017
You can also be a part of the fun, just give us a follow on Twitter!