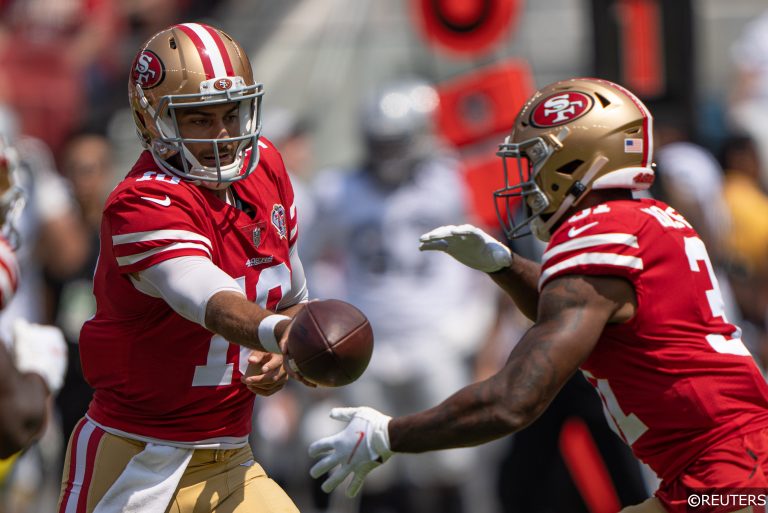 The new NFL season is just around the corner and our expert has picked out his favourites for Super Bowl LVI glory and an outsider pick.
We've also got the winners from each conference, which can be combined for a huge 54/1 double, and winners from all eight divisions – which we have used to create a mammoth 287/1 accumulator.
We'll have regular tips and predictions throughout the season, which you can find along with our season bets in our NFL Tips section, and you can see all of our outright selections below!
---
Niners look primed to mount Super Bowl LVI Challenge
It's hope season for all 32 teams in the NFL as they dream of Super Bowl glory before the 2021 campaign gets underway on Thursday, but only one can emerge victorious.
Last year that team was the Tampa Bay Buccaneers and opposing them or the favourites for Super Bowl glory, the Kansas City Chiefs, isn't an easy prospect entering the 2021 season with both those franchises looking in excellent health.

There are a handful of teams that can realistically challenge the top two in the outright betting though with the San Francisco 49ers fitting the bill nicely.

The Niners saw their 2020 season ruined by injury, just 12 months on from reaching the Super Bowl but enter this year fully fit, meaning they boast a roster packed full of talent on both sides of the ball.

San Fran have invested in the offensive line in order to boost the protection of quarterback Jimmy Garoppolo, who is backed up by exciting rookie Trey Lance this year. Whoever operates under centre has plenty of talent to work with, lead by George Kittle, Deebo Samuel and a raft of running-backs.
The defence has excellent potential too, while a soft schedule should help them keep something back for the playoffs.

Don't write off the Dolphins

Picking an outsider for the Super Bowl is fraught with danger given there's only been one winner that started the season at bigger than 16/1 in the last nine years but there's plenty to like about Miami's chances.

Dolphins head coach Brian Flores has quickly built a top-10 defence that helped the team go 10-6 last year. What held them back was the offence but with a proper pre-season under the belt of quarterback Tua Tagovailoa and better weapons around him, the future looks bright for the Sunshine State franchise.  
---
54/1 Conference winners double!
Cleveland Browns AFC conference winners
The AFC Conference has been dominated by the Kansas City Chiefs the last two years but looks extremely competitive in 2021. The Cleveland Browns are one of those teams that have their eye on Chiefs kingdom after a promising 2020 in which they went 11-5 and won their first playoff game since 1994.
The whole offence, which averaged 26.3 point per game last year is back, while the defence has received a much-needed upgrade in the secondary.
With reigning NFL coach of the year Kevin Stefanski steering the ship and a third-placed schedule to romp through in the regular season, the Browns are ones to watch.
San Francisco NFC Conference winner
It isn't all that long ago that San Franciso was celebrating an NFC Conference championship win having stomped on Green Bay in the 2019 decider. The Niners went 13-3 that season on route to the playoffs and a lot of the key pieces from that team remain in the Bay Area.
No team has had worse luck with injuries in recent years but they have emerged through pre-season unscathed and look ready to take the league by storm. Head coach Kyle Shanahan is one of the brightest offensive minds in football and he could leave opposing coordinators scratching their heads with the different schemes he comes up with for quarterbacks Jimmy Garoppolo and Trey Lance.
The offense has the potential to be top draw and the defence won't be far behind as it all looks like coming together again for San Francisco.
---
Browns, Packers & Bills look worthy division winners
AFC East
Buffalo Bills 
This is a much tougher division that the odds would suggest with Buffalo odds-on to retain their AFC East crown. The New England Patriots and Miami Dolphins could have something to say about that after improving this off-season but the Bills have taken a step forward too. Buffalo's roster looks slightly deeper than their division rivals and that could make all the difference.
AFC North
Cleveland Browns 
Three teams finished with double-digit wins to their name in the AFC North last year and this promises to be a very competitive division again. A loss of a few key players for Baltimore and questions over quarterback Ben Roethlisberger's sustainability tips the scales in favour of the Browns, who have improved on defence and kept their excellent offence together.
AFC South
Indianapolis Colts
The Colts were one of a handful of teams to boast both a top-10 ranked offence and defence last year and look like they're being underestimated in a two-horse race for the AFC South. Tennessee have a top-notch offence but their defence is an unknown quantity and it's worth opposing the Titans.
AFC West
Kansas City Chiefs 
There are too many questions surrounding the Chiefs divisional rivals to think they have a chance of denying Kansas City a sixth straight AFC West title. Improvements to the offensive line mean the Chiefs could be even stronger than last year. If quarterback Patrick Mahomes does receive better protection from his upgraded o-line and they can establish a run game, Kansas City's offence will blow everyone in the west out of the water.
NFC East
Washington Football Team 
The Dallas hype machine has done a good job of talking up the Cowboys but they aren't to be trusted. The NFC East is still a poor division and the best of a bad bunch is Washington. The Football Team had one of the meanest defences in the league last year, while the improvements they've made on offence should be enough to see them edge out Dallas for top spot.
NFC North
Green Bay Packers 
Only a shocking collapse could stop the Packers from winning the NFC North. Aaron Rodgers was the best player in the NFL last year and even if that level drops slightly, there's still enough talent in Green Bay to walk away with this division. The Minnesota Vikings could apply some pressure but a troublesome pre-season has shown they have too many flaws to seriously challenge.
NFC South
Tampa Bay Buccaneers 
The reigning champions New Orleans are entering a rebuilding phase, handing the NFC South to Tampa Bay for the foreseeable future. The Super Bowl champions have brought back all their big names for this year and remain in win-now mode. Don't expect much from Carolina or Atlanta as they go through more growing pains in 2021.
NFC West 
San Franciso 49ers
Were the Arizona Cardinals in any other NFC division, they'd be considered serious contenders. As it is, they could prop up the NFC West standings, such is the strength of their rivals. This is likely to be the tightest title race in the league with San Francisco having the edge thanks to a well-balanced team and an easier schedule. Seattle's defence still has a lot to prove, while the LA Rams have lost some key individuals they haven't managed to replace.
---
More betting news