September 6, 2021
Show Bio
Before becoming a Sports Journalist for Free Super Tips, Aaron spent three years studying Sports Journalism at the University of Sunderland while taking in the Black Cats' 'glory years' under Martin O'Neill. Now back in Northern Ireland he turns niche stats into predictions for FST, while he's one of the few people on this island who is equally comfortable at Windsor Park and the Aviva.
The idea that there's romance and fairness in football is one of those old-fashioned notions, like the FA Cup being special and making calls on a landline.That's plan to see in newly released data from CIES, which has counted up the combined cost of the squads of Europe's major sides. Much of it is sadly unsurprising. For Newcastle fans who can see themselves as bigger spenders than the past two Europa League winners it must be downright frustrating.
Last week, the The Long View looked at the prospects of Everton, who are sandwiched between Atletico Madrid and Bayern Munich in Europe's big spenders list. The fact they've spent more than Germany's superclub to bravely push for the Premier League's top 10 is both shocking and entirely consistent with them as a club.
However, it's the two Manchester clubs and their €1billion spends which have caught our eye this time.
Can Solskjaer stand the heat?
I know that even during an international break the thought of more Ole Gunnar Solskjaer debate is tiring, but let's just go with it. After all, United have been given quite the boost of late. They saw Cristiano Ronaldo sign, with the Portuguese first boosting their share price before becoming the highest international scorer of all time.
Now Solskajer – eternally the runner-up – can celebrate another silver medal with United's squad the second-most expensive behind Manchester City. However, with just a £49million gap between the two squads I'd argue that we now have two clubs with essentially equal resources competing for silverware.
Despite that, the bookies don't see them on the same level. Manchester United are 5/1 fourth-favourites for the title. They trail Chelsea (£669m squad value) and Liverpool (£576m) in that regard. City sit as 6/5 favourites. The thing all three share is that they've each appointed elite managers.
United have barely held back when it comes to assembling the best squad possible, but then they've entrusted it to a manager with no proven track record at this level. He's even been given time at Old Trafford to prove himself, but he failed to win the Europa League despite having far and away the biggest budget in that competition.
Of course United have their moments. There are times when they look to be very good at football. But isn't that the least you expect from a £877m spend?
United's approach is essentially Hell's Kitchen in football form. Take someone inexperienced, overpromote them, provide state-of-the-art surroundings and nearly limitless resources and watch them stumble before cutting to reaction shots of an angry Scotsman for comic relief.
There have been a lot of big moments in Solskjaer's reign. He's survived a lot of must-win matches and he's received plenty of plaudits without ever really addressing the doubts. This time there's no hiding place, trophies have to follow having topped off an already expensive side with the signing of Ronaldo.
Despite the quality they've assembled, United's trophy prospects look like a damning endorsement of Solskajer. For all the positivity of Ronaldo's return, the rise of Bruno Fernandes and the expectations of a defence held together by Harry Maguire and Raphael Varane United are heavily odds-on to end up empty handed.
Maybe this is the new romanticism of football. Fans chant about the club legends of yesterday now in the dugout or back in the number seven shirt. They are occasionally overjoyed as the 20-time English champions dismantle Leeds again without expecting number 21.
Or, just maybe, Solskajer isn't that good at his job.
Why does PSG's failure feel so inevitable?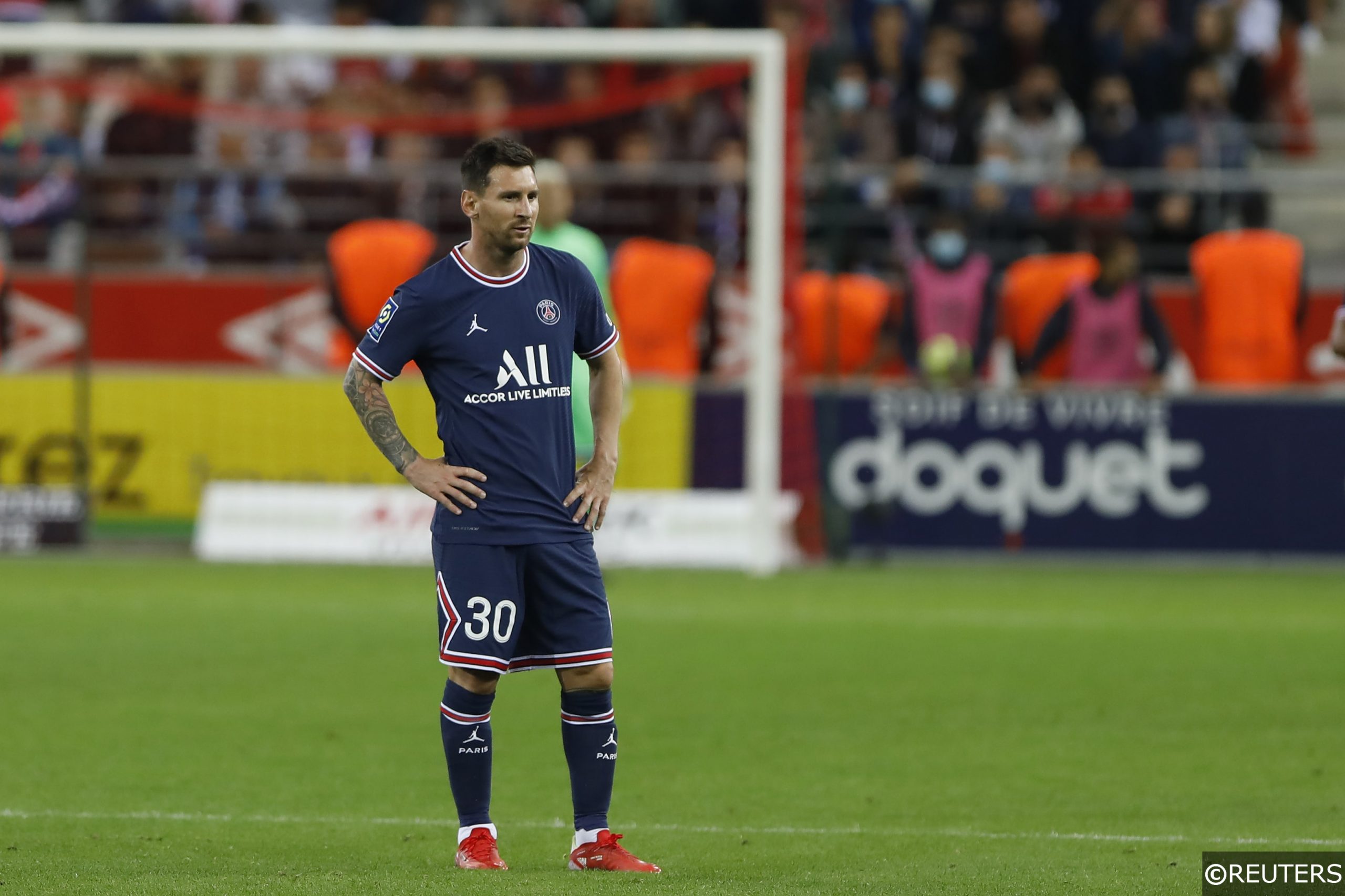 The two Manchester clubs are the only sides ahead of PSG in the rankings, but that doesn't tell the full story. For all their wealth, City don't tend to make audacious signings. It's why Ronaldo looked so out of place when he was linked. Meanwhile, United are forced to pay a premium as the richest club in the richest league.
Meanwhile, PSG have spent £820m to assemble their stars and that tally doesn't include many of their summer signings. They signed Gianluigi Donnarumma, Sergio Ramos, Georginio Wijnaldum and Lionel Messi without adding a penny to that total. It's not unfair to assume that number would breeze by £1billion if you included the real value of those players.
On paper City have the most expensive squad, but they can't match what PSG have put together. They'll also suffer the same fate as AC Milan, Real Madrid, Liverpool and Barcelona before them when Kylian Mbappe departs on a free in the summer.
Mauricio Pochettino knows that the time is now for PSG to win the Champions League. It's not just their desperation, they will arguably never be able to put together a squad this strong ever again. Despite that, it still feels inevitable that they'll fail in some hilarious fashion. Football may not have romance, but at least there's comedy.
---
More betting news
320/1 acca for Tuesday's international football
Best daily football on TV & 20/1 tip!
111/1 Champions League group stage winner acca
Free Super Tips is the home of Free Football Tips. Make sure to take a look at our most popular betting tips, such as our Accumulator Tips and Both Teams To Score Tips.