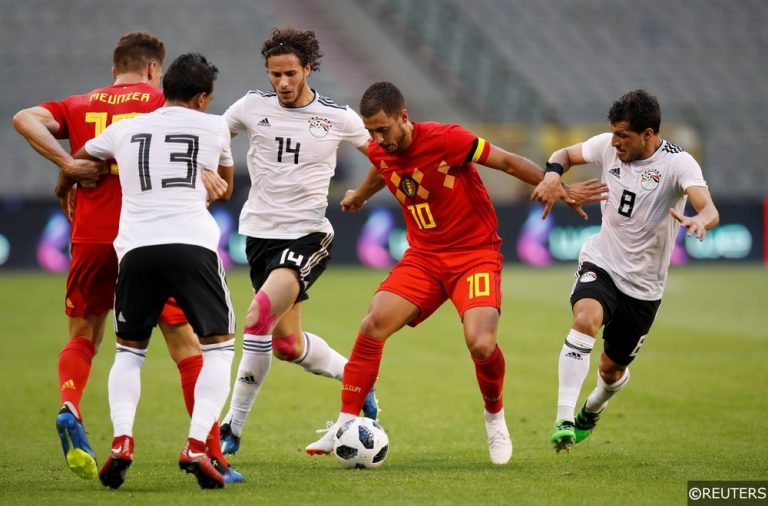 Before becoming a Sports Journalist for Free Super Tips, Aaron spent three years studying Sports Journalism at the University of Sunderland while taking in the Black Cats' 'glory years' under Martin O'Neill. Now back in Northern Ireland he turns niche stats into predictions for FST, while he's one of the few people on this island who is equally comfortable at Windsor Park and the Aviva.
Belgium's talented squad makes them one to watch in Russia this summer. However, that's not just true for fans. Recent years has seen a boom in Belgian talent, so scouts are always keeping an eye on the Red Devils. They've seen a lot of young talent flock to the Premier League, which has helped create a squad full of stars.
Some of those stars could well be on the move this summer. The Belgians have a talented starting line up, but plenty are being linked with a transfer. If they can impress for the Red Devils in Russia, then interest in their signature is going to spike. Ahead of their opening clash with Panama, we're looking at which players are capable of earning a switch this summer.
See Five Other Players Who Could be on the Move
Thibaut Courtois
Current Club: Chelsea
Belgium Caps: 58
Transfer Value: £30million
What Does He Need to do?
The Chelsea stopper is set to depart Stamford Bridge, with his contract expiring in 2019. The Blues are looking to cash in on him this summer, so he's on his way. The decision to part ways would have been easier this year, following some poor displays from Courtois. He needs to impress to banish memories of his poor club season, and that could spark a move.
Who is Interested?
Real Madrid seem to have switched focus to Alisson, but matching the huge price Roma are demanding is going to be tough. Real are burdened by one of football's biggest wage bills, so they'd like a cheaper option. Given that goalkeeper is one of few positions they can really strengthen, it's the most likely place where they'd target a big summer star. Real have a history of signing the best player at a World Cup, so a strong month for Courtois could see a switch happen.
Toby Alderweireld
Current Club: Tottenham
Belgium Caps: 77
Transfer Value: £40million
What Does He Need to do?
Alderweireld is another with a year to go on his contract. Tottenham have the option to extend his deal by a year, which kicks in a £25millio release clause next summer. If he doesn't sign, then a move this summer is Spurs' best bet. All Alderweireld needs to do to force through a transfer is sit tight, but a strong summer with one of the most talented sides in Russia would only help.
Who is Interested?
The interest from Manchester United seem to have cooled. However, it's hard to see no one going in for the Spurs man, given the current lack of top quality centre-backs in world football. With Virgil van Dijk going for £75million, Alderweireld looks comparatively cheap. His contract is set to expire in 12 months, so Spurs would be doing well to get £40million. Impress this summer, and Europe's top clubs should also be lining up to pay that fee.
See our Preview and Free Betting Tips for Belgium vs Panama
Leander Dendoncker
Current Club: Anderlecht
Belgium Caps: 5
Transfer Value: £25million
What Does he Have to do?
Dendoncker is the wildcard in out selection, and he's likely to be the least known of our six picks. The midfielder was a surprise inclusion in a packed midfield, which suggests to us that he has a chance of playing. After all, the only Belgium spot which is still undecided is the holding role beside kevin De Bruyne. The Anderlecht man has every chance of featuring there before the end of the tournament. If he can break in to the first 11 in that position, then he's likely to gain a few extra suitors during the transfer window.
Who is Interested?
Obviously a Premier League move has been mooted. He's not quite ready for the top sides in Europe, and outside of them only English sides are prepared to invest £25million in a prospect. West Ham came close to doing a deal in the summer, and they could look to strengthen at the base of their midfield.
Manchester United, Liverpool and Arsenal have all signed players in Dendoncker's position, which rules them out. Chelsea are unlikely to sign a player there, unless they're looking for an understudy to N'Golo Kante. We doubt Man City will push for him, but could he emerge as a replacement for this international teammate, and the next player up on our list?
Mousa Dembele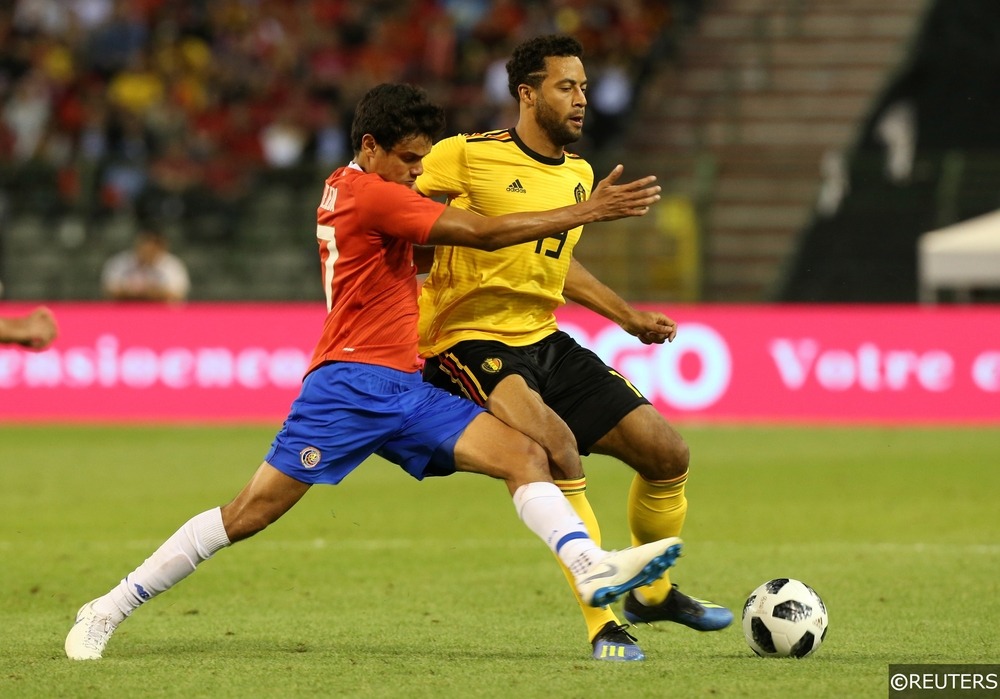 Current Club: Tottenham
Belgium Caps: 76
Transfer Value: £18million
What Does He Need to do?
Tottenham are having more contractual issues, with Mousa Dembele's deal giving him a strong position in negotiations. The midfielder knows that he's heading for the final big contract of his career, so he's going to need to impress in order to secure the biggest deal he can. However, he's in the race to partner De Bruyne, which is going to be a tough fight to win. Martinez does like him, but he's going to need games in order to impress.
Who is Interested?
Serie A seems like Dembele's likely destination. There are a few Italian sides chasing him, and that interest will grow with a strong campaign in Russia. That could spark some bigger interest, which might change Dembele's mind. He seems set for a move to Inter, with a switch to their sister club Jiangsu Suning following two years later. That would set him up financially, but there could be more competitive destinations for him with a good World Cup.
See Our Review of Belgium's Warm-up Friendlies
Marouane Fellaini
Current Club: Manchester United
Belgium Caps: 82
Transfer Value: Free
What Does He Need to do?
Fellaini is a Red Devil on both the club and national frontiers, but not for much longer. The midfielder has seen his contract run down, and it expires mid-way through the tournament. He's another pushing for a central midfield berth, but the former Everton man has a slight advantage. He is a brilliant impact sub, so he should feature for his side for at least part of the tournament. Should he impress off the bench, then his next move after Old Trafford could become clear.
Who is Interested?
Fellaini's contract expiring is a bonus, as he can wait until after the August 9 deadline in the Premier League before moving. However, there's interest in a move already, so he's not going to have to wait too long. Arsenal were surprise contenders, but an AC Milan switch seems to make sense. They have financial issues, but need a midfielder. He would feature at the Rossoneri. However, Milan are about to be kicked out of the Europa League. That might make him look elsewhere, and where better to earn a bigger move than the World Cup?
Will Belgium's Martinez Gamble Pay Off?
Eden Hazard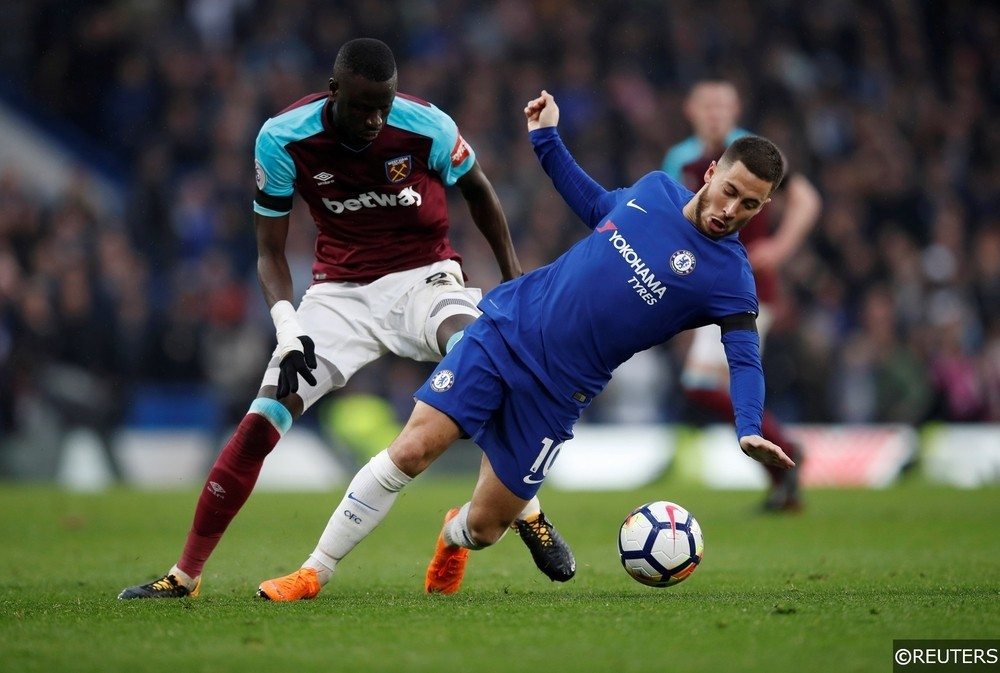 Current Club: Chelsea
Belgium Caps: 86
Transfer Value: £100million
What Does He Need to do?
While he still has a deal until 2020, Hazard has been stalling on signing on again. He has said his future will be decided by Chelsea's transfer business, and the ambition they show this summer. However, the Blues are still without a manager for next season, almost a month after their last game. They're left with just six weeks to sort out a side who underperformed last term, and their budget seems to have been slashed. Hazard is a big asset for the Blues, noticeably because he's their one world-class forward player. Any demand for a move from Hazard would spark interest.
Who is Interested?
Plenty would take Hazard off Chelsea's hands, the question is who can afford him? As we mentioned, Real Madrid aren't exactly flush with a spare £100million right now. The same could be said of Barcelona and PSG. Those are the three clubs who could realistically sign him, with Bayern and Juventus not known for those kinds of deals, while he won't move to a Premier League rival. Hazard seems like a difficult sell right now, so he's going to need a great World Cup to really get the ball moving on a transfer.
See our Match Preview and Predictions for Belgium vs Panama
Follow Free Super Tips on Twitter to stay up to date with our daily tips and predictions or browse more football content on our website: