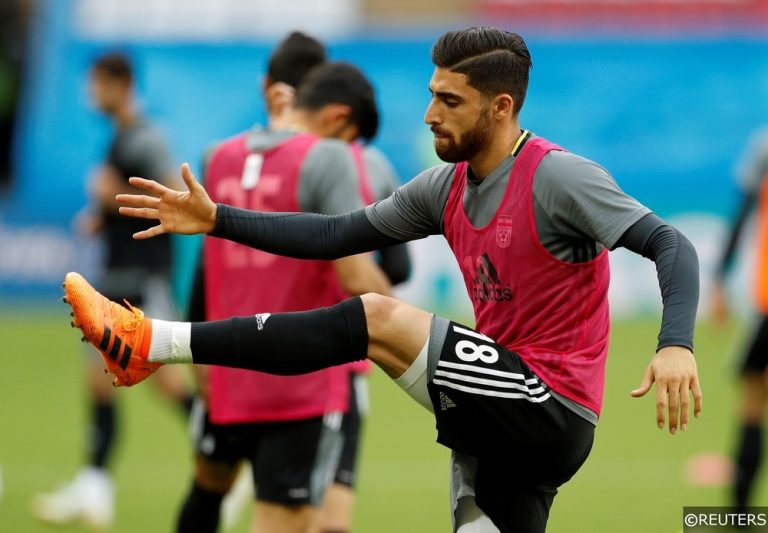 Simon Winter
@simonjwinter
Born in the south east of Ireland, Simon put his life-long love of football to good use when he started a successful independent blog in 2010. That opened up an alternative route to a career in journalism, and having had work published across a number of sites and publications, Simon joined the staff at Spotlight Sports Group in 2018.
Earlier this summer, Brighton & Hove Albion smashed their club transfer record to sign Iranian Alireza Jahanbakhsh from Eredivisie side AZ Alkmaar. The right winger, who recently turned 25, enjoyed a fabulous season in the Netherlands in 2017/18, finishing as the competition's top scorer while simultaneously becoming the first Asian to finish as the leading marksman in a top-level European league.
Jahanbakhsh made his debut from the bench in Brighton's 0-2 defeat at Watford in the opening weekend of the Premier League season and though the Iranian was on the field for less than 20 minutes, Jahanbakhsh made enough of an impact to excite the Seagulls' supporters.
To try to get a more detailed insight into the type of player Jahanbakhsh is, we talked to Rick & Timo from the largest unofficial AZ Instagram account – AZAlkmaarFans
Read More: Premier League 2018/19 Outright Betting Tips and Predictions – Winner and Top 4
Can you give us an insight into the type of player Jahanbakhsh is? What are his strengths?
Rick & Timo: Alireza Jahanbakhsh is an old school winger. He is right-footed and plays on the right wing something that isn't that common these days. He has outstanding technique and scores a lot of great goals and gives some fantastic assists. I think his best quality is that he isn't selfish and always looks to see if there is a teammate he can give the ball to if they have a bigger chance of scoring.
Also his shots from far distance are a real quality of his, he always gets a curve in the ball so it's hard for the goalkeepers to catch. With some better players around him I am sure he will give a lot of assists. At AZ Alkmaar his key passes were not always rewarded with a goal.
Conversely, is there anything he's not so good at?
Rick & Timo: Every player can improve stuff, but for us he was like perfection. I think his left leg is a bit weak, he needs to improve this if he wants to be successful in the Premier League also his heading is very poor but that isn't that strange for someone like him.
Jahanbakhsh finished as the top scorer in the Eredivisie last season. Were AZ supporters surprised that a bigger club than Brighton didn't sign him?
Rick & Timo: Hmm difficult question. For the fans it was sure he would go to a big competition, I think for the player Jahanbakhsh, a club like Brighton is perfect. When he chose us in 2015 he also had bigger options but Jahanbakhsh always takes it slow so he can have enough time to develop as a star player and does not have to be perfect at the start.
Brighton have a lot of trust in him and that's why he chose them and for us supporters that's understandable. Of course, a big club would be nicer for us but then you can have the same problem as Janssen had at Tottenham.
Now he can have a good season (or 2, or 3) and then make a step to a bigger team. We were expecting a team like Leicester or West Ham because there the chances of relegation seems smaller but with the current squad of Brighton I don't see them get in to trouble.
Premier League clubs haven't had much luck with Eredivisie players in recent seasons. Do you think Jahanbakhsh has the ability to succeed where others have failed?
Rick & Timo:  Thats right, unfortunately the Eredivisie isn't what it used to be. But the difference is that Jahanbakhsh was an absolute star player for us for the last three years and has not been good for only one season (like Vincent Janssen or Steven Berghuis). He also hasn't chosen the biggest club. So i think everyone in Holland is sure that he will succeed in England.
What was Jahanbakhsh's relationship with AZ supporters like? How was his departure greeted among those fans?
Rick & Timo: Alireza Jahanbakhsh is an absolute fan favourite. He always makes time to chat with fans, gives autographs and other things. When cheering after a goal he goes to the fanatic side of AZ and he always gives 100% on the pitch.
To describe Alireza I have a perfect example for you, after our last match last season he spent hours in our fan bar at the stadium to talk and thank the AZ fans for all the support. AZ loves him and I'm sure the Brighton fans are going to love him too.
Do you think Brighton got a good deal or have they overpaid?
Rick & Timo: It is for AZ the biggest deal ever, no club has ever paid that much for an AZ player (Spurs €22m for Janssen in 2016 and Sunderland €10m for Jozy Altidore come next). And of course Brighton never paid this much either – that puts some pressure on Alireza, but he can handle it.
For AZ the deal makes sense, in England all the teams have so much money we have no other choice than ask for that kind of money. The whole transfer market has gone that far, so I'm sure in a couple of years Brighton will talk about a cheap signing. In a few years they might be selling him for a lot more money.
Read More: Interesting foreign transfers you might have missed
If you were to compare him to someone in the Premier League in terms of playing style, who would it be?
Rick & Timo: It's difficult, Jahanbakhsh really has a style of his own. You need to watch him for a few games to see what you brought in. We can not really name a player who is like him.
How does Jahanbakhsh usually perform in pressure situations? Does he excel or wilt under the pressure of playing in big games?
Rick & Timo: To be honest in the big games Jahanbakhsh hasn't really performed at top level. At AZ we have a lot of trouble performing in big games. We lost two cup finals in a row, it was very disappointing and Alireza is one of the players who were expected to bring the cup to Alkmaar, but in both games against Vitesse Arnhem (0-2) and Feyenoord Rotterdam (0-3) we did not play well.
Especially in the game against Feyenoord it was very bad. Jahanbakhsh was absolutely not the reason for those defeats but we expected more from him. In other big games in the competition he has shown his qualities, but the last 12 matches against the other top teams in The Netherlands (the top-4 is AZ Alkmaar, Ajax Amsterdam, PSV Eindhoven and Feyenoord) we only won one. And in Europe against Olympique Lyonnais in the last 32 of the Europa League we didn't stand a chance (11-2 agg). He did score a penalty in that match though.
Read More: 5 Transfer Deadline Day Deals That Fell Through
What kind of impact do you think Jahanbakhsh will make in the Premier League?
Rick & Timo: Like said before a lot depends on the first few matches, if Alireza gets the confidence from the coach and the crowd he will be able to grow and be an extremely important player for Brighton. We hope he will do well.
Something Brighton fans will meet are the thousands Alireza fans from Iran on social media they will stalk all posts from Brighton probably.
Follow Free Super Tips on Twitter to stay up to date with our daily tips and predictions or browse more football content on our website: