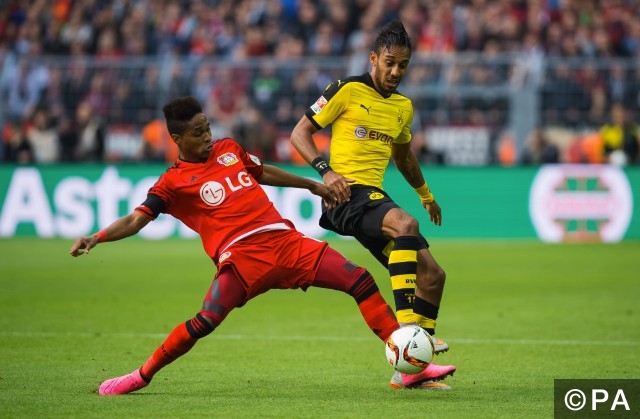 A lifelong Birmingham City fan, Tom relocated to Germany for five years after graduating from university, where his interest in the Bundesliga developed. He began writing about and betting on German football for FST in 2016. He's also an avid fantasy football player and closely follows the Premier League and European competitions.
Will Carlo Ancelotti be a fitting replacement for Pep Guardiola at Bayern Munich? Can Thomas Tuchel's Borussia Dortmund, Roger Schmidt's Bayer Leverkusen or any other team knock the champions, Bayern Munich, off their throne? Find out what we think below.
Bundesliga Winners Prediction
Borussia Dortmund
While Bayern Munich are the bookies favourites to win the Bundesliga title for a 5th consecutive season, it's hard to come up with an explanation against Borussia Dortmund at 8/1 not being a decent bet.
Dortmund may have finished ten points behind Bayern Munich at the 2015/2016 season's close, but bare in mind that this was their first year under coach Thomas Tuchel after Jurgen's Klopp departure last summer. Pep Guardiola, meanwhile, was already very accustomed to his squad, and the squad accustomed to his style of play, after three years at the club.
Though Borussia Dortmund have sold a few big name players during the transfer window, including Mats Hummels to Bayern Munich, Henrikh Mkhitaryan to Manchester United, and Ilkay Gündogan to Manchester City, they have also signed some world class players to replace these positions: Germany's 2014 World Cup star combo Andre Schürrle and Mario Götze join them from Wolfsburg and Bayern Munich respectively, alongside 19-year old winger Ousmana Dembele from Rennes to add further danger going forward. Meanwhile, the signings of centre-back Marc Bartra from Barcelona and defensive midfielder Sebastian Rode from Bayern Munich should further solidify an already decent back four.
Furthermore, with Pierre-Emerick Aubameyang rejecting advances from Manchester City and reportedly stating "he would only consider leaving Dortmund for Real Madrid", Borussia Dortmund are confident their star striker will remain at the club for at least one more season.
Just looking at Thomas Tuchel's counter attacking football style next to the names Aubameyang, Marco Reus, Andre Schürrle and Mario Götze, all of whom have had past partnerships before, whether previously at Dortmund or in the German national team, makes Dortmund seem more dangerous than ever going forward.
With Bayern Munich adapting to a new style of football under new manager Carlo Ancelloti, we expect the 2016/2017 Bundesliga title race to be the closest in years and, as such, find Borussia Dortmund at 8/1 with Betfair the best value outright bet going.
Bundesliga Relegation Betting Tips
SV Darmstadt
SV Darmstadt's climb to the top flight for the 2015/2016 season was a result of two consecutive promotions from the 3. Liga and the 2. Bundesliga over two years. Darmstadt's performances and eventual survival last season came as a huge surprise to many who thought that, for a relatively small side, back-to-back promotions with very little investment would almost certainly see their instant demise.
Ultimately, Darmstadt's strong season opening helped to save them as worsening form towards the end of the season saw them fall week by week down the table, eventually finishing just two points above the relegation zone.
Heading into this new campaign Darmstadt will be without last season's "superstar" Sandro Wagner, who scored fourteen goals over thirty two appearances for the club and signed for TSG Hoffenheim a few weeks back. Wagner was, by %, one of the Bundesliga most involved players, when combining assists and goals scored, in relation to Darmstadt's total goals. Seeing as Darmstadt have, as of yet, made no signings to replace this "irreplaceable" cornerstone of their squad, we expect the "fairy-tale" story to come to an end this season.
RB Leipzig
RB Leipzig (aka "RasenBallsport Leipzig") are another side who have rapidly risen through the German league's, though are in the top flight for the first time in their short history since they were founded by Red Bull GmbH in 2009. It has taken RB Leipzig just seven years to work their way up from the fifth tier to the top tier, with two seasons being all that they needed to gain automatic promotion from the 2. Bundesliga.
While RB Leipzig have invested about £20 million so far this summer, most of their talent is coming from weaker sides, such as central midfielder 21-year old Naby Keita from Red Bull Salzburg and 20-year old striker Timo Werner (13 goals from 86 appearances) from the relegated VfB Stuttgart. Though these are signings that will, nonetheless, improve their overall squad strength, they are still very much a weaker, younger and less experienced side than most in the Bundesliga.
While some other sides, such as 2015/2016 2. Bundesliga champions Freiburg or last season's Bundesliga relegation playoff finishing Eintacht Frankfurt, are also contenders for relegation, these squads are much more accustomed to, and experienced in, top flight football (Freiburg were in the top flight as recently as the 2014/2015 season) and seem worse value bets due to the significantly shorter odds.
Bundesliga Top Goalscorer Predictions
Pierre-Emerick Aubameyang
Pierre-Emerick Aubemayang scored twenty five in the 2015/2016 Bundesliga season, finishing five goals short of the bookies favourite Robert Lewandowski. Once again his absolutely blistering pace and composed finishing made him one of the best, if not the best, through and through stiker in the Bundesliga last season, despite missing a portion of matches.
To go alongside Marco Reus in midfield, Dortmund coach Thomas Tuchel has brought in plenty of forward artillery over the transfer window, such as Andre Schürrle, Mario Götze, and Ousmana Dembele, to help feed the lone striker. Consequently, Aubameyang will be even more spoilt for chances next season.
Borussia Dortmund have very much returned to the powerhouse team we have grown to love and recognise since their shaky 2014/2015 campaign. We feel that with Aubameyang at the peak of his form, looking to improve on his tally from last year, combined with a second year under Tuchel and a seriously decent squad depth, Dortmund have a real shot at stopping Bayern Munich winning a record fifth-consecutive title this time round, with Aubameyang taking away the "golden boot".
Javier Hernandez
Javier Hernandez may be a bit of a long shot, but hear us out. "Chicharito" has really come into his own at Bayer Levekusen, scoring seventeen goals in twenty-eight appearances last season (the 4th highest scorer in the Bundesliga), despite Leverkusen's uncharacteristically bad start to their 2015/2016 campaign. The ex-Manchester United and Real Madrid striker was named in the Bundesliga team of the month three times last season, in November, December, and January, and ultimately played a vital role in Bayer Leverkusen's eventual 3rd placed finish, alongside contributions from winger Karim Bellarabi.
Bayer Leverkusen were one of the most inform sides in the Bundesliga towards the end of last season and, despite being the lowest scoring side in the top four, are clearly hoping to push for more goals this season. Leverkusen's signing of winger Kevin Volland from Hoffenheim for £17 million has already proven to be a solid investment in the pre-season club friendlies and is yet another talented attacking midfielder to assist Chicharito.
Should Bayer Leverkusen keep up this form throughout next season, Javier Hernandez could certainly push his goal tally up into the high twenties and be a contender for top goalscorer.