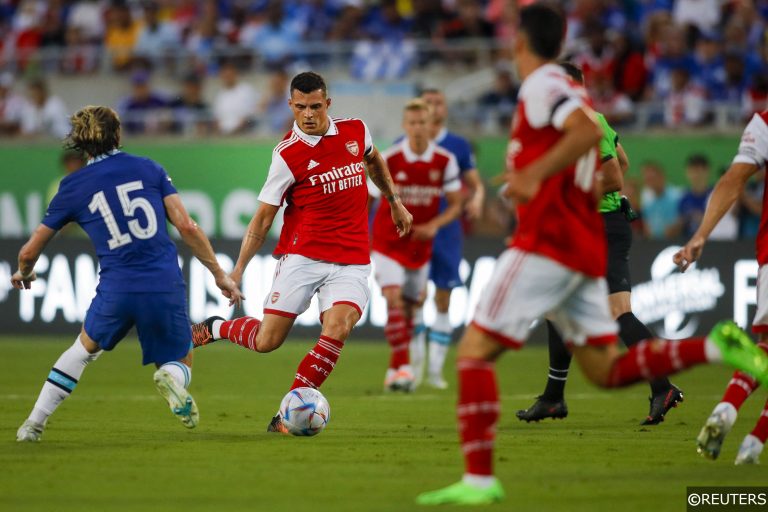 With Arsenal in the driving seat in the Premier League title race and buoyed by last weekend's derby victory over Spurs, Gunners legend Nigel Winterburn had reason to be optimistic as he sat down for an exclusive interview with FST… 
What did you make of Arsenal's victory at Spurs, their first win away in a North London Derby since 2014 – how impressed were you with Mikel Arteta's men especially in that first half?
I thought after the first five minutes into the game that Arsenal were looking sensational.
They were very brave with the ball, and you can see when Zinchenko comes into the midfield that there's so much link up play between the players.
Even when they lose the ball high up the pitch, they all press to try and win the ball back as quickly as possible.
Just the movement and the chaos that Arsenal caused in that first 45 minutes is pretty much how a lot of Arsenal games have been this season.
In a big, big game like that away from home, not just the first half, but it was an impressive performance all round.
Would you say it's now Arsenal's title to lose?
I think a lot of people would say that because of the position Arsenal have got themselves in.
But this is a young team developing and for me I've said before that I'm really excited with what I'm seeing in terms of the development of the squad and level of play.
Everything being asked of Arsenal so far they've delivered on so rightly, so they are being talked about as potential title winners.
We don't know as the season goes along because there can be a lot of changes.
The one thing I do know is if Arsenal keeps performing to this level, then they will be very hard to catch.
Arsenal have just keep doing what they've done to this point for the rest of the season.
If Arsenal fail to win the Premier League this season would it be classed as a 'bottle job' – considering their current lead at the top?
I think it could be seen as a disappointment in one way, but no in another because people will judge it by looking back on last season.
The development this season so far is incredible which I've said on many occasions.
I think it would be a disappointment within the squad and the supporters, but people would be able to sit back and say that Arsenal are on the right lines anyway so it would still be a positive season.
I'll keep smiling whilst it's happening and hopefully come the end of the season we will be talking about Arsenal as league champions.
But there are still some very good teams in this league and chasing Arsenal, so it's up to them to keep up the levels of performances.
Especially in those big games, Arsenal need to make sure they come out having not lost those games.
I think that will be crucial this season.
Everyone was talking about the importance of starting well after the World Cup break and so far we've only dropped two points to a very good Newcastle team.
There's been some difficult games in that period, and I can't speak highly enough of Mikel Arteta and the team at this time because they are delivering much more than any of us dreamt was possible at the start of the season.
Would Arsenal be jeopardising their title push if they don't sign a replacement for Gabriel Jesus this month?
If I could have four or five strikers in my squad, then I would have them because strikers change games dramatically.
Goals change games and we all know that.
What we don't know is if Arsenal can bring an out-and-out striker in or somebody who can play that role at this minute in time.
They would benefit from someone coming in who can play that role and keep the momentum going.
But if we're talking about a stopgap, I don't see Arsenal signing somebody in that capacity.
I think it would have to be the player they wanted or who they've looked at before on a permanent deal.
A stopgap would be a loan signing for 6 months, but I don't know if Arsenal will go down that route.
We also don't know whether Jesus is ahead of schedule, on schedule or behind schedule in his recovery.
We've all been guessing on his time frame; normal process suggests he'll be back end of February or mid-March for that injury.
But we don't actually know, we're all guessing on the usual timeline so until someone from the club says otherwise then we don't know for sure.
Let's hope that he's fully fit and back ahead of schedule and then it might not look like Arsenal need to bring someone else in.
It'll be down to looking at what happens in the next few weeks and whether Arsenal pick up any injuries, that could accelerate any transfer business they're potentially looking at.
What did you make of the Mudryk move? Were Arsenal right not to match the 100m euros Chelsea offered? Do you think the Nicolas Pepe situation entered the thinking of Edu and co?
It's hard to say whether that influenced what Arsenal were thinking.
In one way from a supporter's point of view then I'm a little bit frustrated because all signs pointed to Mudryk wanting the move to Arsenal.
Everything he was putting on social media was about Arsenal, so it seemed like it was destined to happen.
But on the flip side, if you look from the club's side, they've stood firm on their valuation and the wages they wanted to offer for the player.
Maybe they were willing to go slightly above that, but I think in the end it became quite evident that Arsenal weren't willing to pay the fee that Shaktar wanted.
I don't know for sure, but I also believe that the wages were substantially higher than Arsenal were offering.
That's what it feels like, and I have to say he didn't look too happy when he came out on the Stamford Bridge pitch once he had signed for Chelsea.
It was a little bit bizarre, but it's happened and now Arsenal need to move onto their next target.
Or you just keeping working with the players that you've got, if Arsenal can get somebody in then I'm sure they will do.
Given the money Shakhtar Donetsk were demanding, was it the right call for Arsenal to step away from the deal?
I'd like to know how far they were behind otherwise it's quite difficult to judge.
If you're talking as if they were only three or four million off, then you would be thinking that they could have matched it.
I've got a feeling that Arsenal's bid and the wages the player was going to get from Chelsea was a significant difference.
Arsenal in the end probably just said we can't justify that or get near it so they've walked away from the deal.
Is there a particular player you would like to see Arsenal sign after missing out on Mykhailo Mudryk?
For me it's been very interesting looking through this transfer window because Mudryk isn't an out-and-out striker.
Emile Smith-Rowe is working his way back to fitness and we know he can play in those wide positions.
I would have thought Arsenal would have been looking at a striker either permanently or on loan.
But I would have thought they may have been looking at a central midfield player as well.
It's so difficult to try and find out what is happening because all of a sudden Arsenal are now linked with Declan Rice in the summer.
You don't know what's true and what isn't true and what rumours are just there to create some hype.
Milinkovic-Savic has been mentioned a few times in midfield again, so I'm sure Arsenal will be looking around.
Raphinha's been mentioned, Trossard's been mentioned again, and Kvaratskhelia from Napoli is linked as well.
Are those names being thrown around because the Mudryk deal didn't get over the line or is it to use Arsenal's name to make another team act fast.
You have to try and work out if the club really are trying to bring one of those players in and actually do those players fit into the potential squad system at Arsenal.
To me it looks as if Arsenal are looking at younger players with a desire to improve and hopefully come into a team moving in the right direction.
I'm pleased to say that it looks like a team that is looking to move forward again rather than backwards where we have done for a few seasons.
What have you made of Chelsea's spending? Can you see a plan? Any surprise that the new owners and management chose to change so much so soon?
It would be interesting to know whether Chelsea were interested in Mudryk initially.
They might have felt at first that the deal was dead because the player wanted to go to Arsenal.
Does the manager want that player and does he fit into that system.
Sometimes as a manager you might not get 100% say in who you want bringing into the club, but you need a certain say.
You want to know that the player will fit into the way that you want your team to play.
At the moment it looks a little bit that Chelsea are in disarray, and they just seem to be throwing money at it.
But what I would say is let's have a look at the middle of next season to see where they've added and taken away from their squad.
It will start to then take shape and possibly look like a squad that Graham Potter wants for the way he wants to play.
I think that's the big question.
Edu is now speaking to Deco about Raphinha. That's not a bad alternative is it? Do you rate the Brazilian and do you think he's the type of player to lead Arsenal to the title?
He was highly rated at Leeds, and he has some outstanding ability that's for sure.
I've read that he isn't interested in moving, he wanted that move to Barcelona in the summer and to me it would be strange to have that move and move again so quickly.
I think you've got to give it at least a season, so I would doubt that the deal would happen this January.
Sometimes you just don't know, he might be thinking he can get more game time elsewhere.
He played the majority of the time at Leeds whereas at Barcelona he isn't, so he might be thinking where can I go to play a bigger part in a team.
He might play more for Arsenal but how many games would he start?
That's what people will look at, but he's certainly got the ability and whether he has the temperament for Arsenal with the high press would remain to be seen.
From his Leeds performances you would say so, but as I've said I don't think he would be looking for a move right now.
What are the biggest weaknesses in Manchester United that Arsenal can exploit next weekend?
I think Arsenal at home will want to be on the front foot and want to play exactly the same way as they did in the first half against Tottenham.
They'll want to put Manchester United under pressure, but Arsenal will need to be careful of the counterattack.
United have a lot of pace going forward, so stopping those situations will be key.
But it looks as if it could be a classic game, but Arsenal will want to get the win here.
Mikel Arteta wasn't happy with what happened at Old Trafford, so they'll want to avenge that.
But Arsenal could also send out another big statement if they beat this Manchester United team.
It's got the makings of a blockbuster game, but sometimes the build up to these games can go a little flat.
Manchester United also need to go to Crystal Palace midweek which plays a part in the recovery for them.
But they could potentially close the gap to three points this week so there's extra incentive there for them.
If they don't win either game then it would set them back a long way, so Erik Ten Hag will be saying the next two games are huge for their momentum.
Gary Neville after this weekend said City will finish top with United in second, is that a little disrespectful to Arsenal considering how impressive they've been this season?
Yes, absolutely.
At this moment in time Arsenal have a lead at the top and have been impressive.
I think people still feel Manchester City have the strongest squad by far and Manchester United have done exceptionally well from where they started.
They're a team who have come together really nicely, but when you've got a team who've led the way to this point and you're predicting this team will finish third or worse, then to me it's a little disrespectful.
But this is why football is so great, we're all about opinions and we all have one which is why we can all talk about it.
But I hope that when it comes to the end of the season that Gary Neville is completely wrong with his opinions.
Would Mikel Arteta be tempted to take over at Man City in the event Pep Guardiola resigns in the next year or two?
That's not something I want to talk about or even think about happening.
What I would say is it depends on where Mikel Arteta takes Arsenal and let's not forget he did used to be here as a player as well, so there's a connection to the club.
I'm hoping he does lead the club to a title, even if it isn't this season and in that time frame we're talking about if we predict that Pep Guardiola does leave.
Even then, he would potentially be looking at what he's achieved and built at Arsenal and want to keep on building on that.
Mikel Arteta won't be thinking about that and if Manchester City do come knocking it will be because he's been successful at Arsenal.
To me that would mean winning something, I know they've already won the FA Cup but it would suggest more silverware for Arsenal.
It would be one to look at if it becomes a serious topic, but for now it's just a bit of hearsay.
The fact that people are talking about this and what Arteta is doing shows what a job he's done so far and the team are starting to perform at a very high level.
Who is the most unsung member of Arsenal's team at the moment?
They've all done fantastically well this season and you could go through them all really.
You think about Ben White being switched to right-back and he's done sensationally well, not looked out of place one bit.
Saliba's come in and been very strong, the whole back four have done great this season.
Zinchenko has come in and made a difference, Gabriel has been so aggressive and solid.
But I think if I had to pick out one or maybe two players, then first of all I would say Thomas Partey.
I've been harping on about this guy since he first came to the club, his ability to receive the ball under pressure, not go backwards and split the lines quickly is impressive.
It enables Arsenal to counterattack or build at real pace.
You can call him a holding midfield player, but how many times do those sorts of players get the ball from the centre backs and go backwards or sideways.
Partey if he can, receives the ball and turns, either moving away from the player closing him down or he makes a forward pass.
He doesn't get it right every time, but the reward for the risk taking is far higher in terms of creating chances to score.
In fairness it's hard to pick out a couple of players with how well they've all done, but Odegaard has upped his level again.
From the potential we saw last season, he's gone on to improve further and has shown his leadership qualities by obviously being made captain.
His performances have been sensational, but to be honest I could go into detail about all of them because they've all been incredible.
We've spoken about David Moyes before, but after recent results do you still think he's safe? How long would you stick with him for?
Well, he's not safe.
I thought they would give him time because of what he's achieved at West Ham, but it's starting to get a bit nervy.
You're starting to feel the vibes coming out of West Ham that they are starting to get nervous and worried.
Once you lose the backing of the supporters it can be difficult, and the board have to be strong.
I still hope that David Moyes can turn it around, but in terms of results this season it has completely surprised me.
I did not see it happening to West Ham and the more it goes on the more I worry for them.
In the four seasons you were at Wimbledon, you were joined by some big characters. Just how crazy were the crazy gang?
I think the best way to describe it was we were basically like a pub team.
We were a team mostly made up of players who had been rejected, but we used to have a fantastic laugh, and nobody cared about us.
We had an amazing team spirit; we scared a lot of teams because we played a long ball style of play and nobody wanted to play us.
We had some big characters in some of the teams I played in at Wimbledon, the likes of John Fashanu, Dennis Wise and Vinnie Jones, there were some big characters in the dressing room.
We also had players who in the end went on to make some big money moves, a lot of those players I played with initially got some fantastic moves.
We used to stop off on away games at a pub and have a drink on the way back.
It was just a relaxed feeling; we would meet up and go to the game then get fish and chips on the way back with a couple of pints.
Management were absolutely fine with it, so it was just crazy the things we were allowed to do as professionals.
But it pulled us together and gave us an unbelievable team spirit.
Anyone that plays at Plough Lane will know that after the game when you go to meet your family and friends you actually go into a nightclub.
On a Saturday evening it used to change into a nightclub, and it was insane to think that.
It's ridiculous to think about how we prepared for games, how we travelled and the things that we did.
But for me, it was a fabulous time because I had previously been released by Birmingham City.
So, to get that opportunity again was a fantastic feeling and I always held the thoughts of being a 16-year old kid and being released from Birmingham.
Nothing will ever feel as bad as that in your life, in terms of football.
Standing there as a young kid and being told you're not good enough is all I needed to hold to push myself in my career.
That was at Wimbledon, Arsenal and West Ham when times got difficult.
I had a lot of good memories in my career and a lot of good times but sometimes you lose a bit of form or come under pressure from different people.
But all I had to do was look back at what happened to me and that was my biggest incentive.
Although a lot of that squad of the 80s were mad as a hatter, Wimbledon became very successful. What was the secret behind that success? 
I just think it was the style of play, Dave Bassett was a big character as well who could get the best of the team.
Not many teams would play British Bulldogs on a Friday before a game.
Usually, the team who were picked on the Friday didn't end up playing Saturday because the ones that weren't picked would lay into the players who were playing.
It was just a unique club, we trained on what was basically an open space.
There was a trucker's café where we would get changed in the back off on the A3 and it's ludicrous to think of how we went about things.
That's why I said it felt like being a Saturday or Sunday league team.
I know we were in the old third division but even when we came through to division one which was the top league at the time, nothing really changed.
I just don't think people believed what we were doing, and I don't think anyone thought we could be successful by preparing the way we did at times.
But we scared a lot of teams, we had a style of play and we stuck to it.
Other teams couldn't cope with it, but people also forget that we had a lot of good footballers as well.
We've seen Luke Shaw perform very well at centre-half for Man Utd. And of course, Ten Hag had Daley Blind in that role at Ajax. Do you think that could be Shaw's long-term position now at United? Did you play there yourself for an extended period of time? How difficult is it to go from left-back to centre-half?
I think it's difficult to adapt.
I don't necessarily want to say it's easier in modern day football because there isn't as many crosses into the box because it's a bit disrespectful.
So, players can potentially do it, Kieran Tierney has done it for Arsenal in a back three before.
Obviously, it can be done and Shaw has done it quite well when he's been asked to.
Whether it will be his long-term position or not remains to be seen, but he has done tremendously well and at the weekend some of his positioning was outstanding.
It's happened before, but it's not something I wanted to do or particularly enjoyed doing.
I was confident in the position I played so being moved into centre half wasn't something I was keen on.
Nowadays maybe the transition is slightly easier because you usually come up against one striker, but the movement is a lot sharper from forwards.
That's just because the pitches are better, and players are evolving.
It's hard to judge football from different times because the game has changed so much, but what I will say is that it's been done before.
Certain players seem to be able to do it, I think you want to watch and see how it develops over six months to see if it could be something long term.
But I have a sneaky feeling he'll go back to left-back.