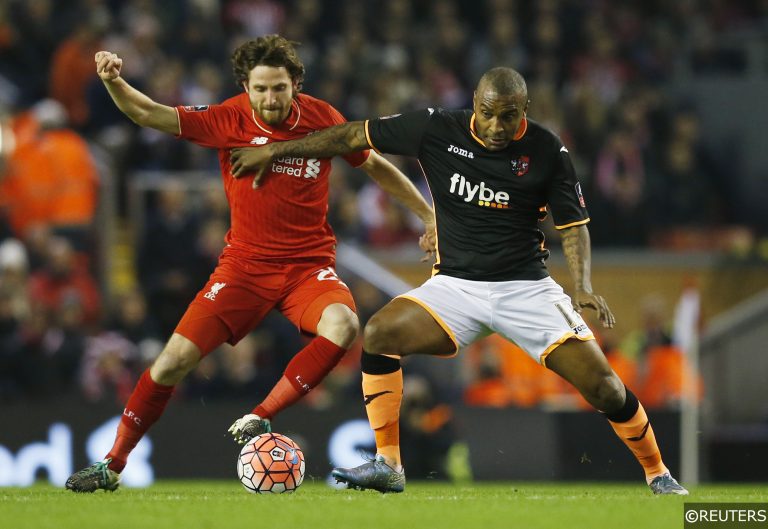 Content Editor at Free Super Tips, Alex was born in the shadow of Old Trafford and is an avid Man Utd fan. After graduating from university he combined his love of football, writing and betting to join FST and now closely follows goings-on in all of the top European leagues.
Patrick Vieira says Wilfried Zaha is playing at the peak of his powers right now. With just over a year left on his contract, what would you do if you were in the club's shoes? Sell him this summer or keep him and lose him on a free in 2023?
I would probably try to keep him, Wilf's at an age now where he's got to have a look and weigh up his options.
Will he be able to get a move to one of those top four teams?
I think he's got fantastic ability, but if I'm the chairman of Crystal Palace, then I'm offering him a new three- or four-year deal and try to keep him for the rest of his career.
I feel with Patrick Viera there, then they've got a great opportunity of keeping Wilfred Zaha because I think he will improve him.
Even at his age, he can still get better, you never stop learning until you're finished playing.
He'll always keep on improving and we've heard Patrick Viera recently say how good he's been off the ball.
Everyone knows how good Wilfred Zaha is on the ball, but off the ball is just as important and there has been an improvement in that sense.
It's a big decision for Wilfred Zaha, every year when the transfer window comes around, we're always talking about whether he'll stay or go.
Hopefully he will stay at this football club because he looks as if he's enjoying it at the moment.
And like I said, if I'm the chairman of Crystal Palace, then I'm getting Wilfred Zaha to sign a new deal because it'll help some of the youngsters there as well.
There's Olise who's been outstanding, Conor Gallagher, who I know is a Chelsea player, but if they can keep him for another year and then the likes of Eze as well.
There's a lot of talented youngsters that look up to Wilfred Zaha, so for me personally I'd be offering him a new contract and seeing his career out here.
Palace currently have three recognised centre-forwards on their books but no clear first choice. As a striker yourself, which of Odsonne Edouard, Jean-Philippe Mateta and Christian Benteke do you prefer and which qualities do they possess on the pitch that make you think that.
They're all different to each other and Mateta is the one playing there at the moment.
If I'm honest, I have to hold my hands up and I don't mind admitting this, I didn't think he was good enough, but he's proved me wrong.
Whatever Patrick Viera is doing for him is working because he's a real handful and causing a lot of problems for the opposition at the minute.
Him and Benteke are similar, they both like crosses into the box where they can cause problems.
I do like Edouard though, when he came from Celtic, I thought that was a brilliant signing.
He links the game up, can play one or two touches and of course he scores goals as well.
For me, if I have to pick one that I prefer, then it would be Edouard.
I like Christian Benteke as well, I know him personally and he's still a good player, but for me I'd have to go with Edouard.
I think he suits the way Palace want to play and evolve, so you need that type of striker.
But in the Premier League you've got to have more than one striker, so Mateta has come in and done a brilliant job recently.
If you have to mix it up and go with a big target man, then Mateta and Benteke are the likely option.
Edouard hasn't had an opportunity lately which is disappointing, but Palace have been getting results.
He's a talented individual Edouard and personally I'd like to see him up there, but Benteke and Mateta have done well.
Palace are on track to finish mid-table and are potentially 90 minutes from Wembley with an FA Cup quarter-final against Everton coming up. Given this season was always set up to be a 'building' year for the club, how impressed have you been with how Vieira has handled the job?
I've been very impressed, a lot of people doubted Patrick Viera at the start of the season because they said he was second, third or fourth choice for the job.
Dougie Freeman is the director of football there and he said it was an easy decision in the end because want they wanted to do was help the academy.
They haven't brought through a lot of kids recently apart from Tyrick Mitchell, so they want to go down that route.
Patrick Viera fit that model, the work he did at Man City was why they thought him coming to Palace would be perfect.
It was going to be difficult because in the Premier League you need results and they've been outstanding this season, they've evolved.
You've got to credit Roy Hodgson, he kept Palace in the Premier League for many years, but you've got to get to a stage where you evolve and go forward.
The football they're playing at the minute is excellent, they might want to be more ruthless in the final third.
Patrick will hold his hand up and think they should probably have more points at this stage, they have conceded quite a few goals and haven't been ruthless in front of goal.
But it's a young squad, it's taking time and he's definitely the right man to be there.
Hopefully he can take the club onto bigger and greater things.
You played with Ashley Cole for a short while at Palace. Does Tyrick Mitchell compare to him and do you see Mitchell becoming a full England international one day?
It's a big call to be making and I can't compare because Ashley Cole was the best left-back in the world at one stage.
There will never be anyone as good as what Ashley Cole was, but what I will say is Tyrick Mitchell has great potential to be in the England squad.
For me he's the one that could make his way in there, I know they're quite strong at left-back with Ben Chilwell and Luke Shaw.
But I just feel this kid has got everything, when I look at him, I think he's improved going forward, but his defending one on one, not many wingers beat him on the outside.
He still needs to open up his body and check his shoulders more, but he's still a young man and he's new to the Premier League.
This is his first full season playing regularly in the Premier League and he's got a big future.
I would probably tip him to get an England call up, Gareth Southgate was at the Wolves game not too long ago and I can guarantee he was looking at Conor Coady, Conor Gallagher, Michael Olise and Tyrick Mitchell.
He's an outstanding young prospect, but I don't want to compare him to Ashley Cole just as yet because he was a different level.
If Tyrick Mitchell keeps working hard, then he could get that England call up for sure.
Patrick Viera has backed him for an England call up, would you agree with him and does he deserve an opportunity?
He could well be in the next squad, and I think that might be why Gareth Southgate was watching him.
I know there's Trippier, but he's injured as well, and he usually does a job at left-back.
There's not many left-backs at the moment around and off the top of my head I can't think of too many others around who are fit and available right now.
So, he's got a great chance of making that England squad, it's a friendly at the end of the day, so you might as well have a look at him to see if he's ready.
He's proved that he can do it in the Premier League and Gareth does have a reputation of giving youngsters an opportunity.
For me, go and put Mitchell in that environment because it's different at international level, you get all the superstars together, so see if he's ready for that.
I think that experience would be huge for him, and I hope he does get that call up because he's been outstanding this season.
You came through the Palace youth system like Tyrick, what makes it so special? How has it improved since your day? 
It's improved massively, I was invited to the opening the other day of the academy grounds.
Those players now are spoilt rotten!
They've got a first-class training ground, we didn't have the best training ground when I was playing, but it made us more humble.
Today the facilities are magnificent, they've got everything to help them become professional footballers.
In South London it's a good catchment area, there's a lot of talented individuals in that academy right now which is why they've built this new academy.
They want to get all the best players in South London to stop them going to the likes of Chelsea, Arsenal and Tottenham.
It's a brilliant set up they've got, the people in the academy are doing a good job and it's a great club to come through.
When you look at it and think is there a pathway at Crystal Palace, then you can see there definitely is with the players who have come through in the past.
The young players are next to the first team as well, so they can go across and train with them.
For me it's a brilliant club, if there's any youngsters who have an opportunity to go, then I strongly recommend it.
Michael Olise became the first teenager to score a Premier League goal for Crystal Palace since you scored against Sheffield Wednesday in May 1998. Although your record is still safe how far can Olise go and how many more records can he break?
He can go far, it's a big statement to make and I've made a few right and wrong in the past, but he's just turned 20 and he has massive potential.
I think in years to come he could play for England; he has got everything.
He's so smooth with the football, it doesn't even look like he's running at pace, but he beats his fullbacks constantly.
He probably didn't think he'd play that much this season, but he's adapted well and there's big players and a big manager who are going to help him in his career.
The future is bright for Olise and that's why I think Gareth Southgate is keeping half an eye on him, I'm not sure if he'd get in the England squad at the moment, but he could easily go with the under 21s.
But what we have to realise with Olise is that there's a lot of other countries that he can represent.
I think France is an option and obviously with Patrick Viera there he might be giving him a nudge that way.
But I think England don't want to miss out on a talent like Olise that's for sure.
Has he surprised you with how quickly he's adapted to the Premier League?
Definitely 100%, the jump from the Championship to the Premier League is massive and it doesn't get any easier because there's a lot of talent in the Premier League right now.
There's talent in the Championship, but the Premier League is the cream of the crop.
For him to come in there and play on the wing where he has defensive duties as well is a credit to him.
His ability is fantastic, he pings the ball along the grass, and it just looks elegant.
They always say that left-footed players look more elegant than right footers, which I don't agree with because I was right footed.
But there's something about left footers looking that way and he is one of those, he's been fantastic since coming to Palace.
Everyone trusts him as well; he has a great understanding with Wilfred Zaha and he's only going to improve.
He's only 20 years of age, so he's only going to get better, I think he has a bright future in the game.
What should Conor Gallagher do next season? Do you think he'll get a game at Chelsea next season or should he go around again with Palace? Can you talk about the influence Vieira has had on  his game?
It's a difficult one, I don't think Chelsea will let him go, but they've got so many midfielders at the moment.
If someone like Loftus-Cheek leaves, and he's been brilliant when he's played this season, but if someone like him goes, then I think Conor Gallagher will be in and around that squad.
If all those midfielders stayed, then I think it would be hard for Gallagher to get any game time at Chelsea.
That's not to say anything bad about Conor Gallagher because he's been outstanding for Palace.
In my heart of hearts, I would love him to stay at Crystal Palace for at least another year so he can keep playing and improving.
He would be ready to go straight back into Chelsea's first team after another season with Palace.
I hope Palace can do a deal, but you never know with Chelsea, they have a lot of talented players and youngsters coming through.
Conor Gallagher will be at a stage in his career where he will want to be playing regularly, but Chelsea are a massive football club.
Ideally, I'd like him to come back on loan for another year, then get himself an opportunity at Chelsea.
Liverpool and Manchester City are once again battling it out for the Premier League title this season. Are we witnessing the two best ever Premier League sides? 
I'd said yeah, they'd have to go into that bracket, there have been some brilliant teams beforehand, but at the moment these two are definitely the best around.
They've got two of the best managers in world football at the moment, Pep for me is the best and Jurgen Klopp is a close second.
Those two are the best in the world and you look at the football they both play, it's frightening.
A few weeks ago, people were saying the title race is over and I was adamant it wasn't, Liverpool have got everyone fit and they're right in the hunt.
I still think Man City are favourites because of the position they're in, but you can never write off Liverpool.
They've got five or six attacking players who can play across that front three and the best centre back in the world at the moment.
Their fullbacks are brilliant, the midfielder is strong, so it isn't over yet.
Man City as well, of course the football they play is fantastic and we saw what they did to Manchester United recently.
Those two teams are a joy to watch in the Premier League and whenever I cover the games and I get either of those teams, then I know it's going to be an outstanding game.
Do you think Liverpool have a genuine chance to win the quadruple this season? (Assuming they get through Inter)
They have a chance for sure, but do I think they'll go and do it? Maybe not.
I think they can definitely win another trophy, but it's going to be difficult to manage all of those competitions.
They've got everyone fit right now, but if there's an injury to a big player then it'll make it more difficult.
I know they've got a lot of depth now, but it would disrupt them.
They are on the right course and pathway to do it, but I just think it might be a stretch too far at this precise moment.
It's good we're talking about it though and that's how far Liverpool have come and evolved under Jurgen Klopp.
They're a joy to watch, Liverpool and Man City are miles ahead of everyone at the moment.
Chelsea aren't too far behind them, but those two teams are two of the best teams in Europe at the moment.
Mohamed Salah has established himself as one of the best players to play in the Premier League but where do you think he ranks amongst other Premier League wingers like Thierry Henry, Cristiano Ronaldo, Eden Hazard etc
He's up there and he'll definitely go down as a Liverpool and Premier League legend when he does eventually leave.
The numbers he gets is incredible and we have to remember that he doesn't play as a natural number nine, he plays as a winger.
He has to do his defensive work as well because Jurgen Klopp tells him to.
I've said it for the last four or five months, at this minute in time, he is the best player in the world.
I loved Thierry Henry when he was a player, he will go down as my favourite that I've watched in history because he was phenomenal with the things he could do.
Ronaldo is obviously Ronaldo and Hazard could do some exceptional things at Chelsea.
Those players were all great, but Mo Salah is definitely on that level, he is frightening and at the moment the best player in the world.
In 2001 you scored the winner for Crystal Palace in the first leg of the League Cup semi-final and famously 'gave tips' to Michael Owen about scoring. In the return leg, it didn't go quite to plan for Palace – do you think in hindsight you would have worded things differently in that interview, especially considering how Liverpool fans viewed those comments? 
I don't think I would word it differently, but to be fair, I think I would be careful who I spoke to if I was still a footballer now.
The journalist who did the story twisted it and I've explained this to Michael Owen, he asked me about Michael Owen and Emile Heskey on the day who missed a couple of chances.
I just said the form I'm in at the moment, I believe I would have scored from those chances.
I got into training a few days later and all the lads are shaking their heads at me, and I was thinking what's the problem here, I've just scored the winner in a semi-final first leg a few days ago.
Then I see the headlines that says, 'Clinton Morrison will teach Michael Owen how to score goals'.
Never would I have taught Michael Owen anything about scoring goals, I remember playing against him in the FA Youth Cup and he put three past us.
He was an outstanding player and had an outstanding career.
You just have to be careful when you're a youngster about what you say, but the words were twisted.
I respect Michael Owen and his ability as a footballer, he was one of the best strikers around when I was playing in the Premier League.
You were complimentary when Aaron Wan-Bissaka made the move to Old Trafford – his game is starting to come under scrutiny this season, is that fair on him and can he win people over? 
It's a difficult one, he's getting a lot of stick at the moment.
I said he would get a call up to England because he was doing so well for Palace at the time and I thought when he went to Man United with the coaches they have, I thought they would improve his game.
He played about 30 games for Crystal Palace before he got that big move to Man United and you can't turn down a club like that.
They're still one of the best teams in world football, so I thought he'd improve.
I do believe that when the team isn't playing well, then that does have a big effect on him.
Against Man City, that wasn't the Aaron Wan-Bissaka that I saw at Crystal Palace, and he is struggling at the moment.
He just needs to concentrate, get his head down and try to make it work at Manchester United because it's one of the biggest clubs around.
You don't want to be one of those players who go to Man United, and it doesn't work out, but if it doesn't then he could probably come back to Crystal Palace.
I feel like a Patrick Viera would improve him and he'd be back at his club.
But it's a hard one, I probably didn't get my comments right about him playing for England, but I know him personally and I know it's a struggle right now.
He's strong mentally to get over it, he'll block out the noise, but only he can improve it and make it work for himself.
The whole team isn't playing well, but he is getting stick at the moment and he has to stay strong.
That's just the life of a footballer, you're going to get stick, so he has to stay strong and hopefully get through it.
When he first went in, a lot of Man United fans where happy and he made a good start there, but when the team dips, your own confidence dips as well.
I think he needs a manager that will come in and help him improve his game because there are some faults there that he needs to improve.
Hopefully it works out for him at Man United.
Can Wayne Rooney keep Derby County in the division and what do you make of some of the young players coming through at that club?
He definitely can keep them in the Championship, they're only five points behind Reading and there's a lot of games to go.
It's going to be up and down, but to even be talking about Derby in this position is a credit to Wayne Rooney.
Even Rooney staying at Derby is a credit through these difficult circumstances, he's one of the best players to ever play and he's sticking by the club.
He's working with a lot of talented youngsters at that club, Ebosele has been outstanding, Jason Knight, Luke Plange and Liam Thompson, they all have a lot of quality.
You have to credit Derby's academy; they produce a lot of good players.
Rooney's been forced to play them, but they've stepped up and done ever so well.
There's a lot of good talented youngsters and I hope they stay because it will be the great escape.
I know we've seen some in the past, but this would top it, it would be one heck of a great escape if they can pull it off.
The position they're in, the youngsters they have to play and no money to spend, it would be an excellent achievement.
I know we talk about the youngsters, but one person we have to speak about is Curtis Davies in that squad.
At his age, he's helping those young players in the first team, and I think he's been outstanding for Derby.
Who out of Sheffield United and Middlesbrough are more likely to get promoted?
It's a difficult one to be fair, Heckingbottom has gone in there and done a good job so far, especially with the injuries they have to key players right now.
I didn't predict the result against Middlesbrough, I thought Chris Wilder would go back with his team who are flying and get a result.
It's a difficult one because any team could get up, but just from what I've seen I think Chris Wilder and Middlesbrough have the edge.
I know this could come back and Sheffield United fans could be laughing at me, but I do actually think both teams will get into the playoffs.
I just feel Chris Wilder's experience gives him that little edge, but that result for Sheffield United was excellent.
Is Paul Heckingbottom the right man to take Sheffield United forward?
I think the players respect him because he's been in and around the academy and when Chris Wilder was there, he was in and around it as well.
When it's not working under a different manager and then suddenly, they come back into the fold under a new manager, then you get that bounce.
The squad of players that Sheffield United have, they shouldn't have been where they were, they should have been challenging for the top two.
You have to credit Heckingbottom, he's gone in there and done a fantastic job.
Morgan Gibbs-White has been outstanding and Billy Sharp is still scoring goals, 15 or 16 goals for the season is fantastic from Billy Sharp.
You never write off Sheffield United because they're in and amongst it at the moment and they have a great chance to get back into the Premier League where they want to be.
Can you see Darren Moore guiding Sheffield Wednesday to promotion?
Darren Moore has done a brilliant job; I think if you said it a month and half ago then there might be some question marks over him.
But they've had a lot of injuries to do with and I'm not making excuses for them, but they've managed to turn it around recently.
I think he's a brilliant manager and I would love to see Darren Moore and the club back in the Championship.
They just need to get players back, but they're getting results, building up some confidence and they have a great chance of getting into those playoffs.
With them fans there and playing at Hillsborough, it's a difficult place to go and pick up points because those fans are magnificent at Sheffield Wednesday.
They just need everyone fit and firing and then I think they'll have a great chance of going up through the playoffs.
The club and the fans deserve to be back in the Championship.
Why do you think Sunderland's push for automatic promotion has faltered in recent months?
I don't know what happened, we always talk about Sunderland and where they are, and I don't understand it.
They've had a lot of managers, but there's a brilliant fan base there and it's always a great place to go and play football.
I just don't know how they haven't got back into the Championship because that's a club that deserves to be in the Championship, if not higher.
I'm talking purely on the size of the club, it's down to the manager and the players to get that club back to where they should be.
They've got a big chance of making it into the playoffs because they've got a really good squad that can go and cause problems, but it's about consistency.
Alex Neil has gone in there now; I did feel Roy Keane would get the job and it would have been a good appointment.
But Alex Neil knows those divisions, he's always done well, and we remember what he achieved at Norwich.
I think he's the right man to go in there now and hopefully he can help them to climb the table because you want to see these big clubs in the top divisions.
The problem is in league one, there's about 10 big clubs when you factor in teams like Portsmouth and Bolton who could have a late surge.
There are a few not so big clubs as well such as Wycombe and Oxford who are doing brilliantly.
We all talk about the Premier League and Championship, but League One is going to go right down to the wire.
What have you made of Kieran McKenna's impact at Ipswich Town?
I'm surprised he's done so well to be fair, but I have to credit him.
They've always had good squads and good teams, it's a club I've played against a number of times and Portman Road is one of the best pitches I've played on.
It's always a good team and a good atmosphere there, so it's a mystery why they're underachieving.
A lot of managers have gone in and tried to sort it out but failed and whatever McKenna has said to that group of players, they've had a bounce and are in contention for those playoffs.
There's a lot of teams in contention and they can't all get in there, but they've put themselves into the mix and you have to credit him because whatever he's done is working.
Kayden Jackson is scoring goals for fun at the moment and sometimes you need a manager to come in and put an arm around your shoulder, which he probably has done with that group of players and now they're picking up results.
Ireland has seen a new wave of young, talented, black players come through the ranks recently. Do you feel like a trailblazer in that sense, and what does it mean to you to see a whole host of young black players, such as Adam Idah and Andrew Omobamidele, representing the boys in green?
It's good, but there have been players such as Chris Hughton and Paul McGrath, but they were born in Ireland whereas I was born in London.
It's difficult when you declare you're going to go play for Ireland and you're worried about the response you're going to get.
But they were one of the best set of fans that I ever played in front of, they made me feel so welcomed and they were magnificent with me.
I was nervous because I'm from South London and I didn't have the Irish accent, so you wondered how they were going to react to me, but they took to me brilliantly.
There were a lot of top players in that 2002 squad that went to the World Cup, I learnt a lot from that experience.
I played a lot of games, and I scored a lot of goals, they've always shown me a lot of love.
But you look at the likes of Idah and Omobamidele, they're all doing well in the setup, there's a lot of talented young players in there.
That's one thing with those fans, they will back their own, they're fantastic fans and you hope Irish football can go back on the up.
Are there any Irish players in the EFL Championship that you rate highly that we haven't seen yet for Ireland? 
Yeah there's a few and I hope Ebosele is one that certainly gets a call up for the friendly against Belgium.
Ebosele is outstanding and he needs a call up, he's been unbelievable this season whether he's played as a full back or a right winger.
He's got so much pace to burn, so if I'm Stephen Kenny, I want him in and around that squad so he can see what international football is about and give him a taste of it.
Everyone's talking about him at Derby, so he needs an opportunity.
The other one would be Kelleher, but it's hard because Gavin Bazunu has been outstanding for Ireland, he's never let them down.
It's good to see that there's a lot of competition for places in that squad, in particular the goalkeeping department.
It's a headache for Stephen Kenny, but it's a good headache to have.
Thoughts on Stephen Kenny after he took over from your old Ireland manager Mick McCarthy?
I've got a lot of respect for Mick because he's the one that gave me my international debut.
It was always going to be hard to follow and I think Stephen Kenny struggled at first.
But what we've seen recently is that Ireland are starting to evolve, they're playing good football and picking up results.
He's got a picture in his head and his has a style he wants to play.
I did question it about a year ago and questioned whether he was the right man for the job, but I have to hold my hand up and say at the moment he's getting the results.
If he signs a new contract then it'll be huge and the next step is to get Ireland to another major tournament, then everyone will say it's been a success.
But we can see he's trying to bring through younger players and the way they're playing football, they're trying to evolve their style.
It is a results business though; he needs to carry on getting results and get Ireland into a major tournament because those fans deserve it.
---

Build better bets with our free betting tips, predictions and accumulators, every day.
More betting news:
20/1 acca win gets Thursday off to a flying start
Play Your Cards Right: 20/1 cards treble for Atletico Madrid vs Cadiz
Back of the Net: Sign up to FST's weekly football newsletter
Free Super Tips is the home of Free Football Tips. Make sure to take a look at our most popular betting tips, such as our Accumulator Tips and Both Teams To Score Tips.