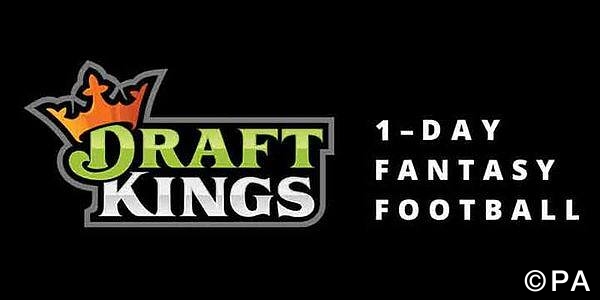 A lifelong Birmingham City fan, Tom relocated to Germany for five years after graduating from university, where his interest in the Bundesliga developed. He began writing about and betting on German football for FST in 2016. He's also an avid fantasy football player and closely follows the Premier League and European competitions.
DraftKings are daily fantasy sports giants in the US and they've now launched in the UK for the new Premier League season!
For those who don't know how the DraftKings 1-day fantasy format works, find out all you need to know by following the link below:
DraftKings Daily Fantasy Football Explained
$20,000 Premier League Sweeper and $15,000 Premier League Golden Boot!
Gameweek 15 of the Premier League is almost upon us and DraftKings have plenty of competitions for those who like a quick return on investment through a 1-day fantasy format.
DraftKings "Premier League Sweeper" gives you five fixtures to select your eight man fantasy team from, all for an entry fee of just $4 (deposits and withdrawals will be converted at a competitive rate). $4 entry can potentially scoop you a huge chunk of the $20,000 prize pool, which has a $2,000 top prize!
DraftKings "Premier League Golden Boot" follows exactly the same format, just at a higher buy in. $27 is the entry for that competition, which has a $16,000 prize pool and a $2,000 top prize!
We've put together the following article to help give you an edge over the rest of the field when deciding who should make the cut in your team. See our lineup and read more below!
Who to Buy
Alexis Sanchez – Price: $10,500

Alexis Sanchez's superb 14-minute hat-trick, along with an earlier assist, helped Arsenal to a 5-1 win at West Ham United last Saturday. Leading up front in his false-9 role once again, the Chilean recorded a season high 45 DraftKings fantasy points, his third 30 point or higher haul over Arsenal's last five Premier League matches. Sanchez may be the most expensive player available this weekend, but he also has the highest FPPG (Fantasy Points Per Game) average of any player to go with it.

Jermain Defoe – Price: $7,100

Jermain Defoe claimed an eighth goal of the season, and his fourth in five matches, in Sunderland's 2-1 win at home to Leicester City last weekend. The veteran English striker took away 17 points from a goal, three shots (two on target), one cross and one foul drawn, his fourth double digit point haul from Sunderland's last five Premier League matches. Defoe's prospects remain strong ahead of a Gameweek 15's trip to bottom of the table Swansea City on Saturday.

Christian Benteke – Price: $7,500

Christian Benteke is another in-form striker worth consideration. Benteke took away a decent 26 points for his two goals, four shots (two on target), 1 foul drawn, 1 tackle won, and 1 interception last time out in Crystal Palace's 3-0 win against Southampton. Benteke has taken 10 points or more in four of his six more recent appearances for Palace, scoring four goals in his four most recent, and should have plenty of opportunity to continue his form against a Hull City side who have failed to keep a clean sheet in any of their last 12 Premier League matches.

Nathan Ake – Price: $3,600

Bournemouth's Nathan Ake found a role in the Bournemouth starting eleven in gameweek 12 after Charlie Daniels found himself sidelined and Adam Smith suspended. Ake has been central to some fantastic Bournemouth performances over a set of tricky fixtures, scoring the winning goal in both their 1-0 win against Stoke, where he also played a crucial role in keeping a clean sheet, and the 93rd minute winner last weekend to beat Liverpool 4-3. For just $3,600, he's one of the best value defenders available as Bournemouth face the out-of-form Burnley this weekend.

Jordan Pickford – Price: $4,400

It's important to spend your budget where it matters in the DraftKings format. Goalkeepers have, simply put, the lowest potential of all player types to take away high points totals. Hence, you should be using less of your budget on them. Sunderland's Jordan Pickford may not often keep a clean sheet, but his price and strong 8.0 FPPG average, better than that of Arsenal's Petr Cech, is thanks to some decent performances from the young Englishman. Pickford has consistently racked up points over the 56 times he's been forced to make a save over his last 12 appearances for Sunderland.
Who to Avoid
Sergio Aguero

Sergio Aguero's wreckless challenge on Chelsea's David Luiz in Manchester City's 3-1 defeat last weekend was more than enough to earn him a straight red card and a second dismissal for violent conduct this season. Aguero will miss out on City's next four matches against Leicester, Watford, Arsenal and Hull, but he'll remain available for selection (unmarked) in the DraftKings format. Aguero will earn you exactly 0 points, so avoid at all costs. 

Jamie Vardy

Jamie Vardy has seen his price plummet – from $8,800 to $6,600 – as a series of disappointing performances has seen him fail to score in ten consecutive Premier League matches. Vardy isn't playing with the same flare and momentum as he did last season and, consequently, his time on the pitch has also often been cut short. Though Manchester City haven't kept a clean sheet in any of their last four matches, we'd prefer to invest $6,600 on a striker from a more in-form side than Leicester City.

Swansea Players

Swansea had a hard jump back to reality last weekend after their thrilling 5-4 win at home to Crystal Palace the weekend prior. Even DraftKings favourite Gylfi Sigurdsson (14.4 FPPG average) saw himself shut-down to a meager 3.5 point haul in a 5-0 defeat which analysts are calling the most "one-sided" Premier League match in recorded history. Swansea attempted just 1 shot on goal, which didn't test Tottenham's Hugo Lloris, and that should prove hard to bounce back from. Excluding Sigurdsson, who has taken double digits in nine of his last ten appearances for Swansea, no other Swansea player warrants interest given their form.

Burnley Players

Burnley are another side without players who would be considered "first choice" options in the DraftKings format. Exceptions to the case would be goalkeeper Tom Heaton, who, like Sunderland's Jordan Pickford, has racked up a decent 10 FPPG from three clean sheets alongside 62 saves so far this season. However, he's doubtful for this weekend alongside their other DraftKings earner, Johann Berg Gudmundsson. The Icelandic winger has had a reasonable season so far and his potential absence should be a serious hit for Burnley.

Defensive Midfielders

Defensive midfielders are simply the lowest point earners in DraftKings fantasy. Though their cheaper price tag may be tempting, players who's sole responsibility is to reclaim possession and pass it onwards will earn you very few points. Any winger from a weaker side, such as, Robert Snodgrass from Hull City, will often earn more points and be involved with more of the action than some of the best central midfielders, such as Granit Xhaka from Arsenal.