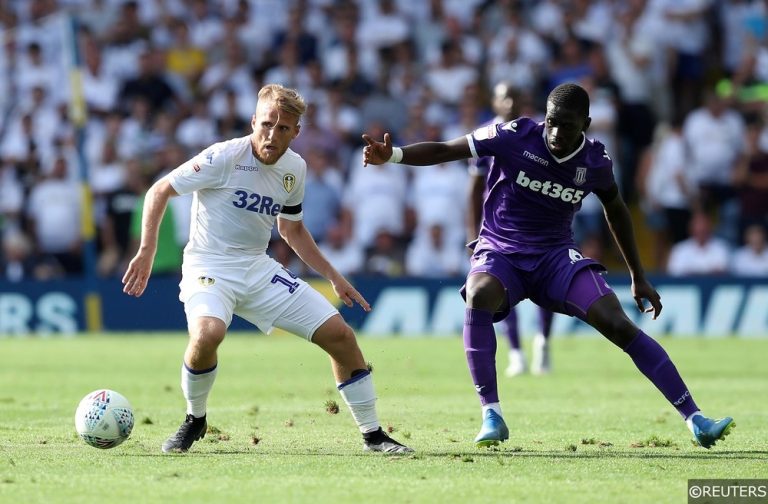 Each week we analyse the weekends games in the Sky Bet Championship and produce a weekly expected goals round up. This weekend we had a full schedule comprised of 1 Friday night game and 11 Saturday games.
For those who are not too familiar with how expected goals works, here's a quick rundown.
What are expected goals (xG)?
Expected goals basically gives a percentage chance of a shot becoming a goal. It's a good way to evaluate the quality of the shots being taken. For example a shot with a 0.30 expected goal (xG) value should be scored 30% of the time. It's been calculated by crunching data from thousands of historical shots and filtering them by distance, type of shot, type of pass and the number of defenders between the attacker and the goal.
When you're sat in the stands or on the sofa shouting at your player "how have you not scored that?!". Expected goals is a way of quantifying how many times they should have actually scored it.
Read More: Expected Goals (xG) Round Up: Premier League Week Five
Championship Week Seven Expected Goals
xG Diff
xG
Home
Actual
Away
xG
xG Diff
1.71
2.71
Birmingham
1
1
West Brom
1.77
0.77
-0.39
0.61
Bolton
1
2
QPR
1.41
-0.59
1.2
3.2
Brentford
2
0
Wigan
0.46
0.46
-0.36
0.64
Bristol City
1
0
Sheff United
0.68
0.68
-0.44
1.56
Hull
2
0
Ipswich
0.24
0.24
0.64
1.64
Millwall
1
1
Leeds
1.13
0.13
-0.07
0.93
Norwich
1
0
Middlesbrough
0.6
0.6
0.49
2.49
Preston
2
3
Reading
1.6
-1.4
0.4
1.4
Rotherham
1
0
Derby
0.67
0.67
-1.06
0.94
Sheff Wed
2
2
Stoke
1.79
-0.21
0.28
0.28
Swansea
0
0
Forest
0.84
0.84
0.55
1.55
Blackburn
1
1
Aston Villa
0.85
-0.15
Unlucky Teams
Birmingham City
West Midland derbies are known for their ferocity and games played at a high tempo and this was no different. The game ended in a 1-1 draw but Garry Monk's side have a reason to feel hard done by yet again. They drew 1-1 with their fierce rivals West Brom but had created 2.71 xG in the game. Birmingham currently sit 21st in the table but based on xG they should be as high as 10th. Definitely positives in the performances but until the performances produce results and points the fans will continue to show discontent.
Preston North End
Preston hosted Reading at Deepdale as they tried to get their stalling season started. They sat in the relegation zones with just 5 points from their opening 6 games and the visit of 23rd placed Reading was an opportunity to do just that. Unfortunately it was the visitors who came away with the spoils however Preston will feel aggrieved they haven't come away with at least a point. Preston created 2.49 xG which is fair for the 2 goals they scored however Reading found the net 3 times when they only created 1.6 xG relaying in a near 2 goal swing between actual goals and expected goals. Preston have really been on the rough side of the expected goals statistic this season, they should be as high as 8th but sit way down in 23rd.
Stoke City
Gary Rowett's tenure at Stoke City is already under threat as the Potters have started the season dismally on the field picking up just 5 points from their opening 6 points. They traveled to an in-form Sheffield Wednesday side and came away feeling they deserved more than a point. The visitors went 2-0 up thanks to an Afobe brace and created 1.79 xG throughout the game which is fair for the 2 goals they scored. Sheffield Wednesday however came back from 2 down to snatch a point, that despite creating just 0.94 xG. This doesn't help a Stoke side languishing in 20th placed when they should be 11th if xG was taken into account.
Lucky Teams
Leeds United
Marcelo Bielsa's Leeds United have ridden their luck this season and this week was no different. They visited Neil Harris' Millwall side in an attempt to keep hold of their top spot. They managed to come away with a point despite being outplayed for much of the game. Millwall created 1.64 xG where as Leeds only created 1.13 xG and this translates in the expected goals league table. Leeds United sit top of the actual table but based on expected goals they would be sitting way down in 9th.
Top Performing Team
Brentford
What a breath of fresh air Brentford have been this season, despite constantly selling the clubs biggest assets season after season they still come back strong and this season is no exception. This week they hosted a Wigan side who have impressed this season since being promoted back to the Championship from the League One. They didn't disappoint their fans as they strolled to a 2-0 home victory and it could have been even more as they created 3.2 xG. Their defence has been impressive too as they kept Wigan to just 0.46 xG and that's now just 6 goals conceded in 7 games. Brentford are the only side inside the top 10 of actual table that should be higher ranked based on their expected goals ranking.
We now head into a full midweek schedule so make sure you check out our Championship Betting Tips & Predictions. 
Get in touch with us by emailing us at info@freesupertips.co.uk or tweet us on Twitter @FootySuperTips.