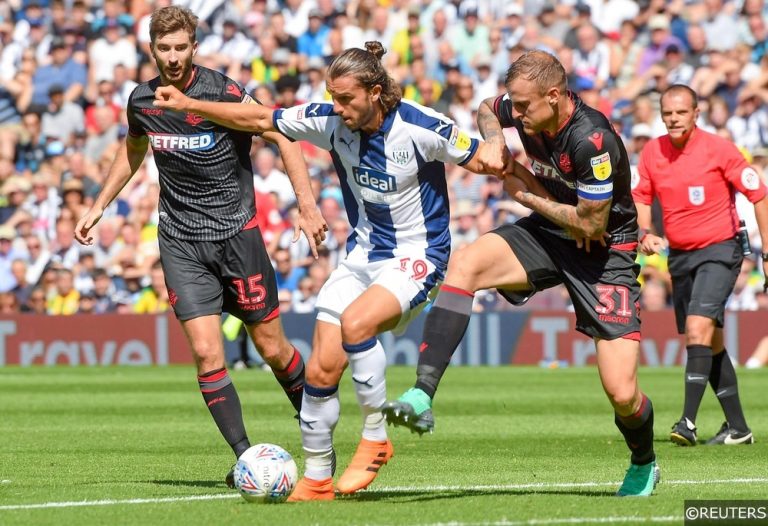 The final score or league table doesn't always tell the truth.
Expected goals have been a hot topic in football for the last year. Each week we'll look at the results and see how they compared to expected goals to see who were the lucky and unlucky teams of the week. We'll also see if we can spot any future trends of teams who are playing well, creating chances but not winning and therefore being undervalued in the market.
What are expected goals (xG)?
Expected goals basically gives a percentage chance of a shot becoming a goal. It's a good way to evaluate the quality of the shots being taken. For example a shot with a 0.30 expected goal (xG) value should be scored 30% of the time. It's been calculated by crunching data from thousands of historical shots and filtering them by distance, type of shot, type of pass and the number of defenders between the attacker and the goal.
When you're sat in the stands or on the sofa shouting at your player "how have you not scored that?!". Expected goals is a way of quantifying how many times they should have actually scored it.
Championship Week One Expected Goals
xG Diff
xG
Home
Actual
Away
xG
xG Diff
-1.74
1.26
Leeds
3
1
Stoke
1.49
0.49
-0.49
0.51
Preston
1
0
QPR
0.48
0.48
-1.09
0.91
Ipswich
2
2
Blackburn
1.88
-0.12
-0.16
0.84
Reading
1
2
Derby
0.81
-1.19
0.36
1.36
West Brom
1
2
Bolton
1.32
-0.68
-1.03
0.97
Birmingham
2
2
Norwich
1.51
-0.49
-2.26
2.74
Brentford
5
1
Rotherham
0.73
-0.27
-0.46
0.54
Sheff Utd
1
2
Swansea
0.94
-1.06
-0.52
0.48
Bristol City
1
1
Nottingham Forest
0.64
-0.36
0
2
Millwall
2
2
Middlesbrough
1.79
-0.21
-0.58
2.42
Wigan
3
2
Sheff Weds
1.36
-0.64
-0.48
0.52
Hull
1
3
Aston Villa
0.91
-2.09
Unlucky Teams
Reading – Paul Clement's men will have to feel this week after losing their Championship opener to a 94th minute Tom Lawrence goal.  The game would have been a fair result at 1-1 with the xG at 0.84 vs 0.81. The Royals face a tough trip away at Nottingham Forest on Saturday to try and bounce back.
QPR – Many people fancied Preston to get the job done at Deepdale on Saturday. They were one of the first in our Saturday win accumulator but were lucky to come out with a 1-0 victory over the hoops. Neither team really created many chances with a combined total of 5 shots on target which resulted in an even game on xG, 0.51 vs 0.48.
West Brom – The biggest coupon buster of the weekend was at The Hawthorns as the ex Premier League side fell to Bolton. The Baggies can feel a little hard done by on xG though with 1.36 vs 1.32. They will be hoping to put that right in their midweek trip away at Nottingham Forest. Bolton will be pleased with the amount of chances they created away after a difficult summer off the field.
Blackburn – Got to feel for Rovers, creating 1.88 vs 0.91 xG on their return to the Championship and they end up drawing 2-2 to a 91st minute equaliser. They can however take some positives out the game given the amount of chances they created and our 200/1 outsider for top goalscorer Danny Graham got off the mark.
Flattering
Aston Villa – Steve Bruce's men have had a rocky summer period off the field so maybe we'll cut them some slack. They deserved to win the game with 0.91 xG to Hull's 0.52 but to bag three away from home really did make the game look a lot easier for them than it was.
Leeds – Many Leeds fans were fuming when new summer signings were left on the bench at the start of the game but Bielsa's men controlled the first half and could have been out of sight before they walked down the tunnel for half time. The xG has Stoke creating more chances but that includes a 0.80 xG which is what is allocated to a penalty. From open play the figures look like 1.26 vs 0.69 which is probably a better reflection of the game. Scoring 3 however does flatter them but they'll be full of confidence heading into Saturday's away trip to Derby.
Get in touch with us by emailing us at info@freesupertips.co.uk or tweet us on Twitter @FootySuperTips.