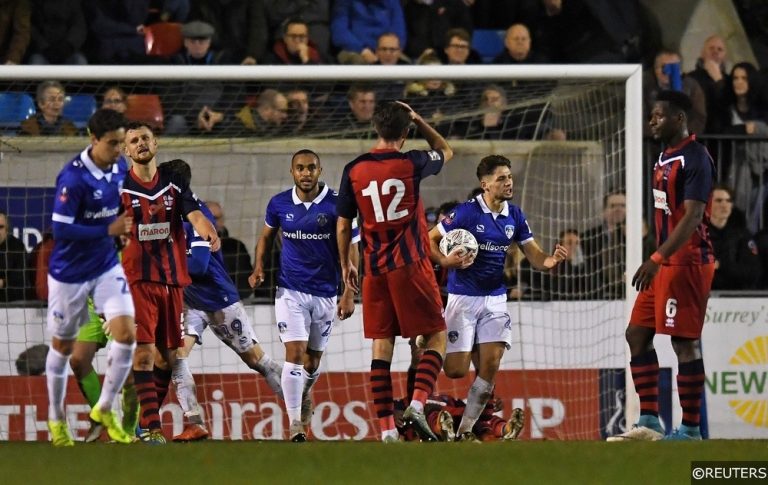 On the face of it, the opening round of the FA Cup proper, where teams from the bottom two professional divisions and a whole host of non-league sides that have made it through the preliminaries are pitted together, seems like the ideal scenario for those looking to make a few quid without doing much work. With many of the big boys, which at this stage is teams from League One and Two, going up against part-timers, it should be easy to pick a selection of winners, though is it that simple? Does the cream tend to rise? Or are punters on a hiding to nothing?
At any stage of any knockout competition, the well-backed teams will always do well, though that doesn't mean that there aren't a few upsets; even the most fancied sides can be toppled by the unlikeliest of victors. This time around, the likes of Barnsley, Portsmouth, Fleetwood, Bury, and Newport, all of whom ply their trade in the professional ranks and all of whom went off at long odds-on, all recorded routine victories over non-league opponents, but it wasn't quite as simple for several other red-hot favourites.
Tough day for favourite backers
Despite what the odds may have suggested, the first round of the 2018 FA Cup proved to be tricky for favourite backers. Of the 40 favourites, only 19 emerged victorious, and of those 40 favourites, 32 walked out onto the pitch at odds of 10/11 or shorter, though a fraction less than half (14) failed to get the job done, leaving many punters with burnt fingers.
Biggest upsets
There were several upsets over the weekend, though there was a handful that were particularly eye-catching.
Tranmere (2/7) 3 – 3 Oxford City (12/1)
When League Two's Tranmere welcomed Oxford City, who ply their trade in the sixth tier of English football, two divisions below their first-round hosts, to Prenton Park on Saturday afternoon, they were massively fancied to come through unscathed. However, despite taking the lead in the first half, the League Two side required an 89th minute equaliser to secure a replay.
Gillingham (4/9) 0 – 0 Hartlepool (7/1)
As a side operating in the third tier of English football, Gillingham were heavily backed to get the better of National League side Hartlepool at Priestfield on Saturday afternoon, though despite being surrounded by the comforts of home, a 0-0 draw was all the third-tier side could muster. Punters who got on at 4/9 had their fingers well and truly burnt.
Chorley (6/1) 2 – 2 Doncaster (1/2)
On Sunday afternoon, Doncaster, who're enjoying a very good campaign in League One, went to sixth-tier Chorley as odds-on favourites and were thus expected to get the job done. However, it quickly became clear that Chorley weren't going to be knocked about, as the sixth-tier side took the lead after just two minutes, while they regained the lead before half-time and kept their heads in front until Donny forced the replay with a 77th minute equaliser.
The first round replays will take place on November 20th and 21st.We will have our bets for these games up in our FA Cup Predictions section of the website so make sure you check it out before you put your money down.
Yeovil (4/7) 1 – 3 Stockport (9/2)
League Two's Yeovil won't start too many games as strong odds-on favourites, even on their own patch, though they were available at no bigger than 4/7 against National League North side Stockport on Saturday afternoon. Despite being such strong favourites and despite facing a side operating two divisions lower, the Glovers came off second best. Anybody who backed the visitors earned themselves a very nice return indeed.
Guiseley (9/2) 4 – 3 Cambridge (5/7)
Even in front of a home crowd, National League North side Guiseley were not at all fancied against Cambridge of League Two, though the hosts were not deterred by their rather hefty price-tag. Despite going off as 9/2 outsiders, Guiseley flew into a 2-0 lead, while they were 4-0 up by the 55th minute. The fourth-tier visitors did rally late on, scoring three times, though they were unable to draw level and thus punters who supported the hosts made a sweet profit.
Notable performances
Haringey Borough (13/1) 0 – 1 Wimbledon (1/5)
At 13/1, nobody expected Haringey, who ply their trade in the seventh tier of English football, to go through against League One's AFC Wimbledon, but the big-priced hosts were far from disgraced. A price-tag of 1/5 suggested that the visitors would cruise to a very comfortable win, though Wimbledon's trip to North London was anything but straightforward. Having been frustrated by a team operating four leagues lower, the Dons stuttered their way to a 1-0 win, scoring in the last minute of normal time. A sickening blow for both everyone connected with the hosts and punters who went in search of a big-priced winner.
Hampton & Richmond (13/2) 1 – 2 Oldham (4/9)
Oldham weren't as short as 1/5, but they were very much expected to get the job done with minimal fuss when they visited Beveree Stadium on Monday evening. However, Hampton & Richmond, who're currently 16th in the National League South, had other ideas. The sixth-tier outfit took the lead after just 15 minutes, and they remained in front until an 88th minute equaliser sparked Oldham into life. The League Two club went on to score the winner two minutes later, breaking the hearts of the non-league hosts who fought so hard.